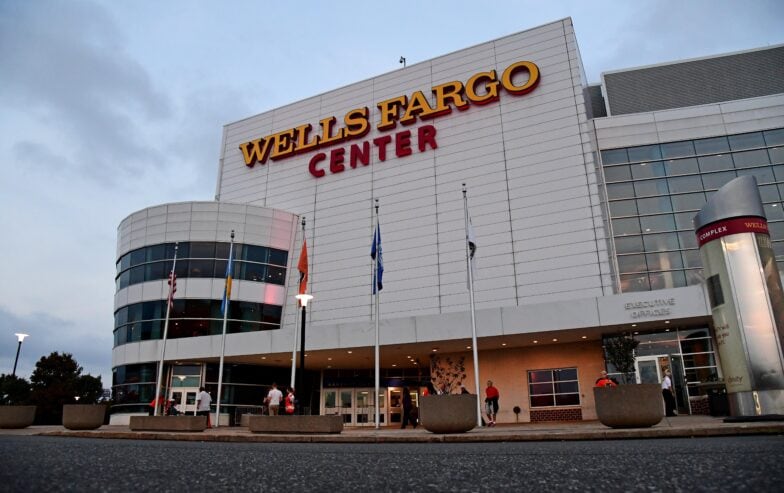 The Wells Fargo Center has been home to the Philadelphia 76ers and the NHL's Philadelphia Flyers since 1996. Since then, the stadium has hosted an NBA Finals (2001), a pair of NHL Stanley Cup Final series (1997, 2001), All-Star games, concerts and many more events.
While the stadium remains home to those teams and continues to host events, the owners of the stadium, Comcast Spectacor, is wanting to make some changes for the building's future. According to Bob Fernandez of the Philadelphia Inquirer, the ownership group last week approved plans to spend $250 million to update the Wells Fargo Center.
The majority of the changes, Fernandez writes, will happen next summer and will involve some seating changes (and additions):
Gone will be some of the balcony luxury boxes, which are less popular than they were in the 1990s. Also, some of the black-colored seats below the mezzanine level will be zapped. But new premium seating will come in the form of court- and rink-side suites — a new arena trend.

The concourse hallways throughout the arena will be widened by several feet. New windows looking north toward the city skyline will add to the ambience for fans. There will be more places to buy food, cutting down lines. Digital screens will be added. Flooring will be replaced and player locker rooms redone.

First up for the upgrade: the mezzanine (200 level) this summer. Here, Comcast Spectacor will carve out two lounges by tearing out cinder block walls on the southeast and northeast corners, adding about 7,000 square feet for fans to drink and talk. Both were "void spaces" without public access, and one has served as the employee gym for years.

…

Next summer, Comcast Spectacor will upgrade the main concourse and seats on that level, possibly adding food concessions, and brightening the area as fans enter the arena.

In the summer of 2020, the "event level" — the area underneath the main concourse — will be upgraded. This is expected to include the court-side and rink-side suites that Comcast Spectacor says will not obstruct the view of other fans. These suites will be wedged into the arena underneath the existing seats. From these suites, fans could enter a pod of court- or rink-side seats to watch the game. Similar seating closer to the action is available at the Vivint Smart Home Arena in Salt Lake City for the Utah Jazz and the Air Canada Centre in Toronto for the Raptors.
Fernandez reports that Dave Scott, the chief executive officer and chairman of Comcast Spectacor, said the company had a decision to make about the arena's future. They could tear down the existing arena and build a new one or upgrade/renovate parts of the interior of the existing arena. One company official told the Philadelphia Inquirer that a tear-down and build-new plan could have cost $750 million.