Recapping Week 7 in NBA: An instant classic in Toronto
Take a look back at the week that was in the NBA with a collection of some of the best games, videos, photos, features and more from around the NBA world.
* * *
Games of the Week
Raptors 131, Warriors 128 (OT) — When Kia MVP candidates and two of the top, early Finals favorites meet in late November, you know it will be a classic game. That's exactly what we all got on Thursday as Kevin Durant ran wild (51 points, 11 rebounds, six assists) for short-handed Golden State but was ultimately outdone by Kawhi Leonard (37 points, eight rebounds) and a balanced Raptors crew.
Grizzlies 131, Nets 125 (2 OT) — Late in a close road game, a veteran-laden team like Memphis would turn to stalwarts Mike Conley and Marc Gasol. Instead, it was rookie Jaren Jackson Jr. who came through in regulation, nailing two clutch shots en route to a 36-point night that helped spark a thrilling comeback win in Brooklyn for the Grizzlies.
Wizards 135, Rockets 131 (OT) — James Harden showed exactly why he is the reigning Kia MVP, torching the Wizards for 54 points, eight rebounds and 13 assists. His teammate, Eric Gordon, dropped in 36 points and, combined with Harden, that would seem enough for a win. Too bad it wasn't for Houston, as John Wall (36 points, 11 assists) and Bradley Beal (32 points) led Washington to a thrilling (and much-needed) victory.
Warriors 116, Magic 110 — Orlando has surprised many this season and logged big wins on the road over San Antonio, the Los Angeles Lakers and others. They probably could have added the Warriors to that list, too, were it not for Kevin Durant. The Warriors' star forward went for 49 points, netting a key three-point play with 1:19 left and a 3-pointer with 22 seconds remaining to seal Golden State's win.
Nuggets 113, Blazers 112 — Denver enjoyed a home-heavy schedule in November, but ended the month with a thrilling victory in Portland to start a road-heavy December and January. Gary Harris came through with a clutch 3-pointer late in the game as the Nuggets continue to stay in the playoff mix in the Western Conference.
Celtics 118, Wolves 109 — Gordon Hayward has had his struggles getting his game back to the All-Star level it was at before his horrific leg injury last season. However, on Saturday in Minnesota, Hayward looked like the Hayward of old in dropping 30 points, nine rebounds and eight assists on the Wolves to fuel the Celtics' win.
Stat Lines of the Week
James Harden (54 points, 17-32 FG, 7-15 3pt FG, 13-15 FT, 8 reb, 13 ast, 3 stl in 47 minutes) — His shot chart read like a how-to for the modern NBA game as only three of his shot attempts came from the mid-range (he was 2-for-3 on those). Overall, Harden put on a scoring show that few in the NBA can match. Too bad his efforts weren't enough to get Houston a win Monday. | Watch | Video box score
Russell Westbrook (23 points, 10-17 FG, 18 reb, 15 ast, 2 stl in 37 minutes) — That Westbrook ran wild against the struggling Cavs wasn't the reason to highlight this game. That he tied Jason Kidd for No. 3 on the NBA's all-time triple-doubles list … that is what got our attention. Not only did he pull that off, but Westbrook got career triple-double No. 107 in his 760th career game (it took Kidd to his 1,247th game). | Watch | Video box score
Kevin Durant (51 points, 18-31 FG, 4-7 3pt FG, 11 reb, 6 ast in 42 minutes) — No Stephen Curry (again). No Draymond Green (again). No problem (again) for Durant in shouldering the Warriors' burden. Although his scoring exploits didn't lead to a win (as they did on Monday against the Magic), he put on a show and gave us all reason to hope for at least four more of these matchups come June 2019. | Watch | Video box score
Gordon Hayward (30 points, 8-16 FG, 4-5 3pt FG, 9 reb, 8 ast, 2 stl in 29 minutes) — When Boston inked Hayward via free agency two summers ago, this is the kind of production they were hoping for. Even Wolves fans (and some still-bitter Jazz fans) had to admit it was great to see the former All-Star show flashes of his old self with his playmaking, 3-point shooting and rainbow fadeaway jumpers. | Watch | Video box score
Anthony Davis (36 points, 14-19 FG, 2-3 3pt FG, 19 reb, 8 ast, 2 stl, 2 blk in 37 minutes) — Few players can be as efficient and devastating as Davis can. He showed everything that makes him perhaps the NBA's best all-around big man with 3-pointers, rim protection and a must-rewatch drive and dunk on Frank Kaminsky. | Watch | Video box score
Best plays from Week 7
Quotes of the Week
"You're either with us or you're against us. LeBron is arguably the best player ever. When he comes to town, the Lakers and their fans carry. As long as their fans go home disappointed, that's all I care about. The Warrior fans can come in here, the Celtic fans can come in here. The Laker fans can come in here. But take that L on the way out." — Nuggets coach Michael Malone
"What we need to do is win enough games to get the respect of our fans so they will come out and watch us play anyone, even on a Monday or Tuesday. That's when you need to have a hot gym." — Pistons coach Dwane Casey
"Just to be named with Jason Kidd and Magic and Oscar and those guys, I could have never dreamt about being able to even sit here talking to you guys. I take everything in and never take anything for granted." — Thunder guard Russell Westbrook, on tying Jason Kidd for third on the NBA's all-time triple-doubles list
"He said if we're gonna be a playoff team it's time to show everybody. For him to open his mouth like that it shocked a lot of people. That was big and it got us over the hump. He's our vet. He's our leader." — Nuggets guard Gary Harris, on Paul Millsap's late-game pep talk Friday vs. Portland
"In winning time, to take those shots, it takes a unique heart, skill, ability and just cold-blooded nature. Jaren has that." — Grizzlies coach J.B. Bickerstaff, on rookie Jaren Jackson Jr.
"It's slowly coming along. I think my confidence is slowly coming back too. I'm still not where I want to be, but for sure me attacking is better for our team and not being hesitant or passive." — Celtics forward Gordon Hayward
"I just want it to be consistent, at one point. Every night is the same [expletive]. Every night has been the same [expletive]. If you call something one way, you have to call it the other way. Once they start doing that, I'm going to have a little more respect. I'm just tired of it. Every game is the same." — Jazz center Rudy Gobert, on officiating late in Utah's loss to the Heat
Photos of the Week
Big men only
Some mountain climbing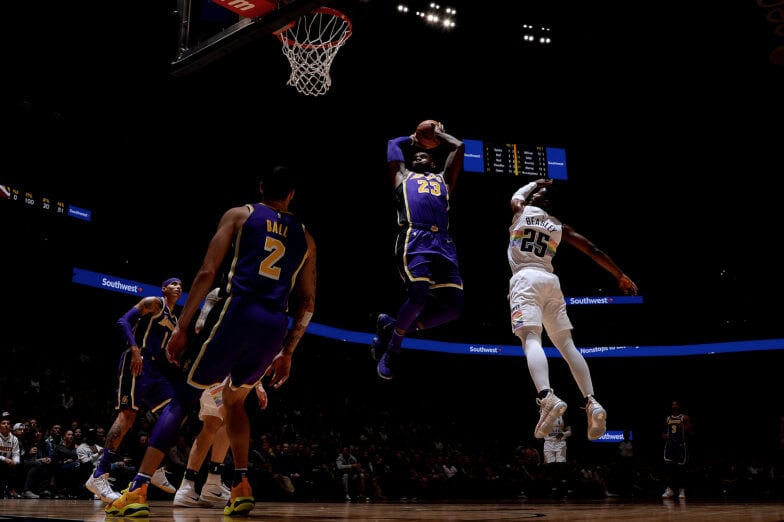 Man, that's cold!
Delicious French toast
One for the scrapbook …
Hey, click on this stuff …
We're all busy. But there's lots of great content on NBA.com that you might have missed in the hubbub of your life. Take a moment, slow down and soak up some of our best stories, videos and more.
VIDEOS FROM WEEK 7
GameTime: Big men changing NBA game with 3s
GameTime: Are Clippers most balanced team in West?
GameTime: LeBron teaching lessons to young Lakers
Arena Link: Wade sings praises of Jazz's Mitchell
Isiah On Point: Lowry an elite playmaker
McHale In The Post: Props for Clippers' Harrell
Inside The NBA: The pancakes vs. waffles debate
Inside The NBA: Kings' Fox unintentionally snubs Smith
Story Time With Shaq: That time Shaq nailed a 3-pointer
Players Only: Beal ready to rise anew with Wizards
Open Court: The art of trash talking
Area 21: KG's tips for Pistons' Drummond
Shaqtin' A Fool | Diesel's Dunks | Smitty's Top Plays
STORIES FROM WEEK 7
* Smith: Ten things that stand out at season's quarter point
* Powell: Nuggets boss Kroenke runs team 'like one of the guys'
* Aschburner: Ex-NBA player Garrett has stories to share
* Kia MVP Ladder: Quiet Harris making his presence felt