All-Star weekend tips off Friday with three jam-packed days of action in Salt Lake City. It all leads up to the 72nd annual All-Star Game on Sunday night, where Team Giannis will face Team LeBron. This year, for the first time ever the two captains will draft their teams directly before the game. Here is everything to know about NBA All-Star 2023:  
---
Friday, Feb. 17 
> 7 p.m. ET: Ruffles NBA All-Star Celebrity Game (ESPN) 
We're sure you've heard their music or seen their faces on the big screen, but here's the chance to watch your favorite celebrities take the court. It's the battle of the bars as rappers 21 Savage and Cordae duel on the court instead of on the mic. See if Simu Liu taps into his superpowers for the challenge and if Calvin Johnson can bring his talents on the turf to the hardwood.  
> 9 p.m. ET: Jordan Rising Stars (TNT) 
The Jordan Rising Stars three-game mini-tournament gives a glimpse of the league's youngest talent, with seven of the top 10 overall draft picks from the past two years taking the floor. Following their televised practice on NBA TV at 2:30 p.m. ET, the game showcases 4 star-studded teams coached by NBA legends Pau Gasol, Joakim Noah, Deron Williams and Jason Terry. Grab your popcorn and marvel at the future of the Association because these guys are just getting started.  
NBA App Streams: 
12:30 p.m. ET:

Jordan Rising Stars Practice

5:30 p.m. ET

: Basketball Hall of Fame News Conference (NBA TV)

 
---
Saturday, Feb. 18 
> 1 p.m. ET: NBA All-Star Practice Presented by AT&T (NBA TV) 
Don't miss this rare opportunity to peek behind the curtain as the NBA's best prepare for the game. 
> 4 p.m. ET: NBA x HBCU Classic Presented by AT&T (NBA TV / TNT / ESPN2) 
Grambling State University and Southern University men's basketball programs will clash in this year's NBA HBCU Classic. NBA legend and Southern University alum Bob Love and Grambling State alum Willis Reed have been named honorary captains of the 2023 NBA HBCU Classic and will represent their alma maters leading up to the game.
> 8 p.m. ET: State Farm All-Star Saturday Night  (TNT) 
1st Event: Kia Skills Challenge
The Skills Challenge is always exciting, with NBA stars displaying passing, shooting and dribbling as they work their way through an obstacle course. 
---
2nd Event: Starry 3-Point Contest: Who is the best shooter in the league? One of the most fun questions in basketball gets answered each year in the 3-point Contest. Don't miss it as the league's best shooters vie for bragging rights.
---
3rd Event: AT&T Slam Dunk:  Perhaps no play in basketball is more iconic than the slam dunk. The league's highest flyers will come together to put on an aerial show.
NBA App Streams: 
1 p.m. ET: NBA All-Star Media Day Presented by AT&T @ 1 p.m. ET
7 p.m. ET: Commissioner Adam Silver news conference @ 7 p.m. ET (NBA TV)

 
---
Sunday, Feb. 19 
> 3 p.m. ET | NBA G League Next Up Game (NBA TV) 
To begin Sunday's events, the G League Ignite's Scoot Henderson and the Iowa Wolves' Luke Garza will captain the two teams in a showdown of the league's best up-and-coming G League talent.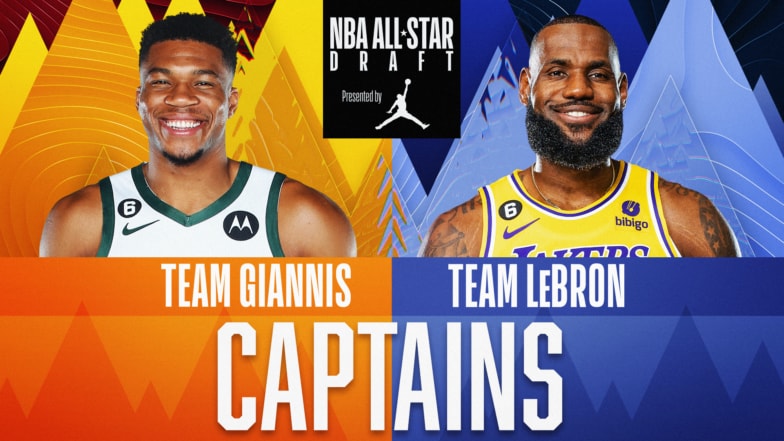 > 7:30 p.m. ET: All-Star Draft Presented by Jordan Brand (TNT) 
This year will mark the first time that the All-Star Draft will take place right before the game. Following a 6 p.m. ET Pregame Show on TNT, team captains LeBron and Giannis will go back and forth curating their squads for the matchup to follow. 
> 8:30 p.m. ET: 72nd NBA All-Star Game (TNT)
It all comes down to this as Team LeBron and Team Giannis go head-to-head to see who will take the crown during the 72nd NBA All-Star Game. The league's most elite talent comes together in this best-of-the-best matchup with the goal of raising awareness and boosting two local Utah organizations. Team LeBron, playing for Big Brothers Big Sisters of Utah, and Team Giannis for Raise the Future look to give almost $1 million to the organizations by the end of the weekend.  
NBA App Streams: 
1 p.m. ET: NBA Legends Awards (NBA TV)

 

11 p.m. ET: All-Star Game postgame news conference
*** 
For a comprehensive look at the weekend's festivities, find the complete 2023 All-Star Weekend schedule here.