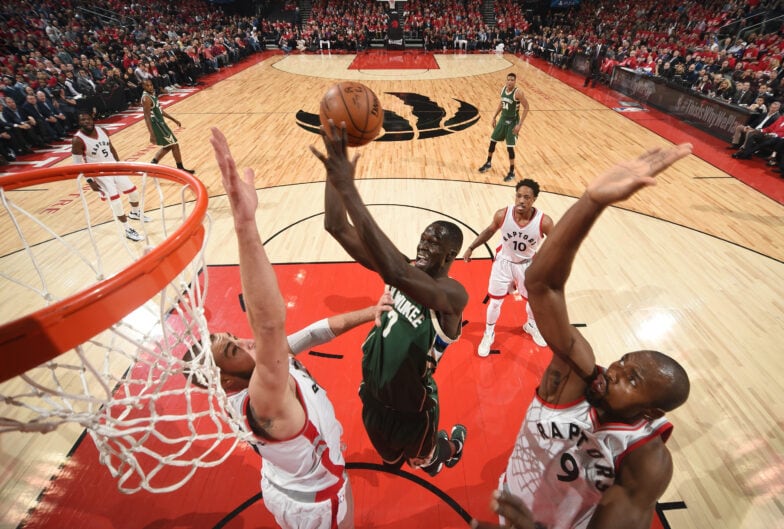 This has been a much-maligned rookie class.
Joel Embiid was fantastic … for 31 games. No other rookie stood out as a future star. Only one (Dario Saric) averaged more than 18 PRA (points plus rebounds plus assists) per game, and he shot 41 percent. Because the rest of his class was so weak, Embiid will probably get some first place Rookie of the Year votes, having played less than 800 minutes.
But the 2016-17 rookie class is having a bit of renaissance in the postseason. Twenty-three rookies have totaled 476 minutes in 16 playoff games through Tuesday. That's an average of 29.8 minutes per game, more than rookies averaged in the first round in six of the previous seven years.
There's some garbage time mixed in there, but that's the case every year. And this year, four rookies have started the first two games of these playoffs. Even last year, when rookies averaged more than 35 minutes per game, none started each of the first two games of the first round.
The Milwaukee Bucks have two of the four starting rookies. One is a 24 year old from the University of Virginia –Malcolm Brogdon — who could be the Rookie of the Year. The other is a 20 year old from South Sudan by way of Australia and the Athlete Institute.
On Feb. 8, the Bucks announced that they will have a D-League team next season. That day, Thon Maker was a DNP-CD, riding the bench as the Bucks got thumped by the streaking Miami Heat.
Game 3: Bucks vs. Raptors (8 ET on NBA TV)
Two days later though, Maker was in the starting lineup, where he has been ever since. And according to Bucks coach Jason Kidd, the team decided to start Maker because it didn't yet have that D-League team to give the rookie, taken with the 10th pick in last year's Draft, playing time.
"We didn't want it to be a wasted year and we didn't want to ship him somewhere," Kidd said prior to Game 2 in Toronto on Tuesday. "So the options became slim to where we need to play him. Talking to the coaching staff, they said let's look at starting him, being able to benefit [from] his energy, but also giving him the opportunity to play."
For much of the last two months of the season, Maker was a token starter, giving way to veteran Greg Monroe, who was having a terrific season off the bench. Maker played less than 16 minutes in 22 of the final 31 games he started. He'd often check out midway through the first and third quarters and remain on the bench until the end of the half. Only twice was he on the floor in the last five minutes of the fourth quarter or overtime with the score within five points.
But Maker was getting playing time and showing potential. The highlight of his season was 23 points on 9-for-12 shooting in an overtime victory over Detroit on March 31, one of those two times Kidd used him down the stretch of a close game. With his length and athleticism, Maker can catch-and-finish at the rim. But as a 38 percent 3-point shooter, he can also help space the floor for Giannis Antetokounmpo.
Still, defense is where Maker was making a more consistent impact. He is 7-foot-1 with a 7-foot-3 wingspan, after all. And he saw himself as somewhat of a pick-and-roll expert as a 19-year-old draftee who never played college basketball and didn't exactly study the NBA game.
"In high school, I was able to stay in front of point guards and we were able to switch everything in pick-and-rolls," Maker said this week. "I didn't know the pick-and-roll was going to be a big part of the NBA until I got in. Looking in, you don't see it. You see mostly highlights or one-on-one plays. You rarely get a chance to see a full game and a lot of pick-and-roll."
Khris Middleton's return from a hamstring injury came around the same time Maker became the starting center. And when Middleton was moved into the starting lineup for good on March 3, the Bucks took off, winning 16 of their next 22 games, allowing just 96.3 points per 100 possessions in 224 minutes with the four permanent starters – Middleton, Maker, Antetokounmpo and Tony Snell – on the floor together.
That group helped set the tone early in the second half of Game 1 of their first round series with the Toronto Raptors. The Bucks held Toronto to just 31 points on 45 possessions after halftime to take home-court advantage from the 3 seed. And along the way, Maker became somewhat of a viral sensation.
Midway through the third quarter, Kyle Lowry tried to turn the corner on a pick-and-roll. But Maker wouldn't let him, sliding stride for side with Lowry from beyond the 3-point line all the way to the baseline.
Thon Maker, step for step with Kyle Lowry pic.twitter.com/WbcvbsmDov

— jt (@GrandpaTurner) April 15, 2017
"I'm just using my speed and quickness to stay in front of him and do my job," Maker said about the play. "My job was to keep him in front of me until the guard got back. That was a heck of a play, but I didn't even realize that happened. I was just in a zone."
Maker also came up with three blocks in that second half, as the Raptors shot a miserable 2-for-10 at the rim. And three nights later, there he was on the floor down the stretch of a close game for just the third time since he became a starter.
"This is a great opportunity for him to go through the process," Kidd said. "Being a starter can hopefully help him grow faster. He's going against All-Stars or he's going to go against quite a few talented players out on the floor when you go against the other starting group. So hopefully this speeds up the process."
Right now, it's about more than Maker's future. In the present, the Bucks have the chance to go up 2-1 on the Raptors in Game 3 on Thursday (8 p.m. ET, NBA TV), another opportunity for Maker to make an impact and make us reevaluate the quality of this rookie class.
Who knows how this would have worked out if the Bucks already had a D-League team? Maybe John Henson or Spencer Hawes is the Bucks' starting center right now. Maybe the Bucks aren't in the playoffs.
But they are, Maker is in the starting lineup for good, and more fourth-quarter minutes could be coming.
"What he's done, he's earned the opportunity to start," Kidd said. "He's earned his minutes. At the beginning, his minutes were short. But as time has gone on, his minutes have started to stretch out a bit. You can see his growth. He works extremely hard and he's well deserved of the opportunity he's getting."
John Schuhmann is a staff writer for NBA.com. You can e-mail him here, find his archive here and follow him on Twitter.
The views on this page do not necessarily reflect the views of the NBA, its clubs or Turner Broadcasting.