Shootaround (Dec. 31): Love enjoying 'best year of my life'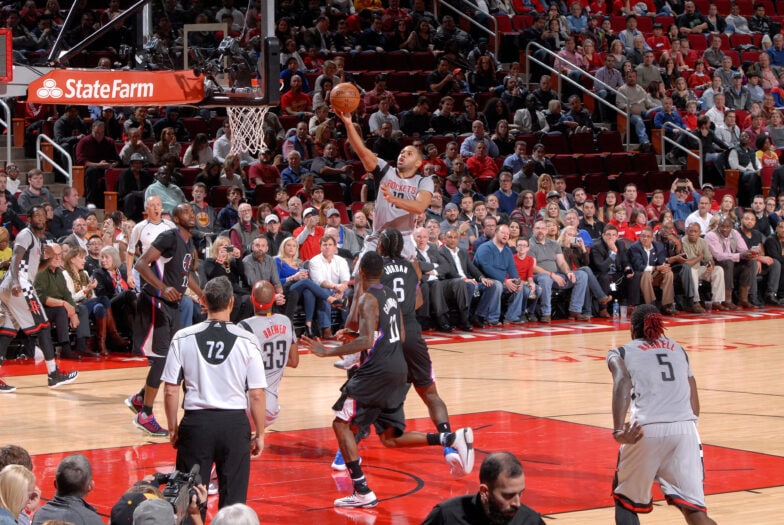 Kevin Love enjoying "the best year of my life" | As the Bulls turn | Two Rivers (Out of the) Stadium
No. 1: Love enjoying 'best year of my life': Kevin Love's journey to winning a title last season with the Cleveland Cavaliers certainly was more of a zig-zag than it was a straight line, with several detours and pit stops along the way. But now Love is a key member of a title team, and playing arguably the best basketball of his career. As Love explained to Dave McMenamin, 2016 has been a pretty great year, at least for Kevin Love…
Kevin Love's stat line, which once was his only solace on most nights when he was putting up nutty numbers during Minnesota Timberwolves losses, was a throwback in Thursday's 124-118 victory over the Boston Celtics.
For the first time in Love's nearly 2½ seasons with the Cleveland Cavaliers, Love put up 30 points and 15 rebounds, something he did with impressive regularity for the Wolves (27 times in six seasons, according to ESPN Stats & Information — the most by any player in the NBA from 2008-09 to 2013-14).
Thursday was a punctuation type of night in an already stellar campaign, as Love is averaging 22 points and 10.9 rebounds, making him one of only five players in the league putting up an average of at least 20 points and 10 boards this season (with Anthony Davis, Karl-Anthony Towns, Russell Westbrook and DeMarcus Cousins being the others). Love also has a career-high 1.1 steals per game and shooting percentages (45.8 percent overall, 40.7 percent from 3) near the best of his eight-plus seasons.
With his value on the Eastern Conference-leading Cavs firmly in place – even LeBron James, he of the "fit out/fit in" tweet critique a couple of years ago, complimented Love and Kyrie Irving for "carrying" Cleveland on a night he dubbed himself "horrible" – Love spoke to ESPN.com about what's motivating his return-to-form season.
Was there something to that breakout game coming against Boston, specifically? The team that employs Kelly Olynyk, the guy who ripped his shoulder out of its socket, causing him to miss the Cavs' Finals run in 2015? The team that as recently as this summer was still popping up in trade rumors involving him being swapped for Jae Crowder and others?
"It's the same thing with L.A.," said Love, whose father, Stan, once played for the Los Angeles Lakers. "The fact that I was born there (in Santa Monica, California), that's been going on my whole career. That never went away."
Of course, in the summer of 2014 before his trade to the Cavs, the Celtics were the team that became a presumed destination for Love after he spent a weekend in July touring Boston and was courted by Beantown's stars at the time — a meet-up with Rajon Rondo, a tweet from David Ortiz.
"Rob [McClanaghan] is from Rhode Island, so he's like, 'You got to come. You got to come,'" Love said, recalling the invitation from his trainer. "And then my agent, Jeff Schwartz, is a big Boston Red Sox fan and based there and was like, 'We got to go. We got to go [to a game].' So I was like, 'OK.' And that stirred the pot even more. But I grew up like anybody. I remember watching the battles with 'Showtime' and Larry Bird.
"And [Kevin] McHale was my coach [in Minnesota]. So with that whole dynamic and that sort of thing, I think naturally, that has become another, I guess, storyline for me. Because when I first got here, immediately people wanted to trade me; I don't know. Or the talk was that I was going to be traded so something like that and immediately they thought, 'Boston! If it's not L.A., then it's Boston!' So I think that's what comes with that."
The trade talk has been silenced. It's hard to even imagine where the Cavs would be this season – with J.R. Smith's thumb injury and an inconsistent bench – without Love's steadying presence.
Love's return to the All-Star Game in February seems all but inevitable after his run of three All-Star appearances in his final four years in Minnesota was interrupted by two lackluster seasons in Cleveland.
"I said three guys aren't going to make it when we were, what, the fifth seed," Love said, recalling his pragmatic take on the 2014-15 season. "I thought last year two guys would have made it, and then [the East] had an injury replacement and I thought, maybe, [with his] double-double [credentials]. … But I'm not going to get my hopes up."
Hope shouldn't be part of the equation this season. If the All-Star team is constructed as it has been in the past — based on individual statistics combined with winning — Love will join James and Irving in New Orleans for the star-studded exhibition weekend.
"I talked about it today. It doesn't validate me at all," Love said, alluding to a similar conversation he had with Cleveland.com. "I know how good of a player I am, even this year. It's funny. I sit back, and I'm like, I never forgot how to play the game. It's always been me. But I think getting that, I guess, monkey off the back or that championship off the back, so to speak, has helped everybody be a little bit more calm, and we know exactly what we want to do under [Cavs coach] Ty [Lue]."
It's been well-chronicled how Lue has featured Love better than former coach David Blatt ever did, appealing to Love's pride while staying consistent in his investment in the stretch forward. Love has responded quite well.
"I think it's confidence and just knowing," Love said. "Because I think my first year, year and a half, I never knew when to be aggressive. Not necessarily not knowing the right play to make, but I didn't know how to walk the walk in this offense or with this team. So, I think that evolved, and this is definitely the most comfortable I've been. That goes without saying."
Along with that comfort, Love has his health. After a balky back marred his first season in Cleveland and shoulder rehabilitation hampered his second, he has come back for Year 3 in great shape and physically able to handle the rigors of the season. "My body feels really good," Love said. "My body feels great. I think that always helps."
* * *
No. 2: As the Bulls turn: Bulls coach Fred Hoiberg skirted questions about his job status before the Bulls played the Indiana Pacers yesterday, but then during the game he benched star guard Rajon Rondo, for the second time in three games. As KC Johnson writes, Bulls swingman Jimmy Butler says he will keep everyone united …
Suddenly, the three Alphas have dropped to two.
Rajon Rondo's colorful offseason nickname for himself, Jimmy Butler and Dwyane Wade is under a cloud after coach Fred Hoiberg benched Rondo for the second time in three games, this time for the entire second half of Friday's 111-101 loss to the Pacers.
Butler vowed to keep the group united.
"We're all in this together so we have to make sure his mind is still with us," Butler said. "We know his heart is going to be. But we don't want anybody drifting away because something like that might happen. We have to stay in his head, make sure he's constantly still about this team because we still need him out here if we're going to win games."
Rondo said the benching wouldn't affect his approach or professionalism in a high-road session with reporters. But one comment stood out, especially because Rondo drew a one-game suspension for exchanging words with and throwing a towel at associate head coach Jim Boylen earlier this month.
"It don't have to be a big deal. He's the coach," Rondo said about Hoiberg not explaining his decision to him. "He and Jim made some decisions and that's what it is."
* * *
No. 3: Two Rivers (Out of the) Stadium
During Friday's Clippers-Rockets tilt in Houston, not one but two members of the Rivers family were ejected after an incident in the second quarter. Guard Austin was ejected for contact with an official, while his father, Clippers coach Doc, was ejected moments later for arguing a different part of the play, as ESPN's Calvin Watkins writes…
Austin Rivers was kicked out when, after missing a layup, he lightly pushed official J.T. Orr with 6 minutes, 38 seconds to play in the second quarter. Rivers yelled at Orr and waved his arms at him after the ejection and was led off the court by a Clippers employee. When he got to the edge of the court, he tried going back toward the referee and had to be held back by the employee and pulled off the court.
Then, during a timeout, Doc Rivers approached lead official Jason Phillips. Rivers said he was asking why Marreese Speights wasn't awarded any free throws when a whistle was called on a made basket following Austin Rivers' missed layup.
"When they threw Austin out for whatever reason, they called an and-1 on that," Doc Rivers said. "You can see it on the replay, they absolutely called an and-1 and they forgot to give us a free throw. So I called a timeout and said, 'Hey, you forgot to give us a free throw,' and they didn't know what we were talking about. And I said, 'No, you forgot to give us a free throw. Come on, you guys don't know what you're doing,' and that was it."
Phillips ejected Doc Rivers with 6:13 to play and the Rockets leading 59-35. Assistant Mike Woodson took over coaching duties for the Clippers, who went on to lose 140-116.
Doc Rivers said his son should have been ejected for touching an official and that his complaint was with the officials for missing the foul shot for Speights.
"They'll say he made contact, which he did, but it wasn't intentional, which is clear," Doc Rivers said. "You can't judge intent; that's why they will say there was contact, but there's nothing you can do about it. I felt bad for him, [but] that's not why I was thrown out. I was thrown out for a different reason."
Phillips addressed the ejections with a pool reporter.
"Austin drives to the basket, feels that he gets fouled on the play and then, after finishing the play, makes contact while using profanity … makes contact with official Orr and is ejected immediately on one technical foul," Phillips said.
"During the timeout, Doc is complaining about the play that Austin gets ejected on, and during that compliant, he uses extreme profanity directed at the officials and so therefore he is ejected on one techicnal foul also."
Austin Rivers said after the game that he didn't notice Orr was behind him when he missed the layup.
"I saw the video," Austin Rivers said. "I didn't do nothing wrong. I didn't do anything wrong. I reacted to the play; I had no idea the ref was there. I was backing up and I said, 'Call the foul.' When I did it, I was turning and he was right there and my elbow touched him. I've never in my career put my hands on a ref, and I don't ever plan to. He knows if I would have pushed him; he would have pushed back [but] he didn't go anywhere. I didn't mean to touch him. As he was giving me a tech, I was trying to tell him I didn't mean to do it. I didn't do anything wrong — I stand by that I didn't do anything wrong."
Both Austin Rivers and Doc Rivers were ejected in a loss to the Washington Wizards on Dec. 18.
* * *
SOME RANDOM HEADLINES: Stephen Curry's game-worn shoes raised nearly $50,000 for victims of the Oakland Ghost Ship fire … The Pelicans have found some success taking a page from Nolan Richardson's book … Jusuf Nurkic isn't thrilled with his new role, sharing minutes … Erik Spoelstra is the NBA's second-longest tenured coach, and the Heat recently signed him to a contract extension … Cleveland's Kay Felder is learning from Isaiah Thomas