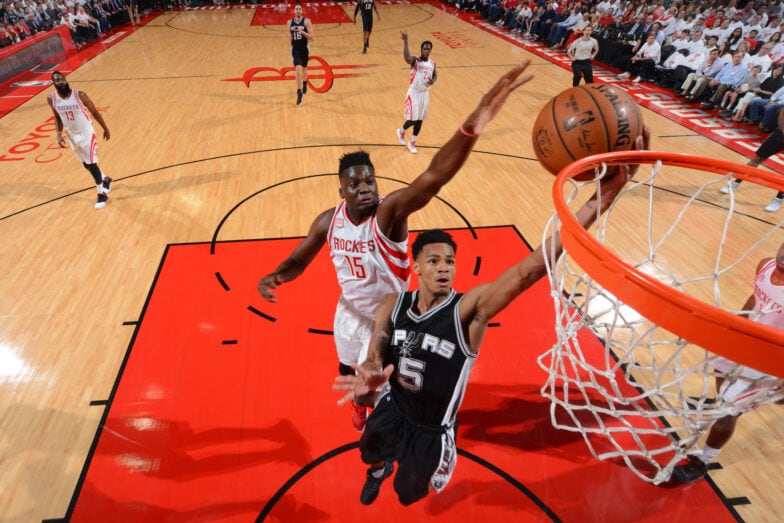 HOUSTON — Don't let the nickname fool you.
They call Spurs rookie Dejounte Murray "Baby Boy" back home in Seattle, and have for years. But he's always been ahead of the curve, played up with the bigger kids, played regularly with the area pros as a high schooler, and always held his own.
Why should it be any different now?
Spurs-Rockets series coverage
Murray said he wasn't nervous rocking with the big boys Friday night, starting at point guard in place of an injured Tony Parker, in his first taste of NBA playoff action against the Houston Rockets.
So what if he was still being potty trained the last time the Spurs played in the postseason without Parker, who is done for the season after surgery to repair a torn quad. These are the moments Murray dreamed of, even if he didn't really focus on the circumstances in those dreams.
"That was another ball game out there," Murray said. "That's beyond anything you can really expect or prepare yourself for. I mean, I started other games during the regular season. But that stuff doesn't mean anything to me now. Those games we played in the regular season are over. That game [Friday night] was a different atmosphere. I saw it in my team's eyes and in the coach's eyes, too. Same for the Rockets and their coaches, too. The way everybody approached the game. When Coach [Gregg Popovich] tells us that every possession counts in the playoffs, it really does. I've seen it live now."
His line was modest — 14 minutes, two points, two rebounds, two turnovers and a steal — but his ability to handle himself in such an electric environment at just 20 resonated with his teammates after the Spurs' potentially series-changing Game 3 win.
"He's a great player and he's very talented and he has a bright future," Manu Ginobili comparing himself to Murray at the same age. "But yeah, what I was like at 20 … whew. Haha."
Murray's importance in this series is absolutely no laughing matter. That's why his experience in Game 3 could prove to be his most crucial moments yet.
"I've never been a part of a playoff game. Being out there is different than being on the bench. But as the time went on I got more and more comfortable and when the time comes for Game 4 I'll be ready to go."

— Spurs point guard Dejounte Murray
"The thing about me is, I get comfortable as I go," said Murray, who started eight games during the regular season. "So when the game started I wasn't as comfortable. I've never been a part of a playoff game. Being out there is different than being on the bench. But as the time went on I got more and more comfortable and when the time comes for Game 4 I'll be ready to go."
Popovich said Saturday that he will start Murray again and he doesn't expect some miraculous metamorphosis by Sunday night.
"He's going to do whatever he does," Popovich said. "It's one game. I don't think people change to much in one game. He'll work hard. He'll try to do well. We'll start him again. And we'll win or we'll lose … and go to dinner."
Murray will start with Patty Mills coming on in relief, the same as he's done for Parker.
Mills, like the rest of the Spurs veterans, has been in Murray's ear all season. So the message won't change now.
Stay ready.
Same as they warned during training camp. But the stakes are much higher now, especially with Houston's Patrick Beverley attacking the rookie relentlessly from the opening tip.
"It's obviously a tough spot, so you just try and give him as much confidence as you can to try and be yourself," Mills said. "He's been watching as well. He knows what's coming. We knew Beverley was going to come after him a little bit. But I thought he done well. His first meaningful playoff game, and you just have to learn from that and keep on growing. But the things you tell him is that you try to be you and be confident. And when you make a decision, own that decision, whether it's a drive or a shot, you shoot to mean it, drive to mean it. I thought he did a good job, especially on the defensive end, deflections and you know, long, long wingspan, so using that to his advantage is definitely good for us."
Putting themselves in Murray's shoes in that pressure-packed moment doesn't take a ton of imagination for the Spurs. They've all had their welcome to the playoffs moment. But not under these sort of circumstances, taking the place of a future Hall of Famer with a chance to advance to the conference finals hanging in the balance.
"That's the best thing about this game and the best thing about being a professional athlete," Mills said. "You get to adjust and learn on the fly. And that's exactly what he's doing … I was proud of the way he handled it."
The challenge gets tougher from here. The expectations will increase. The responsibility on Murray ratchets up the deeper he goes into his first playoff journey.
He'll stay focused on the task at hand. He'll continue to study the game film on his iPad and continue to take in all the wisdom being passed along from within the locker room and back home from the likes of Jamal Crawford and others.
"I'm just trying to keep myself walled off from everything that doesn't matter because this is real stuff," Murray said. "Coach is going to look to me to be that guy with the first unit. And I just have to get more comfortable with those guys and know where LA [LaMarcus Aldridge] and Kawhi [Leonard] want the ball. But like I said, it's just a comfort thing for me. My confidence is up there and I wasn't nervous. It's just another ball game. And it showed me a lot. But it's on to the next one."
Sekou Smith is a veteran NBA reporter and NBA TV analyst. You can e-mail him here, find his archive here and follow him on Twitter.
The views on this page do not necessarily reflect the views of the NBA, its clubs or Turner Broadcasting.