Morning Shootaround
Shootaround (Aug. 13) -- San Antonio Spurs' Tony Parker plans return
Plus, Harkless not worried about 'Melo rumors, Nuggets' Murray opens up, and more from around the Association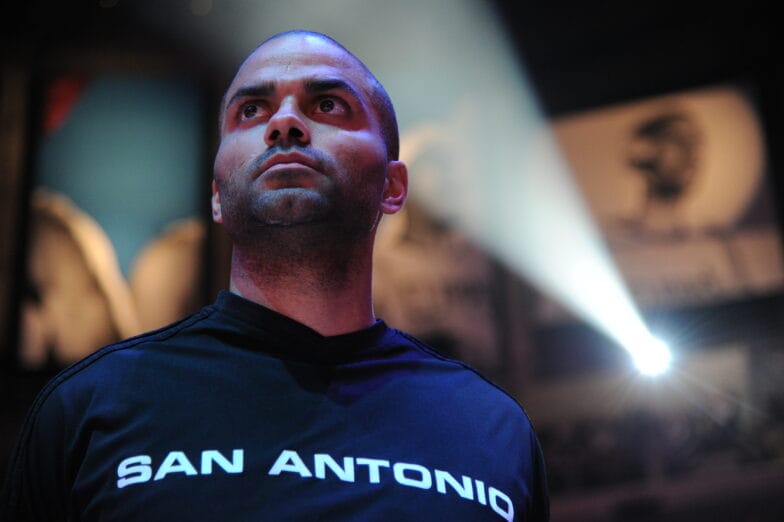 This morning's headlines:
* * *
Spurs' Parker plans return: The injury to Kawhi Leonard certainly hurt the Spurs chances in the Western Conference finals, but they were already without Tony Parker, who ruptured a quadricep tendon one round earlier, against the Houston Rockets. But as Parker said in a recent interview, he's planning on being back this season, perhaps as early as December, writes the San Antonio Express News …
Tony Parker expects to be back on the court in four to five months.

The Spurs point guard offered that timeline during a recent interview with Argentina's LPG TV. In previous interviews, he said he hoped to return in January.

"It's OK. It's getting better and better," he said of his recovery from the left quadriceps injury that sidelined him in the second round of the playoffs last season.

"I'm starting to run like a little bit. I'm walking pretty well. I think it's still going to be a long process. It's still going to take like another four or five months, but I am very happy with the progresses. I am advancing in my rehab."

Parker, who turned 35 on May 17, underwent surgery May 5 to repair the tendon he ruptured during the fourth quarter of Game 2 against Houston. The injury was a severe blow to the Spurs' title hopes, considering Parker had averaged in the playoffs to that point 15.9 points and 3.1 assists while shooting 53 percent.
Harkless doesn't concern himself with 'Melo rumors: The trade rumors surrounding Carmelo Anthony the last few months can take their toll, not only on Anthony but the other players who are swept into the storylines, as well. With Portland being mentioned as a possible landing spot for Anthony, Blazers forward Moe Harkless has heard his name involved in rumors, but as Harkless told the New York Daily News, he can't concern himself with rumors…
Still, as the Trail Blazers forward explained to the Daily News on Saturday, he doesn't concern himself with the persistent rumors that he's included in trade proposals to the Knicks. There's no benefit.

"It doesn't do anything for me to get involved with that," he said. "If it happens, it happens."

Instead, Harkless is spending this weekend back home directing his inaugural "Skills Academy" camp at the Boys & Girls Club of Metro Queens, a program the St. John's product is co-hosting with management agency Gotham Hoops. On the final day of camp Sunday, Harkless will give away school supplies to the 64 student-athletes in attendance — many of whom serve as a reminder to the 24-year-old about his own upbringing in South Jamaica.

"I wanted to make sure I had the camp here," Harkless said. "I was just like the kids in the camp."

For now, Harkless' NBA team couldn't be further away than Portland, a solid six-hour plane ride from LGA to PDX where he's found stability in his career. From a trade dump in Orlando to starting on a playoff team with the Blazers, Harkless averaged over 10 points last season on 50 percent shooting while demonstrating improved 3-point range.

This was after he fell out of the rotation on a terrible team in Orlando.

"In Orlando we were kind of rebuilding. Coach (Jacque Vaughn) got fired and everything like that," Harkless said. "In Portland, the system was already in place and the organization is run really well. So I'm in a comfortable situation for me."

The improvement is also why he's been part of trade proposals involving Carmelo Anthony, according to sources, both in straight swap talks and three-team negotiations where Anthony would end up in Houston. In both instances, Harkless goes to New York.

Just entering his prime on a friendly contract (three years and about $31 million remaining), Harkless is an enticing option who also plays Anthony's position. However, any path to a deal is ripe with hurdles — starting with Anthony's resistance to waiving his no-trade clause for Portland, and the Trail Blazers' reluctance to be involved as a third team to send Anthony to Houston.

The Blazers backcourt of Damian Lillard and C.J. McCollum have been actively and publicly recruiting Anthony, which could be awkward if it means they're pining for Harkless' replacement. But apparently there are no hard feelings — Harkless said he planned on working out with McCollum this weekend in NYC.

McCollum, coincidentally, was spotted training with Carmelo last week in Manhattan.
* * *
Nuggets' Murray excited to be healthy: Nuggets guard Jamal Murray has been an important part of their youth movement. Back home in Canada, Murray recently sat down for an interview with Donnovan Bennett where he discussed being healthy and trying to avoid trade rumors …
SN: What are you looking forward to this upcoming season?

Murray: I'm excited to be healthy. I think that's the biggest thing. Last year wasn't the best in terms of my health. This year it's going to be a lot of fun just to be able to move and do what I do like I used to without any pain.

SN: What was bothering you the most?

Murray: I had surgery on my core muscles. They were ripping apart. I got that fixed so now I can get out of bed properly and sit up and all that. It definitely limited what I could do throughout the season but now I'm good. I'm definitely happy I've had the summer to rest and take care of that.

SN: What's it like to be back home?

Murray: It feels good. Good to be home, see my family, see my friends, see these kids. I'm only home for a limited time so I want to make the most of my time and give back.

SN: Via Instagram I've noticed you've done some world travelling. What's that been like?

Murray: A lot of fun experiencing different cultures and the way they do things. I've been trying to stay in shape while I'm there which is very hard. But it was a lot of fun to travel and experience those things and see all these different places.

SN: What is it like for you to see the growth of the game internationally when you are abroad?

Murray: It means a lot especially for me as an international player and someone who plays for my country it means a lot. The one thing you notice about the kids overseas that is the same as the kids here is that they have fun with it but now they have dreams to play professional basketball also.

SN: What do you want to impress upon the kids you are working with in these clinics?

Murray: I just want to spend time with them and have fun. I don't want to overwhelm them with anything. I want them to be able to come up to me and ask questions without pressure.

SN: You're taking part in an initiative with the NBA and BMO to refurbish courts. Why is that important to you?

Murray: I want to be able to do that and make sure courts are runnable for kids to play on and safe. It's a great initiative to be renovating all these courts because I'll be using them too once they get finished.

SN: What did it mean to you to see the Canadian under-19 team win gold?

Murray: It means a lot. Playing in it and knowing how hard it is to win all that so it was great to see this team (do what it) did. They have some great players and great confidence. They got the job done unlike we did when we tried.

SN: Have you had a chance to catch up with your high-school teammate Thon Maker this offseason?

Murray: He was with me for a lot of these events in Vegas especially. We've had a great connection since high school. He is still one of my best friends on the basketball court and we got a lot of workouts in together.

SN: This is your first experience with the crazy NBA offseason and rumor mill. How are you handling it?

Murray: It's different knowing I could be in Cleveland right now. I could be in Minnesota. I could be anywhere in a couple days. It's kind of nerve wracking because you don't know what's going on and there are so many rumours. I just have to stay ready and prepared for any opportunity.

SN: How many texts have you gotten about it?

Murray: I don't really text a lot of people so it's good to have nobody texting you about it. [laughing]

SN: Do you guys talk about it amongst yourselves as a team?

Murray: We kind of wait until it's all said and done before we talk about it. We try and make sure everybody is on the same page with the guys that we've got. We're going to have some workouts later to see what everybody has been doing. We kind of wait for the season and wait until we have everyone united and together before we make any decisions.
* * *
SOME RANDOM HEADLINES: Josh Jackson says he thinks he'll end up in Phoenix … The Hornets may have found their third point guard … Andre Iguodala says Draymond Green is one of the smartest players he's ever been around, even if his athleticism doesn't always translate … Lonzo Ball wasn't happy to see one of his teammates getting dunked on, even if it is only just a video game …