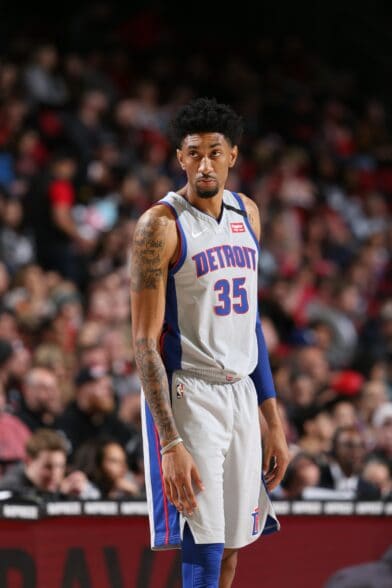 Detroit Pistons forward Christian Wood was the third player in the NBA to test positive for the new coronavirus, doing so on March 15. However, it appears the big man is healed up from COVID-19, per The Athletic's Shams Charania.
He is reporting that Wood was cleared from COVID-19 today after registering a negative test result for the virus on Wednesday. In order to be cleared for coronavirus, one must have two negative tests, spaced at least 24 hours apart, to reach that designation. Wood would be the first known NBA player to be cleared from coronavirus after testing positive for it two weeks ago.
Wood is the first known NBA player to clear from coronavirus — after testing positive nearly two weeks ago. https://t.co/4y6rHeWR2k

— Shams Charania (@ShamsCharania) March 26, 2020
Rod Beard of The Detroit News reported Wednesday night that Wood was almost fully cleared after he passed his initial test on Wednesday and would have a second test Thursday, per the newspaper. The news was even more encouraging from the Detroit Free Press, in which Wood's agent, Adam Pensack, told Dana Gauruder that Wood is "feeling great and fully recovered."
Wood's diagnosis became known one week after he played against the Utah Jazz — spending much of that night matched up with Rudy Gobert, who was the first NBA player known to test positive for the virus.
Per The Detroit News, the Pistons also tested 16 other members of their traveling party of more than 50 people. That group includes coaches, players, front-office members and support staff, all of whom traveled to road games against the New York Knicks (March 8) and Philadelphia 76ers (March 11).
The test the Pistons took were done through a private lab, The Detroit News reports, and were not taken from the allotment of public testing kits. In an official statement from the Pistons on March 15, the team confirmed that a player — they did not name Wood — tested positive and had been in self-isolation.
For most people, the new coronavirus causes only mild or moderate symptoms, such as fever and cough. For some, especially older adults and people with existing health problems, it can cause more severe illness, including pneumonia.
The NBA's shutdown, which began March 11, came with Wood in the best stretch of his career. He had averaged 21.6 points and 9.1 rebounds over a 16-game stretch starting Feb. 2. He also had double-digit scoring numbers in each of those 16 games, after never putting together more than three such games together previously.
Wood had what was then a season-high 30 points in that March 7 game against the Jazz, topping it four nights later with a 32-point effort against Philadelphia. He's having his best season, averaging 13.1 points and 6.3 rebounds.
Information from The Associated Press was used in this report.