Recapping Week 3 in NBA: Two more in the 50-point club
Take a look back at the week that was in the NBA with a collection of some of the best games, videos, photos, features and more from around the NBA world.
* * *
Games of the Week
Warriors 149, Bulls 124 — The final score here shows a blowout, and that much is true — the Warriors were up 92-50 by halftime. Forget about all that and focus on this: Klay Thompson's pure shooting stroke. That was the story in this one, as the Warriors shooting guard broke out of his season-long shooting slump with 52 points and an NBA-record 14 3-pointers.
Spurs 113, Mavericks 108 (OT) — DeMar DeRozan continues to deliver go-to guy performances for the Spurs and had another one on Monday night. Although DeRozan missed a potential game-winner, he scored 18 points in the fourth quarter and overtime as he and Mavs rookie Luka Doncic waged a thrilling battle down the stretch late in the game.
Bucks 124, Raptors 109 — The scoring outburst from Thompson stole the spotlight on Monday night. But don't overlook or short-change what Milwaukee pulled off this win. It tied the best start in franchise history (last done by the defending champion Bucks team of 1971-72) and became the NBA's lone undefeated team at 7-0. More impressively, though, the Bucks got the win without star Giannis Antetokounmpo.
Timberwolves 128, Jazz 125 — Seven years ago, Derrick Rose was one of the marquee names in the NBA. Injuries and other setbacks have robbed him of that post, but on Halloween night, it looked like time stood still for Rose. He went for a career-best 50 points, setting numerous personal single-game highs in an emotional game for the former Kia MVP winner.
Kings 146, Hawks 115 — The last time Sacramento started a season 6-3, they won 59 games behind Chris Webber, Mike Bibby and Co. De'Aaron Fox was in a zone against Atlanta, notching 31 points, 15 assists and 10 rebounds for his first career triple-double. The Kings are a long way from reaching contending status, but are showing early signs of life out West in 2018-19.
Pacers 102, Celtics 101 — Victor Oladipo isn't about to fall into the background of the Eastern Conference. That much was made certain on Saturday night as he nailed a go-ahead 3-pointer against the favored Boston Celtics with 3.4 seconds left. His shot not only delighted the home crowd, but proved the Indiana Pacers are just as much of an early-season favorite in the East as anyone else.
Stat Lines of the Week
Derrick Rose (50 points, 19-31 FG, 4-7 3pt FG, 4 reb, 6 ast, 2 stl, 1 blk in 41 minutes) — In what was the most emotionally stirring on-court performance to date this season, Rose put forth the kind of game that hadn't been seen from him … ever. That block you see in his stat line? It couldn't have been more timely as he got a piece of Dante Exum's 3-pointer at the buzzer to preserve the win. | Watch | Video box score
Klay Thompson (52 points, 18-29 FG, 14-24 3pt FG, 5 reb, 1 stl in 27 minutes) — Shooters gotta shoot, right? Thompson lived up to that adage on Monday night and busted out of his season-long slump in style. Even cooler than his 52 points? Watching his teammates — and Stephen Curry, whose single-game record for 3-pointers Thompson broke — egging him on all game long. | Watch | Video box score
Andre Drummond (24 points, 8-14 FG, 8-10 FG, 23 reb, 1 ast, 1 stl, 2 blk in 38 minutes) — Although the Pistons lost on Wednesday night, Drummond was a beast, logging his third 20-20 game of the season. (For context, he had seven 20-20 games a season ago.) The big man is looking like a force again this season and is a big reason why the Pistons are a solid team in the Eastern Conference. | Video box score
De'Aaron Fox (31 points, 9-13 FG, 3-4 3pt FG, 10 reb, 15 ast, 1 stl in 33 minutes) — If you haven't seen the progress Fox has made in his game, you're missing out. After a rookie season filled with fits and starts, Fox has taken leaps in every major statistical category and showed folks in Atlanta on Thursday just how far he's come. | Watch | Video box score
Joel Embiid (39 points, 10-18 FG, 1-3 3pt FG, 17 reb, 1 ast, 2 blk in 33 minutes) — There are hot starts … and then there was the first half Embiid had Saturday against Detroit. Against his favorite matchup (Pistons center Andre Drummond), Embiid got off to an 8-for-9 shooting start and, by halftime, had 32 points. Seven of those eight makes came inside the paint and, overall, he missed just two shots in the paint all game. | Watch | Video box score
Photos of the Week
An insider's view
Spencer for hire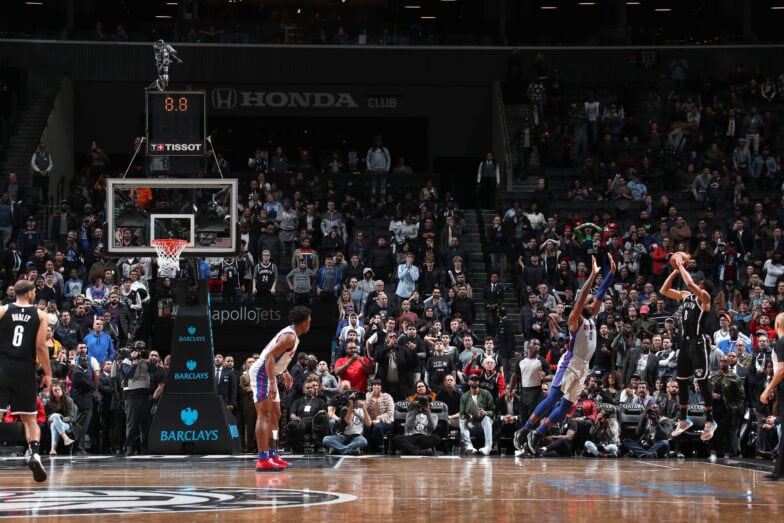 Steer the deer
Victory roar
Best plays from Week 3
Quotes of the Week
"Right now, we're playing like crap. We'll look. We'll fight it. Not making shots, not making foul shots, not making layups. … It's hard to explain sometimes. We lost our swagger. We're on our heels." — Rockets coach Mike D'Antoni, after his team fell to 1-5
"Yeah, you got little kids. You got to put them to sleep. You got little kids on you, that's what happens. Little guards." — Thunder guard Russell Westbrook, on the gestures he made after scoring on Patrick Beverley
"Words can't explain how I feel right now. It's been a while." — Timberwolves guard Derrick Rose, after his 50-point game
"It's the best feeling in basketball or one of the best feelings in basketball when you touch the ball and feel like it's going in every time." — Warriors guard Klay Thompson, after his 52-point, 14 3-pointer night
"I looked at the scoreboard with two minutes to go and was like, 'Wow, I'm out here,'" — Nuggets guard Malik Beasley, on his recent uptick in playing time
"I refuse to let the ship sink." — Wizards guard John Wall, after Washington lost Friday to fall to 1-7
Hey, click on this stuff …
We're all busy. But there's lots of great content on NBA.com that you might have missed in the hubbub of your life. Take a moment, slow down and soak up some of our best stories, videos and more.
VIDEOS FROM WEEK 3
Rose setting sights on Kia Sixth Man of Year Award this season
Thompson says he 'needed' 52-point game vs. Bulls
Relive each of Klay Thompson's record 14 3-pointers
Emotional Rose on 50-point game: 'I play my heart out'
The 'Bobi and Tobi Show' visits NBA TV
Relive Rose's career-best performance vs. Utah
Young Suns putting in work to improve
Isiah Thomas on LeBron's greatness, NBA legacy
Shaqtin' A Fool | Diesel's Dunks | Smitty's Top Plays
STORIES FROM WEEK 3
* Kia MVP Ladder: Hot start pushes Curry to forefront
* Rose's epic game: NBA stars, legends react to 50-point performance
* Rookie Ladder: Class of 2018 living up to hype
* Dunk HQ: A rough weekend for Blazers' Nurkic
* Powell: Persistent Popovich, Spurs negate coaching-change way of NBA
* Old School Power Rankings: Lowry, Matthews gain ground
* Aschburner: Q&A with Hornets All-Star Walker
* City Edition uniforms: What each team will wear this season