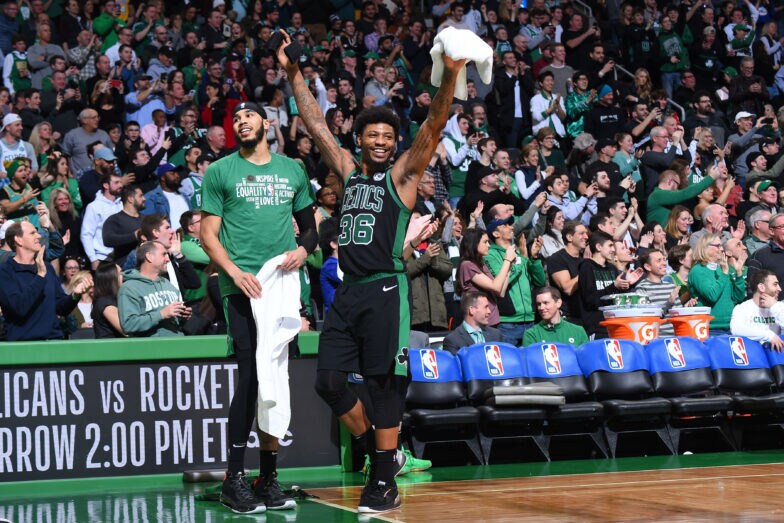 We've reached February, the month that brings the trade deadline this Thursday, All-Star next week, and the start of the playoff push.
It's been a quiet trade season thus far and it seems doubtful an All-Star caliber player will be moved before Thursday. But this is the NBA, where things happen quickly and unexpectedly.
While GMs are working the phones, players are just trying to make it to the break. But the games between now and next Thursday are no less important than any others. Every one counts and there's only one team – the Milwaukee Bucks – that knows where it will stand come April 16.
The Bucks suffered lost No. 7 last week, but remain at No. 1 in the Power Rankings for the 10th straight week.
Plus-Minus Players of the Week
Teams of the Week
Make It Last Forever: Boston (3-0) — The Celtics got a big win in Miami, took care of business against the Warriors, and avoided a season sweep at the hands of the Sixers, shutting down Joel Embiid on Saturday.
Something Just Ain't Right: Minnesota (0-2) — Looking to put an end to a losing streak that has now reached 11 games, the Wolves snatched defeat from the hands of victory with a brutal collapse on Monday.
East vs. West
Schedule strength through Week 15
Toughest: 1. Atlanta, 2. New Orleans, 3. Sacramento
Easiest: 1. Toronto, 2. Milwaukee, 3. Indiana
Schedule strength is based on cumulative opponent record, and adjusted for home vs. away and days of rest before a game.
Movement in the Rankings
High jumps of the week: Boston (+3), Portland (+3), Toronto (+3)
Free falls of the week: Utah (-4), Philadelphia (-3), Miami (-2)
Week 16 Team to Watch
Portland — Damian Lillard is on fire and the Blazers look like they have a shot in the race for the final playoff spot in the West, having won four straight games against teams with winning records. The schedule doesn't get any easier this week. The Blazers will visit Denver on Tuesday, host the Spurs on Thursday, visit Utah on Friday, and host the Heat on Sunday.
Previously…
This time last year: Bucks rise up as trade deadline looms — The Knicks, in the middle of an 18-game losing streak, traded Kristaps Porzingis and two other players to Dallas for Dennis Smith Jr., a pair of expiring contracts, and a pair of first-round picks. Asked before a game at Madison Square Garden about his earlier promise to re-sign with the Celtics, Kyrie Irving said, "Ask me July 1." The Blazers traded for Rodney Hood, and LeBron James returned from a 17-game absence to lead the Lakers to a big win over the Clippers. Karl-Anthony Towns beat the Grizzlies at the buzzer, DeMarcus Cousins dunked all over Kyle Kuzma, and the Coyote caught a bat.
* * *
Pace: Possessions per 48 minutes (League Rank)
OffRtg: Points scored per 100 possessions (League Rank)
DefRtg: Points allowed per 100 possessions (League Rank)
NetRtg: Point differential per 100 possessions (League Rank)
The league has averaged 100.7 possessions (per team) per 48 minutes and 109.4 points scored per 100 possessions this season.
* * *
NBA.com's Power Rankings, released every Monday during the season, are just one man's opinion. If you have an issue with the rankings, or have a question or comment for John Schuhmann, send him an e-mail or contact him via Twitter.
* * *
* * *
John Schuhmann is a senior stats analyst for NBA.com. You can e-mail him here, find his archive here and follow him on Twitter.
The views on this page do not necessarily reflect the views of the NBA, its clubs or Turner Broadcasting.