Each week during the season, NBA.com writer John Schuhmann surveys the league to compile stats and notes for his in-depth Power Rankings. Before the next rankings drop on Monday, here are some of the storylines he's keeping an eye on this weekend.
1. The Improvisation of Steph and Draymond
Stephen Curry became a star with his ability to shoot off the dribble. This season, he's one of nine players who have shot better than 40% on at least 50 pull-up 3-point attempts. But over his first 10 seasons in the league, Curry saw a steady climb in the percentage of his 3-pointers that were assisted, from just 33% as a rookie to 60% two seasons ago.
That rate has dipped down to less than 56% this season, but Curry off the ball remains more entertaining than the threat of him pulling up as he crosses the midcourt line. (This season, Curry ranks second with 11 3-pointers from 30 or more feet, behind Damian Lillard's 14). Curry has been assisted on 58 of his 3-pointers this season, with 20 of the assists coming from Draymond Green.
In their ninth season together, Curry and Green probably read each other better than any two teammates in the league. And what makes the Warriors most fun to watch is the improvisation between the Warriors' two healthy cornerstones, whether it results in open 3-pointers or layups. Here are a few examples:
1. With Mikal Bridges top-locking Curry, he flares to the left wing, using Bridges' own teammate as a screen …
2. A common set for the Warriors is for a player to enter the ball into the post and then set a cross-screen for Curry to curl to an open 3-pointer. Here, Ricky Rubio knows what's coming and is top-locking Curry after Green enters the ball to Eric Paschall. Curry reads the defense and cuts through the middle, taking both Rubio and Jarred Vanderbilt with him. Green is WIDE open at the top of the key, but he calls for Paschall to screen Curry as he curls around to a right-wing 3-pointer …
3. Curry draws a crowd in the corner, so he kicks the ball, Kelly Oubre gets out of the way, and Curry sets a ball screen for Green. Edmond Sumner doesn't want to leave Curry (shooters make the best screeners) and Myles Turner gets hit by the screen, allowing Green to drive, draw help, and toss a lob to James Wiseman …
---
2. The Brooklyn Conundrum
Through Wednesday, there are 14 teams with winning records, five in the East and nine in the West. There have been 67 games played between those 14 teams, and here are their records in those 67 games.
Games played between teams currently over .500
| Team | W | L | PCT | Pt. Diff. | Rank |
| --- | --- | --- | --- | --- | --- |
| Brooklyn | 7 | 2 | 0.778 | +11.4 | 1 |
| Utah | 6 | 3 | 0.667 | +3.0 | 4 |
| LA Clippers | 6 | 4 | 0.600 | +6.5 | 3 |
| Philadelphia | 4 | 3 | 0.571 | +0.4 | 8 |
| L.A. Lakers | 6 | 5 | 0.545 | +1.5 | 6 |
| Memphis | 6 | 5 | 0.545 | -0.1 | 9 |
| Denver | 5 | 5 | 0.500 | +0.9 | 7 |
| Phoenix | 4 | 4 | 0.500 | +2.8 | 5 |
| San Antonio | 6 | 6 | 0.500 | -4.3 | 12 |
| Indiana | 4 | 5 | 0.444 | -2.6 | 11 |
| Milwaukee | 3 | 4 | 0.429 | +9.1 | 2 |
| Boston | 4 | 6 | 0.400 | -2.5 | 10 |
| Golden State | 4 | 9 | 0.308 | -8.5 | 13 |
| Portland | 2 | 6 | 0.250 | -12.3 | 14 |
With their win against the LA Clippers on Tuesday, the Brooklyn Nets are 7-2 against the other 13 teams that currently have winning records. And with their stunning loss in Washington two nights earlier, the Nets are 7-7 against teams that currently have losing records. (They've yet to play the 10-10 Rockets.)
But that 7-2 record against the good teams? Those two losses were both to the Memphis Grizzlies, who lost Ja Morant in the first half of the first meeting and didn't have him at all in the second meeting. So the discrepancy is worse than it looks on the surface.
The Nets have scored a very efficient 116.2 points per 100 possessions in their nine games against teams currently over .500. Still, the bigger difference, by far, between "good Nets vs. good teams" and "bad Nets vs. bad teams" has been on defense, where they've allowed 12.2 fewer points per 100 possessions in the nine games against the teams that currently have winning records (105.5) than they have in their other 14 games (117.7).
Nets efficiency, by strength of opponent
| Opponents | W | L | OffRtg | DefRtg | NetRtg |
| --- | --- | --- | --- | --- | --- |
| Over .500 | 7 | 2 | 116.2 | 105.5 | +10.6 |
| Below .500 | 7 | 7 | 117.7 | 117.7 | 0.0 |
OffRtg = Points scored per 100 possessions
DefRtg = Points allowed per 100 possessions
NetRtg = Point differential per 100 possessions
But there's a big difference between the Nets' early games against other good teams and what they've done more recently. In their first four wins within the group (Week 1 wins against Golden State and Boston, Week 3 wins against Utah and Philly), they allowed 94.5 points per 100 possessions and won by an average of 25 points. Over their last three (vs. Denver, Milwaukee and the Clippers), they've allowed 119.3 per 100 and won by an average of four points.
So it's not like they've been locking these good teams down of late. They've just been focused enough on that end of the floor and remain ridiculously good offensively. The Nets and their opponents have each scored more efficiently than the league average (about 110 points per 100 possessions) in 12 of their last 13 games.
The Nets are currently enjoying just their second two-day break since that first week of the season, but they have a couple of back-to-backs in the next six days. On Friday (7:30 p.m. ET, ESPN), they'll host the 9-12 Raptors at Barclays Center. And on Saturday (8 p.m. ET, League Pass), they're in Philadelphia, where the Sixers are 10-0 with Joel Embiid.
---
3. Most Improved Shooters
Here are your biggest jumps in effective field goal percentage among 184 players with at least 250 field goal attempts last season and at least 100 this season, starting with one guy who left the Milwaukee Bucks and one guy who joined them.
Biggest jump in effective field goal percentage from last season
2019-20
2020-21
Diff.
Player
FGM
FGA
FG%
eFG%
FGM
FGA
FG%
eFG%
eFG%
Sterling Brown
95
256
37.1%
45.7%
52
110
47.3%
60.5%
14.8%
Bobby Portis
265
589
45.0%
50.7%
101
181
55.8%
62.2%
11.5%
Jeff Green
159
344
46.2%
55.2%
73
135
54.1%
66.7%
11.4%
Lauri Markkanen
251
591
42.5%
51.7%
90
176
51.1%
61.9%
10.2%
De'Andre Hunter
280
683
41.0%
48.9%
108
210
51.4%
58.6%
9.7%
Eric Gordon
171
463
36.9%
47.3%
95
205
46.3%
56.8%
9.5%
Royce O'Neale
158
365
43.3%
55.9%
58
119
48.7%
65.1%
9.2%
Thaddeus Young
269
601
44.8%
51.3%
79
135
58.5%
60.4%
9.0%
Michael Porter Jr.
195
383
50.9%
59.0%
62
111
55.9%
68.0%
9.0%
Hamidou Diallo
132
296
44.6%
47.3%
89
165
53.9%
56.1%
8.8%
Minimum 250 FGA in 2019-20, 100 FGA in 2020-21
eFG% = (FGM + (0.5 * 3PM)) / FGA
At the bottom of the list are JaVale McGee (-18.7%), JJ Redick (-14.2%), Brandon Clarke (-12.9%), Davis Bertans (-12.3%) and Aron Baynes (-11.1%).
---
4. Elevator Doors Work Better Inside
When Becky Hammon made history by taking over for an ejected Gregg Popovich back in December, she drew up an "Elevator Doors" play out of a timeout …
Becky Hammon drew up an Elevator Doors play tonight. pic.twitter.com/99R8fGGqDB

— John Schuhmann (@johnschuhmann) December 31, 2020
Lonnie Walker IV first curls around screens from Keldon Johnson and Jakob Poeltl, who then form the elevator doors on the left wing. From the paint, Walker runs through the elevator doors, which close on defender Kentavious Caldwell-Pope. The issue is that the two screens are set just inside the 3-point line, so when Walker catches Dejounte Murray's pass on the other side, he's not quite in shooting range.
A couple of weeks later, the Spurs ran another Elevator Doors play for Patty Mills. This one looked more like the play the Warriors ran a lot for Stephen Curry when they were coached by Mark Jackson.
Mills gives the ball up, does a "UCLA" cut toward the left block and then sets a cross-screen for what looks to be a Rudy Gay post-up. But that's just setting up Mills' dash through the elevator doors toward the top of the arc. These screens (Johnson and Poeltl again) are set lower, but Devin Vassell is late with his pass to Mills and Kenyon Martin Jr. (who was originally guarding Gay and switched the cross-screen) runs through the doors like he's the Kool-Aid Man.
The Spurs are not the only team to have run "Elevator Doors" this season. The Hornets ran it off a baseline out-of-bounds play a couple of weeks ago, and it bore fruit …
Hayward simply inbounds the ball to Terry Rozier (curling to the corner off a Cody Zeller screen) and darts through the elevator doors, which flatten Patrick Williams as he tries to chase through. Note that both screens (Zeller and Miles Bridges) were set inside the paint, giving Hayward plenty of space to shoot with his feet just beyond the 3-point line.
"Elevator Doors" can be a really fun play. But it can also be difficult to execute.
---
5. Adjusting to the Gortat Screen
In a pre-bubble breakdown of the Boston Celtics' off-the-dribble offense last June, one highlighted element was the roll-and-seal (aka "Gortat") screen from Daniel Theis, where the Celtics' center would screen his own defender as a teammate was driving to the basket…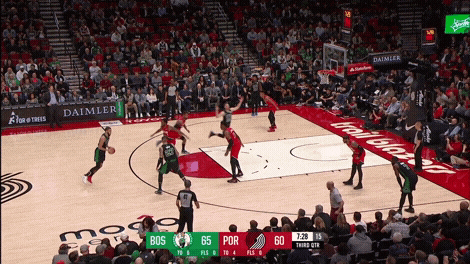 NBA officials also took note of these screens, realizing that they weren't always legal. And when the Celtics hosted the Nets on Christmas, it became apparent that the refs were viewing roll-and-seal screens a little differently this season. Late in the first quarter, Tristan Thompson was called for an offensive foul when he rolled into the paint and set a second (moving) screen on Jarrett Allen as Jayson Tatum drove to the rim …
Midway through the second quarter, Theis was called for an offensive foul on a very similar play …
NBA.com recently reached out to Monty McCutchen, the league's head of referee development and training, and he confirmed that his group did indeed address these screens in the offseason.
"We have a rule book and it states very clearly what is legal and illegal when it comes to screens," McCutchen said. "What happens, though, is that the game evolves."
He compared these roll-and-seal screens to step-back jumpers. The rule book states that "a player who gathers the ball while dribbling may take two steps in coming to a stop, passing, or shooting the ball." For a long time, those two steps were always in a forward direction. But when players started taking step-back jumpers, officials had to realize that the rule doesn't say anything about in what direction those two steps were taken. Two steps backward or to the side are no different than two steps forward. The refs needed to confirm what they were seeing, while it looked strange, was legal.
A similar mental adjustment was needed with these roll-and-seal screens.
"Our visual syntax gets to where we expect a screen to be set," McCutchen said. "The rule book is much more antiseptic, much more clear, much more stark. And when we, as a group, recognize that the game is evolving to now, on the roll, we have people that are setting a screen or sealing."
It's a different kind of screen, but it should be judged the same as any other on or off-ball screen. While it may be disguised as a roll to the rim, it's still a screen that needs to be set legally.
"With screens, you must give someone the time, if they can't see it coming, to stop or change direction," McCutchen said. "If I'm coming up and setting a screen on the side, and that [defender] can see me and it's a stationary player, then I can go right up to before contact, because the player can see me.
"But if we're both moving, the screener has to stop in time for the defender to stop or change direction. That's how the rule is written. It doesn't say where on the floor those conditions have to come to pass."
To be clear, screening your own man in the paint as your teammate drives can be a legal screen. On Monday, Grizzlies rookie Xavier Tillman used such a screen to keep Jakob Poeltl from contesting Morant at the rim …
But the roll-and-screen guy may not be able to get away with as much as he has in the past, because officials have adjusted to how the game has evolved.
* * *
John Schuhmann is a senior stats analyst for NBA.com. You can e-mail him here, find his archive here and follow him on Twitter.
The views on this page do not necessarily reflect the views of the NBA, its clubs or Turner Broadcasting.