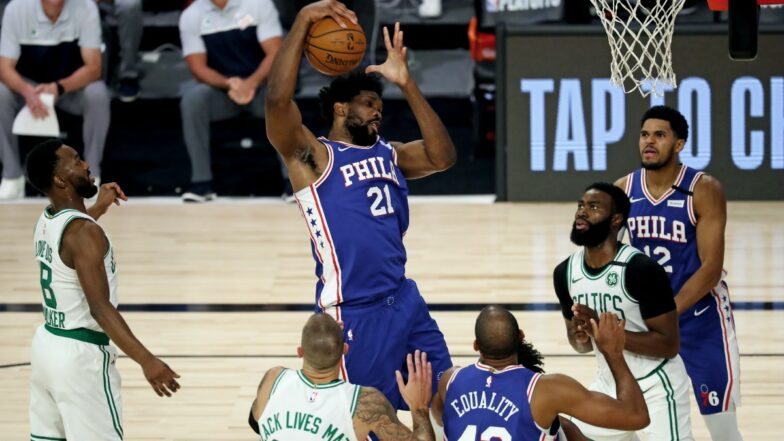 ORLANDO — Normally this Game 4 on Sunday (1 ET, ABC) would be in Philadelphia, where the Sixers were stubbornly solid this season, racking up 31 wins against just four losses, the finest home cooking in the league.
There is a flip side, however: That city is infamously known for eating its own whenever the fans sense doom caused by mistakes and dashed hopes, and so maybe it's better the Sixers are here in a safe space.
You can imagine: The sound of disenchantment that only Philly can muster would surely have banged in the eardrums of the Sixers in the event of a first-round sweep by the longtime rival Celtics. The failure would be partly because the Sixers lost Ben Simmons, but maybe because their front office lost as well.
Whenever the playoff end comes for the Sixers, down 0-3 to Boston, the next crash is expected to be coach Brett Brown hitting the door, followed by an offseason of reflection for a club that might cringe at what it'll see in the rear view.
In a nutshell: Much of Sam Hinkie's work is dying due to the sins of decision-makers who followed.
You remember Hinkie — the GM who might as well have trademarked "Trust The Process", who incredibly sacrificed four seasons just for the chance of a better day? The Sixers tanked to set themselves up as championship contenders; why does it now appear they failed to max out those ample chances?
Three summers ago, the Sixers had a fresh young pair of franchise building blocks in Joel Embiid and Ben Simmons, held the No. 1 overall pick and carried a few solid role players, with millions under the salary cap. They were flush with assets and ready to justify Hinkie's bold experiment.
But now, they've used that flexibility, are capped out for the next three years, are not the heavyweight of the East — let alone the NBA, and they're in danger of getting swept. In the first round.
The Sixers canceled practice Saturday, a day after Brown brushed aside questions about his job security following a dispiriting Game 3 loss to the Celtics.
"I understand the circumstance," he said. "My job is to focus on what I really can do. My players deserve that. I've been in the city seven years, and tonight's loss is what's most on my mind. My effort truly is to try to find a way to win, keep the series alive, and do my job for my players. I'm not rolling over."
Meanwhile, Embiid's voice was barely above a whisper and his eyes weary. Clearly worn down in the second half for the second straight game, he made only one basket in the final two quarters. "I don't want to be swept. I don't want that on my resume."
What happened to all that Philly momentum?
Embiid became the beast the Sixers envisioned, the most dominant Philly big man since Moses Malone helped win that city's last title, and Simmons should resume being a freakish 6-foot-10 point guard once his knee heals. That's the good.
Here's the not so good: The Sixers have little to show for the No. 1 overall pick in 2017 or their Jimmy Butler acquisition, and they're paying Tobias Harris and Al Horford almost $300 million combined and neither can or will justify that price.
This is the result of the work done by former GM Bryan Colangelo, and Brown when he briefly held both jobs, and lately Elton Brand, who was just two years removed from his playing career when given the front office keys.
Sometimes the hindsight game is unfair; every GM has mistakes on his resume. In this case, the mistakes came in a rush and in short time, and they might prevent the Sixers from making a serious title run.
It's not easy to whiff on the first overall pick. Colangelo wanted to pair a combo guard next to Simmons and saw Fultz as the solution. But combo guards are plentiful, scoring swingmen are not. Rather than put a premium on Jayson Tatum, Colangelo went for Fultz, and traded up for him — sending Tatum to rival Boston in the deal.
Fultz was hampered by a nerve condition that wrecked his shooting motion, and rather than develop him, the Sixers shipped him to Orlando last year for essentially Oklahoma City's first-rounder next month. Fultz has since recovered and begun to establish what seems to be a long-term role with the Magic. Meanwhile, Tatum is an emerging superstar, one who tortures the Sixers; he scored 65 points the first two games of this series.
It should be mentioned that the previous year, the Sixers had two additional first-rounders besides the Simmons pick thanks to Hinkie. Each time, they passed on Pascal Siakam, last season's Most Improved Player and a future cornerstone in Toronto.
After Colangelo resigned amid social media scandal, Brown served as the interim GM and boldly declared the Sixers were going "star hunting" with their assets and Embiid and Simmons as selling points to free agents.
"The whole notion of star hunting, star chasing, star development is at the forefront of everything we do … The timeline is now."
Well, LeBron James, Kawhi Leonard, Kevin Durant and Paul George all passed on Philly. And the trade the Sixers swung with some of those assets seems dubious right now.
Harris is a scorer, though not a high-volume one, and that's his only major talent. In his first big splash as GM, Brand traded a young guard in Landry Shamet plus a 2020 protected first and the Heat's unprotected 2021 first for Harris last spring. That's a haul in itself, but not the troubling part of the deal.
One of the league's front office maxims is to be careful trading for a pending unrestricted free agent, because when you surrender lots of assets for him, you lose all negotiating leverage. You must overpay to justify the trade — if he walks, like Butler did for Miami, you have nothing to show for the deal — and that's what happened with Harris. He declined the Clippers' extension offer of $80 million before the trade, and then four months later signed with Philly for $180 million, a Hall of Fame business decision for him and a cap-clogging one for the Sixers.
Harris is shooting 33 percent against the Celtics, still hasn't made a 3-pointer, and is unable to match the gusto of Tatum or Jaylen Brown from Boston.
Brand then thought getting Horford to opt out of his final season with the Celtics last summer was genius, because not only would the Sixers get a power forward to place next to Embiid, they'd also weaken one of their biggest competitors in the East. Yet the Sixers weren't in a position of strength during the negotiation, and Horford wrangled four years and $109 million, steep for a player past his prime. Compounding the situation: Horford and Embiid have poor chemistry, and Horford is a ghost in this playoff series, averaging 5.3 points and 6.3 rebounds in 30.7 minutes.
In the eventual process, Philly didn't keep Jimmy Butler or JJ Redick. Meanwhile, Harris has perhaps peaked as a player (he's third in the NBA after Damian Lillard and Klay Thompson for most remaining guaranteed money left on a contract) while Horford doesn't seem to be a good fit. They'll be tough to trade unless the Sixers sweeten any deal with assets.
Embiid and Simmons will prevent them from sinking in the East, but the club better hope neither star becomes disgruntled by the team's lack of progress.
If that were to happen, the process might need its own .. process.
* * *
Shaun Powell has covered the NBA for more than 25 years. You can e-mail him here, find his archive here and follow him on Twitter .
The views on this page do not necessarily reflect the views of the NBA, its clubs or Turner Broadcasting.