NBPA's Michele Roberts plans to speak with all 30 teams, says players 'really want to play'
Players union executive director spoke with ESPN about next steps forward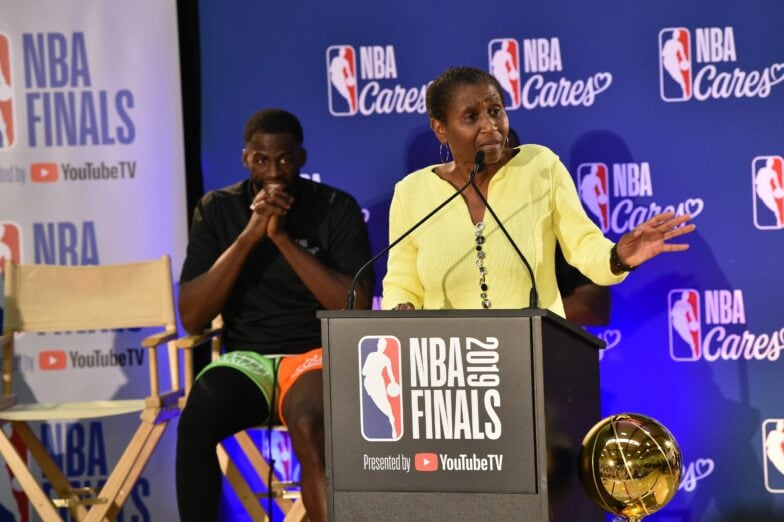 After gauging interest in a return to action through team-by-team calls with players, NBPA executive director Michele Roberts says the "overwhelming" sentiment has been that players want the 2019-20 season to return.
Roberts spoke with ESPN's Ramona Shelburne about the calls, which she plans to conduct with all 30 teams in order to provide details to the players — and respond to their feedback — about the NBA's plans for a return to action.
"It's time. It's time," Roberts told ESPN. "It's been two and a half months of, 'What if?' My players need some level of certainty. I think everybody does."
The NBA announced on Saturday that they have been in "exploratory" talks with the Walt Disney Company on a single-site scenario for a resumption of play in late July at the ESPN Wide World of Sports Complex in Central Florida.
According to ESPN, a joint task force between the NBA and the NBPA has been working together to negotiate the plans for a possible return to action. They reportedly hope to issue guidelines about a return to play before June 1.
Roberts does not believe the union will need to vote on these plans because of the collective bargaining that has already taken place through the joint task force and the calls she is making with every team.
"If we thought we needed a vote, we would. If we're ratifying a CBA, we need a vote," Roberts said. "But our preferred method is talking to people or just having them talk to us. Then if we get a sense of what the sentiment is then we can move forward. We talk to our players and figure it out.
"Let's just get it out there, because our guys need to know," she said. "Certainty will be good. But the players really want to play."