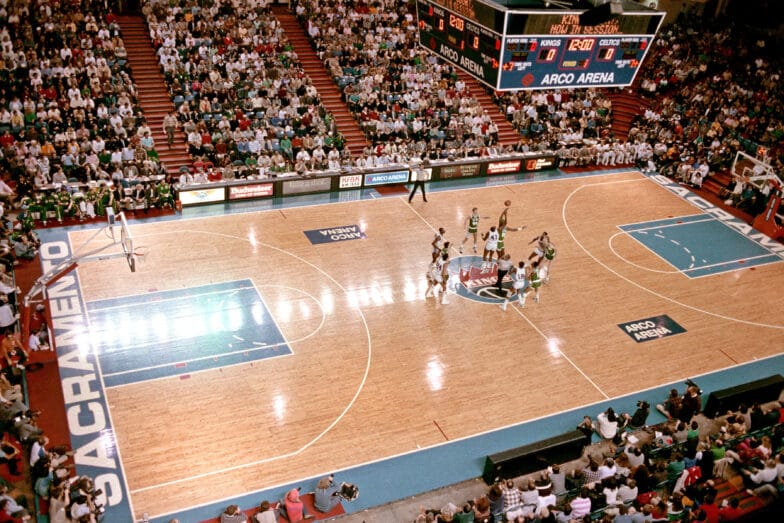 On a night traditionally known more for tricks and treats than picks and rolls, it seems appropriate to do a little ghost hunting, NBA-style.
We're not talking the Ghost Ballers of BIG3 fame or even the Skirvin Hilton Hotel in Oklahoma City, a stop on the circuit that some teams claim is actually haunted. We're thinking of things that used to be, gone-but-not-forgotten aspects of the league that lurk in the memory, even if they're never coming back.
Here in no particular order are some Halloween hoops hobgoblins that fall somewhere on the scary scale between the chain-rattling Jacob Marley and Casper:
1. Long-gone arenas. Oracle Arena, so recently vacated by the Golden State Warriors, is the latest addition to the NBA's long list of abandoned homes. Many are gone themselves, though you still can catch a glimpse now and then on Hardwood Classics. There are too many to list, due to NBA teams moving on up to bigger, better digs over time. But a sampling would include the Cow Palace, Cobo Arena, Chicago Stadium, Boston Garden, The Forum, L.A. Sports Arena, Milwaukee's MECCA, the Salt Palace, McNichols Arena, HemisFair Arena, Market Square, the Summit, the Spectrum, the Omni, the Pyramid, ARCO Arena/Sleep Train Arena and on and on.
2. Belted shorts. Relegated to the throwback bin, along with the more recent sleeved jerseys.
3. The six-foot lane. Heck, the 12-foot lane. The former was widened in 1951 in response to Minneapolis big man George Mikan's dominance. Then it was widened again in 1964 to its current 16 feet in hopes of tamping down Wilt Chamberlain's impact.
4. Commercial air travel. Some things on a used-to-be list inspire nostalgia in those who experienced them and curiosity in those who didn't. But it's highly unlikely any former or current players and coaches would swap today's luxury charter flights for the way the NBA used to travel. Wake-up calls at 5 a.m. for the first flight out. Waiting out delays at the gate with the beat writers and civilians. Seven-footers folding themselves into economy class seating.
5. Obstacle-course schedules. The NBA in recent years has tried to be responsive to players' performance needs and physical limitations, working to minimize the number of back-to-back games and four-in-five-night stretches. Didn't used to be that way. Consider the Baltimore Bullets, who in January 1966 were put through these paces: Games in St. Louis, Detroit, back to St. Louis, day off, to Philadelphia, to Boston, home vs. Lakers. A week later, they bounced back and forth between L.A. (Lakers) and San Francisco for four games in four nights, then traveled to New York to face the Knicks for their fifth game in five nights. Baltimore's record in those 11 games: 2-9.
6. Doubleheaders. Some teams in the NBA's first few decades would book a Harlem Globetrotters exhibition as the night's opening attraction. But the biggies were when the Knicks would host at Madison Square Garden a neutral-site game for two other NBA clubs. A lingering memory for some who attended: The thick haze that hung over the arena's upper reaches, courtesy of the smokers puffing away all evening.
7. Tape-delay. It seems inconceivable in 2019 that an NBA playoff game, never mind a Finals contest, might be shown on anything but live TV. Nope. The league didn't have much leverage in the late 1970s, before Magic Johnson and Larry Bird arrived to help goose interest and ratings. Networks forced fans to stay up late to watch games that were off before the telecasts tipped off. The practice continued into the '80s, with four of six Finals games in 1981 held till 11:30 p.m. ET. Michael Jordan was already creating new fans when the last tape-delayed game, Game 3 of the West finals between the Lakers and Rockets, aired on Friday, May 16, 1986.
8. "Illegal!" That used to be a frequent bellow from the league's benches, with coaches trying to alert the refs when opposing defenses breached (or didn't) the complicated illegal defense rules. The NBA purged most of that around the turn of the century by legislating in zone play.
9. Shattered backboards. For a while, it seemed as if backboards were exploding every few weeks in the Association. Darryl ("Chocolate Thunder") Dawkins was the most avid crack-titioner, getting two in 1979. The earliest recorded instance came in 1946, when a Celtics forward named Chuck Connors (later more famous as TV's "Rifleman") shattered one during warmups. Baltimore's Gus Johnson is said to have shattered three. Shaquille O'Neal didn't get the glass but twice got entire support structures, pulling the backboards down to the court in his rookie season. In March 1993, against Chicago, New Jersey's Chris Morris dunked and shattered a board without glass falling to the floor.
10. Three to make two. That old free-throw bonus was abolished by 1981-82. It made the game drag, and Jerry Colangelo, then GM of the Suns and the chairman of the NBA's competition committee, rightly said: "Pro players shouldn't need that extra foul shot."
11. Phantom franchises. Oooh, pretty scary, kids, when you think of all the teams that are no more. They are rattling around in the mind long after they were supposedly dead and buried. We're not talking just about the antiquities such as the Indianapolis Olympians, the Washington Capitols or the Toronto Huskies. The spirits of the Seattle SuperSonics, Buffalo Braves, San Diego Clippers and Vancouver Grizzlies still walk the NBA earth. Then there are most of the ABA franchises — Virginia Squires, Utah Stars, Kentucky Colonels, Spirits of St. Louis — that died more than 40 years ago before or in the merger.
12. Hand checking. A lot of capable defenders had their effectiveness vaporized overnight when the laying on of hands vs. a ball handler was outlawed in 2004. The NBA, in case you hadn't noticed, likes scoring.
13. Injury shenanigans. As silly or frustrating as labels like "DNP-Old" or "load management" seem today, the reporting of injuries real or feigned used to be much less authentic. Before the inactive list, there was "injured reserve," to which NBA teams would designate up to two players. Anyone put on that list was sidelined for a minimum of five games, and with smaller roster sizes in effect, it was a handy place to stash guys. So there was a whole lot of tendinitis and plantar fasciitis going on. This practice was snuffed in 2005-06.
14. "Play on!" Like the force-out ruling, this is a remnant of the days when the referees had and used more discretion in working their games. If a player lost the ball out of bounds but his elbow was knocked by a foe, the force-out meant the ball handler's team retained possession. "Play on!" was a frequent order barked by refs when certain contact or violations were deemed minimally intrusive. Heavier scrutiny of the game officials' performance and, later, video reviews now try to adjudicate everything down to the tip of a fingernail.
15. The 2-3-2 Finals format. This was adopted in 1985 as a reaction to those Lakers-Celtics or Lakers-Sixers championship series, which had the NBA universe crossing the country four or five times in a span of two weeks. Suggestions that the league was being energy-conscious, in terms of jet fuel, were part of it, too. The practice fiddled some with the notion of home-court advantage, although MLB continues to use it for its World Series. With charter flights deployed by all teams, league execs and even some of the media, the NBA changed back to the 2-2-1-1-1 format in 2014 to align with its postseasons' earlier rounds.
16. Player-coaches. Forty men in NBA history have done it. The first was Ed Sadowski of the Toronto Huskies in the Basketball Association of America precursor to the NBA. Only two men won championships as player-coaches: Baltimore's Buddy Jeannette in 1948 and Boston's Bill Russell in 1968 and 1969. The youngest player coach ever was Dave DeBusschere, who took over the Pistons in 1964 at age 24 (not long after ending his second career as an MLB pitcher). The Hawks' Richie Guerin logged the most games (372) in the role, yet was named Coach of the Year in the one season in the middle when he stopped playing. Legend Lenny Wilkens was a player-coach for two teams, spending three seasons at it in Seattle and one in Portland. And the last player-coach in NBA history was Dave Cowens, who accepted the gig after coach Satch Sanders got fired in 1978-79. None of the players wanted to learn a new system, Cowens said, so "I kind of took one for the team." The practice died with the arrival of the salary cap in 1984, with NBA brass wary that paying a coaching bonus might enable a team to circumvent the cap.
17. Victory cigars. For obvious reasons. Probably victory vaping, too.
* * *
Steve Aschburner has written about the NBA since 1980. You can e-mail him here, find his archive here and follow him on Twitter.
The views on this page do not necessarily reflect the views of the NBA, its clubs or Turner Broadcasting.