• VOTE NOW for your 2022 NBA All-Stars!
Get ready for campaign season.
The NBA has already started its voting process for this year's All-Star game in Cleveland, beginning on Christmas Day and ending on Jan. 22. Some teams' coaches and players have vouched publicly for one of their guys to get votes. And expect teams to further distribute more information on why their players are better than others.
That means we can expect more discussion about the NBA All-Star game in the weeks ahead. After all, I started fielding some questions about potential All-Stars in my inbox and Twitter account. So, I'll present one of them to kick off this week's mailbag.
---
Which NBA player deserves an All-Star selection the most this season?
— @_Talkin_NBA
I would say DeMar DeRozan. Look, Stephen Curry, Kevin Durant, Giannis Antetokounmpo and LeBron James deserve All-Star starter nods, too. But that seems inevitable. As for DeRozan, he hasn't earned an All-Star selection since 2017-18 during his final season with the Toronto Raptors. After spending three productive seasons with the San Antonio Spurs, DeRozan has now shown in Chicago that his stellar play will also lead to championship-winning basketball.
During the Bulls' recent seven-game winning streak, DeRozan has averaged 28.4 points on 48.6% shooting, 4.4 rebounds and 6.3 assists. He made two game-winning shots on consecutive nights from 3-point range, an ironic development considering DeRozan infamously does most of his damage the traditional way from midrange. And most importantly, DeRozan has given the Bulls a winning a swagger with his prolific play, his work-man-like attitude and his humble demeanor.
And to think, there are those in NBA circles that believe the Bulls spent too much money when they inked DeRozan to a three-year, $85 million contract via a sign-and-trade with San Antonio. DeRozan has been worth every penny, and then some.
---
What are your predictions for NBA expansion in 2022 and beyond?
— @mrnonel
I don't think NBA Commissioner Adam Silver has a New Year's resolution to have expansion in 2022. In a preseason conference call, Silver told reporters that "we want to be fully through the pandemic and know that we're back operating on all cylinders before we seriously start to look out into the future." Who knows if we will ever be fully through this pandemic. But the NBA at least has to feel it has recovered some of its financial losses stemmed from the four-month shutdown in 2020 and playing with almost zero or limited fans for most of 2021-22.
Nonetheless, the NBA will certainly expand at some point. It's just a matter of the unknown of when.
The NBA has missed having a rabid fanbase in Seattle ever since the SuperSonics franchise left for Oklahoma City in 2008. Besides, the Climate Pledge Arena opened this season for the NHL's Seattle Kraken, which shows that it has a much more appealing facility than the former KeyArena.
The NBA also could further tap into Canada's growing basketball fandom in Vancouver, which hosted an expansion team for six seasons after being sold to Michael Heisley before receiving league approval to move to Memphis. And the NBA has found Las Vegas appealing with hosting Summer League there since 2004.
When will this all happen, though? That still remains anyone's guess.
---
When healthy, are the Lakers indeed the best team in the league like LeBron says?
— @sloflyer032
When healthy, the Lakers are no longer a team that will just flame out in the first round, fall short in the Play-In Tournament or even end their season in April. Group the Lakers back among the league's championship contenders if they can stay healthy. But the Lakers are hardly the best team in the league even with a full roster. Those nods belong to the Golden State Warriors and Brooklyn Nets. Both teams have a blend of star talent, depth and some continuity.
As for the Lakers? They have 11 new players, including a dynamic point guard in Russell Westbrook that has shown both offensive brilliance and turbulence. Even if the Lakers are trending in the right direction with fielding a more complete roster, it is a fool's errand to bank on the Lakers ever becoming "fully healthy." Anthony Davis will be out for at least another two weeks, and his injury history suggests he might have other ailments that limit him later. Never bet against James' play, but his body is 37-year-old and has increased its odometer substantially this season. And the Lakers overall have too many veterans, making it more mathematically likely they could deal with the injury bug again.
---
Hoops Around the World
We all know that the NBA has become a global brand and that basketball has become a global game. But what fuels your basketball fandom?
Got a good basketball story to tell? Write it up and send it my way. The best essays will be used in this feature throughout the season. We'd also love to see a photo of the hoop you play on, whether it be in your neighborhood gym or in the backyard of your driveway. Got a good image? Then pass along and we'll feature it, such as this latest entry ….
From Jaya of Vancouver, Canada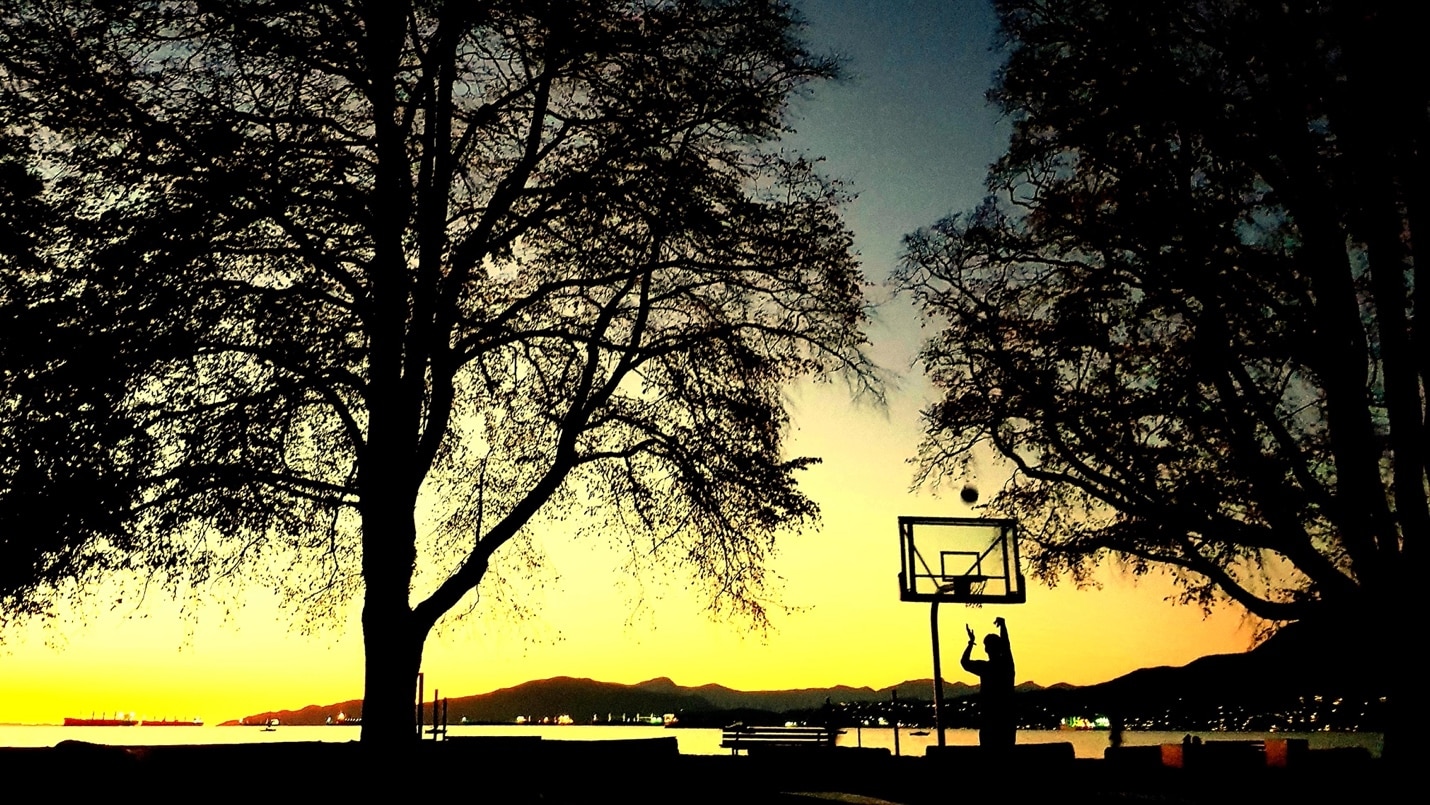 "Kits beach, Vancouver BC, Canada. It's the primo outdoor pick up ball spot in Vancouver.  Everyone from occasional NBA level players to little kids making their first baskets can be found here.  Summer weekend pick-up games can be great, with players from the Vancouver suburbs, the Seattle area and beyond showing what they got.
It's kept in top condition, thanks to a longtime Canadian National Team member, Howard Kelsey.  He runs the annual big summer tournament and raises the funds to make it the baller's paradise that it is."
* * *
NBA Digital Sr. Analyst Mark Medina will be answering questions each week in his NBA Mailbag.
How can you participate? Simply email your question to Mark here, or use your Twitter account and get your question to him here.