Boston Celtics, Washington Wizards wage first of (hopefully) many playoff showdowns
Young stars, favorable salary cap futures make Wizards, Celtics favorites to one day usurp Cavs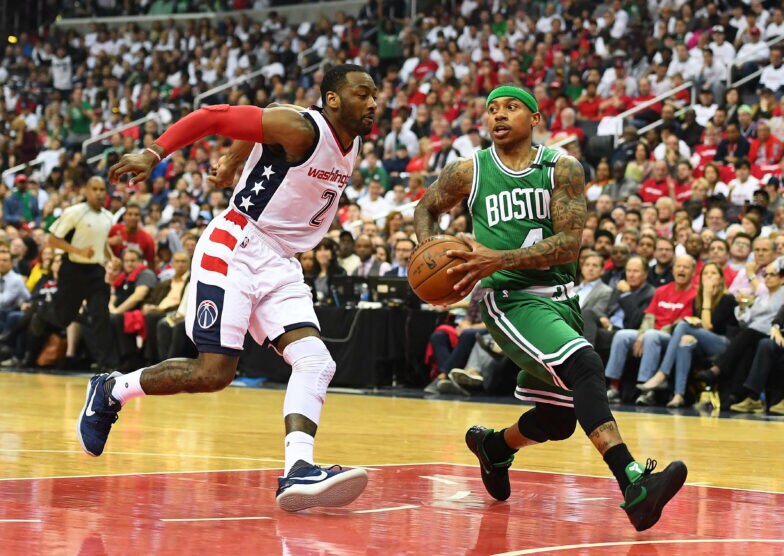 Make it plain, Isaiah Thomas. Make it plain.
"We don't like them," the Boston Celtics' star guard said last week, "and they don't like us."
Don't mince words, Markieff Morris: what were you thinking during that amazing 26-0 third-quarter run Sunday night in Game 4 of your Washinton Wizards' series against Boston?
"Blow them the (bleep) out," Morris said. "Keep pressing them. Go up 50 if we can."
This isn't James Harden and Russell Westbrook, good and close friends, squaring off in the first round. This isn't LeBron James patting an entire nation on its head in a semifinal series devoid of any drama. There is good old fashioned hatred between Boston and Washington, two teams desperate to break through and reach the conference finals — for the first time since 2012 for the Celtics, for the first time since 1979 (!) for the Wizards.
All the nonsense between the teams in the regular season — Jae Crowder's finger wag in John Wall's face, the funeral game, and so on — pales and fades when you get to this point of the season, with their Eastern Conference semifinal series tied at 2-2 after Washington's blowout win over Boston Sunday.
Make no mistake: James is still That Dude. And as such, his Cavs are still the favorites in the Eastern Conference — this season, next season, and maybe another one or two afterward. But at some point, James will — probably — start his decline. Someone will ascend in the East and have an opportunity to win championships.
This Celtics-Wizards series is one of the first true on-court rounds of that multi-year, multi-team, multi-superstar battle. That the two teams really have animosity toward one another only adds spice to the stew. You don't see this much anymore. And if Boston and Washington wind up facing each other several times in future playoffs for high stakes, so much the better, for them and the league.
"They have their core guys; we have our core guys," Wall said last week. "Teams always make adjustments, but you have these two teams, and I feel like we're the next two teams. We feel like we're the next team that can be right behind Cleveland, or on top of Cleveland, and these guys feel the same way. I don't feel like there's no better matchup that you want to have in the second round, to test with, to see who goes to go play against whoever wins the (other) series."
You don't have to squint much to see a near future where either Boston or Washington could break through and win a conference title, given their respective offensive strengths and the Cavs' defensive issues — at least, Cleveland's current version.
"I can speak for everyone on our team — we all believe that we have a shot this year, if we play the right way," Celtics guard Avery Bradley said last week.
"I feel like the way we're playing right now can challenge any team," Bradley said. "As long as we continue to play this way and move the ball the way we're moving it, and Isaiah's playing at a high level, and we're prepared to knock down wide open shots, it's hard for any team to guard us, and I like our chances. I feel like if I didn't like our chances, I'm in the wrong sport, if we don't believe in each other."
Of course, James has been crushing the dreams of Next Men Up in the east for almost a decade now.
First came the Chicago Bulls, who had the league's MVP in 2011 (Derrick Rose) and sported a lot of tough-minded, well-coached players that made life hell for James and the Miami Heat. But after Rose tore his ACL in Game 1 of the first round of the 2012 playoffs, the Bulls' trajectory was permanently altered. They made the Eastern Conference semifinals twice afterward and lost to James twice more — the Heat version in 2013 and the Cavs version in 2015. They never again re-appeared as a legit threat to James.
The Indiana Pacers then looked inevitable, a defensive power led by a rim-protecting, All-Star center in Roy Hibbert, a promising point guard in George Hill, a tough-minded vet in David West and an emerging superstar in Paul George. They were a possession or two from beating the Heat in the 2013 East finals, but couldn't close the deal, losing in seven games. They got back to the conference finals the next season but were dispatched in six games.
By the 2014-15 season, when the Golden State Warriors exploded into dominance, the NBA game had changed. The 3-pointer became ascendant, small ball became the preferred way to play, defenses switched on everything, and Hibbert's skills became, almost in a flash, irrelevant. The game passed him and the Pacers by seemingly overnight.
The Atlanta Hawks were next, going 60-22 in 2014-15, moving the ball with purpose and intelligence and meeting James, now back with Cleveland, in the conference finals. Two years later, the Hawks are still looking for a postseason win over the Cavs, having gone 0-8 in consecutive series against Cleveland.
The Toronto Raptors? Beaten in the conference finals in six games by LeBron's Cavs in 2016 and swept in the semifinals by his squad this year. The Raptors' window isn't closed, but that's not an encouraging trend line, and Toronto's core is a little older than Boston's or Washington's.
(Moral: when you get a shot at the King, you better not miss.)
Boston is already a step up on Washington, having beaten the Wizards out last summer for free agent Al Horford. The two teams were finalists for the four-time All-Star, who was also in play with Oklahoma City. The Thunder hoped to convince Kevin Durant to stay in OKC by luring Horford first, then re-signing Durant. Of course, Durant went to Golden State, nixing that dream scenario for OKC.
In the end, Horford went to Boston, for four years and $113 million.
The Celtics thus already sport two All-Stars in Thomas and Horford. They will reap the benefits of the post-spike NBA by having several of their role players on pre-spike contracts for the next several years. Forward Jae Crowder, has three more years on his current deal totaling $21.8 million, or about $2 million less than Ryan Anderson will make per season in Houston during the same stretch of time. Three rookies that are in the team's rotation — 2015 first-rounder Marcus Smart, 2016 first-rounder Terry Rozier and 2017 first-rounder Jaylen Brown — and still on rookie deals through 2019 (Smart) at the earliest provide insanely good financial value.
"You can definitely say that we're two teams (that are) hungry, two young cores, and I definitely think we both have a chance to give (the Cavaliers) a run for their money."

Washington guard Bradley Beal, on Wizards and Celtics
Then there's what Coach Brad Stevens refers to as "opportunity" in the very near future — the near-certainty of adding a transformational player in June with that notorious unprotected 2017 first-round pick from the Brooklyn Nets, combined with enough cap room to go after at least one max free agent this summer.
With Horford the only significant contract on the books — per Basketball Insiders' Eric Pincus, Boston currently only has $61.7 million committed for the 2017-18 season — the Celtics can go after anyone, from Utah Jazz All-Star forward Gordon Hayward (Stevens' former player at Butler) to the LA Clippers fomer All-Star big man, Blake Griffin.
Many around the NBA think Ainge was, and is, determined to keep the Brooklyn pick, which will allow him to draft an elite point guard — perhaps as a hedge against Thomas, who'll be a free agent after next season and has already advised the Celtics to "back up the Brinks truck" if they hope to re-sign him. The Celtics kept the pick rather than pulling the trigger on potential trade deadline-day deals that would have brought George or the Bulls' Jimmy Butler to town. (Boston can swap first-rounders yet again with Brooklyn in 2018, so the Celtics will almost certainly be in the Lottery at least one more time, courtesy of the Nets.)
Washington is more locked in with its potential personnel choices, but its core is still young and talented.
Wall, coming off his fourth straight All-Star appearance, is still just 26. Beal is just 23. Otto Porter, due a massive payday as a restricted free agent this summer, is nonetheless still just 23. And swingman Kelly Oubre, Jr., acquired from Atlanta on Draft night in 2016 in a three-team deal, is just 21, but already is one of the team's best on-ball defenders.
And, like Boston, many of the Wizards' other primary rotation players — center Marcin Gortat, starting four Markieff Morris, forward Jason Smith, guard Tomas Satoransky — have multiple years left on pre-spike deals.
"We just control what we can control," Beal said, "but it is two teams who are really getting better each and every year. We're adding pieces. Players are getting better. You can definitely say that we're two teams (that are) hungry, two young cores, and I definitely think we both have a chance to give (the Cavaliers) a run for their money."
After the debacle of failing to even get a meeting with Durant last summer, and falling short on Horford, the Wizards had no choice but to depend on improvement from within. Wall and Beal both responded with career seasons, each saying the primary reason for their success is finally being healthy. Whatever the reason, they've recalculated Washington's future, if this is their new normal.
Wall has been incredible in the postseason, including a stellar 42-point, eight-assists, four-steal effort in the Wizards' closeout win at Atlanta in the first round. There was a reason Stephen Jackson was rocking a Wall jersey at Verizon Center on Sunday — respect being paid for someone who took his lumps and built himself into a superstar the right way.
"I feel like I just took another step in my career," Wall said. "I've been in situations where, been in closeout games, I didn't close the deal. Just like I said, just the confidence and the ability me and Brad have in our talent, our ability to score the ball and find teammates, and not just do it on the offensive end of the floor, but at the defensive end also, it's been a career year for me.
"It's a year where I want to go further than the second round, where I've been two times before in my career. And we've got a great team. This is a great Celtics team that we've been battling with in the regular season. We know it's a new season now, but every team has won their home games."
The Wizards' key question is what to do with Porter, who led the league in 3-point percentage for large stretches of the season before finishing fourth. Re-signing Porter for what will surely be in excess of $100 million will almost certainly mean owner Ted Leonsis will go into the luxury tax next season, with Beal already on a max deal and Wall eligible for either a three-year extension this summer or a potential $200 million deal in 2019 if he meets the criteria for the new Designated Player Exception for veterans.
But it would also mean the Wizards would get all of what should be Porter's most productive seasons, along with Beal's and Wall's. Or, the Wizards could go all in and make their own bid for George this summer, and take a chance they could re-sign him in 2018. Would George really rather play with kids who are years away in L.A. with the Lakers, or have a real shot at beating James in the next couple of years in Boston or D.C.?
"We have a competitive young team that still has a lot of room for growth, and has shown growth in the past two or three years," Wizards President of Basketball Operations Ernie Grunfeld said. "John and Brad have been to multiple playoff rounds; this is their third time in four years we've been in the second round. But right now, we're focusing on (Boston)."
With any luck, these two teams will continue to have one another's attention this time of year for some time to come.
Longtime NBA reporter, columnist and Naismith Memorial Basketball Hall of Famer David Aldridge is an analyst for TNT. You can e-mail him here, find his archive here and follow him on Twitter.
The views on this page do not necessarily reflect the views of the NBA, its clubs or Turner Broadcasting.