Season hasn't turned out as expected, but Wizards showing signs
Wassup, Wizards?
We continue our occasional look at some of the NBA's teams that aren't performing up to snuff with the Wizards. Everywhere I go, I hear variations on the same question: What's wrong with them? People expected them to be so much better than their current 9-13 record. No, they didn't get Kevin Durant to come home. But with Scott Brooks coming in after a year off, at $7 million a year, to help straighten out John Wall and Bradley Beal, and with an intact starting five returning, the expectation was that Washington would improve on its 41-41 mark last season and make the playoffs.
Instead, the Wizards have bumbled and stumbled, with a weak bench that starting center Marcin Gortat said was "one of the worst in the league" after a loss to Chicago in November, and by failing to execute down the stretch of games, when Wall has had the ball in his hands in the waning seconds and not been able to deliver.
Wall and Beal aren't old, of course, at 26 and 23, respectively; they're just entering their primes. And Otto Porter, the third pick in the 2013 Draft, is having a breakout year (13.9 points, 7.4 rebounds, 41.3 percent on 3s) just as he gets set to hit restricted free agency next summer. The starting five, with Markieff Morris at the four and Gortat at center, is very solid, even as Wall recovers from offseason surgery and Beal is on a minutes limit. But the team has yet to recapture the edge it played with in successive playoff appearances in 2014 and 2015, when Paul Pierce briefly gave Washington playoff swag.
"We were a dirty, grimy team," Wall said Thursday.
"Our team is a little different now; we don't have the majority of the guys we had on that team," Beal said. "But it's still there, I think. I think it's up to John and I to do a better job of leading. We have to show by example. It falls on us at the end of the day. The responsibility goes on us. We have to be able to pick up our teammates, pick up ourselves when we're not having the game we want or each other's not having a good game, we have to be there mentally and vocally to pick each other up."
But the Wizards are showing small signs of life, as their beleaguered bench finally is starting to carry its own weight and 2015 first-round pick Kelly Oubre, Jr., has showed signs of becoming a contributor. In the congealed East, the Wizards' 9-13 record has them just a game out in the loss column from the eighth playoff spot.
"Our expectations are high, and they're still high," Brooks said last week. "We felt like we gave a few games away, and a couple of games probably didn't go our way, guys making tough shots to send games into overtime. But that's the way the season has gone. We can control what we have to control the next night, and that's today. Those are the expectations. I like those expectations. I have them for myself. I'm disappointed where we are. I'm disappointed in myself for not figuring out how we can get better and play better, and play consistently better."
When Brooks took over as head coach for P.J. Carlesimo in Oklahoma City in late 2008, he went 3-17 out of the gate. But Russell Westbrook was a rookie and Durant had just played one season. (James Harden would be taken with the third pick in the 2009 Draft the following June.) There were zero expectations and plenty of time for Brooks to put his system in. He does not have that luxury in Washington.
"You always challenge your system when you have some of the things that we had to go through," Brooks said, "whether it was injured players, and minute restrictions. But it also helps the system, because we talk about, we don't make excuses. We could have easily used some of those things, but we have to continue to do our job every day. Adversity is sometimes good. You don't want it all the time, but you want to learn from it and you'll appreciate what you've gone through when things do turn around for you."
Washington's original sin was its quixotic two-year pursuit of Durant, despite murmurs around the league for months going into the summer of 2016 that he had no interest in returning to the D.C. area (he grew up in nearby Seat Pleasant, Maryland). The Wizards' lust was nonetheless understandable — a player of his caliber does not come on the market often, and Washington did look like a team on the rise in 2015.
But the chase wound up being a disaster, leaving GM Ernie Grunfeld open to withering criticism from a frustrated fan base.
The Wizards didn't bolster their roster after reaching the Eastern Conference semifinals in '15, opting to sign multiple veterans to one-year deals to maximize their potential 2016 cap room for Durant. But that led to a bench full of players that knew they wouldn't be around this year, and they played like it, leading to former coach Randy Wittman's ouster. So far, he's the only person who's been held accountable for the poor planning.
Washington wanted to play space and pace last year like everyone else, hoping to replicate the success of its 2015 playoff lineup with Pierce at the three and Porter at the four. Porter averaged 10 points and 8 rebounds as a stretch four, shooting 38 percent on 3s, in Washington's two playoff series. But the Wizards couldn't convince Pierce to stay in town; he opted to return to his native Los Angeles to finish his career with the Clippers.
Yet Washington didn't replace Pierce's skill set on the roster, opting instead to try and make Kris Humphries — who'd made all of two career 3-pointers in his first 11 NBA seasons — into a stretch four. It worked as well as you'd expect. Pulled from the basket instead of doing what he did best — rebound — Humphries was wholly unconvincing and ineffective, and was traded to Phoenix by February. And many of the other free agents the Wizards brought in to bolster the bench were injured much of the season.
The result was a .500 season and no playoff berth, hardly a resume that would tempt Durant, compared with what the Warriors and Thunder had to offer. To add insult to injury, KD wouldn't even grant the Wizards a meeting up in the Hamptons last July while he was engaging a quarter of the league's contending teams.
The Wizards turned to free agent Al Horford, stealthily meeting him in Atlanta the first night of free agency in July, and nearly convinced Horford to sign in D.C. But in the end, Horford went to Boston for four years and $113 million. Washington also coveted Nicolas Batum, but he never took a visit anywhere before re-signing with Charlotte for $120 million. That left Washington with a lot of cap room and a rapidly dwindling list of quality free agents on which to spend its money.
The Wizards chose to make a major investment in Indiana center Ian Mahinmi, giving him a four-year, $64 million deal on July 3. They then added young veterans like former Magic first-rounder Andrew Nicholson (four years, $26 million) and ex-Jazz first-rounder Trey Burke, for whom Washington gave Utah a future second-rounder. The Wizards also made a deal with their 2012 second-round pick, guard Tomas Satoransky, to come over from FC Barcelona.
But the bench was, simply, horrible the first month of the season. Gortat may have been impolitic in his criticism, but his overarching point wasn't wrong.
Per NBA.com/Stats, the Wizards' starting lineup of Wall, Beal, Porter, Morris and Gortat is fifth in the league among all five-man lineups that have played at least 100 minutes this season in Defensive Rating, allowing just 97.4 points per 100 possessions. The quintet is 14th in the league in Net Rating — the difference between a team's offensive and defensive ratings — at a plus 7.7 through Washington's win Saturday over the Bucks. And the group leads all regular five-man units in turnovers produced per game (7.4). Those are the numbers of a solid playoff team.
But the Wizards' bench has a net rating of minus 11.3, the second-worst in the league, only ahead of Philly's bench, currently at minus 12.5. The Wizards' reserves have an offensive rating of 99.5 and a defensive rating of 110.8.
A big reason why — at least, the Wizards hope so — is that Mahinmi has played in just one game so far this season, after undergoing knee surgery just before the start of camp. That knee is now fine, but after his one appearance Nov. 26 against San Antonio, the other knee started bothering him, and he hasn't played since. The Wizards hoped he'd be back last week; now, they're hoping he'll be back by the end of this week.
Mahinmi's absence has had a trickle effect; veteran big man Jason Smith, who was supposed to be Washington's third center, instead has had to play early and often, and only in the last week has shown the pick-and-pop touch that has kept him in the league. Mahinmi's absence has also impacted Nicholson; the idea was to play the defensively superior Mahinmi with the offensive-minded Nicholson in tandem. After sitting most of the first month, Nicholson is just now getting more regular minutes.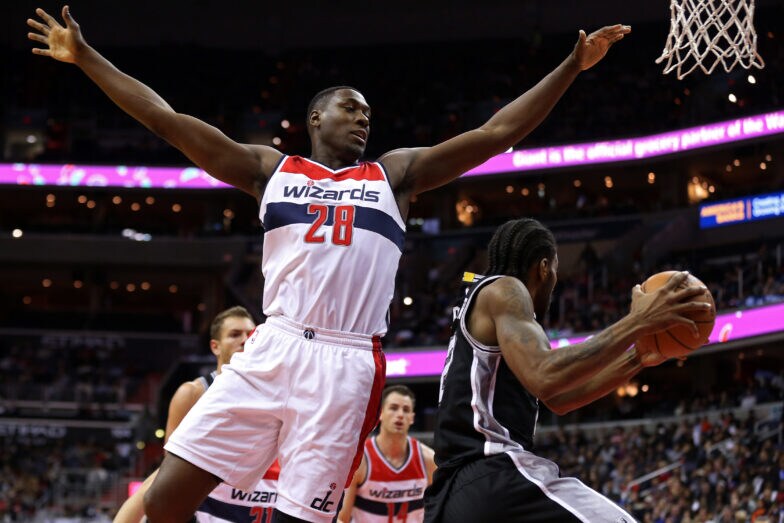 Burke and Satoransky both struggled to start the season, forcing Brooks to incorporate veteran Marcus Thornton into a playmaking role; Thornton can still get hot and score in volume on occasion, but he's no point guard at 29. (The Wizards have hopes for rookie combo guard Sheldon McClellan, the University of Miami product who is currently getting reps and practice time in the D-League.)
So Gortat popped off. But the Wizards' feeling was that, even though the free agent class dropped noticeably in quality after the elite wheat was separated from the chaff, they couldn't ask either their fan base or players to wait yet again while they sat on their hands in free agency and punted until 2017. They had to do something after being in wait mode for two years.
"We're just getting used to each other," Nicholson said. "It's a bunch of new guys. We're just getting used to our roles and playing with each other."
With the poor start, there have been any number of suggestions lately that the Wizards should cut their losses and trade Wall, as Beal just inked his $128 million deal and is probably less marketable at present. Perhaps there are those who still believe the news flash that Wall and Beal "have a tendency to not like each other on the court," as Wall put it to CSN Washington during the summer, makes their working relationship untenable. Better to deal Wall and get picks, the argument goes, hunker down for the winter and emerge, groundhog-like, in the early spring, in the Lottery.
This is a great time to remind all of you reading: In every walk of life, no matter your station … fight the stupid. Rage against the dying of the light-headed.
Trading Wall would be moronic. In a league and game that is now almost totally dominated by guards — and point guards in particular — moving one of the two or three fastest guys in the league with the ball in his hands, and one of the game's best passers, is a complete non-starter, a what the (bleep) have you been smoking suggestion. The Wizards blew up their last reasonably good team — led by the, ah, never dull Gilbert Arenas — to get in position to win a Lottery, which they did in 2010, which got them Wall with the first pick. Whatever their issues, Wall and Beal aren't the problem here.
Since returning from a hamstring strain, and being limited by the team's medical staff to 180 minutes total during every nine-game stretch during the season, Beal has been terrific; entering the weekend he was averaging 25.5 points in his previous 11 games, including a career-high 42 against Phoenix. He worked diligently in the offseason on his off-hand and on being more of a playmaker; it comes in fits and starts, but the Wizards do show nascent signs of being able to attack on the weakside with the ball in Beal's hands instead of Wall's.
And Wall is playing remarkably well for someone who had surgery on both knees in the offseason, and wasn't cleared to play until just before the start of training camp. He's posting career bests so far in total shooting (45 percent from the floor) and 3-point shooting (37 percent), while ranking third in the league in assists (9.6 per game). But he's still not yet 100 percent.
"I'm close to it," he said. "I know it's going to take time, but I'm close to it. To be where I am and be able to play back-to-backs and be able to play the way I am right now, I'm happy for it, because I didn't think I'd be anywhere close to this after having two surgeries over the summer. I thought I'd probably be getting into the rhythm of things now."
Wall spent the summer in Los Angeles with Jesse Phillips, whom he's worked with the past two summers and whom Washington hired full-time this year as a physical therapist.
"Everything I did this summer was frustrating," Wall said, "Spending six, seven hours a day, doing the boring stuff when I couldn't run or jump the first three, four months, was the frustrating part. I didn't really get to do any of (on-court) stuff that until mid-August."
If — if — Washington was serious about moving anyone, it should be Gortat, not Wall.
It's not about Gortat's numbers or play — he's averaging a double-double, fifth in the league in rebounds per game (11.9). Gortat is also first in the NBA, per NBA.com/Stats, in screen assists per game (6.6); he hasn't had the dive opportunities he's had in previous years as defenses have sought to bump his rolls to the basket. And though he hasn't been as consistent defensively as in past seasons, he still can guard most bigs without help, as he displayed recently against DeMarcus Cousins, who needed 31 shots to score 34 points.
|
But this isn't about achievement; it's about math.
The Wizards gave the 30-year-old Mahinmi starter's money — more than $16 million a year, which is more than $3 million per year than the 32-year-old Gortat is making. If Gortat is a little salty about that, and the suspicion is that he is, well, can you exactly blame him? And since no one in Washington believes Gortat and Mahinmi can play together, that means the backup center is going to make more than the starter.
With a contract averaging just more than $13 million through 2019, Gortat would be very affordable for a contending team that could use a productive, two-way big (Boston? Utah?) and which has players and picks it could package. But that's a theoretical, and Washington obviously couldn't pull the trigger on any deal until Mahinmi is back on the floor. But Wall thinks the Polish Hammer still has a lot to give.
"Every team meeting and stuff that we have, we tell (Gortat), you're a big key to our team," Wall said. "We really need you. He's a big key to what we do. He's a center. He's the backbone of our defense. Offensively, he does a great job rebounding the ball and scoring for us. He understands that we need him. He's not getting as many touches as before, but it's different. Sometimes, the game is adjusted, and he has to be able to adjust his game to what the NBA is…some games it's going to be different. When they play back, he's probably not going to get as many touches as he wants."
In the meantime, the players know they have to do better more often.
"We talk about accountability all the time," Morris said. "At the end of the day, this is your job, and you have to come to work every day like anybody else. That's what you've got to do on great teams; hold everybody accountable. And everybody has to do their job."
Is that, I asked, your role, as a veteran, or is it Wall's or Beal's?
"It's a collective," Morris said. "We're a relatively young team. Wall's like, the voice, and I'm kind of like the muscle."
Beal and Wall feel responsible for pushing each other.
"It's kind of weird," Beal said. "Nobody really understands it. But we do. We pull each other to the side during free throws and timeouts — we look at each other like, okay, it's time to pick it up. Okay, John, let's go, get a stop, guard your guy. Or whatever it may be. We give each other hints and signals. It's just simple eye contact with us."
Said Wall of Beal: "He gets emotional, gets into it. He'll let everybody talk first, and he'll put his foot down last. He gets his point across."
And, during the last week, the bench has shown signs of life. Oubre has begun to display the defensive chops that compelled Washington to make a Draft night trade with Atlanta, which picked Oubre for the Wizards with the 15th pick overall. Washington has been very active on defense with Oubre replacing Morris in the lineup down the stretch the last two games, able to switch just about everything.
It's an extremely small sample size, but it has promise as a game-closing lineup.
"He has a chance to be really good, but he has to be focused every time he's on the court," Brooks said of Oubre. "It's not an easy league to play well in. I tell all our guys, 'The easiest thing in our league to do is play hard; the hardest thing is to play well.' If you don't have that mentality, if you can't do the easiest thing, you're never going to do the hardest thing…you don't have the freedom and the luxury to wait five trips down the court, and all of a sudden (say) I'm playing in the NBA; I have to start playing. No, you're in the NBA now, and you have to focus on what it takes to be well from the first possession on the court."
The Wizards are fortunate they're in the East. Despite last-second losses in Orlando, Oklahoma City and San Antonio after leading each of those games late, Washington is one modest win streak away from being back in the top eight in the conference. That would be progress of a sort for a franchise that needs all the positive vibes it can get.
"When you have an opportunity to beat those teams in the East that you're fighting for playoff position, or who has the tiebreaker, you have to win those games," Wall said. "You have to take more advantage of it. You can't say 'it's an early start' or anything like that. It's time to go."
More Morning Tip: DA's Top 15 Rankings | Motiejunas situation in Houston
Longtime NBA reporter, columnist and Naismith Memorial Basketball Hall of Famer David Aldridge is an analyst for TNT. You can e-mail him here, find his archive here and follow him on Twitter.
The views on this page do not necessarily reflect the views of the NBA, its clubs or Turner Broadcasting.