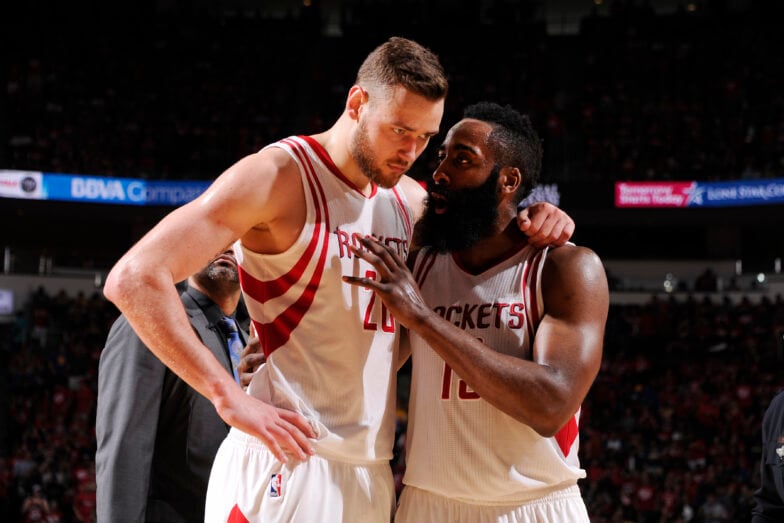 Is Donatas Motiejunas worth all this mishegas?
That is, the restricted free agent, not the player.
The restricted free agent's saga serves as a reminder of how difficult it is for a player to actually move before he reaches unrestricted free agency — something that many agents don't believe will change, even as the league and the union negotiate potential changes in the current system to make it easier for restricted free agents to compete for the dollars available in the system earlier in the free agent period.
But the player, Motiejunas, is occasionally good — a 7-footer who flashed in his third NBA season in 2014 for the Rockets, starting 62 games and averaging 12 points and 5.9 rebounds, shooting 37 percent on 3s as a stretch four playing alongside Dwight Howard. He's been injured a lot, too, though, including having had back surgery in 2015. And that was the case again last season, when he only played in 37 games before the Rockets traded him to Detroit along with guard Marcus Thornton for center Joel Anthony and a protected 2016 first-round pick. (Anthony was then to be re-routed to Philly along with a second-rounder.)
But the Pistons voided the trade after they said Motiejunas flunked his physical, which Motiejunas and his camp vehemently protested, saying his back was fine. Nonetheless, the trade was rescinded and he went back to Houston, where he played in 23 games, and had another moment where he flashed — 14 points and 13 rebounds in the Rockets' one playoff win against Golden State in the first round.
After the season, Motiejunas became a restricted free agent, able to sign an offer sheet with any team, with Houston having the right to match the terms and keep him if it chose. The Rockets had that right under the current Collective Bargaining Agreement once they tendered a qualifying offer to Motiejunas last June; a one-year deal for $4.4 million. But no one signed him to a sheet during the summer, despite the league-wide frenzied spending spree with the infusion of new national TV money into the system, spiking the salary cap to $92 million per team this season.
Motiejunas could have accepted the qualifying offer, played out the 2016-17 season, and become an unrestricted free agent next summer, free to sign with any team without the Rockets having the ability to match the contract. But he chose to continue negotiating with Houston on a long-term deal. The two sides couldn't reach agreement, though, and after Oct. 1, under the CBA's rules, the Rockets' qualifying offer expired. Motiejunas, though, was still a restricted free agent. The Rockets still had the right to match any offer he received.
He got one last week, when the Nets signed him to a four-year deal worth as much as $37 million. The deal had $31 million in base salary, and up to $6 million in potential incentives. The base salaries weren't guaranteed, but the Nets would have to decide whether or not to guarantee Motiejunas's 2017-18 salary by next March, not June or July, as is common for most non-guaranteed deals. Under terms of the CBA, the Rockets then had three days to match the sheet and keep Motiejunas, or decline to match and let him go to Brooklyn.
The Rockets chose to match the sheet. But they did so strictly to the letter of the CBA law. That allowed Houston to match only what is called the "principal terms" of the offer sheet — the $31 million in salary. The Rockets did not agree to pay the $6 million in possible incentives that were in the contract. Under the rules, they were not obligated to do so. And thus, the Rockets agreed to a four-year, $31 million deal with Motiejunas, not the one that could pay him up to $37 million.
Motiejunas responded by not reporting to Houston to take his physical. It's not mandatory for a player to pass a physical for a team to acquire or sign him, but with his back history, the Rockets obviously wanted to examine him before signing off on the deal.
Finally, though, the Rockets and Motiejunas split the difference — in essence, they threw out the offer sheet, which is, again, allowed under the rules — and started over, with a new contract. The new deal essentially is the same as the old one, with a couple of tweaks. It's for $37 million, without all the incentives.
But the Rockets were able to win a couple of important concessions. A player who gets an offer sheet can't be traded for one year, and has to give his consent before being traded anywhere. Because the new deal isn't an offer sheet but a new contract, Motiejunas can be traded three months from now, and Houston doesn't need his consent now if it chose to do so. And, the new deal pushes back the guarantee date for Motiejunas's 2017-18 salary to July instead of March, giving the Rockets more time to decide what they want to do. A source indicates Houston anticipates no issues with Motiejunas's back.
But the Motiejunas saga exemplifies one of the major issues agents and the union have with restricted free agency and the box in which it puts players who have completed their rookie deals. It is viewed as a kind of way station in which players have very few rights and little control, as opposed to unrestricted free agency, where the player can dictate where he will go, or whether he will stay. And thus restricted free agency is always a key issue in any collective bargaining discussions.
The proposed changes would move the date restricted free agents can sign their deals from the end of the free agent moratorium, currently July 7, up to July 1, the first day of free agency. Teams whose restricted free agents sign with other teams currently have three days to match; under the proposed changes, that would be reduced to two days. And once teams make a qualifying offer to a restricted free agent, they wouldn't be able to rescind it.
Yet most agents reached over the weekend think there will be little meaningful chance for restricted free agents; next summer's RFA class includes Philadelphia's Nerlens Noel, Washington's Otto Porter, San Antonio's Jonathan Simmons, Phoenix's Alex Len, Sacramento's Ben McLemore, Atlanta's Tim Hardaway, Jr., and Boston's Kelly Olynyk.
"Any changes made will be minimally helpful to players, at best," one prominent agent said.
If so, settle in for more mishegas.
… AND NOBODY ASKED YOU, EITHER
Fifty Ways to Leave Your Readers Ridiculously Angry at You for No Good Reason. From Rob Clough:
Here's a thought exercise for you. I'm sure you remember the NBA's Fifty Greatest Players of all time list they put out for the league's 50th anniversary back in the fall of 1996.
I imagine the league will do something similar for their 75th anniversary. Assuming that the first list they did stays intact, which 25 players would you add to the list?
Some of the players are no-brainers: Kobe, KG, AI, Timmy, LBJ, D-Wade, Dirk, Nash, Kidd, Steph and KD. You've got MVPs, all-NBA and championship players on this list, and I don't think anyone would question these choices.
But how to fill out the rest of the list? I can think of two dozen more worthy players, and that's without even thinking about where the careers of folks like Towns and Porzingis might wind up. Who would you put on the list, and what would be your criteria?
Also, if you had a chance to revise the first list, whom would you add and whom would you subtract?
I sure do remember, Rob. To start, here is the original (alphabetical) list of 50 as chosen by a 50-person panel of former players, team executives including active and former head coaches and general managers, and media members from print and broadcast outlets:
Kareem Abdul-Jabbar; Tiny Archibald; Paul Arizin; Charles Barkley; Rick Barry; Elgin Baylor; Dave Bing; Larry Bird; Wilt Chamberlain; Bob Cousy; Dave Cowens; Billy Cunningham; Dave DeBusschere; Clyde Drexler; Julius Erving; Patrick Ewing; Walt Frazier; George Gervin; Hal Greer; John Havlicek; Elvin Hayes; Magic Johnson; Sam Jones; Michael Jordan; Jerry Lucas; Karl Malone; Moses Malone; Pete Maravich; Kevin McHale; George Mikan; Earl Monroe; Hakeem Olajuwon; Shaquille O'Neal; Robert Parish; Bob Pettit; Scottie Pippen; Willis Reed; David Robinson; Oscar Robertson; Bill Russell; Dolph Schayes; Bill Sharman; John Stockton; Isiah Thomas; Nate Thurmond; Wes Unseld; Bill Walton; Jerry West; Lenny Wilkens; James Worthy.
A top 75 for the 75th anniversary (in 2021 — the same year that Kobe, KG and Duncan go into the Hall; that's going to be a pretty good 12 months, methinks)? Wow. That requires some thought. My criteria would likely be thus: To be on this list you cannot, or could not, just be one of the best players of your time; you have to, or had to, transcend your time. Your dominance would have to be, like Caesar's wife, beyond reproach.
If we are keeping the original 50 and just adding 25, here is a first draft of whom I'd add as new (alphabetical) honorees:
Ray Allen; Walt Bellamy; Kobe Bryant; Vince Carter; Stephen Curry; Tim Duncan; Kevin Durant; Kevin Garnett; Manu Ginobili; Allen Iverson; LeBron James; Jason Kidd; Bob Lanier; Reggie Miller; Steve Nash; Dirk Nowitzki; Tony Parker; Gary Payton; Chris Paul; Paul Pierce; Mitch Richmond; Dennis Rodman; Dwyane Wade; Russell Westbrook; Dominique Wilkins.
Just missed the cut: Joe Dumars; Grant Hill, Bernard King; Bill Laimbeer; Tracy McGrady.
Who would I cut from the original 50? Man, you really want to get me in trouble, don't you? Okay, for the purposes of this exercise, I'll do it.
Just to remind those who are always looking for a reason to complain: Taking people off the original list means that you can't then consider players who started their careers or played the bulk of their careers after 1996. The original team was announced in February of 1996, during All-Star Weekend in Cleveland. So anyone drafted from 1996 on can't be considered for the original 50. That means no Kobe, Iverson, Nash, Pierce, LeBron, Wade, KD, Curry, etc. I hope that makes sense.
So. I would put Dominique and Lanier on the original 50 Greatest list, and take off…Walton, because of his injury history as a pro, and DeBusschere. Lanier's numbers are just better than DeBusschere's — averages of 20 points and 10 rebounds, on 51 percent career shooting, compared with 16 and 11 on 43 percent shooting. Of course DeBusschere won two rings with the Knicks, and he was a big part of those championship teams, and you can say because of that he should get the nod over Lanier. I thought about that, and made my choice. Thank you in advance for the e-mails telling me how much of an idiot I am.
It's almost like things are different when there aren't three All-Stars and two Hall of Fame locks on the roster. From Rhonda Payne:
I am a Barbadian Heat fan and it hurts to see the Heat unable to close out a game after either leading the majority of the game or climbing back from a deficit. Why can't they get past a 3-game win streak? What is missing? Should they put in more work on an individual basis? Every great shooter talks about the amount of extra work they put in be it Ray Allen, LeBron James or Steph Curry to bring them to the level they are at. Or is it that Coach Spo is too soft on them? Should each player be held more accountable for their actions in games? Each player should determine that he would improve on free throws – those have been known to win games. Each player should determine before each game that he will be contributing more points than the game before. Don't depend on Whiteside and Dragic – each player needs to bring MORE each night. And when your ball is not going in – STOP the opposing team…
There's an old saying, Rhonda: You can call a horse a duck, but it's still a horse. Spo can X and O all he wants, but at the end of the play, it's not LeBron, Wade or Bosh taking those shots. It doesn't have anything to do with heart or toughness or extra work; great players work just as hard and have just as much heart. Except they're better than you.
They didn't call the video game Passably Okay Mario. From Josip Tomic:
I'm an NBA fan from Croatia, wondering about Mario Hezonja, why is he not playing, your thoughts about him and his place in NBA.
I'm told Mario's struggling on defense, Josip, and having trouble dealing with those struggles. The Magic just want him to concentrate on the basics right now, catching and shooting. He's a first-round pick and you can bet he'll get another chance at playing time very soon.
Send your questions, comments, and…I got no jokes; just enjoy a man squaring off with a kangaroo to daldridgetnt@gmail.com. If your e-mail is funny, thought-provoking or snarky, we just might publish it!
MVP WATCH
(Last week's averages in parenthesis)
1) LeBron James (32.5 ppg, 7.8 rpg, 8 apg, .585 FG, .694 FT): Passes "The Big E," Elvin Hayes, for ninth on the league's all-time scoring list on Friday. It wasn't too long ago that Hayes was third on the scoring list.
2) James Harden (25.3 ppg, 11 apg, 8 rpg, .413 FG, .905 FT): Not shooting the three great of late (16 of his last 53 over the last seven games), but that matters less when you're 64 of 74 (86.5 percent) from the line during that same stretch.
3) Russell Westbrook (32 ppg, 11.7 rpg, 9.3 apg, .507 FG, .711 FT): I will be honest; I was starting to wonder if Westbrook's triple-double pace was good for the Thunder as a whole. It's hard not to start watching instead of playing when a guy is as dominant as Westbrook has been. But he doesn't just have a high usage rate; he's also been amazingly efficient (second in the league in PER). And Steven Adams' point that Westbrook grabbing boards saves his own energy for later in the game is a compelling one.
4) Kevin Durant (20 ppg, 8.4 rpg, 4.2 apg, .425 FG, .839 FT): Living in the corners, taking the Harrison Barnes shots in the Dubs' offense.
5) Kawhi Leonard (26.3, 6 rpg, 3 apg, .541 FG, .947 FT): Just updatin': Leonard began his Twitter account in June 2014. He's tweeted four times.
BY THE NUMBERS
61 — Days between the scheduled Nov. 30 game between the Kings and 76ers in Philadelphia, which was postponed due to condensation on the floor at Wells Fargo Center, and the re-scheduled Jan. 30 game in Philly. The new game will add to what was already a monster road trip for the Kings, which now will span eight games in 12 days. Sacramento will play three separate sets of back-to-backs — Jan. 20 in Memphis and Jan. 21 in Chicago; Jan. 27 in Indiana and Jan. 28 in Charlotte, and, now, the 30th in Philly and the 31st in Houston to conclude the trip. In between the back-to-backs are easy games at Detroit on Jan. 23 and Cleveland Jan. 25. Wow.
9 — Games, per the Bucks' local TV folk, in which Milwaukee has made 10 or more 3-pointers this season — including Saturday's 13 in a loss to the Wizards. The Bucks had four such games all of last season. (Sitting on the set of GameTime Friday in Atlanta, Matt Winer asks me: Who's last in the league in true shooting percentage? I guess…Brooklyn? He says no; the Nets are in the middle of the pack. And I say, the Bucks have to be in the bottom five in TSP. And he says no; the Bucks are 10th in the league in TSP. Tenth! And…he was right.)
25 — Write-in votes for President of the United States received by Spurs coach Gregg Popovich in San Antonio, per the San Antonio News-Express. That was more than the six write-in votes that Tim Duncan received, according to the paper.
I'M FEELIN' …
1) Congrats to the Clippers' Ralph Lawler on broadcasting his 3,000th game on Saturday. I guarantee you, no one has seen more dreadful basketball over the last 25 years than Ralph, so no one deserves to enjoy the franchise's renaissance more.
2) Deep dive by Moneyball author Michael Lewis on Daryl Morey's continuing search for marrying numbers and gut in Houston (a couple of NSFW passages; maybe read it during lunch).
3) The NBA scouting community has set up a GoFundMe in honor of the late Greg Ballard, one of the true good guys in the biz. If you have the means and the will, please contribute.
4) Fantastic oral history of friends, colleagues and work associates of Prince, on his life and times.
NOT FEELIN' …
1) I'm always worried when you hear someone like Carmelo Anthony, a vice president of the players' union, say he's skeptical that a deal between the players and the league will be hammered out before Thursday's deadline for either side to opt out of the existing Collective Bargaining Agreement. All I can tell you is there's still optimism on both sides that something will get done, and we won't have an opt-out — which would dramatically increase the chances of a lockout next July. The snags do not involve the basic agreement between the two sides to keep the existing "band" guaranteeing the players between 49 and 51 percent of Basketball Related Income. And the BRI split has been where the talks have shipwrecked in every previous CBA negotiation. I was told late Saturday that the ball "is on the three yard line" with regard to a deal getting done before Thursday. Of course, you can be even closer than that to glory and not punch it in.
2) Watched the Nuggets last week. They're an oddly constructed team; there's a lot of talent throughout the roster. They could play big through their either of their talented big men, Jusuf Nurkic or Nikola Jokic, with Danilo Gallinari at the three. Or, they could go small, with Gallinari at the five and Wilson Chandler, their leading scorer, at the four. They could play fast with their kid backcourt of Emmanuel Mudiay and rookie Jamal Murray, or go old school slow jams with Jameer Nelson and Will Barton (not that Barton's that old). But the talent doesn't come together, at least not enough. I think Denver's a team that needs to make a trade, but not because anyone's playing badly.
3) RIP, John Glenn. What a life you led. If you want a sense of how important and big he was, read Tom Wolfe's "The Right Stuff," about the Mercury astronaut program.
4) See…what had happened was …
TWEET OF THE WEEK
I really be lying in my interviews

— andre (@andre) December 9, 2016
— Andre Iguodala (@andre), Friday, 2:06 a.m., with what we all hope is a grave and gross untruth.
THEY SAID IT
"First we need to start really just leaving the refs alone. Guys just got to sacrifice, do some other things than scoring, do some other things than your personal goals. Just try something new. They've been doing it here for four or five years and it hasn't been working, so it's time to try something new…that's the scouting report when you play against the Clippers. It's always been, especially with the Warriors, you play against the Clippers, you hit them a couple of times and their spirit is going to be down. That's what happened, so we've just got to find a way to get over that hump."
— Clippers forward Marreese Speights, telling truth about his new team's demeanor and how everyone around the league views them, after LA was throttled at home last Wednesday by his old Golden State team.
"There was nothing to void; it just never got made. But when you're the Commissioner, and you have two teams that are ticked off at you as in the Lakers and Houston, and the GMs, without wanting to be attributed, spend their time trashing you, then the wrong impression can be granted…there was never a trade. It was never approved by me, as the owner rep."
— Former Commissioner David Stern, discussing the circumstances under which the NBA, which owned the New Orleans Hornets in 2011, vetoed a proposed three-team deal that would have sent Chris Paul to the Lakers, during a long-form interview with Sports Business Radio's Brian Berger last week. Last week was the fifth anniversary of the league's decision not to okay the deal, which would have sent Paul to the Lakers, Pau Gasol to Houston and Lamar Odom and other players and Draft picks to the Hornets. Stern said the trade was never "cancelled," as a questioner put it, because it had to be approved by ownership first — and the league never gave its approval. (It's a very detailed and long interview about what Stern is doing now and his views on current events in sports, but if you want to go straight to the section involving the proposed deal, it begins just after the 1-hour, 1-minute mark.)
"I really don't give a (bleep) about my job status. I'm gonna work hard, and I'm gonna coach until the day they tell me I'm not the coach here anymore. It doesn't matter. I don't ever worry about that. That isn't anything that I spend five seconds worrying about."
— Beleaguered Pelicans coach Alvin Gentry, after losing at home to the 76ers on Thursday and getting asked about his job status. New Orleans is now 7-17 after losing to the Clippers Saturday, with a 3-12 record against Western Conference opponents.
More Morning Tip: Wizards trying to turn things around | DA's Top 15 Rankings
Longtime NBA reporter, columnist and Naismith Memorial Basketball Hall of Famer David Aldridge is an analyst for TNT. You can e-mail him here, find his archive here and follow him on Twitter.
The views on this page do not necessarily reflect the views of the NBA, its clubs or Turner Broadcasting.