Assessing the no-brainers, possibles and no-ways for contract extensions
Deadline for teams to extend 2013 first-round Draft picks is today at 11:59 p.m.
Who else from the Class of 2013 will get extensions by this afternoon?
Teams can give extensions for players taken in the first round of the 2013 Draft up until 11:59 p.m. Monday. Players who aren't extended by their existing teams will become restricted free agents next summer, able to sign offer sheets with other teams that their current teams can match (though the details for such deals won't be known until after the new collective bargaining agreement is finalized).
Players who've been traded to other teams since the Draft can still get extensions with their new teams, as long as they're still on their rookie deals. (New Orleans signed Solomon Hill, a 2013 first-round pick, to a $48 million contract last summer after the Indiana Pacers declined to pick up Hill's fourth-year option, making him an unrestricted free agent.)
Three 2013 players — the Portland Trail Blazers' C.J. McCollum (taken 10th in 2013), the Milwaukee Bucks' Giannis Antetokounmpo (15th) and the Atlanta Hawks' Dennis Schroder (17th) — have already signed long-term extensions with their current teams: four years and $106 million for McCollum, four and $100 million for Antetokounmpo and four and $70 million for Schroder.
Several of their classmates are likely to join them:
NO-BRAINERS
Steven Adams (12th pick overall in 2013), Oklahoma City: Already considered the best center in the league by many, it's only a matter of how much scratch the New Zealander gets from the Thunder to stick around. Yahoo! Sports reported Sunday that the sides were discussing a deal in the $100 million range, which would be in line with the likes of recent big man deals like Detroit's Andre Drummond (five years, $127 million), Atlanta's Dwight Howard (three years, $70.5 million) and Brooklyn's Brook Lopez (three years, $60 million).
The Thunder's rebuild after Kevin Durant's departure certainly started with an extension for Russell Westbrook, but there's no doubt it also centers on the 23-year-old center, who brings it at both ends.
Rudy Gobert (27th overall), Utah: The Jazz's anchor is already one of the best defensive centers in the league—and the most vital of the team's young core to retain. The only issue is that Utah has a half-dozen young guns it would like to retain—along with Gordon Hayward, Derrick Favors, Rodney Hood, Dante Exum and Trey Lyles—along with veteran point guard George Hill. But Gobert, already averaging a double-double (12.5 points, 13.5 rebounds), along with three blocks a game, is the must-extend.
Victor Oladipo (2nd overall), Oklahoma City: The Thunder sent Serge Ibaka to Orlando last June for the 24-year-old Oladipo, and OKC has to give him at least a couple of years alongside Westbrook to see what kind of a backcourt it has.
POSSIBLES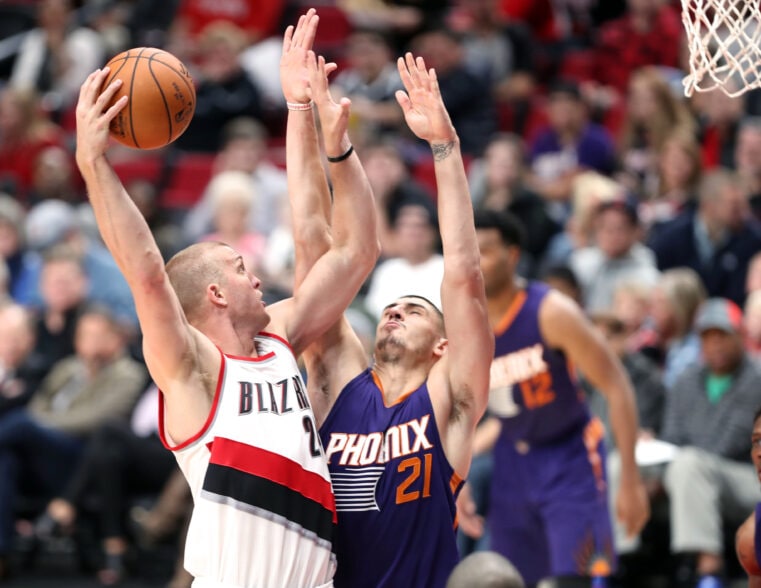 Otto Porter (3rd overall), Washington: Porter has become a starter at small forward for the Wizards, and has been steady if unspectacular over the last season-plus. What, exactly, is that worth? Porter doesn't knock down threes as consistently as the Bucks' Khris Middleton (five years, $70 million), but he's as good as Atlanta's Kent Bazemore (four years, $70M). With a couple hundred million tied up in John Wall and Bradley Beal, how much would Washington being willing to lay out for Porter—especially with second-year forward Kelly Oubre a few years younger? The market for the 23-year-old would probably be small but viable; agent David Falk is still a master at finding one team that's willing to set a number.
Cody Zeller (4th overall), Charlotte: Zeller is an established member of the Hornets' rotation, but didn't start last season until after Al Jefferson was injured, and was replaced in the starting lineup by free agent Roy Hibbert until he was injured late last week.
Still, Charlotte usually works very hard to keep the players it most values from getting to free agency. There aren't too many young centers on the market; if the 24-year-old Zeller got there next summer, he'd almost certainly receive a big payday.
Alex Len (5th overall), Phoenix: Were those flashes late last season — eight double-doubles in March — enough to warrant an extension?
The Bucks bet on the come with John Henson (four years, $44 million) last year and Toronto put four more years and $64 million into the more accomplished but similar sized Jonas Valanciunas.
Kelly Olynyk (13th overall), Boston: Olynyk is still recovering from offseason shoulder surgery, but he's been part of the Celtics' rotation for three years and could certainly wind up costing Boston more if he gets to the market than he would if they give him an extension now.
Gorgui Dieng (21st overall), Minnesota: Starting at center for the Wolves since last January; has started strong this season. Dieng is the first of the Wolves' new core (Andrew Wiggins, Zach LaVine, Karl-Anthony Towns) that Minnesota can extend; it will not surprise if they do. Dieng would have some real suitors next summer if they don't.
Mason Plumlee (22nd overall), Portland: He starts for the Blazers at center, and Paul Allen never shies away from paying, but probably would not command a huge payday next summer. The Blazers have already spent so much this summer, and they're obviously not scared of matching offer sheets.
Tim Hardaway, Jr. (24th overall), Atlanta: Took a while for him to figure out what the Hawks wanted, but he's giving them solid minutes so far.
LONGSHOTS
Kentavious Caldwell-Pope (8th overall), Detroit: KCP defends as well as almost anyone at his position, but a two who struggles to consistently knock down shots in the 3-point era has a limited market. The Pistons don't look inclined to make a deal with their prior commitments to Drummond, Reggie Jackson and Tobias Harris.
Tony Snell (20th overall), Milwaukee: The Bucks just picked up Snell a couple of weeks ago for Michael Carter-Williams (who was the 11th pick in 2013); can't imagine they're going to commit future resources to him until they know what they've got in the 25-year-old Snell. Ditto Chicago, with MCW.
NOPE
Nerlens Noel (6th overall), Philadelphia: The 76ers are looking to move him.
Ben McLemore (7th overall), Sacramento: The Kings have been trying to move him for more than a year.
Trey Burke (9th overall), Washington: No chance, with all the money the Wiz already have in Beal and Wall.
… AND NOBODY ASKED YOU, EITHER
I think, therefore I am. From Clay Therrien:
…You predicted that the Utah Jazz will be a top four team in the Western Conference, and that they will finish second to the Trail Blazers in their division. You also predict that the LA Clippers will make it to the WCF after clinching the third best record in the West. If both those predictions are to take place simultaneously, there will be only one more space in the West's "top four" and two teams that each won more than 65 games last year. Now that I am this far into the e-mail, I realize that there is another option. Saying that Utah will be a top-four team in the West is not the same as saying they will have a top-four record in the West. Still, I'm a curious person and I'd like a more definitive answer than what my own pondering led me to.
You're not that guy who says "but Star Wars isn't real — robots can't think!," are you, Clay? I do think Utah will be a top four team, but I don't literally know whether they'll actually have a better record than a division champion in the West — which, while unlikely, is possible.
Embiided With the Troops. From Dwayne Mason:
Although we only seen a small sample size, do you think Joel Embiid will be the best center in the league in 2 years? Also what are your thoughts on Sergio Rodriguez?
As you said, Dwyane, Embiid's first few games are much too a small sample size to be predictive. He certainly looks like he's going to be a force, but let's see him get through 20 games, and then 40, and then a full season before we go there. Rodriguez is a good, solid point guard who probably isn't a starter in the league at this point in his career, just as he wasn't a starter for Spain in the Olympics behind Ricky Rubio. But he's definitely an upgrade from what Philly trotted out at the point in the last couple of years.
I am not familiar with this team of which you speak. From Betty Bishop:
I don't mind that they stay under the radar, but really, out of 24 "predictions" you didn't have ANYTHING to say about "my" team? Too boring for you? Leonard not flashy enough? None of them on TV trash talking? Just a really good team…..?
Disappointed.
If you've read my column over the years, Betty, you know that I've never had anything good to say about the Spurs, hate how they never develop anyone and have always disparaged the way they do business. Man, I hate San Antonio and everyone who's played there. I bet you won't find one good word about the Spurs anywhere in this column.
Send your questions, comments, and a riddle: if you run over yourself, does your insurance go up? for next week's Morning Tip to daldridgetnt@gmail.com. If your e-mail is funny, thought-provoking or snarky, we just might publish it!
MVP WATCH
1) Kawhi Leonard (28 ppg, 3.5 rpg, 4.3 apg, .500 FG, .950 FT): On pace to improve his scoring average for a sixth consecutive season.
2) LeBron James (21 ppg, 8.3 rpg, 10 apg, .500 FG, .650 FT): Posted his 43rd career triple-double in Tuesday's season opener against the Knicks; per the NBA, James is now tied for sixth place on the all-time TD list with former Nuggets great Fat Lever.
3) Russell Westbrook (38.7 ppg, 12.3 rpg, 11.7 apg, .453 FG, .811 FT): Posted his 39th career triple-double Sunday against the Lakers. Just a ridiculous start of the season.
4) Kevin Durant (31.3 ppg 10.3 rpg, 4.7 apg, .566 FG, .939 FT): You just wonder: will the Dubs utilize Durant in the post a little more than the Thunder did, to take advantage of the incredible spacing playing alongside Curry and Klay will provide?
5) Anthony Davis (37.7 ppg, 13 rpg, 3 bpg, .500 FG, .821 FT): Can an adult sue the state for non-support?
BY THE NUMBERS
165 — Weight, in grams, of the Cavaliers' championship rings, handed out last Tuesday at Cleveland's regular season opener and banner raising. The rings are the heaviest ever made for an NBA champion.
7 — Active coaches with 400 or more victories. Miami's Erik Spoelstra became the seventh member of the club after the Heat beat Orlando Wednesday, joining Gregg Popovich, Doc Rivers, Rick Carlisle, Nate McMillan, Mike D'Antoni and Stan Van Gundy.
41 — Years since the last NBA player posted 50 points as part of a triple-double, a feat achieved Friday by OKC's Russell Westbrook, who went for 51 points in the Thunder's win over Phoenix. Westbrook's 38th career triple-double — 51 points, 13 rebounds, 10 assists — did come on, um, 44 shots. But it nonetheless was the first time since Kareem Abdul-Jabbar went for 50 points, 10 rebounds and 11 assists for the Bucks against Portland in January, 1975.
I'M FEELIN' …
1) KG. TNT. A-OK.
2) Doesn't surprise at all that Earl Watson wants to bring Ronnie Price onto his staff in some capacity after his playing career ends. Price is just one of those guys that everyone seems to like. He once told me how close he'd gotten to the ushers and concession people in Sacramento. Damian Lillard just told me last week how Price befriended him when he was a relative nobody at Weber State, then was even better when the two were during Lillard's rookie season. If Price doesn't sign on with someone after being waived by Oklahoma State at the end of camp, he'll have his choice of coaching and/or player development offers.
3) Speaking of Dame Dolla … I'm well aware his new release "The Letter O" was probably not created for my demographic, but I listened to it, and thought it was pretty doggone good. FWIW.
4) It may not help their short-term prospects with the league, but this is a significant move forward locally for Chris Hansen's hopes to bring an NBA team to Seattle.
5) Happy Halloween, y'all. Be safe out there. Can't wait to see someone come up with a costume as creative as CVS Receipt Guy's last year.
NOT FEELIN' …
1) Condolences to Channing Frye and his family on the passing of his mother, Karen. She was a sprite of a woman, active in the NBA Mother's group and, as you would expect, fiercely proud of her son. A very nice lady. RIP.
2) Someone posing as me wrote last week that the Magic would have a top-10 defense this season. Three games in: 0-3, 107 points allowed per game.
3) Glad the Sixers realized they messed up, but it shouldn't have happened in the first place. We can't be afraid of speech of any kind, but especially not of speech with which we disagree.
4) Goodbye, Vine. I never used you, but you had your moments.
More Morning Tip: Spurs keep chugging along | DA's Top 15 Rankings | Q&A with Draymond Green
Longtime NBA reporter, columnist and Naismith Memorial Basketball Hall of Famer David Aldridge is an analyst for TNT. You can e-mail him here, find his archive here and follow him on Twitter.
The views on this page do not necessarily reflect the views of the NBA, its clubs or Turner Broadcasting.