Morning Shootaround
Shootaround (Sept. 11) -- Paul George impressing with offseason work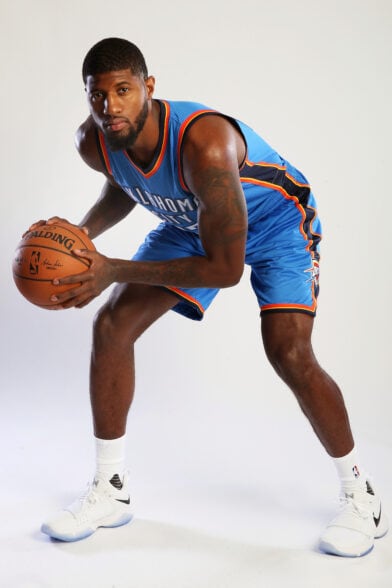 This morning's headlines:
Summer of George built on weight work — Paul George went to the lab after being traded from Indiana to Oklahoma City. Reshaping his body was a large part of his focus as he enters a critical season of his career alongside reigning Kia MVP Russell Westbrook with the Thunder. The new workload required a change of focus for George. Brett Dawson of The Oklahoman explains:
They're called "Road Trip Fridays," and if that sounds like fun, you've been misled.

Throughout summer weeks, Ryan Capretta trains professional athletes – including Thunder forward Paul George – at his Proactive Sports Performance training center in Westlake Village, Calif.

But on Fridays, they go south instead, to the sand dunes just outside Malibu.

It's not for relaxation.

On a sandy stretch of about 200 yards, George and other Capretta clients do interval workouts, sprints, plyometric movements.

"It's called a sand dune, but it's basically like a sand mountain," Capretta said in a phone interview last week. "You're racing up this hill, and it's an a**-kicker. It crushes you."

That's been the gist of the summer of George.

"About a week" after the Pacers lost to the Cavaliers in the NBA Playoffs, Capretta said, George was at the Proactive facility in Westlake Village. Weeks before he was traded to the Thunder, George was formulating a plan to attack his offseason.

Though George had worked with Proactive last summer, his offseason had been cut short by his participation in the Olympics. This would be his first full summer with Capretta, and from the start, the two laid out a strategy.

"It was specific to him being the best basketball player he can be," Capretta said. "One of the things we wanted to do was add a little muscle and really keep his explosiveness and add to it. We wanted the right kind of muscle. Not meathead, bodybuilder muscle."

And George's progress since has been "through the roof," Capretta said.

…

All summer, George has been logging time with Capretta – five or six times a week for a couple of hours a day – in addition to the basketball skill work and pickup games he takes part in away from Proactive.

In that time, George "put on a lot of muscle mass," Capretta said, with a program that starts with 45 minutes of mobility training followed by a full-body strength workout.

"The ultimate goal is power and conditioning," Capretta said. "We don't want just strength. His workouts are brutally hard in the sense that he's moving heavy weights, but he's going from that to an athletic movement to a mobility movement, and it's very dynamic in nature."
Hood rededicates himself after challenge from Jazz GM — Gordon Hayward's departure in free agency left a huge void in the lineup for the Utah Jazz, a void Rodney Hood aims to fill. But Hood was issued a challenge the summer by Jazz general manager Dennis Lindsey, one that caught him off guard and inspired him at the same time. Tony Jones of the Salt Lake Tribune provides some details:
Dennis Lindsey's honesty stunned Rodney Hood.

The Jazz general manager told Hood he needed significant all-around improvement in what was a frank exit meeting the day after the Golden State Warriors defeated the Utah Jazz in the second round of the Western Conference playoffs.

Lindsey challenged his shooting guard. He wants more consistency. He wants Hood to visit the free-throw line more often. He wants the guard who is entering a contract year to turn his offensive ability into efficient production.

"He told me the truth," Hood said. "He said he wanted me to get better and to prepare myself for a bigger role."

That meant staying in Salt Lake City for most of this summer instead of his usual offseason practice of going home. That allowed Hood to work tirelessly on his game with Jazz assistant Johnnie Bryant.

How will it translate to the regular season is a question yet to be answered.

Hood and his teammates have reconvened as a group two weeks before training camp starts. They played pickup games and worked out together this week in San Diego. And now the Jazz are back together, ready to test themselves without Gordon Hayward.

"There were a lot of challenges we gave Rodney," Lindsey said. "What he needs to be doing, his commitment level to his development. And he's responded this summer. He's going to be given a prominent role, and his development will be significant to us."

Hood wasn't alone in Salt Lake over the summer. Most of the returning Jazz roster stayed local for at least a portion of the offseason to work with the coaching staff to try to iron out the kinks in their individual skillsets. Dante Exum, Rudy Gobert, Joe Johnson, Alec Burks, Raul Neto and Joe Ingles all stuck around for extra coaching.

And now, most of the players are in town and hanging out as a group, like rookie Donovan Mitchell and Eric Griffin attending the University of Utah's opener at Rice-Eccles Stadium last week. Starting point guard Ricky Rubio is the one notable exception, but that's because he's playing for Spain in the ongoing Eurobasket tournament.

"I think the training is important for us as a team, and it shows our commitment to each other," Hood said. "The beginning of the season is going to be important to us, and we want to get off to a good start. So the faster we start to gel as a group, the better off we'll be."
Duncan amazed by Irma aid relief effort — Tim Duncan's always been a man of few words. But his powerful plea for Hurricane Irma aid relief for his native U.S. Virgin Islands was heard loud and clear. And the response has been, in Duncan's own words "amazing." Michael C. Wright of ESPN.com has more:
Retired San Antonio Spurs forward Tim Duncan called the response to his plea Friday for donations toward Hurricane Irma relief efforts in the U.S. Virgin Islands "amazing," adding that more than 9,000 donors, including the Spurs, local grocery store chain H-E-B and the San Antonio Food Bank, have contributed.

"I'm blown away by it," Duncan said Sunday during a news conference at the San Antonio Food Bank. "In this day and age, it's a little easier to reach a lot of people, and people have come out from everywhere. I've looked down the list of donors, and I've recognized some names. I've gotten support from the Spurs, H-E-B and the food bank — all across the board. It's just been an amazing response."

Duncan penned an impassioned plea for donations toward Hurricane Irma relief efforts Friday in The Players' Tribune, and by Sunday afternoon, he had reached his $1 million goal. Duncan increased the goal to $1.25 million, promising that every dollar donated would go directly toward relief efforts on the ground. Duncan kick-started the fundraising effort with a YouCaring account and an immediate $250,000 contribution, and he pledged to match all donations up to the first $1 million.

"It's pretty decimated, especially in St. Thomas and St. John," Duncan said. Duncan's hometown of St. Croix "got off a little easier," he said. "But a lot of destruction, a lot of homes down. Power is out everywhere. I'll see more when I get down there to actually put my eyes on it. But it's pretty devastating."

One of Duncan's best friends in the Virgin Islands, Rashidi Clenance, is working with the former Spurs star to "coordinate everything" to "help us kind of distribute all that we get and collect here and get it to the right people."

Local grocery store chain H-E-B will take donations at two locations, 17238 Bulverde Drive and 4100 South New Braunfels, from 7 a.m. to 7 p.m. Monday and Tuesday, as Duncan works to charter a plane to deliver all the goods at the "back end of this week, coming up," he said.

The San Antonio Food Bank and Duncan are seeking nonperishable food items such as flour, rice, beans, peanut butter and granola bars; basically, any food that can be prepared without the use of electricity. In addition, Duncan seeks supplies such as detergents, powdered soaps, bar soaps and paper goods.

"Obviously, without electricity down there, we're gonna need things that are nonperishable; canned foods, cleaning supplies," Duncan said. "A lot of homes are down, so things to sleep on, cots or tents, water. People are in need of everything."

After Duncan helps deliver the donations later this week, the plan is to continue to collect supplies and charter more flights to the Virgin Islands. Duncan plans to handle the deliveries "as much as I can," he said.
* * *
SOME RANDOM HEADLINES: No big deal — just Jimmy Butler, Dwyane Wade, Joakim Noah, Paul George and Taj Gibson all playing pickup together … The Heat's practice facility suffered minor damages from Hurricane Irma … Steph Curry shows support for Colin Kaepernick from afar … Porzingis-Doncic set to square off in Eurobasket … Dennis Schroder is having a huge summer for Germany at Eurobasket