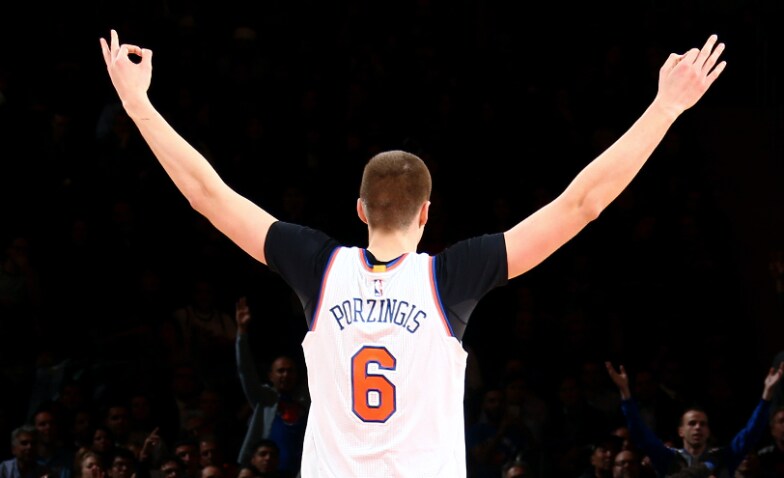 Lakers look back at passing on Porzingis | Bulls considered Butler trade at Draft | Duncan and Johnson took different paths to rafters | All hail the Raptors
No. 1: Lakers look back at passing on Porzingis — With Kristaps Porzingis averaging 20 points and spreading the floor as a stretch 4/5 for the 14-8 New York Knicks, a couple of teams might look back at the 2015 Draft with regret. One of those is the Los Angeles Lakers, who got a good point guard – D'Angelo Russell – with the No. 2 pick, but should realize that they were being narrow-minded in not considering the 7-footer from Latvia. Bleacher Report's Kevin Ding breaks down the Lakers' decision and how they're trying to evolve into a more modern organization:
Kupchak structured Porzingis' private Lakers workout as essentially a challenge of his manhood rather than a validation of his gifts.
In doing so, the Lakers lost sight of how truly unique this 7'3″ player could be, with skills at a size already forcing the NBA to adjust to him rather than vice versa.
The Lakers, though, wanted to test Porzingis' physicality, and especially his "bigness," in that workout. They overvalued Porzingis' need to prove he could play in the low post and wrongly equated his shaky stamina with his overall NBA readiness.
Lakers assistant coach Mark "Mad Dog" Madsen, notorious for physical play in his 2000-09 NBA career, was pushed on Porzingis in the workout. To put it in preschool-level terms, the workout looked a lot like Big Bird being pushed all around the court by his dinosaur-ish friend Snuffleupagus.
Then-Lakers head coach Byron Scott, whose outdated mindsets have been well documented, even joked with Lakers staffers after watching Porzingis wilt with exhaustion that Scott had better get a contract extension if the club decided to draft Porzingis and wait for him to grow up.
* * *
No. 2: Bulls considered Butler trade at Draft — At the age of 27, Jimmy Butler is having the best season of his career and is one of six players averaging at least 25 points, five rebounds and four assists. After a disappointing 2015-16, Butler's Bulls, having added Dwyane Wade in the summer, are a top-four seed in the Eastern Conference. But instead of adding vets, the Bulls had the opportunity to go for a rebuild in June, as the Chicago Tribune's K.C. Johnson writes:
Jimmy Butler's ascension from All-Star status to early-season most valuable player buzz has justified the Bulls' decision to avoid a total rebuild.
But make no mistake: Following the Derrick Rose trade, the internal draft-night debate on whether to trade Butler to the Celtics was real. And the Bulls, according to multiple sources at the time, held advanced discussions with the Celtics centered on Butler and the No. 3 overall pick.
If the Bulls had pulled the trigger, they would've drafted Providence point guard Kris Dunn, who went to Tom Thibodeau and the Timberwolves at No. 5. Despite being slotted at No. 14, where they ultimately selected Denzel Valentine, the Bulls met with Dunn in May at the draft combine.
* * *
No. 3: Duncan and Johnson took different paths to San Antonio rafters — With Tim Duncan set to have his number 21 retired by the San Antonio Spurs on Sunday, the San Antonio Express-News' Mike Finger spoke with Avery Johnson, who had his number retired by the Spurs nine years ago. It's an interesting tale about two very different teammates (in regard to both talent level and personality) who took very different paths to the 1999 championship Spurs and to the rafters at the AT&T Center:
Avery Johnson likes to say he entered the NBA "through the back door." First he was undrafted, then he was unwanted, and even when he was accepted inside, he knew he was not the most prominent guest.
Then along came a kid who strolled through the NBA's front gate, and Johnson found himself having to indoctrinate the young newcomer. Yes, Tim Duncan was a No. 1 overall pick and an instant All-Star, but Johnson was the Spurs' vocal leader, and he did not hesitate to prove it.
And now, more than 17 years after the "Little General" and the "Big Fundamental" won a championship together, Johnson wants to make one thing clear.
"If I ever raised my voice to him," Johnson said, "I apologize."
Next week, when the Spurs retire Duncan's No. 21 jersey in a ceremony at the AT&T Center, Johnson will not be able to offer his wide-grinned contrition in person. Now a college coach at Alabama, he has a game against Clemson that night.
But Johnson said he wishes he could be there, not only out of respect for an old teammate but also to serve as a reminder of the different paths a player can take to the arena rafters.
* * *
No. 4: All hail the Raptors — Because the Toronto Raptors didn't really challenge the Cleveland Cavaliers in the Eastern Conference finals and because they're already 0-3 vs. the champs this season, it might be easy to dismiss them as a second or third-tier team. But after Monday's easy win over the Milwaukee Bucks, the Raptors have the league's best offense (one that has scored 10.4 more points per 100 possessions than the league average – a bigger differential than that of any team in the last 40 years), the league's best bench, and the league's best lineup (Kyle Lowry and four reserves). As Paul Flannery wrote for SB Nation on Sunday, the Raptors need to be appreciated for who they are and for getting better every year:
Even as they are in the midst of the best era in franchise history and winners of eight of their last nine, that subconscious knowledge has the perverse effect of belittling their accomplishments and selling them short. It's difficult to see improvement when the big picture hasn't changed all that much. Difficult as it may be, we should try to examine the Raptors without bias or preconceived notion.
We should start on the offensive end where they score more points per 100 possessions than anyone besides the Warriors. They shoot it better than just about everyone else too, and they are also stingy with the ball and active on the offensive glass. They are, simply, an offensive juggernaut.
This is true even while DeMar DeRozan single-handedly tries to bring back the mid-range game against all the rules of science and evolution. In his antiquated quest, DeRozan has been a revelation. He began the year by scoring at an unsustainable rate and adjusted by becoming more of a playmaker as defenses began to hone in on his straight-ahead game.
"He's growing up right before us," Casey said. "He's not getting sped up by the defense. Double teams don't bother him anymore. He makes good decisions out of double teams."
They also have one of the game's great point guards in Lowry, who continues to get better even as his age suggests he should be starting to decline. In DeRozan and Lowry, they have two legit All-Stars performers and Olympians. Only a handful of teams can say the same. To complement them, the Raptors have loads of shooting scattered around the perimeter and an effective big man to clean things up in Jonas Valanciunas.
* * *
SOME RANDOM HEADLINES: The Grizzlies are riding a six-game winning streak, but will rest Marc Gasol for Tuesday's visit to Cleveland, the first half of a home-and-home back-to-back with the champs … Tom Thibodeau makes his return to Chicago on the same day that Jeff Hornacek returns to Phoenix … Harvey Araton on the Pistons' move back to Detroit … LeBron James and Maverick Carter are producing a Muhammad Ali documentary … and stat heads are still searching for one number to quantify individual defense.