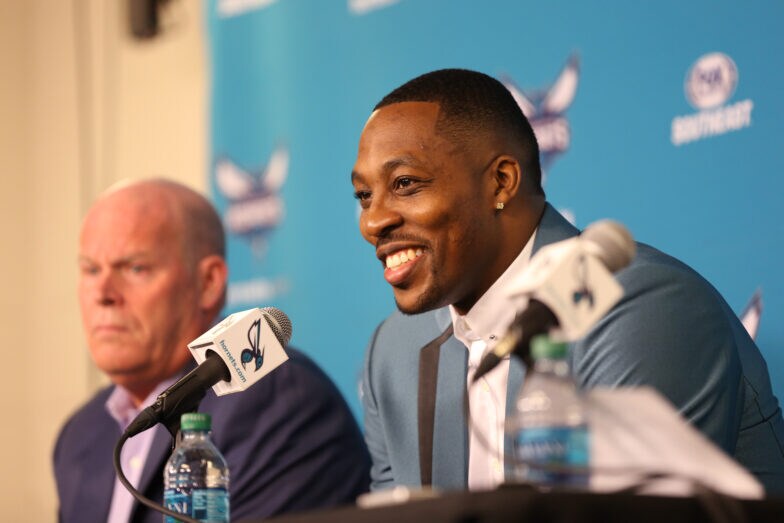 This morning's headlines:
Howard looking to rewrite his story in Charlotte — Dwight Howard's on yet another "last chance" to turn his story around. Coming home to Atlanta last summer didn't work. And after being traded to Charlotte earlier this summer, he's looking to make the best of his opportunity with a coach, Steve Clifford, he's got extensive history with dating back to their days together in Orlando. Adrian Wojnarowski of ESPN provides some context:
During this summer, Howard has lost a little weight, and a lot of anger. He has been humbled, unloaded out of his Atlanta homecoming only to now be re-engaged in possibility with Charlotte. Steve Clifford had driven 3½ hours to watch him work on a sultry summer day, and the coach of the Charlotte Hornetsrepresents something so important to Howard now. Clifford is a link to Howard's glory days with the Orlando Magic, the rarest of NBA coaching species: He wanted Howard. He knows him, trusts him in his locker room and believes Howard can make an immense impact on the Hornets.

As much as anything, Howard craves acceptance, and that's why his trade to Charlotte, to Clifford, has him believing all over again.

"Cliff's going to push me, but he's not going to ever be one of those guys who I would say would break my spirit," Howard told ESPN. "He really believes in me. Throughout all the mess that has happened the last couple of years, this is a great opportunity for me to prove to myself that I know exactly who I am — to just shut people's mouths."

Clifford stands as Howard's best, final lifeline to resurrect his good name. He's the coach standing between Howard and a closing career chapter that threatens to transform him into a journeyman. For everything Howard has accomplished, that looms as an ending unfit for a Hall of Fame center.

At the end of each of the past two seasons, Howard felt unwanted with the Atlanta Hawks and Houston Rockets. He felt miscast on the court and misunderstood off it. These are themes that seldom go away with Howard, that feed his insecurities and shape his responses to professional adversity.

"The other places I was, the coaches didn't really know who I am," Howard told ESPN. "I think that they had perception of me and ran with it. Cliff knows my game. He knows all the things that I can do. I'm very determined to get back to the top. It's a great feeling when somebody believes in you. They aren't just saying it; they believe it. It really just pushed me to the limit in workouts: running, training, everything. I want to do more.

"In Orlando, I was getting 13-15 shots a game. Last season, in Atlanta, it was six shot attempts. It looks like I'm not involved in the game. And if I miss a shot, it sticks out because I am not getting very many of them. But I think it's all opportunity, the system. I haven't had a system where I can be who I am since I was in Orlando."

***

This is classic Dwight Howard: an investment born of his best intentions, but ultimately counterproductive. These are private workouts, run by Howard's own staff, and Clifford hadn't made the seven-hour round trip to talk to Howard about 3-pointers. They have so much history together, with the Magic and the Los Angeles Lakers, and Clifford understands the ways to get the most out of Howard. Sometimes, it's wisest to let Howard get his ideas — some well-meaning, some silly — out of his system, and prod him back to matters of importance.

Howard sees Clifford and thinks about the chance to recapture something lost, a time and place when he still used the Superman moniker. Once, Howard was the most dominant two-way force in basketball. He's 31 years old, and 13 pro seasons have taken a toll on his knees. Clifford was on coach Stan Van Gundy's bench as the top assistant for five years in Orlando. And now, with Charlotte, Clifford has developed a reputation as one of the NBA head coaches who gets more out of less. Clifford has wanted the Hornets to make a Howard trade for two years.

Hours earlier on that August afternoon, Clifford had climbed into his Mercedes SUV and started a drive down to Atlanta. Clifford steered through the state of South Carolina, past the Clemson University campus, and talked about an eight-time All-Star center whom he's tasked with integrating into a roster that loves the idea of his arrival.

"He fits with our team, the way we play," Clifford said on the drive. "So much of our [NBA] game has become a 3-point game, but most teams still get those shots from inside-out. To me, he still has a big paint presence at both ends of the floor. And his greater strengths remain the same: as a basket protector, as a rebounder, as a defensive organizer, great screener, can demand the ball in the paint [and] draw fouls. Those things don't change at all.

"He's not the same athlete he was when we first got to Orlando. But he's much more experienced now. [I] still think there's a lot of good basketball left in him.

"From the trade until now, I think he's very motivated to have a great year, and he badly wants us to win. The last couple years have been difficult for him. I see him as motivated to work. The success of our team is the thing that keeps coming up in our conversations. He wants to be a part of our team. And that's his priority."
Noah breaks his silence on Phil, trying time with Knicks — As messy as things got last season with Phil Jackson, Carmelo Anthony, Derrick Rose and the New York Knicks, the one person you never heard much from was the team's most vocal and usually outspoken personality. Injury limited Joakim Noah's opportunity to contribute on the court, which in turn curbed his enthusiasm to express himself publicly. But as Marc Berman of the New York Post reports, Noah's getting back to normal:
Joakim Noah has a ton of regrets from last season, and one of them is his awful campaign may have played a role in costing Phil Jackson his job.

In his first comments since the season ended, Noah also admitted he "lost my confidence'' and "wasn't moving right." He said his drug suspension "hurt a lot of people,'' and he has "to live with it the rest of my career.''

But Noah added he is ready to redeem himself by being a model veteran for the Knicks' young big men.

In breaking his silence, the Knicks center gave an emotionally charged, 75-minute interview with the "Truth Barrel'' podcast. He beat himself up over the nightmare his first season in New York became after Jackson lavished him with a whopping four-year, $72 million contract. Jackson was fired in late June.

"It's tough, man, because I got a lot of love and respect for Phil,'' Noah said. "He gave me an opportunity to play back home. Somebody I read all his books as a kid. I was just a big fan and still am. I have a lot of respect for him. It didn't work out. That sucks. It's something I have to live with. He believed in me, and I kind of let him down. That's frustrating. He got a lot of blame that it was his fault. But we didn't lose all those games because of Phil Jackson.''

Noah, 32, spoke philosophically about a year in which everything that could've gone wrong for him went wrong.

"I wouldn't trade it for s–t,'' Noah said. "I know a lot of people are mad about it, but I'm not. I don't feel sorry for myself. Everything that happened were my decisions. I'm a grown-ass man. I'm playing in New York City. It sucked because I didn't play well. I get to bounce back and come back next year. … I'm not going to quit.

"I know New York — I know if I can come back and get it right, that could be a big story, too,'' Noah added.

Noah, the two-time All-Star, saw his play dip significantly. He was wracked with various injuries before his drug suspension finished his season. He had surgery on a torn rotator cuff in late April, after he was suspended for 20 games for testing positive for Androgen, for which he still has 12 games left to serve. He can't play until Nov. 13, against the Cavaliers.

The Knicks are in rebuild mode and have made it a priority to build around a young core that includes big men Willy Hernangomez and Kristaps Porzingis. Noah wants to be a strong influence on them. He is also the only player who can speak French with the team's first-round pick, point guard Frank Ntilikina.

"We have some really good young players coming up at my position,'' Noah said. "I've got to see the NBA at its highest level. I don't like that some of these young guys have only seen bulls–t. It's important for these young guys to have good vets. I want to be that for the younger guys. They have to see the right way."

On several occasions, Noah mentioned a confidence loss last season. He struggled from the free-throw line (43 percent), couldn't find rhythm on offense and seemed to lose a step on defense in his 46 games. He admitted he faced "high expectations" because he signed "a really big deal."

"I went through a lot of adversity,'' Noah said. "You go through injuries. I lost my confidence this year. It's about bouncing back and showing who I am through these tough times. It can really show what you're made of.

"I still have a lot of mountains to climb,'' Noah added. "My role, I don't know what it's going to be. I don't know what's coming. I want to be as ready as possible.''
Greek national team calling foul on Antetokounmpo injury — Giannis Antetokounmpo is the centerpiece for two teams, the Milwaukee Bucks and the Greek national team. But in order for him to be ready for the Bucks' upcoming season he'll have to sit out the upcoming European Championships with his national team nursing a knee injury. The home team, however, isn't buying the explanation for why he'll miss such an important competition. Matt Velazquez of the Journal Sentinel has more:
On Saturday morning, Milwaukee Bucks star Giannis Antetokounmpo posted an important message on social media. In the post, which was written in Greek, he expressed his regret that he would not be able to play for the Greek national team in the upcoming EuroBasket 2017 (European championships), which begins on Aug. 31, due to a knee injury.

What has ensued since that post went live has been nothing short of bizarre.

Antetokounmpo's message not only put Bucks fans on alert that Milwaukee's best player could be dealing with a serious setback, but it also elicited an accusation from the Greek basketball federation alleging the Bucks and NBA were involved in an "organized and well-staged plan" to keep Antetokounmpo from playing for his national team.

That accusation has flatly and unequivocally been denied by both the Bucks and NBA in a pair of statements that were issued late Saturday night and early Sunday morning.

During the lead-up to EuroBasket, Antetokounmpo missed all but one of Greece's warm-up games due to his ailing right knee. This week, Antetokounmpo failed a physical exam administered by the Bucks in China where he is serving as an NBA ambassador, but not playing, in a basketball tournament in Shanghai. He was expected to return to the Greek national team following his appearance to participate in EuroBasket, which will no longer be the case.

The full text of Antetokounmpo's message included him saying that being unable to play for the Greek national team this summer is "by far the biggest disappointment in my career."

The Greek basketball federation responded to this news by alleging that Antetokounmpo's announcement was part of a greater conspiracy by the Bucks and NBA to keep the 22-year-old star from participating in the EuroBasket.

"The simultaneous briefing by the manager of the Milwaukee Bucks and by Giannis Antetokounmpo himself via phone and social media from distant China — and not in the proper formal form — for his inability to play for the Greek national team, brought us sadness due to this great loss, but unfortunately it does not surprise us," the federation said in a statement, according to a translation by Eurohoops.net.

"A series of clues by which we were particularly worried about since Giannis arrived in Greece and the national team training camp started, had created the conviction of an organized and well-staged plan by the NBA franchise in which Giannis has signed. Everything was in full knowledge of the NBA, if not encouraged by the NBA, and the athlete was put in a very difficult place and ultimately was obliged today to inform that he can't be a member of the national team."

According to an Associated Press story, the Greek basketball federation does not believe that Antetokounmpo is injured at all and will soon provide more details on the situation. Takis Tsagronis, the federation general secretary, did not mince words when discussing Antetokounmpo's announcement, saying scans showed nothing wrong with Antetokounmpo's knee.

"This (Antetokounmpo's absence) is bad but not unexpected news. All indications were that it would end up like that," Tsagronis told state television network ERT.

"We, on our side, did everything not to give the Bucks an excuse. We took a magnetic scan of Giannis' leg and it was clean. What the Bucks claim is not the reality; something else is happening."

That assertion led the NBA to put out a statement on Saturday night refuting any notion that Antetokounmpo's injury was staged.

"The NBA and the Milwaukee Bucks have followed all appropriate protocol under the NBA-FIBA agreement," said Tim Frank, the NBA's senior vice president of basketball communications. "Giannis has an injury that has been confirmed through multiple examinations and any suggestion to the contrary is false."
* * *
SOME RANDOM HEADLINES: There are no chickens among the Boston Celtics' rookie class … Paul George still has love for Indiana and Pacers fans, even if they don't feel the same … DeMarcus Cousins political activist … no, really … The Utah Jazz say goodbye to one of the Pink Grandmas … The Chicago Bulls have a little cleaning up to do at their practice facility.