By his appearance, his vitality and his work schedule, you might not guess Marques Johnson is fast approaching his 63rd birthday (Feb. 8). A 6-foot-7 forward from UCLA started winning awards and championships at Crenshaw High School in Los Angeles and continued that with the Bruins (1975 NCAA title). He was the first winner in 1977 of the John Wooden Award and that spring, he was drafted No. 3 overall by the Milwaukee Bucks.
That puts the start of his NBA career squarely in the first half of league history. His exploits as a five-time All-Star best found on YouTube, the nature of his game (mid-range, arriving two years before the league adopted the 3-point shot) and his Twitter handle — @olskool8888 – all holler "vintage." So does the fact that he again is candidate for the Naismith Memorial Basketball Hall of Fame, for which he has been eligible for nearly 25 years.
Johnson stays up to date on the game for his job as one of the Bucks' TV color analysts, a role that's been especially fun so far this season. He splits his time between Milwaukee and Los Angeles, where he has racked up 26 acting credits per IMDB.com, including his famous turn as "Raymond" in "White Men Can't Jump" [1992].
His NBA resume is strong enough for Springfield, as he averaged 20.1 points, 7.0 rebounds and 3.6 assists in 691 games. The Bucks were 347-227 in his seven seasons, and were considered one of the NBA's best-ever uncrowned teams.
Johnson spoke recently with NBA.com's Steve Aschburner about a variety of topics.
* * *
Steve Aschburner: I recently wrote a piece about players who have made or are making the transition into broadcasting you did, and the help they got from a program known as "Sportscaster U." But you've been doing this for more than 25 years, long before that type of program was available. Were you self-taught?
Marques Johnson: I feel like I've been training all my life. When I was little, I set up my own little basketball court. I'd cut out little cardboard rims and tape 'em against the wall of my room. I'd clip out the stats of every game from the L.A. Times, so I'd have matchups like John Havlicek against Dave Gambee. I'd do my "Chick Hearn," rapid-fire play-by-play. Just to give you an idea of where my imagination took me.
When I got to UCLA, I had a professor who started a sportscasting class. He wanted some of the athletes to participate. So myself, Rick Walker — who was one of the 'Hogs' for the Washington Redskins — and a couple other guys who made it in the NFL, we all took the class. It really opened up my eyes to the possibilities, and I had such a great time doing it.
I had a campus TV show that deal with non-sports issues — I was the host and other students in the class were the producers. So that kind of helped prepare me. By the time I got to Milwaukee, I did a lot of stuff for the local NBC affiliate. I took a camera guy on the road and put together a piece of us going against the Sixers and the Celtics. I interviewed Red Auerbach and Dr. J. So I was preparing myself for a long time to make the transition.
SA: I guess I overlooked you being a theater arts major. With that, and you living in southern California, that probably explains you the acting roles you've had, right?
MJ: Again, growing up, I played Conrad Birdie in a production of "Bye, Bye Birdie." I did some acting at UCLA and at Crenshaw. I was Li'l Abner in "Li'l Abner."We did "Damn Yankees." We did "The Pajama Game." So just being around acting class and musical theatre, drama class, in seventh and eighth grade, I fell in love with that at about the same time. It was really my first love, but broadcasting pays the bills.
SA: So humor me for a minute. How did your involvement in "White Men Can't Jump," and your role as "Raymond," come about? You even mention him in your Twitter profile, so I'm guessing you get asked about that a lot.
MJ: Here's what happened: We were doing a film for a guy who was a student at the American Film Institute, and it was based on this L.A. legend Raymond Lewis. A bunch of ballplayers and a bunch of actors, shooting up in the Hollywood hills on cold nights.
https://www.youtube.com/watch?v
Cylk Cozart, who's an actor, told me he had a director friend by the name of Ron Shelton who he played basketball with at the Hollywood "Y." That's where Denzel Washington and these other actors used to play. Shelton had a new movie he was getting ready to cast, and there was a role he thought I'd be good for. So Cylk told Ron Shelton about me, and Shelton brought me in to read with Wesley Snipes. I did my prep work and had a scene where I pull a knife out on Wesley Snipes' character.
Now, my dad was a barber and he had these straight razors. I had seen a movie a long time ago where a guy did this fancy maneuver with his razor, pulling it out to brandish it. So I worked on that for days before I went in to read. When I did the scene, I pulled it out of my pocket and did the thing with my hand, then chased Wesley around the office where the audition was. They loved it. But they told me, "Look, next time don't bring a real razor in here. You could hurt somebody with that thing."
SA: How do you think the actors did with the basketball scenes?
MJ: We had a six-week training camp at a park in south central Los Angeles — Rancho Cienega playground, near Dorsey High School. We went 10 to noon, five days a week. They wanted everybody to be in basketball shape. And it gave Wesley and Woody Harrelson a chance to really work on their games and get some skills of their own.
Wesley was a great athlete but not a basketball player. He couldn't get the hang of the three-man weave they had us doing, and every time you messed it up, you had to do it again. So every time he was at the front, you had other guys suddenly needing to tie their shoes, "Go ahead of me, man," and "I've got to tighten my jock strap." Wesley was like, "Just wait. Give me a couple of weeks, I'll get this done." And he did.
Woody on the other hand was a gym rat. Great basketball gym rat type of guy. I remember he called this bogus foul on me and I told him, "C'mon, man, that's a BS foul." And he was like, "Are you impugning my integrity?! How dare you!" I was like, "Look, man, first of all, I went to Crenshaw. I don't know what impugn means. And second, I'm not doin' that. I just thought that was a bullcrap foul." We had a great time.
SA: I'm thinking that current NBA players might know you better from that movie than from your playing career.
MJ: Even when I was at the Wooden Awards the year Grant Hill and Big Dog [Glenn] Robinson were nominated [in 1994]. We were at the downtown L.A. Athletic Club, and I was the speaker. I got up to the microphone, maybe a year or two after "White Men" came out, and I said, "Probably you young guys have no idea what I did as a basketball player, but I'm gonna give you a frame of reference for who I am." I asked them, "How many of you saw 'White Men Can't Jump?" They raised their hands. "How many remember the guy who robbed the liquor store?" They just went crazy. "That's Raymond!" I told Grant Hill's mother, "See what it's come down to? Five-time All-Star in the NBA, and I'm the thug who robbed the liquor store to today's generation."
You have to give Jason credit for that year he put Giannis at the point guard position, making him the primary ball handler. Giannis really took off then. Jason would stand on a chair at practice to see what Giannis saw when he was on the court. True story."

Marques Johnson, on former Bucks coach Jason Kidd
SA: I had moved from Milwaukee to Minneapolis in the late '80s and kind of lost track of you — Minnesota didn't have the Timberwolves yet. So when I saw you on the screen, my reaction was, "Man, Marques has fallen on hard times." Now I know that was acting!
MJ: The irony of that scene was, when you get to the league, one of the first stories you hear is about this player named Reggie Harding. He was a roommate of [former NBA senior VP] Rod Thorn's at one point, a big kid who went straight from high school [in Detroit] to the pros. Don't ask me how that happened back in those days. He was just this street-life type dude who went into the neighborhood liquor store with a ski mask on. He's 6-10, 6-11, so the guy in the store is like, "C'mon Reggie, you can't be doing this, man." And he was like, "This ain't me. This ain't me!" I immediately thought of that when I read the script, I knew that's who they were talking about. [Harding was killed in a street shooting in Detroit in September 1972, four years after his brief NBA/ABA career ended.]
SA: I hadn't realized how many acting roles you've had.
MJ: Yeah, my last one was on "Castle," where I played one of a group of old-school superheroes, where the star Nathan [Fillion] solved the case. It was a lot of fun. I got to shoot a live machine gun — they were like, "Do you want a stand-in to do it?" — but I said, "Nah, I got this." I try to do whatever's feasible and makes sense. I don't pursue it as much as I used to.
SA: Any similarity between acting and playing basketball at the highest level?
MJ: It all goes back to what [UCLA coach John] Wooden and my coach in high school, Willie West, and my dad told me about preparation. I compare it to a duck on the pond that's floating real smooth, but underneath the water, its feet are moving at 100 mph. The easier it looks, the harder the work is. It's the same thing with acting and with basketball. I've learned that from the actors I've worked with, like Nick Nolte in "Blue Chips." I spent time in his trailer and saw him with these voluminous notes on Indiana basketball and every practice, every player. Notes taped to the walls of his trailer, kind of like the mindset of a coach.
SA: In your primary job now with the Bucks now, you get to see Giannis Antetokounmpo's continued growth. What do you make of him now compared to four years ago when you started coming back to Milwaukee?
MJ: He was good but he hadn't reached this level of greatness he's at now. I reminded him of a story from New Year's Day my first year there [2015-16]. He had seen some footage of me, and we had a practice that day. He was like, "Hey man, you were really good. I watched the film and you got buckets. Wow! My New Year's resolution is to get buckets the way you got buckets!" I reminded him of that a couple of weeks ago. And he and [Bucks play-by-play broadcaster] Jim Paschke had lunch not long ago and he was asking Jim who my game was like. Was it like Tobias Harris? Jim said, "Well, Tobias is not a five-time All-Star." Jim asked me what he should tell him and I said, "Tell him what Alex English told me a few years back, that Dwyane Wade is probably the guy who game is most like mine, among current players." Giannis loved that.
SA: Nice that Milwaukee has such a budding young star again, isn't it?
MJ: Giannis is just a joy to be around. My favorite Giannis story is from last season. They had just lost a game and he had struggled from the line that night. I'm walking to my car in the parking structure, and it's probably 2 degrees outside, so I'm hurrying to get there. The crowd of people had just been let out of the game, and I see this tall skinny black dude kind of weaving his way through the crowd, and he's got on [an undershirt] and shorts. I'm like, "What's this fool doing out here half-dressed?" And it was Giannis, running to the practice facility to get up some free throws. It just blew me away. That's just the mindset he has. It's really refreshing to be around.
SA: He and the Bucks have taken a big step this season under Mike Budenholzer and his coaching staff …
MJ: Yeah, but don't forget Jason Kidd. I'm not a J-Kidd basher. I thought, for how long he coached, he was progressing and eventually would turn into a pretty good coach. You have to give Jason credit for that year he put Giannis at the point guard position, making him the primary ball handler. Giannis really took off then. Jason would stand on a chair at practice to see what Giannis saw when he was on the court. True story. That way he could see and make the proper decisions.
SA: A lot of media folks consider Antetokounmpo a top MVP candidate, maybe even the favorite halfway through the season. Your thoughts?
MJ: Yeah. James Harden is coming along strong, and Kawhi [Leonard] in Toronto. Paul George in OKC gets some mentions. It's interesting because Jason Kidd a couple years ago talked about how the difficulty of pronouncing Giannis' name might work against him. I remember saying on air to Jim, "That's going to help him, because it's so unusual." The whole "Greek Freak" thing, I thought it would give him some extra recognition. But it's all about what you do on the court. Giannis, despite the 3-point shooting [struggle], he still finds a way to make a difference. And the value he brings to other guys, like [Malcolm] Brogdon and [Brook] Lopez and the open shots. The operative word in the league now is "gravity." You pull the defenders toward you and open things up for your teammates.
SA: Do you see him adding a reliable 3-point shot? Does he need it?
MJ: He needs it. And you'll see it, I think, in the playoffs. The first time we played Miami down there, they really overexaggerated packing it in the paint, and he had like nine points. He's going to see more and more of that. If the Bucks aren't knocking down 3-point shots, they become a little vulnerable. But I've noticed, when guys sag off of Giannis, he's able to pick up this head of steam, which makes it almost impossible to keep him out of the lane. With his slender build and his footwork, with his speed and quickness, he's able to get them shifting, going one direction and then cross back the other direction.
The thing with developing a jump shot, it will just be easier for him to score. That's one thing I was taught early in my career: if I could hit five mid-range jump shots a game, I would average 20 points easy because of my offensive rebounding and ability in transition. So that was my goal, to knock down 3-5 little jumpers, and then the rest of the game would open up for me. The same thing with Giannis. If he can hit those jumpers, the game will become easier and he won't have to expend the same type of energy
I always thought, though, and still feel if we had been able to get a center like Bob Lanier two or three years earlier, that would have made a huge difference. … We just couldn't beat teams that were better than us."

Marques Johnson, on his Bucks teams of the 1980s
SA: Defenses are doing everything they can to make him work.
MJ: He's getting kind of the "Jordan Rules" approach defensively, where teams are knocking him down, playing him physical and just trying to wear him down. It's a good, aggressive strategy — people can have their qualms about whether he's getting fouled more than the calls being made — but if you're playing against him, that's how you have to play. You have to make him feel you and make him earn those points.
SA: So Wade is in Milwaukee Tuesday, facing the Bucks for the last time in the city where he went to college. I'm curious about the comparison you made between your games. You had a few inches on him and played forward.
MJ: Aw, but he's 6-5 or so. I'm listed at 6-7 — I always wanted to be Dr. J's size — but I'm really more 6-6. But just as a player who is fundamentally sound, who can do all types of things, a 5-tool player, and who has enough athleticism to pull off a spectacular play every now and then. He's an efficient scoring machine who's not a 3-point shooter, and that was kind of my game, working in that mid-range area and getting to the basket with great body control. I've been a big admirer since his Marquette days, and what he did in Miami has been nothing short of spectacular.
SA: I think it's funny that his jersey number has been hanging in the rafters in Milwaukee for years because of his time at Marquette, but we're still waiting to see yours. Is that going to change?
MJ: Uh … not yet. [There has been speculation that Johnson might be honored by the Bucks this season, in conjunction with his enshrinement Jan. 24 in the Wisconsin Sports Hall of Fame.]
SA: What stands out when you think back to your game with the Bucks?
MJ: I think about how, in my second year in the league with Alex [English] gone, when Dave Meyers hurt his back, I had a great year. Averaged 25.6 points and supplanted Dr. J on the first all-NBA team [in 1978-79]. Going into my third year [1979-80], Nellie calls me into his office and asks me what I think I'm going to average. I said, "Well, I worked real hard on my jump shot and on my conditioning. I feel like I could average 30 pretty easily this year and seven or eight rebounds."
He said, "I believe you can too. But for the good of this team and the balance, and having Sidney Moncrief and Brian Winters … I'm going to bring in a couple other pieces, upgrade the center position [the Bucks acquired veteran Bob Lanier in a midseason deal with Detroit]. So I'm going to need you to average 20, 21 points a game, seven rebounds, play good defense and buy into this balanced scoring system I'm trying to implement.
SA: What did you make of that request?
MJ: We went back and forth on that — it wasn't easy to accept, because scoring was kind of my thing. But if you look at my numbers that year, I was always around 20, 21 points. It's a thing where being a team player may cost me a chance to get into the Hall of Fame, because I might have had another 5,000 points in my career and then I'm getting close to 20,000. That's more kind of Hall of Fame numbers than where I am now. But you look at my scoring average, it drops from 25.6 to 21.7, and it was at the request of Don Nelson, doing what they wanted me to do.
One thing I appreciated about him — and it's the same thing I see with Budenholzer and his staff — Nellie had this way of approaching me as if I was an empty vessel …"

Marques Johnson, on his coach on the Bucks, Don Nelson
SA: It's true. Your shooting percentage kept going up, but your attempts dropped.
MJ: I didn't make a stink about it with Nellie. But what I tried to do was become in the playoffs the scorer I was meant to be. That was always my chance to be — not a ball hog or steal the glory — but a little more aggressive shooting the ball. That's why my playoff numbers are a little ahead of my regular season numbers.
SA: Those '80s Bucks are considered some of the best teams to never reach The Finals. It was just too much to be powerful Philadelphia and Boston teams in the same postseasons.
MJ: One of my bigger regrets was not even winning a championship but not getting to The Finals. In hindsight, though — and this hit me about 20 years ago — I started thinking the quality of the players we were going against. I was being guarded by Bobby Jones and having to guard Dr. J at the other end. I'm going against Kevin McHale with his size and reach, and then I'm guarding Larry Bird. I think of all the talent that these teams possessed, and they were just better than us.
I always thought, though, and still feel if we had been able to get a center like Bob Lanier two or three years earlier, that would have made a huge difference. He was still good when we got him, about 15 points, eight rebounds, but a couple years earlier might have changed things. We just couldn't beat teams that were better than us.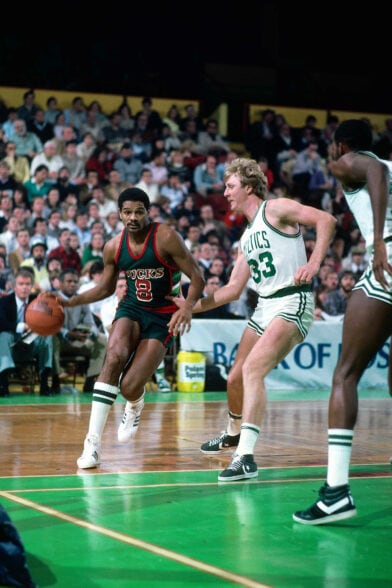 SA: You got traded to the Clippers in 1984, got back to the All-Star Game in 1986 — and then had the opposite of a farewell tour when your career ended abruptly. What happened?
MJ: I hurt my neck Nov. 20, 1986. We played the Dallas Mavericks, and my jump shot was clicking, I had like 10 points in the first quarter. I went up for one rebound and a friend of mine heard them say it on radio, "That's the highest Marques Johnson has jumped since he's been a Clipper." Everything was great. But I got one rebound and went to push the ball up the floor, and my teammate Benoit Benjamin was standing right there at the free throw line. My forehead barreled into his big chest. The last thing I remember seeing was two big zeroes — he was "00." It was too late to change direction, and it snapped my neck back. I lost the feeling in my upper body for a few minutes. I went down in a heap, couldn't move, scared out of my mind thinking I was paralyzed.
They carried me out on a stretcher. The feeling came back but I went to a lot of specialists who wanted to do a spinal fusion. There were questions whether I'd be able to play again if I got the surgery or play again if I didn't get the surgery. I had a protruding disc and there was talk if I took another hit, it could cause some paralysis. So I sat out two years.
SA: That sounds miserable.
MJ: Things got worse. In the interim, I lost a son [Marques Jr., 15 months old] in a drowning accident in our pool that following year, 1987. You can imagine, my head was all messed up. It was the darkest time in my life. Alcohol, all that … Every summer I'd work out and think about trying to come back. But I'd always chicken out, "Nah, I don't want to risk this neck thing." Finally, in 1989, I got into my workout routine again. Started going up UCLA and playing with some of the Lakers, Vlade Divac, Magic [Johnson]. This one day, Magic came up to me and was like, "What's goin' on? You gonna play or what?" I wasn't sure I still had the ability but he was like, "You got it man. Get back out there."
So I called up Nellie, he was at Golden State, and told he I wanted to come up there. He had Chris Mullin, Mitch Richmond, Tim Hardaway, that crew, and have him take a look at me. I did well and he told me he wanted to bring me to training camp. But after I got to Golden State, they had some injuries — Alton Lister went down, Manute Bol went down — and we lost a lot of size. Nellie told me they had to get somebody bigger and younger who could play some long minutes. But he had arranged through [agent] Warren LeGarie for me to be able to play in Italy if I wanted to. I was disappointed but I told him, "That's cool." [Johnson played 10 games for the Warriors before being waived on Nov. 29, 1989.]
SA: How did you like playing overseas?
MJ: I played in a small town, Udine, Italy. Was scoring about 25 a game, but I knew — based on playing maybe twice a week but practicing sometimes twice a day — that I was done. I just didn't have the motivation. Bob McAdoo was over there, Micheal Ray Richardson, and they kept telling me, "You can play till you're 40 over here." But after that first season, I was like, nah, I'm good. Gotta get back to the States and get on with my life.
But I always appreciated what Nellie did. At that point in life, bouncing back from what I'd been going through, I needed that carrot dangled in front of me, reaching out and helping me out from what I was going through emotionally. [Johnson has seven children now, five boys and two girls, from son Kris, 43, to 9-year-old daughter Shiloh.]
SA: You played for two coaching legends — Wooden late in his career and Nelson near the start of his. What were they like?
MJ: Let me correct you on that. I actually played for three. Willie West is a Hall of Fame nominee. My high school coach at Crenshaw has about 16 city championships, about 10 state championships. I was fortunate — his second year was my first year. We went undefeated for two years.
By the time I got to UCLA, Coach Wooden had won nine national champipmships. So you knew what you were getting into with that. That was a highlight, being around him every day and learning some of the life lessons that didn't resonate with me while I was there but kind of kicked in when I became an adult. Ten years, 12 years later, when going through adversity.
SA: And Nellie?
MJ: One thing I appreciated about him — and it's the same thing I see with Budenholzer and his staff — Nellie had this way of approaching me as if I was an empty vessel, and he was going to pour in this NBA basketball knowledge that he had gained in the Boston Celtics organization. He went in with the attitude that you didn't know the footwork needed coming off screens or anything. And Nellie would tell you, "I was one of the slowest guys in the league, but I was one of the best guys in transition because I knew when to run and how to get a head start on the break." He was the perfect coach for me.
Nellie would ask me in particular, if I'd go out there and try to split two guys and turn the ball over, during the timeout he'd say, "What did you see out there?" Well, I thought I could beat this one guy to the right, split the two and, if I could draw the third defender, I could flip it to Brian Winters for an open 20-foot jumper on the left wing. And Nellie'd be like, "OK, man. That's nothing I could ever speak about doing. But you've got that kind of talent, I can buy that. OK, I like that." As long as you had a plan that fit into what he was trying to do, he was OK with whatever mistake you would make.
SA: We've talked before about him using you as a point forward. He and Del Harris, among others, had used frontcourt players to initiate offense. But you claim to have coined the term.
MJ: It was my terminology. It's funny, I came across on the Internet, Game 6 against the New Jersey Nets in 1984, that was the series where it was created. You could see plays in that game where I'm looking over to the bench, getting the calls from Nellie, bringing the ball up the floor, setting the offense, drawing Bob Lanier's man and throwing dimes. There's even one play where [Paul] Pressey and me are coming up the court, and he won't give me the ball … Remember, Paul out of Tulsa was a point guard and he played point guard for us the year or so before I left. He was great with the ball in his hands. I was always a small forward who would catch it on the wing and scored. He was used to initiating.
SA: These days we hear about positionless basketball. How do you think your game would have translated — I notice your career stats are 14-for-92 from 3-point range.
MJ: I was taking end of quarter, end of half, end of shot clock too. If I took 15 3-point attempts in a year, probably 10 or 11 were desperation-type shots.
SA: So flings. The kind of shots guys often don't quite release in time today, so their shooting percentages don't suffer.
MJ: The other part is, I worked on what I needed to work on to become a great player back in those days. That was the mid-range to 20-foot jump shot. I got that down pat. If a coach would have said or I would have felt, "You need to work on this 3-point shot," I believe in all honesty I could have shot 36, 37 percent. But there was no reason to focus on shooting long-ass 25-foot jumpers when I could get to 16 feet and knock down 75 percent of those.
SA: The game has changed in its physical demands, too. Taking games off for "load management." Obviously flying charter vs. commercial. What do you make of those changes?
MJ: It amazes me how much emphasis they place on proper rest. And they have these trackers telling the trainers how many miles they're running. People don't realize, we had training camp for 30 days, going six, sometimes seven days a week. And we had two-a-days all camp. They weren't worried about making allowances for the wear and tear. We'd go two practices hard, every day, for the whole time.
SA: Now the league tries to minimize back-to-back games. But in your rookie season, the Bucks played five sets of back-to-back-to-back games. You had a stretch from Dec. 2 to Dec. 10, 1977, when Milwaukee played seven games in nine nights, beginning and ending with games on three consecutive nights. It started with a game at New York sandwiched between two home games. Then you flew to the West Coast to face Lakers, and wrapped up that trip at Golden State, at Seattle and at Denver.
MJ: We got back on Sunday, we had to face the Sixers on Tuesday and Nellie had us practicing on Monday. I'd been playing hard minutes, probably averaging 43 those last three games. I remember, I called up Nellie's secretary, Jean Schuler, and told her, "I can't get out of bed, I'm so sore right now." And she said, "That's OK, Marques. Nellie said you'd probably call, and to take the day off." The next night against Dr. J, I went out and had 29. He had 29 too. [laughs]
SA: So what's your take on your Hall of Fame candidacy, knowing you're up again for the Class of 2019?
MJ: My name just kind of stays in nomination. Y'know, I've come across some Web sites about guys who are Hall of Fame-worthy based on "win shares" and other analytics, and they say I am deserving of that. And I probably could have played another four or five years if not for the neck injury, so the numbers would have looked a lot better. But five All-Star Games, first-team all-NBA, second-team NBA a couple of times. I played for some great teams in Milwaukee. There's an honor in being nominated with Willie West, my high school coach, and Sidney Moncrief. I'd like to see Sidney and myself both get in, but it's out of my hands. Just got to see what happens.
I'm definitely one of those guys who's not a shoe-in. But looking at some things the other day, I thought, I might get to the point where I become an "early African-American pioneer." [laughs]
* * *
Steve Aschburner has written about the NBA since 1980. You can e-mail him here, find his archive here and follow him on Twitter.
The views on this page do not necessarily reflect the views of the NBA, its clubs or Turner Broadcasting.