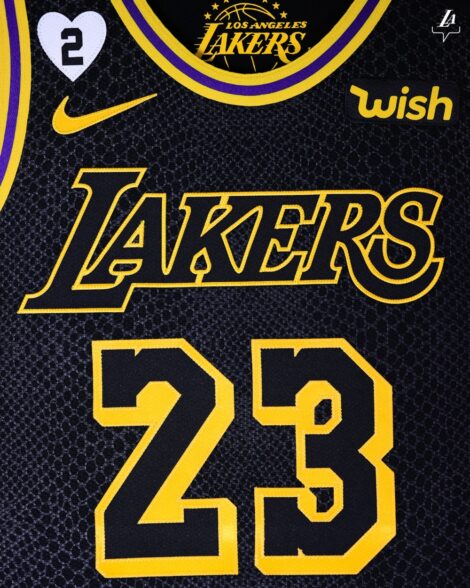 The Los Angeles Lakers honored franchise icon Kobe Bryant and his daughter, Gianna, in their Aug. 24 game against the Portland Trail Blazers.
The Lakers won Game 4 in a romp, 135-115, to take a 3-1 lead in their first-round series with the Blazers. The Lakers wore their "Black Mamba" jerseys in honor of Kobe Bryant as the uniforms also sported a special patch bearing the number 2 inside a heart to honor Gianna Bryant.
Mamba Forever pic.twitter.com/dUzhWWbEOq

— Los Angeles Lakers (@Lakers) August 25, 2020
8/24 pic.twitter.com/FuDTL6OrpE

— Los Angeles Lakers (@Lakers) August 24, 2020
LeBron James took note when the Lakers built an early 24-8 lead over the Trail Blazers on Kobe Bryant Day.
"OK, he's here in the building," James said he thought in the moment, when the two numbers that Bryant wore during his career appeared on the scoreboard.
"To be able to continue his legacy is something that hits home for me, and it's easy for me because I put in the work," James said. "And if you want to see results you got to work at it. It's not about the wins and losses."
Inspired by Bryant, the Lakers' 24-8 lead seemed fortuitous, and they went on to outscore the Blazers 43-25 in the first quarter.
The Lakers led 80-51 at the half. It was the most points in a half for Los Angeles in a playoff game since 1987.
Kobe Bryant, the 18-time All-Star who won five NBA championships and became one of the greatest basketball players of his generation during a 20-year career with the Lakers, died in a helicopter crash on Jan. 26, 2020. He was 41 and what would have been his 42nd birthday was Aug. 23.
The Aug. 24 date is significant because the numerical month that corresponds to August (8) and the day (24) are the two numbers Bryant wore during his Hall of Fame career with the Lakers.
Bryant's 13-year-old daughter, Gianna, was also killed in that January helicopter crash along with seven others on board. She was known for wearing the No. 2 during her burgeoning basketball career. In the 2020 All-Star Game, Team LeBron (No. 2) and Team Giannis (No. 24) honored Kobe and Gianna by having every player on those respective teams wear those uniform numbers.
Information from The Associated Press was used in this report.