LA Clippers owner Steve Ballmer still seeking Inglewood arena for team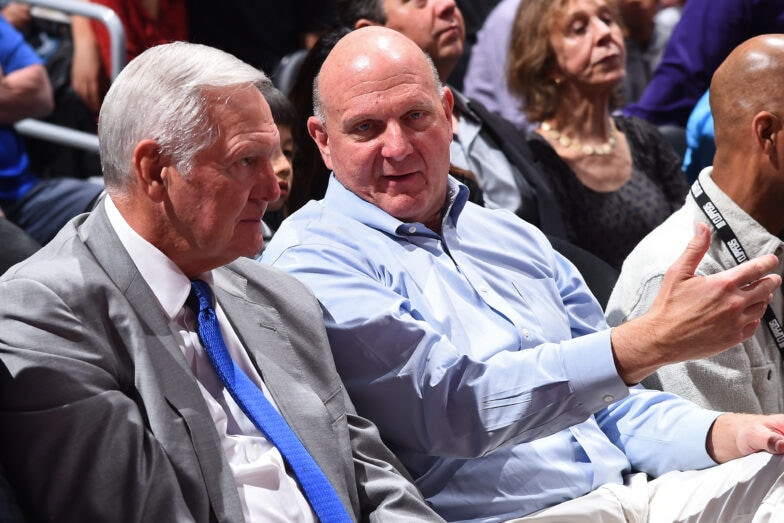 The last time the LA Clippers had their own arena for home games was in the 1998-99 season, when they played at the Los Angeles Memorial Sports Arena. Since then, the Clippers have shared the Staples Center with the Los Angeles Lakers. Two years ago, news broke that the Clippers and their owner, Steve Ballmer, were looking to leave Staples for a building of their own in the near future.
Last year, the city of Inglewood unanimously approved an exclusive negotiating agreement with the Clippers that could lead to the construction of an arena near the future home of the NFL's LA Rams and LA Chargers. Ballmer hasn't let up on his desire to get that arena plan done and, in a meeting with Clippers fans and season ticker holders yesterday, once again talked of how important it is for the Clippers to have their own arena.
The Los Angeles Times' Helene Elliott has more from Ballmer, who spoke at a team event called "The Playbook." That event featured Ballmer, team president of basketball operations Lawrence Frank and team consultant Jerry West:
"We're moving to Inglewood come hell or high water," he said of a proposed arena near the site of the stadium being constructed for the Rams and Chargers. "We gotta have a house. So we're working on a plan to get our own house. We want to get our own house. It turns out the way this works in L.A., which is much beloved to me, that if you start now you might be done in six years." He then urged fans to contact their Assembly representative and state senator to urge approval of legislation that would accelerate the process.
As the Clippers close in on the 2018-19 season, gone are many of the familiar faces from the team's "Lob City" era. The Clippers traded All-Star point guard Chris Paul to the Houston Rockets before 2017-18 opened, dealt high-flying star forward Blake Griffin to the Detroit Pistons at midseason and watched as center DeAndre Jordan signed with the Dallas Mavericks in free agency this summer.
Despite all the roster overhaul of late, Ballmer told fans yesterday he won't allow his team to bottom out and gut the roster in hopes of a quick turnaround or high Draft pick.
"That ain't us. Nuh-uh, no way," he said. "People can do it their way. We're going to be good our way. We're not going to show up and suck for a year, two years."
The Clippers looked to make up for some of their roster changes this summer, trading for Washington Wizards center Marcin Gortat, drafting Jerome Robinson with the No. 13 overall pick and landing No. 11 pick Shai Gilgeous-Alexander in a Draft-day trade with the Charlotte Hornets. Those moves — combined with a core of players that includes Tobias Harris, Danilo Gallinari, Avery Bradley and Patrick Beverley — has the Clippers thinking a playoff push could be possible in 2018-19.
"I'm not here to blow smoke toward anyone. I think this team is really going to be fun to watch," West said. Frank added, "I think we're going to put ourselves in great position to compete for the playoffs."
From the sound of some fans at Thursday's event, the plan Ballmer has in mind is one they believe in.
Mark Westfall, a South Bay roofing contractor and 30-year Clipper season ticket holder, also was optimistic the Clippers can capitalize on the two max contract slots they'll have next year. "I don't care what the Lakers have done and what Houston's done, I don't think anybody's going to beat Golden State," said Westfall, who cheered Wednesday alongside his wife, Cathy. "I think Golden State's window is going to eventually close and the Clippers are kind of setting themselves up to go on maybe a little run after their window closes. And we've got Jerry West. And I believe in Jerry West."
The agreement between the Clippers and the city of Inglewood call for a three-year negotiating period, including a six-month extension, with a developer to build a state-of-the-art basketball arena with 18,000 to 20,000 seats. It requires the Clippers to pay a non-refundable $1.5 million deposit to cover costs associated with the planning.
The proposed arena would be on a 20-acre parcel of land located across the street from the under-construction, $2.6 billion NFL stadium that is set to open in 2020. The Clippers' complex would include team offices, parking and a practice facility.
The land is currently occupied by a variety of businesses.
The Clippers have a lease to play at Staples Center in downtown Los Angeles through 2024. However, Ballmer has been open about his desire for a new arena since he bought the Clippers for $2 billion in 2014.
The Clippers share Staples with the Los Angeles Lakers, the NHL's Kings and the WNBA's Sparks, leaving the Clippers third in choice of dates. Rams owner Stan Kroenke is privately financing the NFL stadium as part of a 698-acre mixed-use development that includes housing, retail and entertainment. The stadium is scheduled to host the Super Bowl in 2022.
Information from The Associated Press was used in this report.