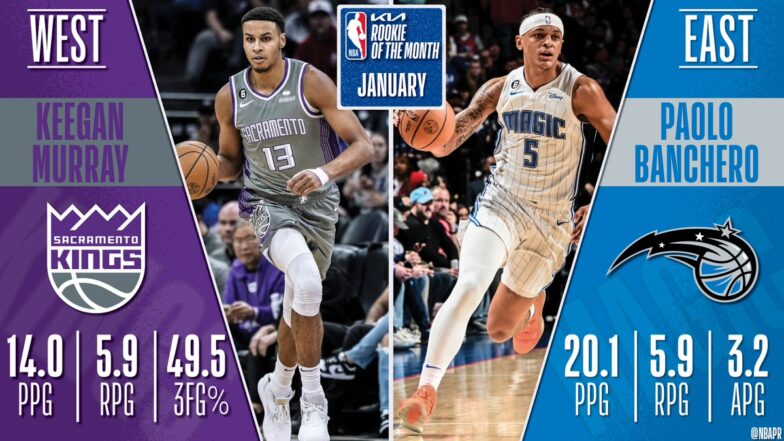 Orlando Magic forward Paolo Banchero and Sacramento Kings forward Keegan Murray have been named the Kia Rookies of the Month for January.
The Kia NBA Rookies of the Month for January! #KiaROTM

West: Keegan Murray (@SacramentoKings)
East: Paolo Banchero (@OrlandoMagic) pic.twitter.com/AG8YIS2SzY

— NBA (@NBA) February 2, 2023
Check out their highlights from the past month.
---
Paolo Banchero, Orlando Magic
The No. 1 overall pick's strong debut season continued during the month of January. Banchero averaged 20.1 points, 5.9 rebounds and 3.2 assists over 14 games. The 6-foot-10 forward is averaging 20.5 points (1st among rookies), 6.5 rebounds (4th) and 3.6 assists (3rd) for the season. This is Banchero's third Kia Rookie of the Month award.
"It's special always to be able to get any accolade in this league."@Pp_doesit on winning rookie of the month 🗣️ pic.twitter.com/M1WByuPBXy

— Orlando Magic (@OrlandoMagic) February 2, 2023
---
Keegan Murray, Sacramento Kings
The No. 4 overall pick averaged 14.0 points on 51.0% shooting, 5.9 rebounds and 1.3 assists in 32.2 minutes over 15 games in January. The versatile forward continues to be a key contributor to Sacramento's success as the team looks to make the playoffs for the first time since 2006. The Kings (29-21) are currently 3rd in the West standings.
𝐛𝐚𝐜𝐤-𝐭𝐨-𝐛𝐚𝐜𝐤 👑 
 
Keegan Murray earns the Western Conference Rookie of the Month for the 2nd month in a row. pic.twitter.com/Fi51O48hCd

— Sacramento Kings (@SacramentoKings) February 2, 2023