Smith steps away from Cavs as he awaits trade
Cleveland officially announced the decision on Tuesday afternoon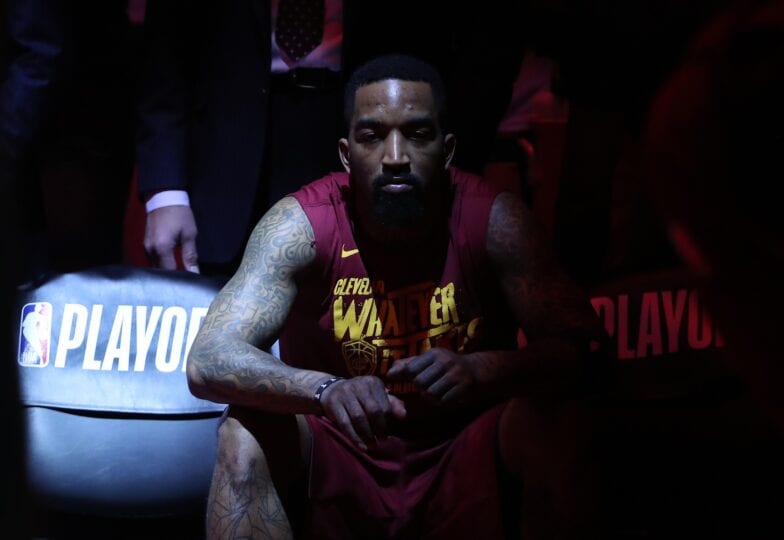 JR Smith's time with the Cleveland Cavaliers has come to an end, the team announced on Tuesday.
"JR Smith will no longer be with team as the organization works with JR and his representation regarding his future," the team said in a statement on Tuesday. "The organization wishes JR and his family well and appreciates and thanks him for his contributions in the community, to the team and his role in the 2016 NBA Championship."
Statement from the Cavaliers on JR Smith: " pic.twitter.com/WHTo8etdj6

— Rachel Nichols (@Rachel__Nichols) November 20, 2018
Smith reportedly will work out away from the Cavaliers as he waits for them to facilitate the trade request he made in early November. According to Joe Vardon of The Athletic, Smith and the Cavaliers aren't negotiating a contract buyout because Smith says he doesn't "want his legacy to be remembered like that."
JR Smith will no longer be actively with the Cavs, a league source tells me. He is working with the team to trade him, and in the meantime will work out on his own

— Joe Vardon (@joevardon) November 20, 2018
The breakup is 'amicable,' the source said, and the two sides are not working on a buyout at this time https://t.co/MF6zcKc2Wk

— Joe Vardon (@joevardon) November 20, 2018
The 33-year-old guard has been frustrated with his playing time on a team he says is not focused on winning this season.
"I don't think the goal is to win," Smith told Vardon on Monday. "The goal isn't to go out there and try to get as many wins as you can. I think the goal is to develop and lose to get lottery picks. I think that was always the plan."
Smith, along with other Cavaliers veterans, reportedly entered this season under the belief the Cavaliers would try to compete in the East after the departure of LeBron James. But it quickly became clear that wasn't going to be the case.
Here's more from Vardon on the situation:
The Cavs are facing a bit of a credibility crisis with some of their veterans. The talk all summer was how they still had enough to compete, how they were going to push for a playoff berth even without James. Then two games into the season, they pivoted to benching veterans and going with a youth movement — even before Kevin Love's surgery and Tyronn Lue's firing.

[…]

Of course, trading Smith is easier said than done because of his contract situation. If Smith, who shares an agent with James in Rich Paul, wanted out so badly, he could give back a few million dollars on his current deal and the Cavs would probably send him on his way. But Smith refuses to negotiate a buyout, so the two sides remain locked in this staring contest.

"I don't want my legacy to be remembered like that in Cleveland," Smith said of a buyout. "I don't think that's fair to the people I see every single day walking around the arena. I don't think that's fair to the trainers or equipment guys. … I just look at it differently than being traded. I don't like the statement of getting bought out."
The Cavaliers fired coach Tyronn Lue after just seven games this season and replaced him with Larry Drew. The team currently sits in last place in the Eastern Conference with an NBA-worst record of 2-13.
Smith was a key contributor for the Cavaliers during the past three-plus seasons. Alongside James, Smith and the Cavaliers reached the NBA Finals in four straight seasons from 2015 to 2018 and won the 2016 NBA championship.
Smith averaged 8.3 points on 40.3 percent shooting in 28.1 minutes over 80 games last season.