Jordan Week
Back in home state of North Carolina, Jordan's weight reaches farther than court
CHARLOTTE — Unlike Mark Cuban and James Dolan, the host of the 2019 NBA All-Star Game was voted in 14 times to participate and played in 13.
Quite different from Micky Arison and Glen Taylor, the team owner whose arena and city will be the center of All-Star 2019 averaged 20.2 points in those 13 All-Star appearances, was named MVP three times and posted the first triple-double in the game's history (1997).
And not at all like Steve Ballmer and Joe Lacob, the guy most often credited with making Charlotte All-Star worthy this weekend ignited the annual Slam Dunk Contest with his takeoff from the foul line in 1988. He also regularly irritated former NBA commissioner David Stern into a series of fines for golfing when he should have been sitting through mandatory Friday media sessions.
With a level of celebrity as arguably the game's greatest player ever, morphed now into an off-radar role as owner of the Charlotte Hornets, Michael Jordan remains as famous, as popular and as successful as any or all the active All-Star participants who'll cavort at the Spectrum Center in the city's Uptown business district.
Ain't no other NBA owner who can say that.
"You think about all these wealthy, successful owners in our league," said Hornets president Fred Whitfield, "no one knew who any of them were, really, until they bought their team. Everybody in the world knew who Michael Jordan was before he bought his team."
Jordan's place in the All-Star galaxy in the coming days is reflective of his unique position among those who oversee the NBA's 29 other franchises. His impact on the team, on its fans, on their city and on the state in returning to his native North Carolina — he grew up in coastal Wilmington before attending college in Chapel Hill — to anchor and lend stability to the Hornets will be on full display, even if he's hard to spot this weekend.
It's all a reminder, too, of the old movie line from a remarkably blessed character, wondering "What do you do when your real life exceeds your dreams?"
Most don't dare to imagine playing in an All-Star Game, never mind hosting one as the owner of the local team.
"No," Jordan told some Charlotte reporters Tuesday, coming forward for one of his few appearances of the week. "As a kid growing up here in North Carolina, the first thing [was] playing basketball. And then things evolved from there — from the University of North Carolina to Chicago. Obviously you know the history from that.
"[The] opportunity to represent North Carolina in an All-Star Game from a different seat is truly amazing. It tells the path that I have taken. It gives me great pleasure to give that back to the community. It's been a long-traveled road."
The celebration of the league's brightest stars, and the ubiquitous banners and signage devoted to it will make it even harder than usual to visibly spot signs of Jordan's ownership of the Hornets. For a typical regular season game, you might spy a flag emblazoned with his well-known "Jumpman" logo. Occasionally he'll watch part of the game, rarely all, from seats at the end of his team's bench, though he's as likely to retreat to his suite atop the arena's lower bowl.
An in-game, timeout scoreboard video meant to stoke the crowd includes shots of GM Mitch Kupchak ("Architect of Champions") and coach James Borrego ("Elite Pedigree") but ends right about the time you expect some dramatic silhouette of His Airness to appear.
It's as if Jordan is as protective of his brand in running the Hornets as he is in maintaining its exclusivity in the marketplace. Doesn't matter, though. His fingerprints are all over the franchise, as a basketball team, as a business enterprise and as a member of the community.
On court, Jordan trusts his team
Jordan's greatest notoriety as an owner in a basketball setting may have come in December, when he was courtside for a tense game against Detroit. Guard Jeremy Lamb drained a 22-foot jumper with 0.3 seconds left, sending reserves Malik Monk and Bismack Biyombo onto the floor in celebration of what would be a 108-107 home victory.
Trouble was, that sliver of time on the clock. Too many men. The Hornets were whistled for a one-shot technical foul and Jordan impulsively smacked Monk lightly, twice, on the back of the head.
Any other owner does that, the player's agent might file a grievance with the players union. Jordan does it and, thanks to his in-the-trenches, in-the-fraternity credibility, it comes across as a goof.
"A tap of endearment," Jordan called it later in a statement. "It was like a big brother and little brother tap. No negative intent. Only love!"
Said Monk: "Big, big, big brother. But it was nothing. He was just playing."
The arc of Jordan's career and his reputation as a stone-cold competitor make it OK if he wants to vent — or swipe — when things don't go the Hornets' way.
Doesn't matter that Jordan, who will turn 56 on All-Star Sunday, is old enough to be any of his players' dad. He still carries himself like an athlete, and their frame of reference remains, "That's Mike."
"I've seen kids come up through camps," said Buzz Peterson, Charlotte's assistant general manager under Kupchak. "You could say Julius Erving, you could say Larry Johnson, Karl Malone, whatever, and the kids' eyes are like, 'Who?' But you say Michael Jordan, they're gonna know. That's the separation there."
Peterson is among Jordan's closest friends — he beat him out as North Carolina's prep player of the year in 1981, won an NCAA title with him as a Tar Heels teammate and is described by those who know both as someone who can disagree with the boss while staying comfortably in the inner circle.
For Borrego, Charlotte's first-year coach, interviewing to run Jordan's team could have been intimidating. "We're all human beings — there's a presence that comes with 'Michael Jordan' when he's around," Borrego told NBA.com in January. "But it's healthy. He comes with a competitive spirit that you feel.
"Michael was straight with me from Day 1. When I interviewed, he said, 'I'm going to give you space to do your job. Whatever you need, you come to me. I'll give you the resources you need.' He has not tried to interfere one time. I feel his full support. … We're starting to speak each other's language, which is pretty healthy for us now."
Jordan keeps the coach apprised of his interactions with players, Borrego said. Other coaches should have such a resource at the ready.
Hornets guard and 2019 All-Star starter Kemba Walker probably has benefited most from Jordan's counsel. They text frequently, a pinch-me arrangement to this day for Walker.
"I grew up wearing Jordans, grew up wanting to be like Jordan," Walker said recently. "So for me to get this opportunity to be on his team means the world to me. He's the one who believed in me — I had no idea where I was going to go on draft night and he traded up for me. I've always heard the story, he was the one who actually drafted me. So it's unbelievable.
"He's such a good dude. He understands what it is to be good. His delivery is always good. Only in a positive way, honestly."
Said rookie wing Miles Bridges: "You think there'll be a lot of pressure having MJ as an owner. I'd seen how he got on his teammates when he played. So I was nervous, thinking if I had a bad game, he'd go at me like, 'What're you doing?' But after meeting him and bonding with him, I feel like he's the coolest owner out there. I don't feel any pressure, I feel like he wants the best for us."
Big man Frank Kaminsky typically sits at the end of the bench, which puts him cheek to cheek with Jordan when he's courtside. "He's talking about what he's seeing out on the court. Talking to the refs," Kaminsky said. "Things other players don't necessarily see. He still thinks the game.
I grew up wearing Jordans, grew up wanting to be like Jordan. So for me to get this opportunity to be on his team means the world to me.

Hornets All-Star guard Kemba Walker
"You see things on the court that he sees. One game, the roll, pocket-pass, skip to the corner was open. He was saying that. We made an adjustment in a timeout, but he saw it a couple plays before that. At the end of that game, we had a big play that was a roll, pocket-pass, into the corner that put the game away. It worked the way he'd seen it."
The Hornets' struggles during Jordan's tenure as owner wouldn't suggest it — the last time this organization won a playoff series (2002), Jordan still was a player — but there is a prestige to playing for his team. It's not unlike being welcomed onto the list of elite athletes who endorse Jordan Brand.
"I'm one of the lucky ones who's in both," Kaminsky said. "You're talking about the most iconic player in sports history — I might be biased because I grew up in Chicago — but when you have his approval, it means a lot. You have it in the back of your mind that he wants you here."
Head smack or no head smack.
Jordan grows as owner, businessman
Basketball is a zero-sum game and the NBA is full of stars, even if none shines quite as brightly as Jordan. But business has room for negotiation and compromise, and deals get struck daily that leave both sides happy.
There, Jordan has been beyond clutch. Funnel down everything he's accomplished — six NBA championships, the league's highest career scoring average (30.1), five MVP awards, six Finals MVP, 10 scoring titles, nine All-Defensive team nods — and it invariably ends with clammy hands.
The "wow" factor is real and the Hornets are extremely careful about leveraging it.
"It gives our organization a certain cachet," said Whitfield, another longtime friend who goes back more than 35 years with Jordan. "For him to be majority owner, for him to do it in his home state as a local hometown hero, and to be able to come back and not just lead the team and the rebranding from the Bobcats to the Hornets, but his commitment to the community in giving back, it's something that's so special."
That's a lot to unpack. When Jordan initially signed on with the Hornets, he did so as head of its basketball operations in 2006, purchasing a small minority stake in the team. The team was bad, the business was worse and trending down.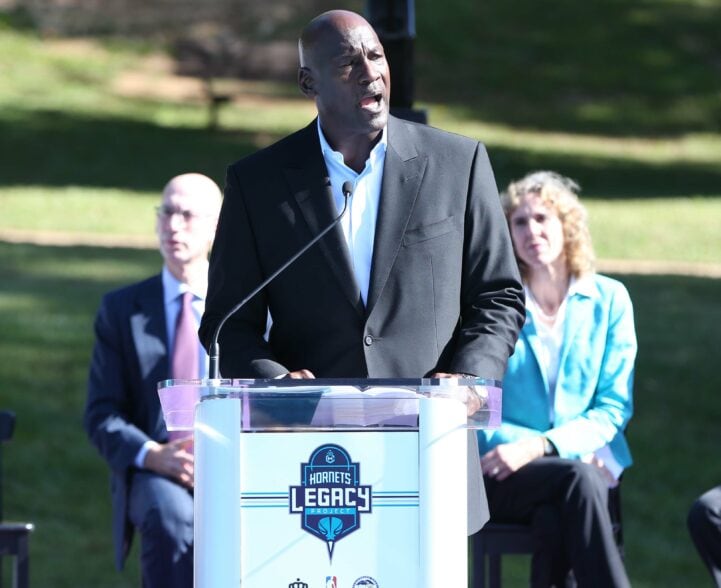 "Back in '08-09, the economy was in the tank and I was mandated to 'displace' 42 of our executives here on the business side," Whitfield said. "When Michael bought the team, we were losing $30 million a year.'
Brought back into the league in 2004 two years after the original Hornets (1988-2002) were moved to New Orleans by reviled owner George Shinn, the Charlotte expansion team was owned — and nicknamed — by Bob Johnson, a co-founder of the BET television network. The Bobcats excelled only at losing and were 122 games under .500 in their first five seasons.
The front office was understaffed, Spectrum Center (then known as Time Warner Cable Arena) needed renovations almost from its inception and there was a real sense that, if a buyer with deep pockets and a commitment to the area weren't found, the franchise could be moved.
In March 2010, Jordan ponied up the cash to become majority owner. But it says something that the deal stands as one of the few, if ever, instances of an NBA franchise being sold at a discount. Johnson paid $300 million for the team; Jordan purchased it for $275 million.
Forbes.com recently had Charlotte worth $1.25 billion — which ranks 28th. And Jordan reportedly has one of the biggest stakes of all NBA owners, with his share estimated at upwards of 90 percent, possibly as high as 98 percent.
That's a lot of success in nine years, despite the basketball team's mostly middling performance.
"With MJ being with the team, you got instant credibility in the marketplace," said Pete Guelli, the chief operating officer who started on the job about 10 months before Jordan took ownership. "There had been a lot of uncertainty previously, but with his brand and his resources and his commitment, that just dissipated immediately. It was much, much easier to walk in the door and tell people about our vision for this franchise."
Rebranding the team as "Hornets" gave the franchise an existential boost — it suddenly had a history again, complete with records, archives and true alumni. The arena got a makeover and, per Guelli, is credited for events there that generate an alleged $1 billion in revenues for local businesses.
"Fortunately, we've been profitable pretty much since [Jordan took over]," Whitfield said. "That's huge, especially since we haven't gotten where we want to be on the basketball side."
Closing a new kind of game now
It's hard to overstate Jordan's added value, not so much as some corporate or financial whiz but as a presence who brought instant motivation and energy to the staff. He imported executives with whom he had developed relationships at Nike or in other ventures and, after taking early criticism for an uncertain level of involvement, has been more diligent in recent years.
"I love seeing him sitting at the end of the bench encouraging his players when he attends a game" said Charles F. Bowman, Bank of America's market president for Charlotte and North Carolina. "And as a business person what impresses me is that he has empowered his management team to focus not only on the court but also on building bridges with the community.
"He had a vision for where he was taking the team and a clear plan to get there. He has hired good people, gives them latitude to make decisions and he expects them to perform. Michael is unique — the best player ever who is determined to keep getting better year over year as an owner."
The NBA has gotten a taste of Jordan's growth and transition at some pivotal times. This is the legendary voice of the players who, during rancorous negotiations in the 1998 lockout, countered Washington owner Abe Pollin's gripes about losing money by telling Pollin to sell his team.
When the Bulls would come here and play at the old Coliseum, these fans who were avid Hornets fans were all pulling for Michael Jordan.

Hornets president Fred Whitfield
By the lockout of 2011, Jordan had moved to the other side of the table. But several members of the National Basketball Players Association's executive committee saw him not as an opponent or turncoat but as a role model: someone who had transformed himself from employee to employer at the game's highest level.
"The players understood, he had been in their shoes," Whitfield said. "He's not forgetting what it meant to be a player. He was in the process of learning what it meant to be an owner."
When the current collective bargaining agreement was negotiated with commissioner Adam Silver and union director Michele Roberts leading the talks, Jordan was an active, powerful voice. He is an influential member of the NBA's labor relations and competition committees.
One Charlotte insider spoke to Jordan's clout with his fellow owners in getting this weekend's showcase — jeopardized by a political squabble in 2017 — back onto the league's short list.
"There's no All-Star Game here in Charlotte if it's not for MJ," the person said.
Last summer in Las Vegas, Silver lauded Jordan for his ability to straddle the basketball and business worlds. "He brings unique credibility to the table when we're having discussions [with the players]," he said, "and even just among the owners, he's able to represent a player point of view… Michael can say, 'Well, look, this is how I looked at it when I was a player, and these are the kind of issues we need to address if we're going to convince players that something is in everyone's interest.' "
Jordan's powers of persuasion apparently have been even more impressive in Charlotte and North Carolina. The executives are careful about relying on him too often — Jordan's most precious commodity, now that his net worth is estimated to be upwards of $1.7 billion — is his time. But when they need Mariano Rivera to walk in from the bullpen, he is lights out.
"We've had corporate sponsors at a golf outing, and he's been there, maybe stayed at one hole to tell off with everybody," Whitfield said. Or they'll invite certain corporate sponsors to one of a few games each season in which "Club 23" is up and running at the Spectrum Center, a private club built for such purposes. They get a chance to visit, talk with and pick Jordan's brain on the Hornets and much more.
"We've closed all those deals," Whitfield said.
Then there was the time a local CEO wanted to finalize a sizeable sponsorship deal with the team, and had his No. 2 invite Jordan over to their headquarters for the meetings.
Whitfield told the tale: "This guy says, 'You have to come to our office. Our CEO is the man in our business.' But we're like, 'Nah, typically, CEOs come and meet in Michael's office or in 'Club 23' over here.' He said no, that wasn't going to work for them.
"So Pete Guelli said, 'Let's make a deal: We'll take your CEO and drop him off in Beijing. And we'll drop off Michael in Beijing. Then we'll see who more people gravitate to. Whoever gets the least people, he has to come to the other guy's office.'"
Point made. Point taken. Said Whitfield: "The guy says, 'You know what, I got it. We'll be over 10 o'clock Friday morning.'"
A community he calls home
The Michael Jordan who once seemed determined to float above cultural and political frays as the most prudent way to serve commerce has not held back in recent years from making his presence felt. He has been more philanthropist than activist and, let's face it, in times of the most dire need, cash beats talk every time.
Charity and investing in the community can be good for business, sure. Making that a priority after Guelli's arrival and Jordan's purchase helped the Hornets build bridges with fans and merchants that Shinn and the original franchise's departure had torched.
More than that, though, giving back for Jordan and his team at this point in his life was the right thing to do. And do, and do, and do. The list of charitable and civic efforts Jordan and the Hornets have undertaken is long, with few outside the region or state aware of most of it.
Among the highlights:
Donating $2 million to relief efforts in the wake of Hurricane Florence, particularly meaningful because of the damage it did in Jordan's hometown of Wilmington.
Dedicated $7 million in partnership with Novant Health to fund two Michael Jordan Family Clinics, set to open in Charlotte in 2020.

Serving as Make-A-Wish's Chief Wish Ambassador since 2008, while donating more than $5 million to the organization. His relationship with Make-A-Wish began more than 30 years ago.

Contributing $5 million as a founding donor of the Smithsonian's National Museum of African American History and Culture in Washington, D.C.
Addressing the issue of police shootings and community policing in 2016 by donating $1 million each to the NAACP Legal Defense Fund and the International Association of Chiefs of Police.
After the hurricane in September devastated so many homes and businesses in and near Jordan's roots, he wanted to do more than to stroke a fat check. In a meeting covered by The Associated Press, he met with Stephanie Parker and her family, including four young children, after they lost their apartment in two feet of flooding. A call from the director of the Cape Fear chapter of the Red Cross brought them together. The meeting took place at a Lowe's home improvement store.
"I look around the corner, and it's Michael Jordan. 'Oh my God!'" Parker said. "I look at my kids, 'It's Michael Jordan!' I'm not going to lie, some tears came in my eyes, because the first thing that went through my mind was when I was younger, his last game when he was on the Chicago Bulls team, and that flashback just came right in my mind."
Afterward, Jordan was coaxed by the Charlotte Observer to talk about why that disaster resonated so deeply for him. "You gotta take care of home," he said. "Wilmington truly is my home. Kept thinking about all those places I grew up going to … You don't want to see any of that anywhere, but when it's home, that's tough to swallow."
There's basketball, there's business and then there's real life, which sometimes intrudes in the most desperate ways.
"We didn't know how many people in our community were hungry," Whitfield said. "There are people in dire need, and it's special to have that hometown hero have in his heart that 'This is where I can help.'
"It gives not only him as a person but our organization a platform to really speak out. That commitment is what has made him a special owner, and why he's even more beloved in our community."
Winning title No. 7 drives Jordan now
To date, Jordan's greatest achievements have come elsewhere, at least since his baseline shot as a freshman propelled North Carolina to the 1982 NCAA championship. Those Bulls championships, the "Dream Team" magnificence, his partnership with that sneaker company in Beaverton, Ore., his Naismith Memorial Basketball Hall of Fame induction, shooting "Space Jam," all of it — his legacy has been crafted with others, for others, mostly far from home. (For the record, Jordan, his wife Yvette and their two daughters own a mansion outside Charlotte and an estate in south Florida).
"Look, this has always been home for him," Whitfield said. "Even though he was drafted by Chicago, WGN became a very popular station. And he just continued to elevate, so people in this state were proud to say, even though he's a Bull, we love him. When the Bulls would come here and play at the old Coliseum, these fans who were avid Hornets fans were all pulling for Michael Jordan.
"He'd score, they'd cheer loudly. The Hornets would score, they'd cheer loudly. North Carolina always felt like he was their native son who went off and achieved greatness."
Coming back first to head the franchise's basketball operations and then as owner, Jordan's role — in light of the modest results on the court — has been custodial. Yes, the club's improved financial stability is important. But for this driven winner and NBA owner unlike all others, custodial isn't going to cut it for long.
"He did an interview with Cigar Aficionado magazine a while back," Peterson said, "and the question was asked, 'What would you like to do?' And he said, 'Win a seventh championship. Win as an owner.' So for me, every day, I'm thinking, here's a close friend and you want to make your friends happy, right? So each day I think, do the best you can to reach this goal for him."
Said Hornets wing Nicolas Batum: "I understand. He wants to win. He wants to compete since he was born."
It hasn't been for lack of trying, although Jordan has made sure to keep fiscal responsibility high on every agenda. The team's payroll for 2018-19 is approximately $122.3 million, which ranks near the middle of the NBA pack.
"That Michael Jordan is one cheap dude," said an impassioned cab driver on a recent airport run. "He's only going to spend so much and the players they get shows it."
The Hornets never have spent into the league's luxury-tax, and if Walker is retained when he hits free agency this summer, he'll likely become the first Charlotte player to sign a full maximum-salary contract (though the five-year, $120 million deal Batum landed in 2016 came awfully close).
Injuries and dubious moves have taken a toll, a situation that Kupchak, Borrego and their staffs have been tasked with fixing. Jordan, by all accounts, is engaged yet patient, with a playoff berth and potentially a record above .500 within reach.
"I'm sure he feels like," Whitfield said, "if he were still 30 years old and could lace 'em up and get out there, he'd help us get over the hump. I think he would cherish it as much or more than the first six. Because I think he realizes how hard it is to get it done.
"But it doesn't bother us if the fans see his frustration sitting next to our bench. It's important to us that they see he's not only invested, he's vested in what our team is trying to do. They can relate to him because they're feeling that same frustration."
Jordan is theirs again and that's what matters. For basketball, for business, for community and in time, just maybe, in championship.
* * *
Steve Aschburner has written about the NBA since 1980. You can e-mail him here, find his archive here and follow him on Twitter.
The views on this page do not necessarily reflect the views of the NBA, its clubs or Turner Broadcasting.