Of the 14 teams that missed the playoffs last season, the Houston Rockets clearly made the biggest effort to change their situation. They hired Ime Udoka, making him one of the highest-paid coaches in the league. Then they added Fred VanVleet and Dillon Brooks via the two biggest contracts signed by free agents that changed teams.
The Rockets are trying to dig themselves out of a deep hole. In fact, they made history over the last three years, becoming the first team in a 30-team league to rank in the bottom five on both ends of the floor in three straight seasons. Not coincidentally, they've had the league's worst record (59-177, .250) over those three years.
Their reward has been three top-four Draft picks. And even with the veteran additions — Jeff Green and Jock Landale in addition to VanVleet and Brooks — the core of this team remains young. There is a lot of potential for improvement in Houston, and it's on defense where they have the best chance to take a step forward.
Here are some notes, numbers and film on how Houston can get defensive.
---
1. Fred VanVleet: Aggressive … sometimes to a fault
VanVleet is a big reason why the Toronto Raptors have led the league in opponent turnover rate in each of the last three seasons. Among the 373 players who've played at least 100 games over the last three years, only Jimmy Butler (1.8) has averaged more steals per game than the Rockets' new point guard (1.7).
He's an aggressive and handsy defender, and his steals (sometimes credited as blocks) can turn into transition opportunities. And although he stands just 6 feet tall, those hands can help inside …
But VanVleet can be a feast-or-famine defender because he'll sometimes leave good shooters open in his pursuit of the ball …
Overall, he should be a huge defensive upgrade in the backcourt and push the Rockets into the top half of the league (from 23rd) in opponent turnover rate by himself.
---
2. Dillon Brooks: An in-your-shirt defender
Brooks has more size, but that doesn't keep him from getting over screens and staying with his man …
You will rarely complain about Brooks' effort or his willingness to defend the best in the world. But his tendency to play one-on-one defense in the opponent's shirt will get him into foul trouble* and beat off the dribble …
* Brooks' 4.1 fouls per 36 minutes ranks sixth among 223 players 6-7 or shorter who've played at least 2,000 minutes over the last three years. New teammate Jae'Sean Tate is second on that list at 4.6 fouls per 36, while VanVleet is 139th (2.5) despite his handsiness.
While Brooks is an obviously physical defender and while the Grizzlies have ranked in the top seven defensively over the last three years, his isolation-defense numbers have been in the middle of the pack. The 0.98 points per direct possession that the Grizzlies allowed on Brooks-defended isolations ranked 125th among 225 players who defended at least 200 direct isos over the last three seasons, according to Second Spectrum tracking.
---
3. Good (and bad) defense starts in transition
Two players (especially two players who stand 6-foot and 6-foot-5, respectively) probably aren't going to make the Rockets a better-than-average defensive team by themselves. There has to be improvement from within, and that improvement has to start with transition defense.
Two seasons ago, the Rockets allowed their opponents to score 25 points per game in transition, the highest opponent mark for any team in (at that point) 18 years of Synergy tracking.
Last season, they crushed their own record, allowing 27.2 points per game in transition. In fact, in the (now) 19 seasons of Synergy tracking, seven teams have allowed at least 23.5 transition points per game, and the Rockets of the last four years are four of those seven teams.
There are bad habits that need to be broken in Houston, such as having three guys never get back on defense as an opponent tips in his own miss …
Or failing to see a wide-open big man cutting to the basket …
The Rockets allowed 5.8 more transition points per game than the league average. If you subtract those 5.8 points per game, they would have had a top-10 defense.
Of course, it's not that simple, because they probably would have allowed more half-court points if they weren't so bad in transition. But the Rockets can still become a much better defensive team overall by just getting back and matching up better than they have the last two seasons.
---
4. The young bigs
While the Rockets brought in some veteran help on the frontline, they're seemingly coming back with the same starting frontcourt. In 1,653 minutes with Jabari Smith Jr. and Alperen Sengun on the floor together in 2022-23, Houston allowed 121.7 points per 100 possessions. That's the worst mark among 422 league-wide combinations that logged at least 750 minutes.
Sengun is limited defensively. He has active hands (he averaged more deflections per 36 minutes than Smith, Jalen Green or Kenyon Martin Jr.), but can't always stay in front of ball-handlers …
Smith has the tools to be an impactful defender. Like Sengun, he had issues containing ball-handlers last season, more so because of slow reactions than slow feet …
He also had slightly worse rim-protection numbers than Sengun. But the rookie did have his moments on that end of the floor, like switching onto Trae Young and sticking with him around a screen …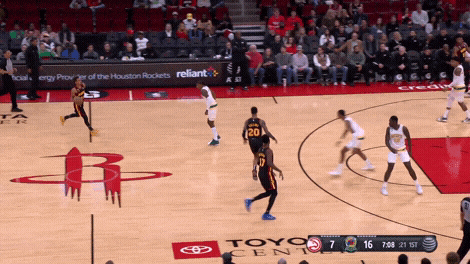 A rookie big's adjustment to the NBA is probably most difficult on defense. If Smith makes a leap on defense in Year 2, the Rockets could have an interior defender that complements their aggressive perimeter defenders.
---
5. Coaching them up
In Udoka's only season as a coach, his Boston Celtics had the No. 1 defense in the league. In fact, they were also the most improved defensive team, allowing 5.6 fewer points per 100 possessions than they did the season prior (when they ranked 13th). The 2021-22 Celtics ranked No. 1 in both opponent field goal percentage in the paint (53.4%) and opponent effective field goal percentage on shots from outside the paint (47.7%).
With quality defenders throughout the rotation, those Celtics switched 42% of ball-screens, the league's highest rate. They often forced their opponents into isolations (9.8 per game was the highest opponent mark) and defended those isolations ridiculously well (0.80 points per possession led the league).
Sengun isn't as switchable a defender Al Horford. And VanVleet will have a tougher time defending bigs than Marcus Smart did. So a switch-everything scheme probably won't work nearly as well in Houston.
But the potential is still there for the Rockets to take a big step forward defensively. And if they do that, the Western Conference could be as competitive as it has ever been from top to bottom.
* * *
John Schuhmann is a senior stats analyst for NBA.com. You can e-mail him here, find his archive here and follow him on Twitter.
The views on this page do not necessarily reflect the views of the NBA, its clubs or Warner Bros. Discovery