Is the biggest deal of the 2020 offseason already in the books? While there's rampant speculation about James Harden and Russell Westbrook in Houston, it could be that Chris Paul is the only All-NBA player who changes teams before training camps open in early December.
The trade: The Suns traded Kelly Oubre Jr., Ricky Rubio, Ty Jerome, Jalen Lecque and a 2022 1st-round pick to the Thunder for Chris Paul and Abdel Nader.
The timing: It's done!
Paul is the "Point God" and ranks seventh on the all-time assist list. But the upgrade for the Suns here isn't really about his passing, because Rubio is a brilliant dime-dropper as well …
After earning MVP honors at last year's World Cup, Rubio helped the Suns see the second biggest improvement in offensive efficiency from 2018-19 (105.3 points scored per 100 possessions, 28th in the league) to '19-20 (111.3, 12th). He was the only player in the league with at least 80 assists to four different teammates: 108 to Devin Booker, 89 to DeAndre Ayton, 82 to Oubre, and 81 to Mikal Bridges.
1. The Suns' set-up
The Suns' offensive improvement came with the league's biggest jump in the percentage of their field goals that were assisted, from 59.5% (17th) in '18-19 to 66.1% (second) in '19-20. They actually ranked higher in player movement (11.4 miles traveled per 24 minutes of possessions, seventh in the league) than they did in ball movement (335 passes per 24 minutes of possession, 13th), according to Second Spectrum tracking.
And that player movement featured some fun wrinkles in their offense. This play, where two back-screens set up a cross-screen for Booker, is a favorite …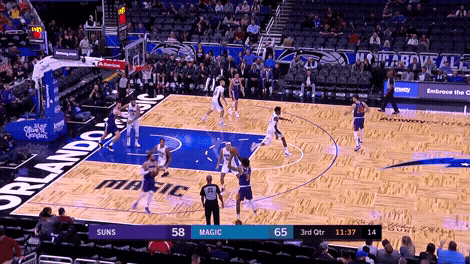 The Suns run a lot of "Spain" or "stack" pick-and-roll, where Booker sets a back-screen on the initial screener's defender and then flares out to the top of the key. Here they set it up with an extra screen from Booker …
How about a designed play against zone?
2. Shooting is paramount
You could certainly argue that leadership is the biggest reason that the Suns, who have missed the playoffs for 10 straight years (tied for the fifth longest drought in NBA history), traded for the 35-year-old Paul, who's made the playoffs in each of the last 10 years. And the intangibles are obviously there.
But in regard to tangible skills, where he helps the Suns most is shooting. While they're both terrific passers, there's a huge difference between Paul and Rubio in regard to putting the ball in the basket themselves. Last season, Paul had an effective field goal percentage of 54.4% on pull-up jumpers, a mark that ranked second among 150 players who attempted at least 100. Rubio ranked 127th at 38.8%.
Whether the Suns are running the more sophisticated stuff or simple pick-and-roll actions, having a bigger threat to shoot off the dribble will open things up elsewhere on the floor. Defenses often went under screens against Rubio, making it more difficult for him to gain an advantage …
Paul doesn't just take advantage of a drop coverage. He can break ankles to get to his spot …
3. Booker off the ball
Paul will also make things easier for Booker, who, despite the addition of Rubio last season, saw a drop in the percentage of his jumpers that came off the catch for the fourth straight year (from 46% as a rookie to 24% last season). With Paul handling the ball and demanding respect from the screener's defender, and with the screener (Ayton) diving to the rim, Booker can feast on the weak side of the floor, where Paul can set him up by looking off defenders …
If the catch-and-shoot 3 isn't there, Booker can attack a close-out …
He ranked fifth (right behind Paul) with 413 pull-up 2-point attempts last season and his 46.7% on those pull-up 2s ranked 20th among 97 players who attempted at least 100. (Paul ranked first at 54.8%.)
Booker is also a capable passer himself, whether he's playing on or off the ball …
4. Mr. Clutch
Paul should also be critical for the Suns in close games. He was Mr. Clutch last season, leading the league in clutch points scored (150) and ranking second in both clutch effective field goal percentage (minimum 50 field goal attempts) and clutch free throw percentage (minimum 25 attempts).
While the Thunder's record was a little inflated by how well they played in close games, the Suns were the only team that missed the playoffs with a positive point differential, going 16-21 in games that were within five in the last five minutes. Booker shot 6-for-29 (20.6%) on clutch 3s, the third worst mark *among 27 players who attempted at least 25.
* The best mark among players with at least 25 attempts? Kelly Oubre Jr.: 12-for-25 (48%).
Clutchness comes and goes. Paul shot 4-for-16 (0-for-9 from 3-point range) in the clutch in 2018-19. But better shooting off the dribble should lead to better offense down the stretch of close games. Over the last few seasons, there's been a decent correlation between how well a team has shot on pull-up jumpers and how efficiently it's scored on clutch possessions.
5. More numbers of note
 • This trade unites two of last season's most successful lineups. The Thunder's lineup of Paul, Dennis Schroder, Shai Gilgeous-Alexander, Danilo Gallinari and Steven Adams outscored its opponents by 29.9 points per 100 possessions, while the Suns' lineup of Rubio, Booker, Bridges, Oubre and Ayton outscored its opponents by 20.2 per 100. Those were the two best marks among 53 lineups that played at least 150 minutes together.
 • With Oubre missing the restart, Cameron Johnson started in his place. And the Suns' Johnson-instead-of-Oubre lineup was almost as good, outscoring its opponents by 16.5 points per 100 possessions in its 142 total minutes (+15.2 per 100 in 107 minutes in the restart). With Oubre's departure though, re-signing Dario Saric (a restricted free agent) should be a priority.
 • The Thunder were 13.4 points per 100 possessions better with Paul on the floor (+6.9) than they were with him off the floor (-6.5) last season. That was the biggest on-off NetRtg differential among players who played at least 1,000 minutes, and that was the third time in the last six seasons that Paul had (or tied for) the league's largest on-off differential. In the 13 seasons for which we have on-off data, Paul's differential has never been lower than 5.1 points per 100 possessions, and it's been 10 or greater in eight of those 13 seasons. We'll see how much the Suns stagger the minutes of their two All-Stars.
 • Oubre was one of seven players who attempted at least 100 pull-up jumpers and at least 100 catch-and-shoot jumpers (118 players total), with a better effective field goal percentage on the pull-up jumpers (51.9%, 11th best among 150 players with 100 pull-up attempts) than on the catch-and-shoot jumpers (51.4%).
* * *
John Schuhmann is a senior stats analyst for NBA.com. You can e-mail him here, find his archive here and follow him on Twitter.
The views on this page do not necessarily reflect the views of the NBA, its clubs or Turner Broadcasting.