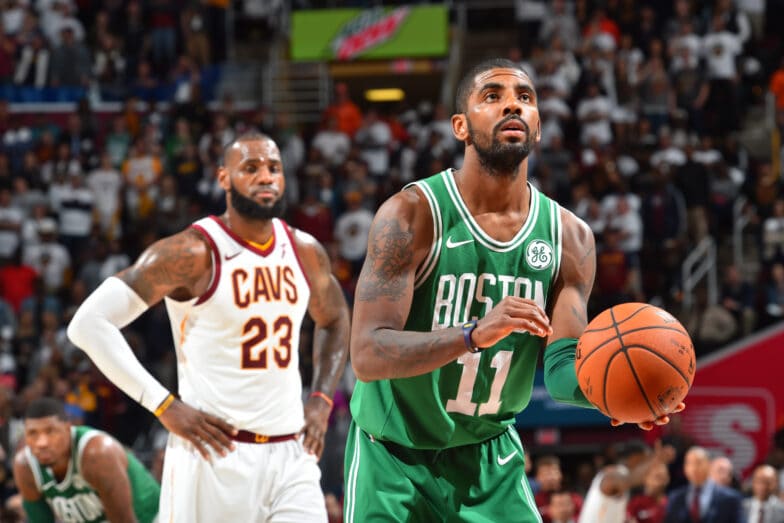 Teaming up with a former rival? It has a certain ring of familiarity to it around the NBA these days. But LeBron James joining the hated Boston Celtics? That seems a bit far-fetched, even in these strange, competitive days in the world's best basketball league. Even more strange is the notion of fans in Boston embracing the idea of LeBron James, a soon-to-be free agent, in green and white. Given his history of battling the Celtics, both in Cleveland and Miami, the idea of him joining forces with the Celtics in any fashion seems a bit odd.
But not in Boston these days, not according to Chad Finn of Boston.com, who addresses that very topic in the aftermath of Kevin Durant winning his second straight title and Finals MVP as a member of the Golden State Warriors, the same Warriors team he battled during his final years as the face of the franchise in Oklahoma City. Making the entire topic even more intriguing is the fact that of all the teams that could potentially pursue LeBron, the team he vanquished in a road Game 7 in the conference finals last month, appears to have the assets to pull it off:
The answer is a ridiculously simple one: Hell, yes, you should want LeBron James on your basketball team, always.

Are you nuts? It's the easiest Celtics-related answer since the summer of 2007 when Kevin McHale presumably asked Danny Ainge on a golf course somewhere, ''So do we have a deal? You'll give me that for KG? Better say yes before I change my mind."

This is an amalgam of Michael Jordan and Magic Johnson, a guy who has gone to the NBA Finals every year this decade whether he's playing with Dwyane Wade and Chris Bosh or three guys who made it to second-to-last round of cuts with the Washington Generals that one time.

I know he's annoying at times, his flights of ego always revealed whenever he refers to the Cavaliers as "my team" rather than "us."

I know it would be hard to accept him because he was a rival for so long — or hard to accept him, at least, right up until, his face beaming, that first time he stood behind a dais and held up a green and white Celtics jersey.

He's the best basketball player I've ever seen, a one-man Hamptons Five.
* * *