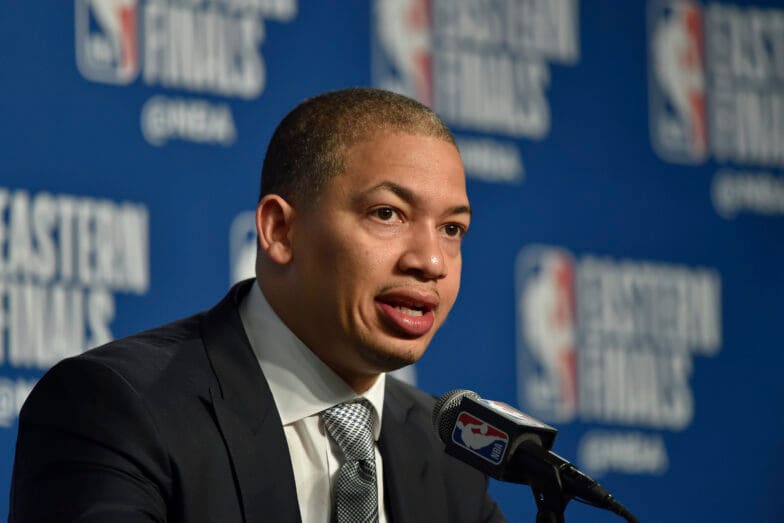 In mid-March, Cleveland Cavaliers coach Tyronn Lue stepped away from his duties due to take a medical leave of absence. In an interview released today by ESPN, Lue revealed he has been getting treatment for anxiety.
Lue took a leave of absence from his coaching duties on March 19 and returned on April 5 for the Cavs' comeback win against the Washington Wizards. When he returned, Lue said he had been bothered by chest pains for more than a year. When they worsened during a March 17 game in Chicago, he realized it was time to step away and get help.
In his interview with ESPN's Rachel Nichols released on Thursday, Lue further detailed his health issue. Here's more from ESPN's Brian Windhorst:
Lue had been having chest pains and occasionally coughing up blood when he left the team in March. He was unable to coach the second half in several games before stepping away to deal with the issue. A diet change and medication have helped him.

"I'm glad it wasn't anything serious," Lue told ESPN's Rachel Nichols in an exclusive interview. "Just anxiety, and the medication I'm on is great. No more chest pains, so everything's been great."

Lue had a battery of tests in the months leading up to his decision in mid-March to step away, and it was determined his symptoms were, in part, the result of anxiety. During the two weeks Lue was away, he was able to get some rest, make lifestyle changes and begin a medication routine that helped reduce some of the stress.

"I think for the first time in my career, 20 years, I had a chance to focus on me. It wasn't as bad as people thought it was. But I did have some chest pains for the last couple of years. And I was just trying to be able to get through it not knowing what was wrong with me," Lue told Nichols.

"So the two weeks I took off, just finally had a chance to focus on myself and change my diet. Hired a chef. Stopped drinking as many Shirley Temples. And stopped with the sweets and got back to taking care of myself. Now I feel great."
Lue and the Cavs will take on the Golden State Warriors in Game 1 of the NBA Finals tonight (9 ET, ABC).
While he was out for nine games, Lue received sound advice from a colleague and rival — Golden State coach Steve Kerr, who has been sidelined in the past with debilitating back pain.
Lue said Kerr helped him understand the bigger picture by putting his health first.
"We get so wrapped up in the game of basketball I think we kind of forget about everything else," Lue said. "This was the first time in 20 years where I really just had a chance to focus on me and get myself right and he reminded of that. We get so wrapped up in the game that we forget about real life and it was the best advice I got – so thank Steve for that."
The Cavs were ravaged by injuries all season, yet hardly missed a beat without Lue, going 8-1 under the direction of assistant Larry Drew.
In his interview with Nichols, Lue said he knew the Cavs' season — from the offseason trade of Kyrie Irving, to the team's injury issues to a major roster shake-up at the trade deadline — would make for a more stressful season.
"I think when you're going through a tough season, tough stretch, it's easy to say you're going to bow out. And I didn't want to be that guy. It was tough," Lue told Nichols. "LeBron [James] playing all 82 games, I wanted to be able to coach all the 82 games and give the team everything they needed."

…

In general, Lue isn't a fan of the attention he gets as head coach of one of the world's most prominent teams, but right now he's enjoying some of the payoff, being in the Finals for a fourth straight year.

"I don't like the attention. But I love coaching. I love when you're able to succeed and seeing the look on guys' faces," Lue said. "A lot have not been to the Finals, the George Hills and Jeff Greens, and all those guys having a chance to go to the NBA Finals and play for the championship, that's when it's worth it. And it feels good, and all the guys feel good, so I'm happy that we're here now."
Information from The Associated Press was used in this report.
* * *