Uncategorized
Bulls focus on future amid Rajon Rondo situation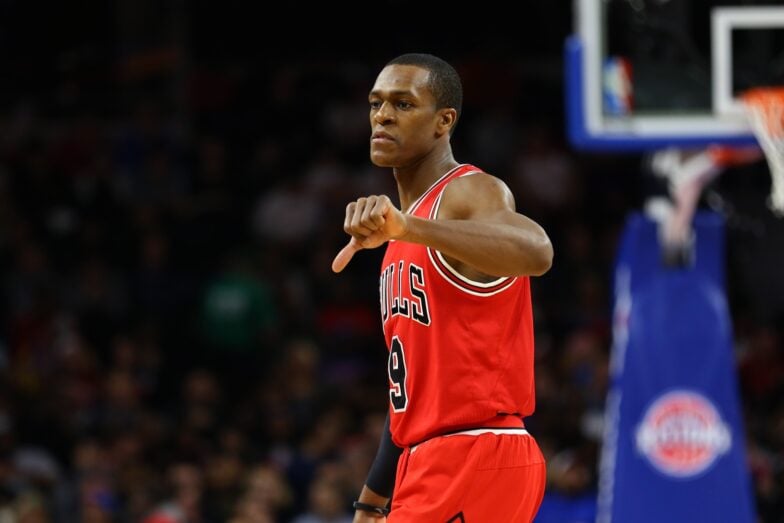 An old NHL player named Dennis Hull – brother of Hall of Famer Bobby, uncle of Hall of Famer Brett – once was asked by his nephew what he'd have done if players were paid $5 million a year when he played (1964-78) the way they were in Brett's era (1986-2006).
"Quit by Christmas," said Dennis.
Takes all kinds, takes all sorts of motivation. For Dennis Hull, a five-time All-Star himself back in the days of five-figure salaries for professional athletes, cashing out halfway through a season with $2.5 million in his pocket would have been enough. For some of today's NBA superstars, a contract worth more than $200 million is the new brass ring under provisions of the league's newly ratified collective bargaining agreement.
For some, say, like the Bulls' Jimmy Butler in his 52-point mode of Monday night, he might be found balling out with the same intensity at a local gym if the NBA didn't exist. Others would opt for the next-best career alternative and do what it takes to earn six-figures, if not their current seven- or eight-.
There's no telling where Rajon Rondo falls on the it's a game/it's a passion/it's a business scale, other than to note that the 30-year-old point guard already has earned about $77 million in his 10.5 NBA seasons. He has a championship ring (Boston, 2008), four All-Star appearances and laudable lifetime rankings in assists (38th, 5,820), assists per game (9th, 8.6), assist percentage (4th, 41.6), steals (82nd, 1,224), steal per game (32nd, 1.8) and steal percentage (29th, 2.9).
So far this season for Chicago, Rondo's play hasn't been what it used to be. His scoring (7.2 points per game), shooting (36.9 FG%), net rating (minus-14) and player-efficiency rating (11.2) are all at career lows, and his assists-per-36-minutes mark (8.5) is the lowest since his second season. Scouts talk about a decline in his defense, and rival players cite Rondo's and the Bulls' poor perimeter shooting as the reasons they can pack the paint, taking away lanes to the rim.
Now Rondo is benched on a mediocre team, the latest in a series of workplace squabbles that have become a pattern.
There was friction in Boston, notably with Ray Allen. He acted out in Dallas and got unceremoniously dumped when coach Rick Carlisle no longer felt he was worth the headache. Rondo butted heads with coach George Karl in Sacramento last season, and he earned a one-game suspension last month for arguing with, and throwing a towel at, Bulls associate head coach Jim Boylen.
Based on those episodes, Rondo's banishment to Bulls limbo has a definite passive-aggressive feel to it. Coach Fred Hoiberg, who sat Rondo down for the entire second half of the loss to Indiana Friday, maintains the move is all about basketball. It has allowed Hoiberg to use finally-healthy Michael Carter-Williams and Jerian Grant at the point. That gives him a pair of ball handlers eager to play at the faster pace Hoiberg prefers, as well as two younger guys more likely to do what they're told.
But there are no known parameters, not publicly anyway, for what it might take for Rondo to play again. Against Charlotte Monday, with the backcourt shorthanded by swelling in Dwyane Wade's knee, Hoiberg used rookie Denzel Valentine in the rotation while Rondo sat.
Asked before the game what he needs to see or hear from Rondo – or from Williams, Grant or others – to play him, Hoiberg said: "The way we're gonna go about this is continue to evaluate. I thought Michael gave us great minutes early in the game [Saturday vs. Milwaukee]. He was as big a reason for our fast start – we got off to a double-digit lead right off the bat, a lot of that was due to Michael's pressure. We had six deflections before the first timeout."
So that's a pretty clear shot across Rondo's bow about defense. Offensively, Carter-Williams and Grant combined for 19 points, nine assists, four steals (all Grant's), two turnovers and 8-of-22 shooting in a combined 58 minutes.
The victory over Charlotte was a glimpse, frankly, of what the Bulls might have been had they resisted the lure of the buzz, the imperative of marketing for a business-before-basketball operation, and not signed Rondo or even Wade in the summer. It was Butler – who did the work of the so-called Three Alphas by covering his (25.3), Wade's (18.3) and Rondo's (7.2) average scoring all by himself Monday – and a bunch of parts.
Doug McDermott starting, Cristiano Felicio backing up Robin Lopez, Nikola Mirotic playing like a legit sixth man – it was the near-rebuild with which Chicago's front office flirted before blinking and spending on Wade and Rondo. Wade, for what it's worth, has been a thoroughly professional addition on the floor and in the locker room, even if he's no longer built for back-to-backs and is getting from the Bulls the golden parachute contract Miami should be paying.
Rondo? More trouble than he's been worth to this point. And with each passing day, more likely to be bought out, released or traded for the proverbial potted plant than restored to the Bulls' pecking order.
It's an impasse that, however compliant Rondo has been, doesn't figure to end well. It surely was no mere coincidence, either, that it sparked on the same day Hoiberg was alleged in a national report to be on the hottest of "hot seats" among the NBA's 30 head coaches. If Hoiberg, in only the second season of his five-year, $25 million contract, is going to face speculation about his job security, he might as well coach the team as he sees fit.
Fretting about how he'll finesse Rondo's return to the lineup, if that even happens, matters less at 17-18 than playing at least some semblance of the style Hoiberg purportedly favored (space and pace) when hired. After last season's slippage of eight games (from 50-32 in 2014-15 to 42-40) and drop from the playoffs, with a record below .500, Hoiberg is in the thick of his second chance.
Rondo would appear to be running out of second chances, while fretting not at all.
Steve Aschburner has written about the NBA since 1980. You can e-mail him here, find his archive here and follow him on Twitter.
The views on this page do not necessarily reflect the views of the NBA, its clubs or Turner Broadcasting.