Blogtable: What does new Cavs GM Koby Altman need to do between now and training camp?
Each week, we ask our stable of scribes to weigh in on the most important NBA topics of the day.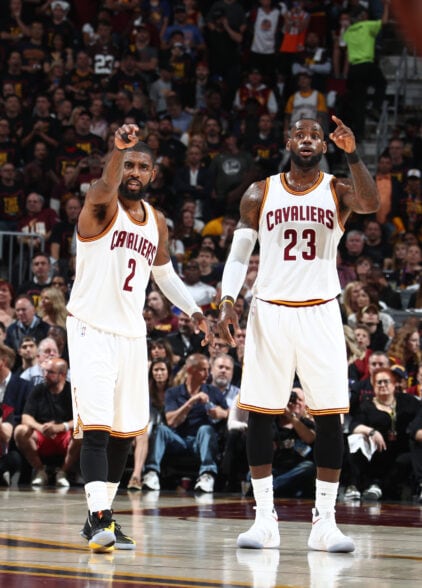 * * *
Your nameplate says "Koby Altman: General Manager, Cleveland Cavaliers." So tell me Mr. Altman, what do you hope to accomplish between now and the start of training camp?
* * *
David Aldridge: The only priority is resolving Kyrie Irving's status, one way or the other. (Yes, I still think there's a small chance he comes back, at least for next season. I don't think the Cavs are going to give Irving away, so if they don't get what they want they're under no immediate pressure to make a deal. But, certainly, the greater likelihood is that Cleveland moves him.) Given what Paul George went for, teams are going to try to pressure Altman into taking less than market value, but again, the Cavs aren't under the gun here. Phoenix and Denver have the "cleanest" routes among Western Conference teams to get Irving (and the guess here is that if the Cavs move him, it'll be out west) ; they don't need a third team to put assets into a potential deal. I doubt Altman or anyone else will get a definitive answer from James about his future intentions; I doubt that he knows for sure what he's going to do next summer. The only thing that matters to Altman in the short term is making the best deal he can for Irving.
Steve Aschburner: First off, I need to introduce myself to all the Cavs players and coaches, to make sure they know I'm not the guy to whom they flip their laundry. Then I've got to have sit-downs with our stars – LeBron James, Kyrie Irving and Kevin Love – individually and/or together to establish some baseline of professional dedication and decorum. This is still a workplace, isn't it? If there are irreconcilable differences anywhere within that dynamic, then somebody – probably Irving, based on the bonfire he lit – has to go. As for the "start of training camp" business, I'll say this: one good thing about this four-time Finalist team, it can weather a lot of bad mojo as long as things are cleaned up and ready to go over the final month or two of the regular season.
Shaun Powell: Ask for a raise? But seriously, I'm not sure if the LeBron James-Kyrie Irving summit isn't above his pay level. That's a Dan Gilbert task. However, I would tell Gilbert that there's no need to be in a rush to deal Irving, who doesn't have a no-trade and does have two years remaining on his deal. The Cavs as constructed are still the class of the East and that should be good enough for now. Lots of things can happen out West, and June is a long ways away. In the meantime, Altman doesn't have to do anything. What, is Kyrie gonna hold out?
John Schuhmann: I see Irving's trade request as a chance to get better defensively, raise the team's ceiling, and better position the roster for the future. I won't be in a rush to make a deal (and maybe the best trade involves a player that can't be traded until Dec. 15), but I am open for business. Maybe I can get a package that will help a defense that ranked 22nd last season, with the though that LeBron James and all the shooting we have still produces another top-5 offense (though I don't want to leave him as the only real playmaker on the roster).
Sekou Smith: After I finish decorating my new office, my first order of business is burning up these phone lines trying to see what sort of King's ransom I can get for Kyrie Irving. Any good GM worth his cell phone plan would case down every lead when it comes to parting with a player of Kyrie's talents. Finding the right deal for Kyrie is my first and only order of business right now, as it will have a huge impact on the direction of the franchise. LeBron James is our foundation and that won't change until he informs me otherwise. And we've got Derrick Rose in the fold now as a point guard insurance for this season (not to mention whoever we can acquire in a deal for Kyrie). It's almost like people have forgotten we're the three-time defending Eastern Conference champions and the favorite to make it four in a row. This job won't be easy, but it's not a bad one for a first time GM.
Ian Thomsen: I am creating a bidding war with the ultimate goal of moving Kyrie Irving and Iman Shumpert to Phoenix for a package that includes Eric Bledsoe, rookie Josh Jackson and a first-round pick. I'll be insisting that the Suns add Dragan Bender to the deal, which may not be too greedy if other teams are making ambitious offers. My goal is to transform Irving's trade demand into a positive that will revitalize the Cavaliers and possibly keep LeBron in Cleveland beyond next summer. Bledsoe will thrive alongside LeBron, and Jackson has the potential to become an explosive fullcourt star who plays championship-level defense. For the Suns, who have little patience for a long rebuild, the trade makes sense because it provides Devin Booker with a plug-and-play co-star.
Lang Whitaker: I want to establish some peace within my organization. Right now there's a lot of rumors flying back and forth, including conjecture about two of the best players in the NBA (and one of the greatest players of all-time) wanting to flee my franchise. So I want to calm things down. Which could mean sitting down with LeBron James and Kyrie Irving to see what's what and squash whatever beef exists, or perhaps moving one (or both?) of the two guys to create some peace. And in that case, I'd be burning up the phone lines trying to find a deal for Irving. For years now, the Cavs have chosen to look to get better immediately at the expense of acquiring future assets, and as the Celtics have shown, it doesn't have to be a mutually exclusive proposition. If I could get either a few young pieces or a few draft picks in return for Irving, I'd be cool taking my chances in the Eastern Conference with a team built around LeBron and Kevin Love.