Blogtable: Did Sacramento Kings get fleeced in DeMarcus Cousins trade?
Each week, we ask our stable of scribes across the globe to weigh in on the most important NBA topics of the day.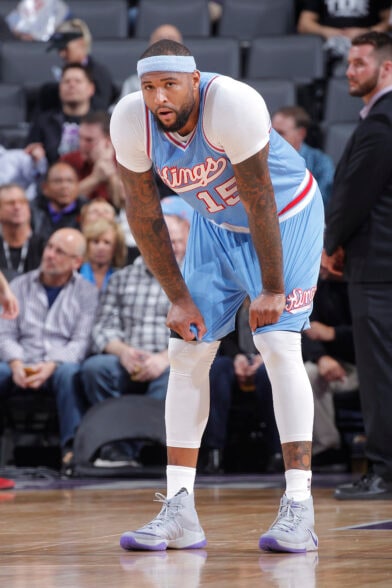 * * *
The popular opinion in the Twitterverse seems to be that the Kings got fleeced by the Pelicans in the DeMarcus Cousins trade. What say you?
* * *
Steve Aschburner: Hard to believe the Kings couldn't have played this poker hand more cagily and drawn in more bidders. Even Vlade Divac was saying they turned down a better offer a couple days earlier. Moving an imperfect but still valued asset like Cousins should have put Sacramento farther along on its new path.
Fran Blinebury: Short term, the Pelicans by a mile. They should make a run at the No. 8 spot in the West, maybe even as favorites. But they've got to get Cousins to sign a contract extension next summer to stay in NOLA. Before that they've also got to get Cousins to act like a grown-up. The track record says they're playing with fire that could down the house. The evidence of that is in Sacramento, a smoldering ruin.
Shaun Powell: I think the Kings got fleeced when they refused to trade Cousins last summer or even two summers ago. Said it then, and stand by it now: The longer you hold onto Cousins, the less you get for him in a trade, especially when he gets closer to the end of his contract. Therefore, any potential team had to weigh his antics and also whether to pay him $175 million. Those twin negatives meant Sac would only get 60 cents on the dollar.
John Schuhmann: It was an underwhelming return, for sure. Buddy Hield could be a good role player in time, but doesn't have a very high ceiling, and the first round pick will get worse with every game that Cousins helps the Pelicans win. That's what you get when teams are scared to bring a personality like Cousins into their locker room and it's hard to call him a true star in this league when he's been unable to elevate the team around him. But the dysfunction and instability of the Kings' organization certainly affected their best player's trade value. Would he have a better reputation if he played two more years under coach Mike Malone or if the team surrounded him with the right veterans? It's going to be incredibly fascinating to see how the Kings and Cousins each perform now that they've been separated from each other.
Sekou Smith: It wasn't hard to fleece a team begging for someone to shake them down and take Cousins off their hands. You don't have to fleece someone who takes all of the money out of their wallet, sets it on the table for you and then looks you in the eye and says, "go ahead, take it. No worries." The Kings want a franchise reset, so they were willing to give it up the real prize in this deal (Cousins) because they didn't believe in their own culture to build a playoff-caliber team around him. They waive the whit flag on DeMarcus and used this deal as a conduit to that end.
Ian Thomsen: They were never going to get a lot for him. Now why is that? The Kings share much responsibility for Cousin's reputation. If they had provided their young star with stability, discipline and mentoring, then they may have been able to derive much more from him on the open market.
Lang Whitaker: I think the word "fleeced" is pretty broad, so I'll put it this way: If I was a team that was trading DeMarcus Cousins and I got back a package featuring Buddy Hield and one first round pick, I'd be pretty disappointed. I don't fault the Kings for wanting to change their culture or the direction of their franchise. But I think if they were going to move Boogie, they could have done better, and they probably should have done better.
Scott Howard-Cooper: There is no question the Kings did not come close to getting equal value for one of the top talents at any position. I think the limited return is more about the bottom line of Cousins' appeal around the league than the Kings getting fleeced. The return from the Pelicans is the final answer on what other front offices think of Cousins, his personality that can be destructive to a locker room and the added uncertainty of having one full season before he becomes a free agent. If no one was going to dig deep into their wallet for an All-Star with many years of basketball ahead, it's about the player, not Sacramento management.
MORE BLOGTABLE: Did Kings get fleeced in Cousins trade? | Lasting thoughts from NBA All-Star 2017?