Welcome back, Klay.
We missed you. We wondered where you were. Surely not behind the 5-for-36 3-point stat line through the season's first seven games. That couldn't have been you.
It seemed even more impossible after you single-handedly decimated the city of Chicago on Monday night. The Windy City was pockmarked with your NBA record 14 3-pointers — a feat that surpassed some dude named Steph. By the time your work was done and Chicago was ashes, you'd registered 52 points in just over 26 minutes.
We tried to find out who else had tossed up 50-plus in under 27 minutes. Basketball Reference kindly informed us that there were "no results that match your search."
The Warriors found you, though. And kept finding you. When you were sitting on 13 triples, one away from breaking your own teammate's record, they kept feeding you. They wanted you to break the record, especially after all the "Where's Klay?" inquiries tied to your unlikely cold spell.
When you finally did hit that last 3, it was only after you got your forehead gashed open and wore a headband over your war wound.
Klay Thompson just hit his 11th 3-pointer of the game WITH BLOOD POURING OUT OF HIS FOREHEAD pic.twitter.com/Nncdj9qsOP

— Drew Shiller (@DrewShiller) October 30, 2018
You made Michael Jordan's former franchise want to go hide in a hole.
— Chicago Bulls (@chicagobulls) October 30, 2018
When you pour boiling water into a cold glass, it cracks. On Monday, you cracked the NBA universe. Again.
Welcome back, man.
The Klay Effect
Thompson's outburst was directly tied to Golden State's mammoth offensive output against the Bulls. The Warriors led 92-50 at halftime, good for the second-highest first-half total in NBA history, behind only Phoenix's 107 against Denver in 1990. Golden State wound up making a franchise-record 24 3-pointers, also second-most all-time.
Klay's big night should also have a drastic effect on his season shot chart.
BEFORE MONDAY
ON MONDAY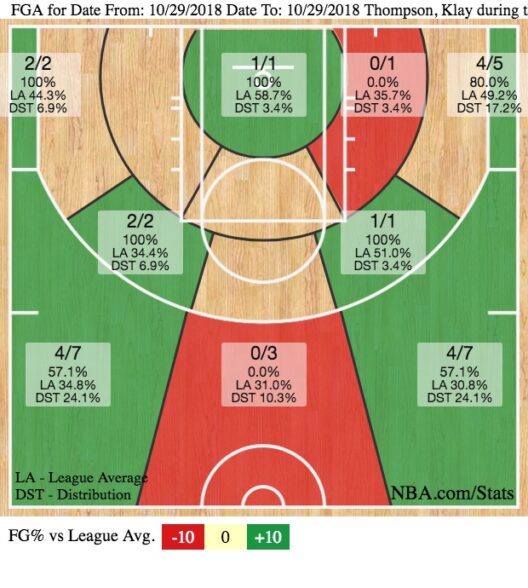 Towns And Letdowns
Speaking of long-awaited returns, give it up for Karl-Anthony Towns. Minnesota's recently maxed big man, who may or may not want a certain teammate out of town, tossed up 25 points and 16 rebounds in Minnesota's 124-120 win over LeBron and the Lakers.
It was Towns' best game since netting 31 points against Dallas on Oct. 20 — a game in which Jimmy Butler did not play. This time, both Towns and Butler (32 points) dominated on the same night, giving Minnesota a much-needed win during an uncertain time.
L.A.'s loss only emphasized an early trend on the defensive end. After Monday night, LeBron's Lakers are solidly in the league's bottom 10 in defense. Their biggest chink in the armor: The paint, where they give up the third-most points in the league (56.6 ppg) behind only Phoenix and Houston.
Then There Was One
The clash of the last two unbeaten teams wasn't exactly star-studded. Giannis Antetokounmpo (concussion) and Kawhi Leonard (rest) both sat as their respective teams matched their unblemished records in Milwaukee.
The Bucks ultimately prevailed 124-109 behind double-digit scoring from seven different players. Ersan Ilyasova (19 points, 10 rebounds) was especially effective filling in for Antetokounmpo, and early Coach of the Year candidate Mike Budenholzer will surely remember that if the Bucks ever decide to play small with the Greek Freak at center.
For now, Milwaukee stands alone atop the league thanks to its best start (7-0) since Lew Alcindor changed his name to Kareem Abdul-Jabbar (1971).
Frenemies
Lance Stephenson and Gorgui Dieng are buddies, a relationship that includes having a laugh at the other's expense.
Stephenson did just that when Dieng playfully shoved him after an offensive foul call. The enigmatic Laker immediately seized the opportunity to cry wolf by dramatically staggering and drawing the nearby official's attention.
Dieng was assessed a technical foul, an unjust punishment in which Stephenson openly reveled.
Scoring Surge
It's not just the Warriors that are on fire. The entire league is playing a caffeinated version of basketball not witnessed since the run-and-gun 1980s.
In October 2017, teams scored at least 110 points on 80 different occasions. Through Monday night, teams had surpassed 110 points a whopping 114 times. That's a 42.5-percent increase, and we've still got two days left in the month!
Kings Climbing?
Sacramento sporting a 3-3 record was fun, but admittedly deceiving. The Kings' three wins came at the expense of the Thunder, Grizzlies and Wizards, teams that boast a combined record of 5-11.
But the Heat are good! They're a playoff team boasting continuity, a quality coach and decent offensive and defensive numbers through the first two weeks of the season.
The Kings took those facts and turned them both upside-down, earning a quality 123-113 win on the road. Buddy Hield, Willie Cauley-Stein and De'Aaron Fox — three of Sacramento's most important young players — each scored 20-plus.
Again, it's early. The Kings were 4-3 as recently as 2014, before an injury to DeMarcus Cousins and a coaching change sent them plummeting to their usual lottery depths.
The young Kings are running — they rank third in pace, third in points in the paint and fourth in fast break points — and it will be interesting to see how far they can go.
I Didn't Order That
Markelle Fultz had a good game. Can we reward him with some camera time without a side of fries?
Links Leftovers