7 observations from Spurs-Suns in Mexico City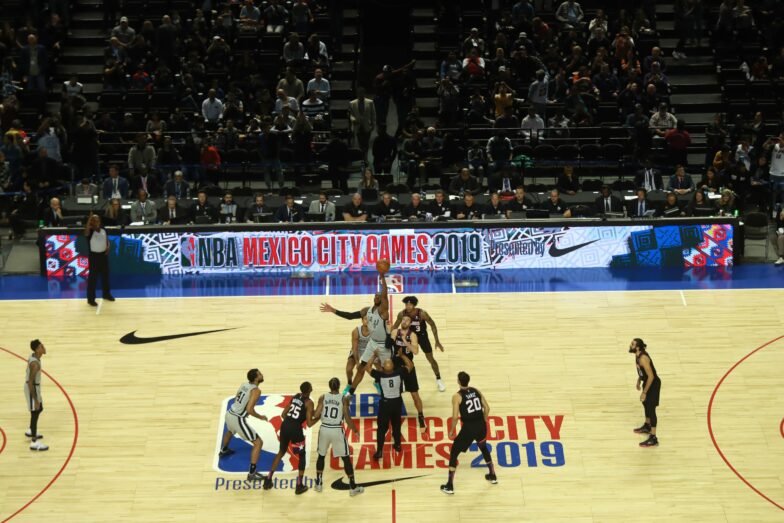 Mexico was treated to a historic farewell on Saturday thanks to the country's first ever overtime thriller that capped off the 2019 NBA Mexico City Games. Kelly Oubre's 3-pointer tied the score at the end of regulation, then Patty Mills topped it with his game-winning jumper with 0.3 seconds left in the extra period to give San Antonio the 121-119 victory.
Here's a look at the most memorable sights and moments from the league's 30th regular season game in Mexico City.
Are you not entertained?
Phoenix was technically the home team, but the crowd threw its support and opposition toward both sides with equal gusto. That meant both teams were drowned in boos and whistles at the free throw line and cheered to the rafters for highlights and game-swinging plays.
The game itself fed that fervor, with the Suns storming back in the final two minutes of regulation and the Spurs doing likewise in the final 30 seconds of overtime. Each answering bucket or fatal gaffe drew a response that was postseason worthy, which only bodes well for the city's own G League team that will debut next season.
Respect for the past, passion for the present
Latin America appreciates NBA star power. That's why Michael Jordan jerseys still sell like hotcakes over two decades after his last game with the Chicago Bulls. Kobe Bryant, Tim Duncan and Steve Nash threads were also much in evidence Saturday.
There were also a startling amount of underrated throwbacks. Among them: Allen Iverson, Dwyane Wade, Shaquille O'Neal (Heat edition), Vince Carter (Raptors edition), John Starks, Gary Payton and Kevin Durant (Sonics edition!).
With the league's repeated visits to Mexico, however, there is a visible shift to the present from the country's basketball fans. There were plenty of recent Suns/Spurs jerseys in the house, but there were also plenty of 2019-20 versions of Devin Booker and DeMar DeRozan (who was the most loudly cheered Spur) as well. Those jerseys even included the recently released Los Suns versions.
Current stars from other teams were also scattered throughout, including Giannis Antetokounmpo, Stephen Curry, Kyrie Irving and James Harden.
With the league having opened the first NBA Store in Mexico earlier this week, it just got easier for the locals to keep up with their current favorites and not just keep treasuring their old ones.
Mexico meets NBA entertainment
American fans in a position to see 41 home games a year are used to the standard slate of in-game activities planned by the home teams. The "make some noise" graphics, contests and live performances are more or less routine to those used to seeing them.
Not so in Mexico, where they get the full NBA experience one week out of the year. The Suns hosted Saturday's in-game entertainment, and the capacity crowd immersed itself in every part of it. They ooh'd over the Gorilla's trampoline dunk routine, roared "defense" in crunch time, and yeah, they made some (additional) noise when called upon.
The most underrated part: the spike of vocal anticipation when someone would hoist a 3, which used to happen much more often when 3-pointers were a scarcer part of the NBA game.
Idol, apprentice swap jerseys
Devin Booker's mid-range shooting stroke is among the best in the league, and that is not an accident. The Michigan native admired Pistons legend Rip Hamilton's game the most, and patterned his medium and pull-up game after the three-time All-star.
Hamilton represented Detroit – which played in Mexico City on Thursday – at this week's events, which ended with him and Booker swapping jerseys during a break in the game.
Honoring the godfather
Horacio Llamas set a new standard for the NBA-Mexico when he became his country's first player to make the league. The arena recognized Llamas' pioneer role during a timeout by showing his highlights – which included a slick show-and-go around Hall-of-Famer Hakeem Olajuwon – before zooming in on the courtside legend himself.
Llamas' countrymen let out a resounding ovation for their first NBA representative, while several of those in his company boasted custom-made, Suns-colored hats that read "El Primero," which means "The First."
Liking the end, but not the means
The Spurs are arguably the most exhausted team in the league after coming off an NBA-record fourth consecutive overtime game. That stretch culminated in a crucial Western Conference win, but the added logistics of playing in a non-traditional city added to what had already been a draining week.
So no, Spurs coach Gregg Popovich was not about to muse about the gallantry of overcoming all odds and overtimes.
"It's awful," Popovich bluntly observed.
Spurs win battle for Mexico?
Phoenix and San Antonio are two of the most Latin American-influenced cities in the NBA. That meant each team had plenty of support during Saturday's thriller.
The night's hero, however, hopes there were more Spurs fans leaving Arena Ciudad de México than when the game began.
"Selfishly speaking, we're not far away in San Antonio, so hopefully we picked up a few more Spurs fans along the way," Mills said.