• Heat vs. 76ers: Complete series coverage
None of the three games have been close, but the conference semifinals series between the Miami Heat and Philadelphia 76ers is officially intriguing. The Heat are up 2-1, but they haven't beaten Joel Embiid, who should only get better as this series goes on.
The result of Sunday's Game 4 (8 p.m. ET, TNT) will be a big determinant in just how long this series goes. Here are some things to watch as the Sixers try to even the series:
1. Disrupting plans
The Heat offense had a rough night on Friday. Game 3 was their third least efficient offensive performance of the season (79 points on 88 possessions), and it came with a lot of open shots that just didn't go in. They attempted more wide-open jump shots (17) than they did in Game 2 (14), but they were 3-for-17 (0-for-4 on 2s, 3-for-13 on 3s) on those wide-open jumpers.
With Embiid back for Philly, the Heat also had a much different shot profile in Game 3. Through the first two games, they had taken 83 of their 169 shots (49%) from the restricted area or the corners. Those are the most efficient spots on the floor and that's a very high rate. (The highest for any team in the regular season was 46%.) But on Friday, only 17 of the Heat's 77 shots (22%) came in the restricted area (where they were 11-for-14) or from the corners (1-for-3). (The lowest rate in the regular season was 33%.)
The Miami offense can look great when the ball and bodies are moving in sync. But the Heat, who ranked 12th in offensive efficiency, could also have their issues on that end of the floor. Before the game, coach Erik Spoelstra explained the difference between his team's best and worst offensive possessions.
"We're much more organized [on the good possessions]," he said. "A lot of that has been born out of our struggles this season, and figuring out what would be the best menu and how we want to attack. Nobody's perfect in those moments, but you want to be comfortable. You want to know what your strengths are. And you try to get to them in the moments of truth. I think we've made strides there."
Of course, the Heat aren't playing five-on-zero, and Spoelstra explained how, when the offense doesn't look good, the opponent has something to do with it.
"Competition will bring out a lot," he said. "We have a plan, and Philly will have a plan on trying to take us out of those things. It usually comes down to who can get to who, who can make who blink."
Obviously, Embiid was a factor. Bam Adebayo, when he didn't have a teammate to pass to, struggled to shoot over the opposing big man:
But even with Embiid off the floor, the Sixers had some great moments of defensive energy and cohesion:
Taking the Heat out of their plan doesn't have to be completely blowing up their plays. With some additional perimeter pressure, the Sixers often made the Heat initiate their offense a little higher than they would have liked. That kind of thing can add distance to those jump shots and take seconds off the shot clock.
2. Embiid in space
The Sixers did allow fewer points per possession with Embiid off the floor (13 on 21) than they did with him on the floor (66 on 70) in Game 3. That latter number is still great, but, like the Raptors in the first round, the Heat (Jimmy Butler in particular) did have some success making Embiid try to defend pick and rolls.
Butler's first bucket of the game came when he rejected an Adebayo screen and Embiid was caught out of position: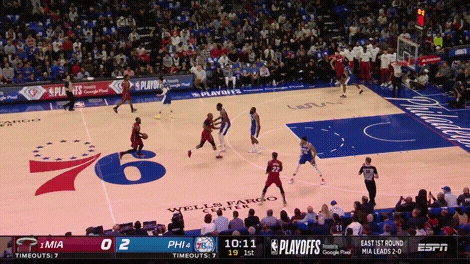 Midway through the third, Butler drew a foul on Embiid by attacking him off the dribble:
According to Second Spectrum, the Heat scored 31 points on 29 chances (1.07 per) when Embiid was the screener's defender on a ball screen in Game 3. They scored 31 points on 38 chances (0.82 per) when a different Sixer was the screener's defender.
3. To switch or not
Just as interesting is how the Heat defend the pick and roll when Embiid is the screener. In Game 3, they mixed things up a bit, but Bam Adebayo (as he is wont to do) was mostly switching those screens. That creates a good situation (Adebayo guarding the ballhandler) for the Heat on the perimeter, but it can create an issue inside, where he Embiid is now being defended by whomever was guarding the ballhandler.
This is the reason why P.J. Tucker has been guarding James Harden. If Adebayo isn't guarding Embiid, Tucker would obviously be the Heat's second choice in the starting lineup. But Tucker was Harden's defender on only four of the 17 ball screens that Embiid set for Harden on Friday.
No matter if it was Tucker or a guard, the Heat's strategy after a switch was to front Embiid to make an entry pass more difficult. And then they brought help from the back side.
On the Sixers' first possession of the game, Adebayo switched an empty-corner, Harden-Embiid pick and roll. Butler fronted Embiid and, when Tobias Harris threw an entry pass over Butler, Max Strus was there to draw a charge:
In the third quarter, Tucker basically played a one-man zone as Butler was fronting Embiid, eventually drawing another charge:
Sixers get Butler switched onto Embiid. Tucker just plays a 1-man zone in the paint, leaving Harris alone. But Thybulle not spaced & pass isn't there. pic.twitter.com/kc8jNhutTF

— John Schuhmann (@johnschuhmann) May 7, 2022
There were other occasions when Harden couldn't get Embiid the ball and just tried to isolate against Adebayo. That's usually good news for the Heat.
But Miami didn't get stops on all those Harden-Embiid pick and rolls. Midway through the first quarter, Embiid rolled quickly, Butler got caught high, and Embiid scored over Kyle Lowry's weak-side help:
4. The double drag
In the second half, the Sixers often went to a double-drag screen, with either Harden or Tyrese Maxey handling the ball and an additional screener. Harden said afterward that he liked it because it put an additional defender in the action, and coordination is tougher among three defenders than it is among two.
"When multiple guys are in different actions, things tend mess up," he said. "We're trying to create some confusion, some indecision on the defensive end."
That was the case on one possession late in the third quarter. Neither Tyler Herro nor Dewayne Dedmon stopped the ball, Lowry helped off the strong-side corner, and Georges Niang got a wide-open corner 3:
More often, the double drag got Herro switched onto Harden, another positive scenario for the Sixers (as noted in the postgame story).
5. More from Lowry?
While the Sixers can expect a more in-rhythm Embiid going forward, we should remember that Heat point guard Kyle Lowry was returning from an even longer absence (two weeks) in Game 3. One of his shots was a 39-foot launch at the end of the shot clock, but Lowry also got some good looks (his favorite, going-left pullups) on Friday. And he was 0-for-4 in his 25 minutes.
Miami's when-healthy starting lineup has outscored opponents by 36.6 points per 100 possessions in its 49 playoff minutes, and a more effective (and maybe more aggressive) Lowry could be critical as the Heat try to take a 3-1 series lead.
* * *
John Schuhmann is a senior stats analyst for NBA.com. You can e-mail him here, find his archive here and follow him on Twitter.
The views on this page do not necessarily reflect the views of the NBA, its clubs or Turner Broadcasting.