30 Teams in 30 Days: At last, Sixers may be turning corner
Simmons, Embiid, Saric just part of Philadelphia's new look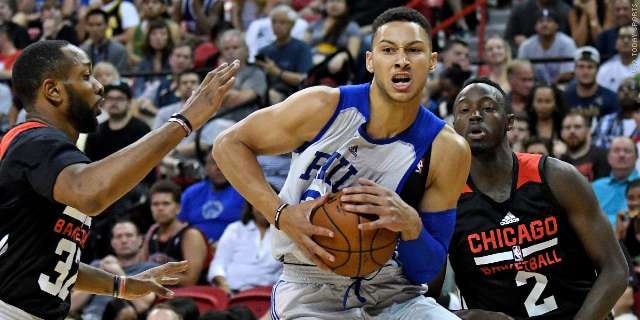 Since the Cavaliers won their first NBA title back on June 19, NBA teams have undergone a number of changes over the long summer offseason. NBA.com's Shaun Powell will evaluate the state of each franchise — from the team with the worst regular-season record in 2015-16 to the team with the best regular-season record — during the month of September as we look at 30 Teams in 30 Days. | Complete schedule
Today's team: Philadelphia 76ers
2015-16 record: 10-72
Who's gone: G Ish Smith, G Isaiah Canaan
Who's new: SF Ben Simmons, SG Timothe Luwawu, SG Furkan Korkmaz, FDario Saric (via Draft); G Jerryd Bayless, G Gerald Henderson, G Sergio Rodriguez, G Brandon Paul (via free agency)
The lowdown: The Sixers haven't won 20 or more games the last three seasons and haven't made the playoffs since the 2011-12 season.
There are plenty of cheesesteak lovers in Philly who'll stand in line, no matter how long, at their favorite establishment (be it Geno's, Pat's or wherever) because they believe it's worth it. You might find that strange, and perhaps recoil at the thought of waiting for a sandwich, but to each his own. Which brings us to the Sixers.
It was painful, and it was long, and they nearly starved to death, but basketball fans in Philly can finally taste better days. And if you ask most (all?) of them about "The Process" and whether it was the right thing to do, they'll likely say it was on point, much like a Simmons no-look pass.
Debate all you will about playing to lose (or not to win) and throwing away three whole seasons. But, if Simmons is the next generation's Magic Johnson, if Joel Embiid's health issues are behind him and if Saric is NBA-ready, do you think Philly fans will still sweat last year's 10 wins?
You need superstars to win a title and the best way to get one is through the Draft. That doesn't come with guarantees, but the Sixers gave themselves ample chances and are still armed with potential lottery picks in the near future. In addition, because they didn't hand out big contracts to veterans that could help them win 35-40 games, the Sixers are flexible with the payroll and could land a free agent or two in the coming summers. Depending on how this plays out, former GM Sam Hinkie might look like a mad genius.
For the moment, the Sixers just want to see signs of life. It all starts with Simmons, the No. 1 overall pick in 2016 whose most endearing quality is finding his teammates. That allows everyone to get easier shots, especially Jahlil Okafor, who had a checkered rookie season yet still averaged 17.5 points mainly on his own. Simmons has that special quality that can't be taught — one that brings teammates together and elevates everyone's play. In that sense, his value is twofold: He can help the Sixers now … and in the future may help the Sixers get free agents (who might see Philly in a different light).
That said, Simmons won't be the most curious rookie, at least not at the start. All eyes will be on Embiid during training camp. His first two seasons have been a wash because of foot issues, yet he finally has clearance to begin anew.
As if the summer wasn't promising enough, the Sixers also got a signed contract from Saric, another first-rounder from two years ago who spent that time overseas. Saric and Embiid are power forwards and, along with Simmons, Okafor and Nerlens Noel, they seem to give the Sixers a glut on big men. That's a nice "problem" to have. Training camp will help sort it all out and roles will begin to be defined. And the Sixers can reduce the numbers by using one or two in a trade.
What was once a toxic wasteland has turned into a garden full of possibilities. New GM Bryan Colangelo has plenty to work with, and he can go in several different ways in remaking the roster to create a core group that will carry the Sixers into the next era.
Colangelo wants to start slowly, which is why he didn't jump into free agency this summer. Guards Gerald Henderson, Jerryd Bayless and Sergio Rodriguez were signed to add veteran leadership, and they came relatively cheap. Why spend the money when Sixers fans will be satisfied with watching Simmons for now? Better to wait until the team grows and Simmons builds his rep and gives free agents a possible destination spot.
The scars of the long losing streaks and punch lines and sparse crowds are likely in the past. The Sixers had their most meaningful summer in years and this time, as they begin to turn the corner, a wind blast won't be there to greet them.
Coming Next: Los Angeles Lakers
To check out the rest of the series schedule, click here.
Veteran NBA writer Shaun Powell has worked for newspapers and other publications for more than 25 years. You can e-mail him here or follow him onTwitter.
The views on this page do not necessarily reflect the views of the NBA, its clubs or Turner Broadcasting.