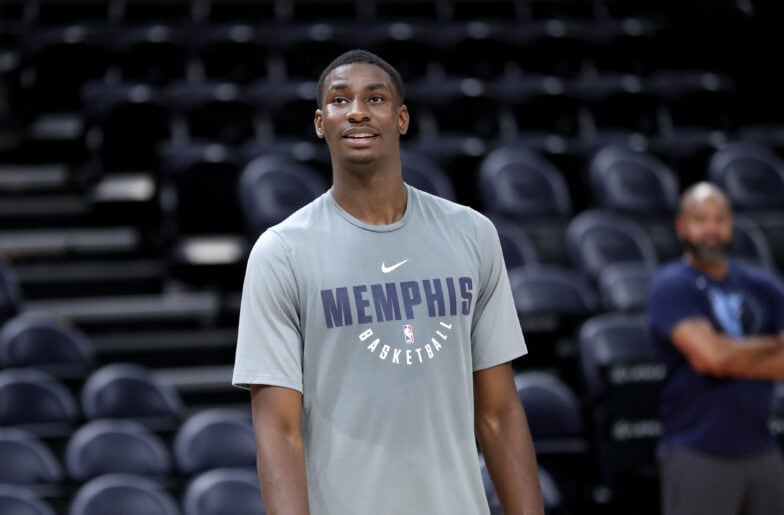 What offseason?
That's a question many fans ask as the flurry of trades, free agent news and player movement seems to never stop during the summer. Since the Golden State Warriors claimed their third title in four years back on June 8, NBA teams have undergone a massive number of changes as they prepare for the season ahead.
With the opening of training camps just around the corner, NBA.com's Shaun Powell will evaluate the state of each franchise as it sits today — from the team with the worst regular-season record in 2017-18 to the team with the best regular-season record — as we look at 30 teams in 30 days.
* * *
Today's Team: Memphis Grizzlies.
2017-18 Record: 22-60, did not qualify for the playoffs
Who's new: Jaren Jackson Jr. (Draft), Jevon Carter (Draft), Kyle Anderson (free agency), Omri Casspi (free agency), Garrett Temple (trade), Shelvin Mack (free agency)
Who's gone: Tyreke Evans, Jarell Martin, Ben McLemore
The lowdown: The 2017-18 Grizzlies would make a terrific verse in a blues song, something about disappointment and soul searching and being down on your luck. They didn't exactly get their hearts broken and Memphis still loves its only professional sports team.
Yet their seven-year playoff streak ended rather ingloriously due to Mike Conley playing just 12 games because of heel surgery and Marc Gasol delivering a clunker of a season complete with a reported spat that cost David Fizdale his coaching job. The task of keeping the Grizzlies competitive was largely left to a batch of journeymen and unproven young players who simply didn't bring enough pop, mainly because they didn't have much of it to begin with. Memphis sifted through 24 players in all last season in an ambitious yet futile talent hunt. The whole year was a total write-off … or, as BB King would say, the thrill was gone.
The good news, and Memphis needed plenty of that, was the Grizzlies held their highest selection in the Draft since 2009. The bad news is they took Hasheem Thabeet back then and he became an all-time face palm. The encouraging news is this time the Grizzlies spent the No. 4 on Jackson Jr. and they suspect, perhaps with good reason, that he could eventually wind up the best player in this Draft.
That sounds rather ambitious, for sure, especially for a team with a poor Draft record. Yet the good vibes about Jackson Jr. are mainly due to a few reasons: he turns 19 this month and his base skill set is precisely what the NBA wants right now — a springy big man who swats shots and hits 3-pointers.
The grand plan is for Jackson Jr. to pair up with Gasol to make the Grizzlies a tough matchup, given their size and shooting range. It's a reasonably sound idea, although the execution of it will be interesting. Gasol's scoring dipped to 17.2 points per game (after a career-high 19.5 ppg in 2016-17) and he fell from the group of elite centers. Jackson Jr. could understandably deal with NBA growing pains at some point.
The Grizzlies also snatched Carter in the Draft when he lasted until the second round. Carter was a solid player and tenacious defender at West Virginia who locked up Trae Young late last season. He could press for time in the rotation as a backup to Conley, which should be his rookie ceiling.
Beyond the Draft, the Grizzlies engaged in some tough decisions. One involved Evans, their leading scorer (19.4 ppg) and go-to guy by default. He had his best overall campaign since his rookie season and finally remained somewhat healthy. But he opted to sign with the Indiana Pacers this summer. Maybe they're bullish on up-and-comer Dillon Brooks and believe he can absorb those swingman minutes. But if that's the case, why didn't Memphis trade Evans before the deadline last season and get something for him instead of allowing him to leave for nothing?
They also paid a reported $37 million over four years for Anderson, a restricted free agent whose offer wasn't matched by the Spurs. The consistent and cerebral Anderson might already be at his ceiling at age 24, and as a poor athlete, he hardly brings sizzle. The Grizzlies have had their fill of swingmen who can't score in bunches.
What Memphis couldn't do this summer was make Chandler Parsons and his hernia-causing contract (two years, $49 million remaining) disappear. Given his injury history, dumping Parsons would've certainly forced the Grizzlies to take back an equally bad contract (if one such exists) or package it with an asset. There were reports Memphis listened to offers for Parsons and the No. 4 pick before the Draft, but evidently none were good enough for the Grizz to pull the trigger.
The Grizzlies also had a decision at coach and after some deliberation decided to remove the interim tag from JB Bickerstaff, who was elevated from assistant after Fizdale was fired. There was some thought around the league that Memphis would hire an experienced coach. But Bickerstaff is well regarded and has a solid relationship with Gasol and Conley.
In all, it was the kind of summer the Grizzlies needed. Was the year spent in the lottery an aberration for the Grizzlies? Or is this the new normal? The West is plenty competitive with LeBron James in LA and fast-improving teams in other cities such as Denver. Based on what they did this offseason, the Grizzlies are hoping a mixture of young players (Jackson Jr., Anderson, Brooks) and the tried-and-true old guard (Conley, Gasol) will elevate them back among the living.
Coming next: Dallas Mavericks
Veteran NBA writer Shaun Powell has worked for newspapers and other publications for more than 25 years. You can e-mail him here, find his archive here and follow him on Twitter.
The views on this page do not necessarily reflect the views of the NBA, its clubs or Turner Broadcasting.