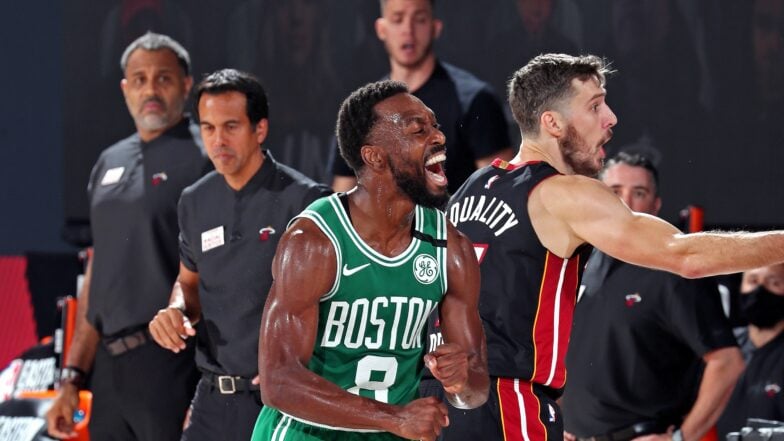 Three takeaways from the Boston Celtics' 117-106 victory over the Miami Heat Saturday in Game 3 of the Eastern Conference finals:
1. Celtics say no to 3-0
OK, so the Celtics beat the Heat. But the real winners were the NBA and most of its fans, when you stop to consider the alternative.
Imagine this series being 3-0 in favor of Miami, with everyone waiting through the first scheduled extended break of this postseason. The games have been coming fast compared to a normal, non-bubble year, every other day. But with the Eastern Conference finals a couple games out in front of the West edition, the NBA opted to push Game 4 of this series out to Wednesday.
Down 3-0 — from which no NBA team in playoff history has survived — the Celtics would have been waiting in vain for a reprieve from the governor. So would the rest of us. Now we've got a series again.
Better still, the Celtics have themselves a series again.
Boston seemed on the verge of a death spiral after Game 2, adding acrimony in their locker room to their struggles on the court. The audible squabbling after that loss from Marcus Smart and mates, leading to the hastily called meeting by coach Brad Stevens with the team's key players put Boston, already in a must-win predicament, in a must-buck up situation as well.
"I told the team this yesterday … like, this result didn't really matter to me," Stevens said. "It was more about: What are we going to show ourselves to be? And I thought that we are a really special group."
Said Jaylen Brown, who scored a team-high 26 points: "To be honest, I didn't get much sleep the last 48 hours. I was so antsy to get back and play basketball. I don't think the last two games exemplify what this team is about. So, I couldn't wait to come out and be the best version of myself and try to add to a win."
The Celtics, rather than coughing up leads as they had in the first two games, never let the Heat catch or pass them this time. That Miami zone that so stymied them in the second half of Game 2? Boston attacked it this time, not only putting to use Gordon Hayward in his return from a sprained ankle, but also focusing more aggressively on the paint (60-36 scoring edge from there). The Celtics also had the rebounding advantage and held Miami below 40% shooting.
"Just about honing in, focusing," Brown said. "There's some great guys in that locker room. A lot of emotion, a lot of passion. But we're a family. We are here for each other at the end of the day. So we exemplified that when we came out together. We stayed together during some tough moments."
Miami coach Erik Spoelstra had as many things to be displeased about as the Celtics had to be pleased. With three extra days to ponder that.
"I want our guys thinking about this," Spoelstra said.
Here are a couple of things: The Heat can head into Game 4 remembering that a team (Milwaukee) that started 10-1 in the playoffs last season, like them, still found itself sitting at home by the 2019 Finals.
The Celtics can recall that a team (Toronto) that started 0-2 in the 2019 East finals still found a way to roar back and sweep the next four games.
2. Hayward opened up Boston's offense
The stats weren't much: six points on 2-for-7 shooting, with five rebounds, four assists, three steals and a plus-1 rating in nearly 31 minutes off the bench. But Gordon Hayward was back from his sprained right ankle, the Celtics were delighted to have him and his impact was felt all night.
"He is a stabilizing force for our team," Stevens said. "He just can make the right play and make a play for somebody else at the right time. And he hit the big 3 as they were making a run, so I think he makes us better, that's for sure."
Boston wasn't just better Saturday, it was playoffs-throwback better. Brown, Jayson Tatum, Kemba Walker and Smart each scored 20 or more points – the first time four Celtics did that in a game since May 15, 1986. That night, five Celtics (Larry Bird, Kevin McHale, Robert Parish, Dennis Johnson, Danny Ainge) got 20 or more in a victory over Milwaukee.
What did Hayward have to do with this breakout? Tatum counted the ways:
"Just his decision-making, his ability to make plays for others and for himself," the young Celtics forward said. "It just opens up the floor so much more. They've got to respect him. So, it's just having a bunch of guys out there you really can't hop off of, because everybody can shoot, knock down shots and make plays."
Stevens admitted there were moments when Hayward was gassed, but he kept him on the court anyway, to fast-track the return of his stamina. The versatile wing had not played in a month since his injury in Boston's playoff opener against Philadelphia. But now he has three full days to rest and get a little practice time to aid his rhythm.
3. Miami's latest vice not nice
The Heat has fallen into a bad habit of spotting the Celtics leads in each game of the series. Not just a point or two in the early going but substantial holes, dug quickly and deeply, demanding no small effort when the Miami players and coaches get around to digging out. Or in Saturday's case, not.
It gets old, playing from behind, consistently. We should stop put ourselves in that position."

— Jimmy Butler, Heat
— In Game 1, Miami trailed by nine after just five minutes and by 13 with 4:18 left in the first quarter. They were down 14 early in the fourth, before clawing back to force the overtime they needed to win.
— In Game 2, the Heat fell behind by 17 points in the second quarter. It was elevator-shaft stuff, plummeting from a two-point deficit to 58-41 in a span of barely seven minutes. From there, Jimmy Butler, Bam Adebayo and the rest hitched up their shorts, outworking and outscoring Boston 65-43. It wasn't easy.
— And in Game 3 Saturday, Miami found itself down by seven points in the first 4:01. This time, there was no coming back. This was a wire-to-wire loss, down early, down by as much as 20, down at the end. The Heat's 21-7 run deep into the final quarter would have been more exciting if they hadn't begun that stretch in a 19-point hole. So 109-104 was as close as they got.
"It gets old, playing from behind, consistently," Butler said afterward. "We should stop put ourselves in that position."
Should? More like must.
"We got to start the game how we start the fourth," Adebayo said. "I feel like we're not the type of team where we can go through the motions and try and figure out everything in the first half, and then in the third or fourth, we just try to turn it on.
"I guess they got tired of us being down 13 and coming back and winning."
Resiliency is a great thing, in games as much as in series. But you'd rather not put yourself in the position to test it.
Steve Aschburner has written about the NBA since 1980. You can e-mail him here, find his archive here and follow him on Twitter.
The views on this page do not necessarily reflect the views of the NBA, its clubs or Turner Broadcasting.