The phrase "chip on your shoulder" predates the invention of basketball itself, when boys (and possibly men) in the 1800s would literally carry a chip of wood on their shoulder and dare a predetermined foe to knock it off,  opening the door for an actual fight to take place.
Pieces of wood don't fly off shoulders today, but the desire to welcome opposition – and prove it wrong – is as strong as it's ever been.
In the case of the 2022-23 NBA season, we're looking at each team for one player who could be eager to set the record straight with stellar play this year.
---
De'Andre Hunter – Atlanta Hawks
The fourth overall pick of the 2019 Draft has proven himself a stellar and versatile defender with potential to grow on offense … when he's healthy. The 6-foot-8 forward has played in just 76 games over the last two seasons due to injuries. Hunter and the Hawks have not yet come to an agreement on a contract extension. If that remains the case beyond the Oct. 17 deadline, he will be looking at restricted free agency in 2023. That experience could unfold perfectly if Hunter can shed the injured label while wrenching his production back to an upward trend.
---
Malcolm Brogdon – Boston Celtics
The former second-round pick's career summary passes the first glance test. Rookie of the Year in Milwaukee. Coveted so much in free agency he became the center of a significant sign-and-trade deal to Indiana. Basic averages of 18 points, 5 rebounds and 5 assists on above-average shooting splits since becoming a full-time starter. Yet injuries and losses with the Pacers have prevented those numbers from resonating in meaningful basketball. He has a chance to flip that script with the defending Eastern Conference champion Celtics, who could greatly use his offensive creativity in the backcourt.
---
Ben Simmons – Brooklyn Nets
The last time Ben Simmons played NBA basketball, it prompted a level of criticism rarely leveled against multiple-time All-Stars. That was over 450 days ago, when the former No. 1 overall pick essentially refused to shoot in crunch time of a winner-take-all Game 7 against the Hawks. The backlash prompted a prolonged standoff before ultimately being traded from Philadelphia to Brooklyn, where he finally donned a jersey for media day this week. Simmons is just one cog in the Nets' "who knows?" machine, but he's the one with the most questions to answer on the court.
---
PJ Washington – Charlotte Hornets
The 6-foot-7 forward can hold his own on the glass. He can stretch the floor from deep. He can be a factor on defense. But can he do those things at a high enough rate to merit a contract extension before Oct. 17… or a large offer sheet in restricted free agency next summer? With Miles Bridges' legal situation still processing, the door is open for Washington to prove he can build something bigger with all the tools he has shown flashes of possessing.
---
Patrick Williams – Chicago Bulls
Pundit opinion of Williams has swung wildly. When he was drafted fourth overall in 2020, many wondered if Chicago took him too high. A year later, nearly everyone agreed they needed Williams to have a chance on defense after the Bulls shifted into win-now mode. Injuries muddied those waters further. Now, they might be settling for the still-just-21-year-old. The presence of Alex Caruso and (when healthy) Lonzo Ball ensures Williams is not the sole pillar of Chicago's defense. Fresh off an offseason working with All-NBA teammate DeMar DeRozan, Williams seems intent on rewriting his own evaluation this season.
---
Donovan Mitchell – Cleveland Cavaliers
Expectations can dent even the brightest sheen, and few were as bright as Mitchell's first four years in Utah. The 6-foot-1 guard provided far more talent, star power and hope than expected from a 13th overall pick, particularly for a franchise fresh off losing its previous All-Star, Gordon Hayward. Both he and the Jazz kept rising to the delight of their fans … until both flatlined in utterly disappointing playoff exits in back-to-back seasons. Mitchell's shot selection and defense came under heavy scrutiny, as did his interactions with All-Star teammate Rudy Gobert. Things soured quickly, leading to his stunning trade to Cleveland. Where does that leave him? How will he wash out the image of his last impression in Utah? Will he lead, co-star or something else entirely with fellow All-Stars Darius Garland and Jarrett Allen, not to mention the uber-talented Evan Mobley? The Cavaliers are already coming off a breakthrough season without Mitchell. He can quash the quibbles about his game by taking them at least one step further.
---
Christian Wood – Dallas Mavericks
Christian Wood is an electric finisher, a marvel of offensive versatility and a ferocious rebounder. He's also coming off the bench for Dallas this season, per coach Jason Kidd. That was news to Wood when he was asked about that on media day. It was not the ideal fresh start for a 27-year-old forward who puts up stats wherever he goes, but always ends up going somewhere else. Dallas is his seventh team since going undrafted in 2015. Yet his skill set seems tailor-made to flourish alongside Luka Doncic, who could make devastating use of Wood in the pick and roll. The only question now seems how much Dallas wants to utilize that new option – and whether Wood will prove the answer is more than they thought.
---
Michael Porter Jr. – Denver Nuggets
Most of the focus in Denver will be on Jamal Murray's own return from injury, but Porter Jr. might have more questions to answer with his play. Even when he was healthy, opposing teams often targeted Porter Jr.'s defense. Denver's title hopes are brighter with him, but not as bright as they could be if he shows improvement on that end of the floor. Zooming out from that, Porter Jr. officially enters his max contract extension this season, making him a fixed pillar of the team's ceiling. After all the injuries, he is no doubt eager to test how high he and the Nuggets can go.
---
Marvin Bagley III – Detroit Pistons
Of the top six picks of the 2018 Draft, Bagley is the only one that has moved on from his original team. It's an uncomfortable distinction, but one he hopes will work out for the better after Sacramento dealt him to Detroit in February. The Pistons liked what they saw enough to give Bagley a three-year, $37.5-million contract in the offseason. Now the onus is on Bagley, still just 23 years old, to fulfill the massive potential that led to him being the No. 2 overall pick. The setting seems ideal for him to do it. Cade Cunningham is an uplifting floor general. Bojan Bogdanovic, Alec Burks and Nerlens Noel provide a playoff-tested and veteran presence. Saddiq Bey, Jalen Duren and Isaiah Stewart offer plenty of competition for minutes.
---
James Wiseman – Golden State Warriors
Another former No. 2 overall pick that has yet to truly make his presence felt, Wiseman is the great and perhaps only question mark for the reigning champs. His first answer has simply been presence – this week's training camp marks the first Wiseman has attended since being drafted in 2020. Like his career, illness and injuries have derailed him from a smooth NBA learning curve. Warriors coach Steve Kerr, who has been critical of Wiseman in the past, used the phrase "really thrilled" when discussing what he has seen from his 21-year-old center so far. Wiseman will have every opportunity to turn these early impressions into real minutes.
---
Kevin Porter Jr. – Houston Rockets
Flying under the radar of Houston's lost season was the improvement of Porter Jr. His 3-point shooting took a jump. Ditto for his effort on defense. He also remains an underrated passer. But the 22-year-old's promise seems somewhat obscured by the presence of last year's No. 2 pick (Jalen Green) and this year's No. 3 pick (Jabari Smith Jr.). Add in the fact that Porter Jr. and Houston have yet to reach an agreement on a contract extension, and it's not quite clear what the 6-foot-4 guard's future will be. One thing he won't lack is the opportunity to show his worth – and make all this uncertainty seem silly – on a rebuilding Rockets franchise this season.
---
Myles Turner – Indiana Pacers
A tendered offer sheet (ultimately matched by Phoenix) to Deandre Ayton and his own expiring contract made one thing seem clear – Myles Turner's future is no sure thing in Indiana. It had to come as a blow to the former lottery pick, who likely anticipated a breakout season after years of dual big man lineups alongside Domantas Sabonis. With the paint to himself, the already elite shot blocker might have spread his wings on offense as well. Instead, the residue of Indiana's wandering eye lingers, as do trade rumors involving any team in need of a shot-blocking big man who can also shoot from beyond the arc. Regardless of whether he stays with the Pacers through the entire season, Turner has every reason to turn in a breakout 2022-23 campaign, starting with unrestricted free agency next summer.
---
Kawhi Leonard – LA Clippers
The Clippers are just months removed from withering in The Play-In Tournament. Now they are mentioned in the short list of contenders. That's what a healthy Kawhi Leonard does for a team. When the two-time Finals MVP plays, his teams win. But not playing often seems to define Leonard almost as much as his Hall-of-Fame-worthy list of accomplishments, as does the vast cone of silence that accompanies his absence. It's doubtful Leonard's return from a torn ACL will be accompanied by chest-thumping shouts of people having forgotten his greatness. His quiet brand of dominance does the shouting for him – and could remind all of us the league was missing one of its premier stars last season.
---
Anthony Davis – Los Angeles Lakers
Speaking of missing premiere stars, it feels much, much longer than two years have passed since Davis' dominance helped fuel the Lakers' 2020 title run. The 29-year-old big man played just 76 games combined over the last two seasons, not including his five-game cameo in the 2021 playoffs. The formula seems simple: With Davis and LeBron James (2020), the Lakers are title contenders. Without him (2019, 2021, 2022), they are a fringe playoff team at best and much more likely lottery-bound. But Davis' injuries have been so frequent and ill-timed that they are starting to define what should be the prime of his career, a fact punctuated by him not making the All-Star team last season for the first time since 2013. He seems eager to use this fall into a comeback story, telling the media that the Lakers are the "underdogs" and that they have, yes, a "chip on our shoulder."
---
Jaren Jackson Jr. – Memphis Grizzlies
If Ja Morant ensures Memphis' floor, Jackson Jr. likely defines their ceiling. The former fourth overall pick has flashed dominant versatility on both ends of the floor. He has never done so consistently or remained healthy enough to cement himself as one of the premier young big men in the league … yet. And that "yet" will wait a bit longer until Jackson Jr. returns from offseason foot surgery sometime between November and January. Given that his big goal is to win the Kia Defensive Player of the Year award, Jackson Jr. would have to turn in a breakout performance after missing a portion of the season. It sounds like that's what he's aiming for.
---
Duncan Robinson – Miami Heat
Robinson's 3-point shooting was so elite at one point that Miami never balked when meeting his suddenly scorching free agent market. The Heat agreed to pay him $90 million over five years, financial confirmation of how devastating Robinson's mere presence became for opposing defenses. That reputation screeched to a halt in the 2022 playoffs, when Robinson's minutes were halved and even included some nights off via coach's decision. "Not playing sucks … especially when you feel that you are capable and you feel that you can help win," Robinson told the Long Shot Podcast at the time. "It's a really challenging feeling." Still, Miami got within a game of the Finals, so the onus is on Robinson to prove he can raise the Heat's already considerable ceiling.
---
Giannis Antetokounmpo — Milwaukee Bucks
This is not in any way, shape or form a judgment of Antetokounmpo's play or playoff finish last season. Frankly, it's difficult to find anyone on the 2021 champs who might have "something to prove," least of all a two-time MVP and one of the most dominant players in NBA history. This is simply running with Antetokounmpo's comments from media day. "Do I believe I'm the best in the world? No. I think the best player in the world is the person that is the last one standing, the person that takes his team to the finish line and helps them win games and become champion." Giannis said he did feel that way about himself in the months after winning the championship in 2021. Now he believes the title of "best in the world" resides with Stephen Curry. That sounds like someone who respects the ultimate level of winning — and can't wait to get back to that level himself.
---
D'Angelo Russell – Minnesota Timberwolves
Minnesota's first-round series with Memphis was chaos personified, but while viewers and many players enjoyed it, Russell likely stewed over how much better he could have played. The former No. 2 overall pick shot 33.3%, including 29.3% from inside the arc. Shot selection and turnovers in late-game stages crippled the Timberwolves' chances at a monumental upset of the Grizzlies. Now Russell returns to a team overhauled by the acquisition of Rudy Gobert, enchanted with the potential of Anthony Edwards and led by All-Star big man Karl-Anthony Towns. The team is clearly eyeing the next step in its ascent out West. Russell has a chance to show he can be the talented table-setter for that team.
---
Zion Williamson – New Orleans Pelicans
Practice videos are cool. Wide-eyed stories from teammates are fun. But one of the most anticipated No. 1 picks in recent memory knows no one will believe he's back, really back, until he shows it. That preemptive dismissal can be its own fuel. It's easy to forget Williamson has already been an All-Star, that his interior scoring numbers when healthy were only comparable to those of Shaquille O'Neal. On media day, he told reporters "I feel like I'm at my best right now." There's no doubt Williamson can't wait to show it.
---
RJ Barrett – New York Knicks
Whether or not Barrett was actually offered in trade packages for Donovan Mitchell, we know that the announcement of his contract extension came out at the exact moment Utah decided to trade Mitchell to Cleveland instead of New York. At that moment, Barrett became the most easily visible line in the sand between the Knicks acquiring an All-Star player … and not. That's not the ideal role for a professional athlete in New York, but he seems prepared, eager even, to face it. "I have everything to prove," Barrett told reporters on media day. "That's my mindset and I definitely think we're going to shock the world."
---
Lu Dort – Oklahoma City Thunder
From undrafted to a five-year, $87.5 million extension, Dort is one of the latest inspiring NBA stories. He is also officially one of the cornerstones of the Thunder moving forward, along with all the expectations that implies. While his raw numbers have improved in each of his first three seasons, OKC will hope to see improvement on his career shooting marks (39.5% overall, 33.3% from deep).
---
Jonathan Isaac – Orlando Magic
There is still no timetable for Isaac's return from a torn ACL suffered in the 2020 Orlando bubble. The Magic plan on giving the former lottery pick all the time he needs to make a complete recovery, so a large portion of Isaac's "chip" will be carried behind the scenes. His length and versatility on defense was one of the most encouraging things Orlando had seen in recent years. The team's rebuild has continued without him, with a key building block arriving via No. 1 overall pick Paolo Banchero. A healthy Isaac could accelerate Orlando's plans while reminding everyone why the Magic made him such a key part of those plans in the first place.
---
James Harden – Philadelphia 76ers
What began as whispers after being traded by Brooklyn turned into full-throated musings during another short-lived Philadelphia playoff run: Is prime, MVP-level James Harden done? The 10-time All-Star averaged just 18.6 points on 40.5% shooting over 12 postseason games. His 11-point closeout game against the Heat only amplified the concern. Harden attributed his recent atrophy to injuries, which compromised his ability to stay in peak shape. On media day he joked he had lost 100 pounds. If the physical turnaround is real, a harsh correction on just how good Harden still is could be incoming.
---
Deandre Ayton – Phoenix Suns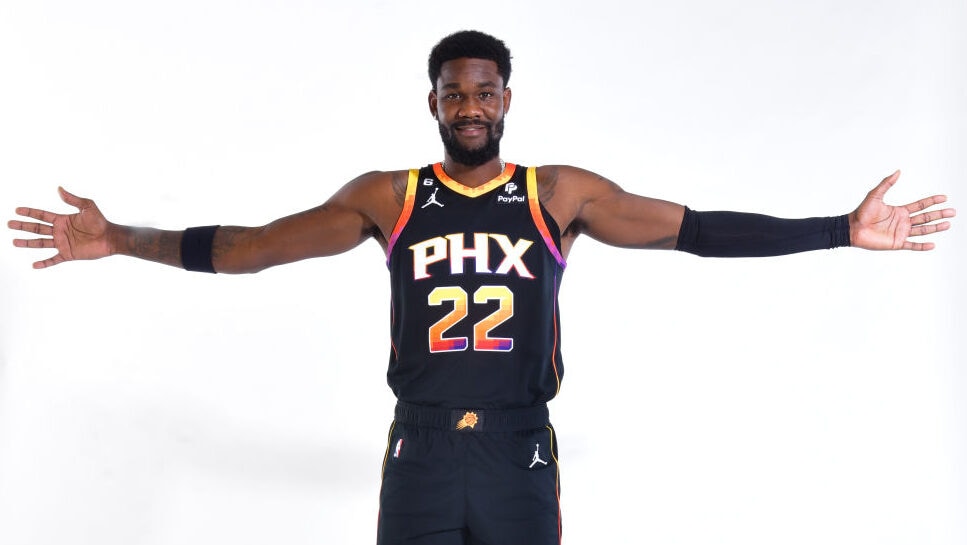 The former No. 1 overall pick finally got the max extension he wanted, just not in the time or even (initially) from the team he preferred. When asked about his reaction to Phoenix matching Indiana's offer sheet, Ayton offered an extremely casual "I was happy. It was all done, I guess." Yet everyone from coach Monty Williams to teammates like Cam Johnson gushed about how involved Ayton was in working out with teammates during the offseason, so it's hard to peg the big man's true vibe. What isn't hard to guess is how much more he'll be allowed to expand his game after showing flashes in the first round against New Orleans. Williams said Ayton's next step is "becoming an All-Star." The 24-year-old has been chomping at the bit to have a role big enough to make that a reality.
---
Damian Lillard – Portland Trail Blazers
Not since 2013 had the NBA playoffs not featured Lillard. Between that, trade rumors and injuries, the tenor of the Lillard-Portland era appeared to be tenuous last year. Then Portland traded for Jerami Grant, extended Anfernee Simons, drafted Shaedon Sharpe and extended Lillard himself. The six-time All-Star told reporters at media day that the forced time off allowed him to recharge. Yet Lillard has always been keenly aware of how overlooked he can be. He'll likely waste no time in trying to reassert his place as one of the league's best point guards.
---
De'Aaron Fox – Sacramento Kings
Is Fox finally, now, the unquestioned guard of the Kings? After years of shared duties with other playmakers, it appears Sacramento has staked its future on the guard-forward tandem of Fox and Domantas Sabonis, whom they acquired in exchange for Tyrese Haliburton next year. The move was a vote of trust in Fox, who now gets a full season with Sabonis and a chance to make his first All-Star team and/or make the playoffs for the first time in his career. Fox's speed and talent have never been questioned. Entering year six, his ability to influence winning could be answered.
---
Devin Vassell – San Antonio Spurs
The 6-foot-5 swingman was considered a steal with the 11th pick of the 2020 Draft. He showed flashes last season with improved numbers across the board. Yet rather than grow in step with his team, the Spurs have seemingly hit the reset button again behind a slew of even younger prospects and the trading away of All-Star guard Dejounte Murray. Vassell seems intent on defying the team's modest expectations, telling reporters on media day, "I think we can surprise a lot of people." Vassell is extension-eligible after this season, giving him another reason to have a breakout year.
---
O.G. Anunoby – Toronto Raptors 
Anunoby is a favorite of NBA analysts, a do-it-all defender who has improved his offense each season. Availability has been the issue. The 25-year-old forward has played in just 81 total games over the last two seasons. A random rumor of his discontent with his role cropped up last season, something he addressed with bemusement when asked at Raptors media day. Whether it's to quiet the noise or cement his presence, Anunoby has plenty of fuel for the breakout season many expect him to have.
---
Malik Beasley – Utah Jazz
Gifted scorers don't grow on trees, and Beasley is certainly one of those. As a full-time starter in 2020-21, the 6-foot-4 guard averaged nearly 20 points per game with Minnesota. But the Timberwolves shifted him to a bench role last season, where he struggled individually even as the team returned to the playoffs. Now in Utah as part of the Rudy Gobert trade, Beasley will have every chance and then some to score points and redefine his role for the rebuilding Jazz.
---
Rui Hachimura – Washington Wizards
Injuries have clouded over Hachimura's promising skill set. The former lottery pick has played in just 147 games over three seasons. The combination of his finishing ability and 3-point shooting (a scorching 44.7% last year) on a consistent basis would be a boon to the listless Wizards. Barring a last-minute extension, it looks like Washington needs to see more of him and more from him before offering him a long-term deal. Hachimura has the perfect springboard for a statement season: Preseason games in his native country of Japan.