LOS ANGELES – The first feature one might notice about Pan Pacific Park Recreation Center is the Streamline Moderne architecture, hinting at Los Angeles' Boom Town era – a time of massive expansion for the city. The green and white tower at the entrance is actually a replica of Pan-Pacific Auditorium, a major cultural destination of the city during that era. Entering Pan Pacific Park, visitors are immediately greeted by two basketball courts.
It is on these very courts, surrounded by concrete brick-lined walls, that Nets teammates Spencer Dinwiddie and Allen Crabbe first played against each other almost 13 years ago. Back then, the facility was sparkling new, having been open for just three years. Dinwiddie saw a challenge in taking on the slightly older Crabbe, who was already developing a reputation in the Los Angeles amateur basketball circuits as a spot on shooter.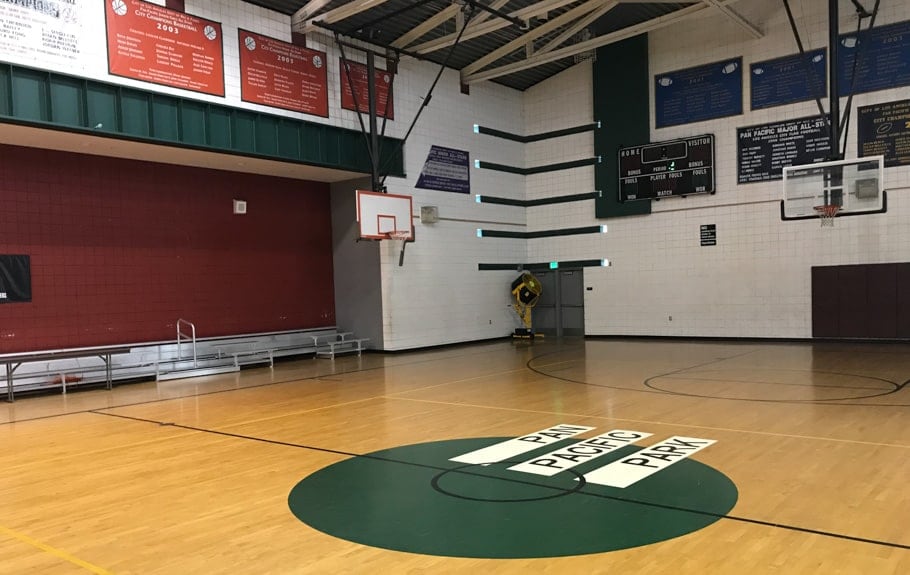 "The first time we played each other was probably when I was 11 years old at the park," Dinwiddie recalled to BrooklynNets.com. "He was a little bit older than me. He was one of the best players at the park at the time. Being the younger guy, you want to compete against the best – even if it's an older guy."
Even though it was largely fun and games back then, Crabbe remembers Dinwiddie as someone who was determined to prove his ability on the court.
"That young, basketball wasn't as serious as it now," Crabbe said to BrooklynNets.com "So you know we're just playing in the park. But sometimes, even at a young age, you know some guys just stick out among the competition. You can tell the good guys, the good players, from the kids who are out there just trying to have fun. That's how you can separate it and Spencer was always [one of the standouts]."
Several factors prevented Dinwiddie and Crabbe from ever having a genuine local rivalry growing up. Their high schools, Dinwiddie's Taft Charter High School and Crabbe's Frederick K.C. Price III Christian School, didn't play in the same division.The two schools never played each other in a competitive setting, only going against each other in scrimmages. The one-year gap between both also played a role as they didn't face off much in the AAU circuit. Yet, there are plenty of similarities in the way the city of Los Angeles shaped each other's journey to the NBA.
Both grew up inspired by Kobe Bryant's exploits on the championship Lakers teams. Both entered high school with plenty to prove. Both won local championships and AAU titles. And sadly, both share a tragic bond.
Here is their Los Angeles story:
Dinwiddie's Rise To Prominence
Derrick Taylor remembers the first time he met Spencer Dinwiddie. The high school basketball coach already had a strong reputation for the work that he had done at Taft and he moved to Windsor Hills, a predominantly black middle class suburb in Los Angeles. There he was greeted by his neighbor, Malcolm Dinwiddie, who immediately let Taylor know that his son was playing basketball and that the coach should watch him play. Taylor remembers Dinwiddie as a polite skinny kid.
"Spence used to take my garbage cans in and out – every Wednesday," Taylor boasted.
But Taylor learned quickly that Spencer Dinwiddie could, in fact, ball.
"I went to one of his games when he was a sixth or seventh grader," Taylor said. "I went to the park and I remember telling his dad after he played 'he has a chance.'
"The reason why I said that was because he was small, he was super small, but he was savvy. He had an understanding of the game at an early age. He was ahead of everyone else on the court, he made up for his lack of physical [strength] with his intelligence."
Taylor doesn't remember exactly how big Dinwiddie was at that age, but revealed that at the guard's freshman year physical, he came at 5-foot-9, 108 pounds.
"I used to tell him, 'Listen man, there are girls on this campus bigger than you,'" Taylor said laughing.
Taylor was confident that Dinwiddie could play at the varsity level in his freshman year, but with senior Larry Drew running the point at that time, the coach placed the guard on the JV team. Dinwiddie didn't stay there long.
In his sophomore season, Taylor promoted the still-rail thin guard to the varsity team and immediately gave him the keys to run the show. His assistant coaches were puzzled by the move at time, questioning their head coach's decision, but Taylor was quietly confident it would pay off. Dinwiddie rewarded Taylor's move almost immediately.
Despite being just 15, Dinwiddie quickly asserted himself as the leader of the team.
"Right out of middle school, he wasn't even 110 pounds, he was dictating everything," Taylor explained. "Dictating the tempo of the pace, telling everyone where to go. Telling everyone what to do in practice. You saw it right on the day he walked on campus."
Dinwiddie's progress culminated in a dominant senior year, where he finally grew into his body, measuring about 6-foot-4 and 170 pounds.
That season he helped lead Taft to a city championship and was named John R. Wooden California High School Player of the Year. At the end of that run, those same coaches who questioned Taylor's decision asked the coach how he could tell Dinwiddie was going to develop into this type of player.
"I said you can tell. He had everything," Taylor exclaimed. "The only thing that he was lacking was physical maturity and then he started to grow. Once he started to fill into his body, it was a wrap. It was just a matter of time. I wasn't surprised."
As good as Dinwiddie's exploits on the high school level were, his run in AAU might be more impressive. The point guard lead Pump and Run stun the Adidas Super 64 tournament in 2010. Etop Udo-Ema, Allen Crabbe's AAU coach at Compton Magic – the team that was expected to win instead – remembers being shocked what Dinwiddie and his team were able to pull off.
"I remember Spencer's team wasn't that good," Udo-Ema said. "Between him and Xavier Johnson, they just carried that team. They ended up freaking winning the whole thing. No one expected that team to win. If you looked at them, no one would've thought they were going to beat anyone like that. And they just ended up winning it."
If Mike Lynch is to be believed, Crabbe could hit three-pointers from the second he started walking. He is the guard's godfather though, so some bias is to be expected. He was also Crabbe's coach at Price High School – a school that was run by the guard's family ministry. It was a relationship that both men kept secret from all but a few close friends of Crabbe's. They didn't want it to be an unnecessary distraction.
"We kind of made an agreement to not put that out there, because I didn't want any of his teammates or anyone to think that he was getting special treatment," Lynch explained.
"When it came to basketball, we wanted to have just a coach and player relationship," Crabbe added. "He wanted me to prove to everyone that the reason why I was playing was because I put in the work and earned it. So yeah, we kept it a secret throughout all of high school."
Lynch initially wanted to place Crabbe on the JV team, but went against it, due to the guard having what the coach called a "varsity shot." The JV coaches weren't thrilled by the move.
"His shooting ability wouldn't allow me to do it," Lynch quipped.
Like his Nets' teammate Dinwiddie, one of Crabbe's challenges came in his size – he was skinny as a freshman. Another came in what might be seen as a strange thing to criticize, he might have been too much of a good teammate – something that should sound familiar to Brooklyn fans.
Crabbe was clearly the most talented player on his team, but he wanted to make sure that his colleagues were getting opportunities to score as well. So even when he sometimes he had an advantage, he would pass to it his teammates because he thought they had a better shot. That would infuriate Lynch.
"I remember telling him in a game, if you don't shoot the ball more, I'm going to bench you – I will sit you down," the coach recalled.
He added, "That's where I think the coach/godfather thing worked for us, I didn't have to baby him. In these days, sometimes you have to treat a player a certain way – I didn't have to do those things, I could just come directly at him and give him the real [deal]."
Despite some tough love, Crabbe remains grateful for what he learned from his godfather.
"There's some times where he'd tell me, 'Man I wanted to go off on you in a different way, but I kept my cool,'" Crabbe said with a grin. "It was fun, it really was a good experience."
As Crabbe matured in his body and became more assertive, the accolades kept coming his way. After losing in three-straight Southern California regional championships, Crabbe finally led the team to its first Division IV state title game since 2005 in his senior year in 2010. He powered Price to victory with 25 points and 10 rebounds. After the season, he was awarded the Gatorade state player of the year and was named a Parade All-American.
"It just sucks that time flies so fast," Crabbe said. "It just seems like it went by so quick. It was a really good four years playing for him."
Crabbe also excelled in the AAU circuit. Udo-Ema remembers the guard's arrival as almost making the Compton Magic unstoppable.
"When you got someone who could spread the floor like that and you got other guys who can really drive it, you can't really double team anyone," Udo-Ema said. "He had a field day. He had multiple 40-plus games in AAU. He had some monster games."
The Teammate That Played With Both
Allen Crabbe had arrived in Las Vegas ready to enjoy an earned vacation after a grueling 2015-16 season with the Trail Blazers. His team had just been eliminated by the eventual NBA finalist Warriors in Western Conference semifinals and he was ready to relax in the city with some of his friends. Then a Twitter mention from a friend immediately changed everything. In that heavy-hearted moment, Crabbe learned that his longtime friend and former AAU teammate Bryce Dejean-Jones had been killed in an accidental shooting.
Dejean-Jones, who was just 23 at the time, had gotten into an argument with his girlfriend, also the mother of his child, and left the apartment to take a walk. When he returned to the apartment complex in the middle of the night, he thought his girlfriend had locked him out due to the fight so he broke into the place. He walked into the apartment and noticed it wasn't the same place, but it was too late. The resident of the apartment suspected there was a burglary going on and fired at him. Crabbe was devastated when he heard the news.
"It's very unfortunate what happened to him," Crabbe said. "It does suck that he's gone because he had a bright future ahead of him. He had just signed his guaranteed deal with them [the Pelicans] and that tragic incident happened."
It was also a heart-breaking moment for Dinwiddie, who was a teammate of Dejean-Jones at Taft. The Nets guard doesn't speak about it much, but his high school coach Derrick Taylor remembered his former player's reaction as they immediately contacted each other after they heard the news.
"We didn't know what to say," Taylor said. "Our dead silence was our answer."
Taylor revealed Dejean-Jones and Dinwiddie were almost joined at the hip in high school. The coach used to drive both from their neighborhoods on what would be an 40-minute drive almost every day to Taft for two years. The three learned everything about each other, something that Taylor labels as a unique bond. It wasn't uncommon for Dejean-Jones to spend weekends at Dinwiddie's house.
Dejean-Jones was the reason why Dinwiddie and Crabbe were able to remain connected despite playing on different high schools and living in different areas in the sprawling metropolis that is Los Angeles. He would fill in both players of each other's progress across town.
"L.A. is so small when it comes to the basketball world – everyone knows everyone," Crabbe said.
The Local College That Snubbed Both Players
Both Crabbe and Dinwiddie grew up hoping that they would one day play for UCLA.
"As L.A. kid, that's your first option," Crabbe said. "That's like every kid's home school. That's the dream for all the guys growing up in L.A. to go to UCLA."
The school showed a passing interest in both players, but didn't extensively recruit them. It was only after strong senior campaigns that the school tried to make a last-ditch effort to sign both. At that stage, both had already made their mind up about their future schools.
"I almost went to UCLA, they were my third choice," Dinwiddie said. "But they only sort of wanted me. It was a situation where I wanted to go to a school that really wanted me and would afford me the opportunity to play quickly."
According to Taylor, it is a decision that the school's then-coach Ben Howland regrets to this day.
"He would later tell me, a couple of years later, 'If I would've taken Spencer, I would probably still be coaching at UCLA,'" Taylor said.
Brooklyn tried to acquire Crabbe in summer of 2016 in free agency, offering the guard a contract that was ultimately matched by Portland. The following year, the team got its man.
Crabbe was excited by the move as it gave him an opportunity to potentially start and also move to New York City, a place that has some similarities to his hometown of Los Angeles. However, he did admit that he was a bit nervous as he didn't know what to expect from his new teammates. Once he looked through the team's roster, he immediately felt at ease.
"I was like 'Oh Spencer's still here.' I felt bit more comfortable," Crabbe said. "Just knowing someone, having a familiar face, going into a new situation, into a new setting. You know, it made the transition a little easier and it has."
Dinwiddie was also excited by the move.
"It's a lot of fun to reconnect now and have that bond, that L.A. bond, and remember each other from all those years ago," Dinwiddie said.
During the course of this season, there's been plenty of development from both men. Dinwiddie has emerged from a player who was just trying to make the roster to an NBA starter and a key part of Brooklyn's future. And Crabbe has finally hit his stride since the start of February, showing the sweet stroke that made him feared on the playgrounds. It is surreal to say the least and that journey to Brooklyn all started in the city of Los Angeles.
"It's just crazy how everything comes full circle," Crabbe said. "All of these years and we end up on the same team."