General manager Sean Marks and first-year head coach Kenny Atkinson have led a bold makeover of the Brooklyn Nets roster. Over the last month they've brought in 10 new players, including 2016 NBA Draft selections Caris LeVert and Isaiah Whitehead.
JEREMY LIN Point guard Jeremy Lin has averaged 11.7 points and 4.4 assists over six NBA seasons. He played 78 games for the Charlotte Hornets in 2015-16, averaging 11.7 points and 3.0 assists in 26.3 minutes per game. The 6-foot-3 Lin was outstanding in the Hornets' first-round playoff series against the Miami Heat, scoring 18 points in Game 3 and 21 points in Game 4, then contributing 11 points, seven assists and six rebounds in Game 5 to help Charlotte to a 3-2 series lead. Lin drew international attention during the "Linsanity" craze in 2012, when he averaged 22.5 points and 9.2 assists over 10 games with the Knicks, just weeks removed from the D-League.
TREVOR BOOKER Versatile and well-regarded, Trevor Booker gives the Nets a high-character, hard-working player ready to battle in the paint. The six-year NBA veteran played four years with the Washington Wizards and two with the Utah Jazz after being selected No. 23 overall in 2010. A 6-foot-8, 228-pound power forward, Booker's per-36 minute career averages are a solid 11.5 points and 9.2 rebounds per game, and he's shot .515 from the field over his career.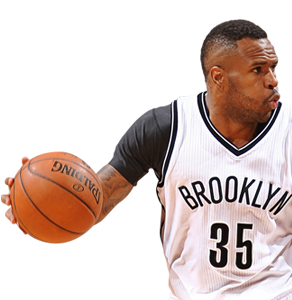 CARIS LEVERT Guard Caris LeVert was selected No. 20 overall in the 2016 NBA Draft and obtained from the Indiana Pacers in exchange for Thaddeus Young. A 6-foot-7, 191-pound combo guard, LeVert played in 103 games over four years at Michigan, making 40 percent (134 of 334) of his 3-point attempts. In the 15 games he played as a senior before his season was cut short by injury, LeVert averaged 16.5 points, 5.3 rebounds and 4.9 assists while making 45 percent of his 3s. He played in the NCAA championship game as a freshman and was named to the All-Big Ten second team as a sophomore.
ISAIAH WHITEHEAD Guard Isaiah Whitehead will be right at home in Brooklyn as the Coney Island product of Lincoln HS joins the Nets after being selected No. 42 overall in the 2016 NBA Draft. A McDonald's All America and Mr. New York Basketball at Lincoln, where he led the Railsplitters to a PSAL city championship, Whitehead starred for two years at Seton Hall University. As a sophomore, he led the Pirates to the 2016 Big East Tournament championship and earned tournament Most Outstanding Player honors after averaging 23.3 points and 5.7 assists in the tourney. The 6-foot-4, 210-pound guard capped his college career by leading Seton Hall to its first NCAA Tournament appearance since 2006 while averaging 18.2 points and 5.1 assists for the Pirates.
RANDY FOYE Randy Foye should give the Nets some extra splash from deep, as the newly signed guard is a career .369 shooter from 3-point range. Foye finished in the top 10 in 3-pointers made in three straight seasons (2011-14) and adds some pop to the lineup. With 683 NBA games under his belt, Foye brings some veteran savvy to a young lineup with five players 23 and under. At 32, Foye is the second-oldest Net on the team and only one of two over 30 (Luis Scola is 36). Last season, Foye averaged 5.9 points, 1.9 boards, 2.0 assists and 20.3 minutes with Denver and Oklahoma City.
ANTHONY BENNETT The Brooklyn Nets kept a close eye on Anthony Bennett as he worked out at HSS Training Center and they liked what they saw, signing the Canadian forward on July 14. Bennett has career averages of 4.2 points and 3.1 rebounds in 12.8 minutes, split between Toronto, Minnesota and Cleveland, which originally drafted Bennett first overall in 2013. Bennett played his college ball at UNLV, averaging 16.1 points and 8.1 rebounds in his freshman year, winning the Mountain West Conference Freshman of the Year honor.
JUSTIN HAMILTON Justin Hamilton adds depth to the Nets' frontcourt rotation, signing with the Nets on a multi-year contract. The 7-foot, 260-pound center is coming off an all-star season in Liga ACB – Spain's top division – where he averaged 14.1 points and 5.4 rebounds in 22.5 minutes playing for Valencia. Hamilton has NBA experience, with playing stints with Charlotte, Miami and Minnesota, and was very successful in the NBA D-League. Hamilton earned D-League All-Star, First-Team and All-Defensive team honors in 2013-14, averaging 19.2 points and 9.3 rebounds.
JOE HARRIS The Nets have targeted apt 3-point shooters and D-League standouts this offseason and guard Joe Harris fits both bills. Harris, a 6-6 shooting guard, played in 51 games with the Cleveland Cavaliers in 2014-15, hitting .369 from deep. He spent the next season split between the Cavaliers and Cleveland's D-League team, but again was hot from three, nearly knocking down 40 percent in the D-League. Harris averaged 16.4 points in the D-League last season and 2.7 points (in 9.7 minutes) with Cleveland in his rookie year.
LUIS SCOLA For a team as young as Brooklyn, forward Luis Scola will be counted on to lead, as well as play, for the Nets. At 36, Scola is the elder statesman and his 707 games are by far the most on the team. Last season, Scola started 76 games for the Toronto Raptors, averaging 8.7 points and 4.7 rebounds, while working on his 3-point shooting. Scola shot .404 from deep last season, but registered a big uptick in both his makes and attempts, hitting 65 of 161, after going 10-60 combined in his first eight seasons in the league. The Buenos Aires native has a career average of 12.3 points and 6.8 rebounds and gives the Nets a solid power forward presence on the floor and a veteran voice in the room.
GREIVIS VASQUEZ Along with Scola, Brooklyn added another international veteran, inking guard Greivis Vasquez. The first Venezuelan-born player drafted to the NBA, Vasquez has played 398 games in the Association for five teams (Memphis, New Orleans, Sacramento, Toronto and Milwaukee) averaging 9.0 points and 4.8 assists in 23.8 minutes. Injuries limited Vasquez to 23 games last season, but even through adversity, he's kept up good averages, including .349 career from deep and .418 from the floor.