Nets vs. Celtics Odds
Nets Odds
+4.5
Celtics Odds
-4.5
Over/Under
224.5
Time
3:30 p.m. ET
TV
ABC
Odds via PointsBet. Get up-to-the-minute NBA odds here.
The moment has finally come for the Brooklyn Nets and the Boston Celtics.
All year long, the Nets have underperformed with a bevy of explanations for their lackluster record. Kyrie Irving was ineligible to play due to vaccine requirements. Then he joined the team but couldn't play home games. Then Kevin Durant was hurt. Then James Harden checked out.
There is the constant refrain that this team didn't need to care about the regular season, that this team didn't need continuity or consistency; it just needed the playoff lights turned on.
Irving and Durant are healthy, unlike last year, and while Ben Simmons may or may not play by the end of the series, they have a chance to show that chemistry, culture, and, well, defense don't matter. What matters is superstars, and they have two.
The Celtics turned their season around, and then kept turning it around, and then turned it around from good to great, and then from great to elite and finally the best team in the league over the final four weeks.
And still, it's hard to believe this team suddenly became this good seemingly overnight. Are they really a title contender? A juggernaut? Just like that?
This series has massive drama and huge implications for both teams. Let's bet Celtics-Nets.
Can the Nets Manufacture Enough Defense?
Ben Simmons remains out until at least Game 4 of this series, Joe Harris is out for the season, and Seth Curry is nursing a bad ankle but will play.
The Nets lost the season series to the Celtics 1-3, but of course, the Nets' disaster season has to add some context. The only time Durant and Irving were both available was the last matchup on March 6. The Celtics won that game, too, by six points after getting 54 from Jayson Tatum.
There isn't necessarily a big advantage in this game or series for Brooklyn behind their obvious one: No one can stop Durant or Irving from scoring. Those guys miss or they don't, and they usually don't.
Boston uses a switch scheme to slow down ball movement. The Nets rank ninth in the league in scoring against switching defenses despite all their absences. With Durant and Irving on the floor, their points per possession mark goes from .995 to 1.005 which would be fourth-best in the league.
The question of course is about their defense. The Nets have two approaches they can take defensively. First is a small-ball, switch-all option with Nic Claxton. Over the last 15 games, the Nets' defense posted a 105.2 Defensive Rating with Claxton on the court, and a 116.8 Defensive Rating with him off the court.
Their counter is their starting unit with Andre Drummond. That has a big advantage in this series with Robert Williams III out. Neither Al Horford, nor Daniel Theis can handle Drummond's size on the glass. Horford is still an elite defender, but he's just not as strong or spry as he once was.
A big factor in this is going to be Bruce Brown. Think of Brown as the Marcus Smart counter. He can switch against multiple defenders, he's great creating on the short roll if the Celtics double Irving or Durant, and he can attack and score on his own.
If the Celtics try and go super small, Brown next to Durant is an excellent frontcourt counter. If the Celtics go big, Brown can operate as a guard counter to Smart.
Durant's defense is going to be critical in this series. Jayson Tatum has a 44% eFG this season and 41% the last three seasons against Durant.
Meanwhile, Durant and Irving have to force double-teams vs. Boston. The Celtics are willing; they double-team isolations the fifth-most in the league. But when that happens, it opens up shots for Seth Curry, Brown, and Patty Mills on the perimeter.
If Mills and Curry are hitting that's going to swing the offensive edge big-time towards Brooklyn.
That said, the Nets take more mid-range shots than anything else, the third-most in the league: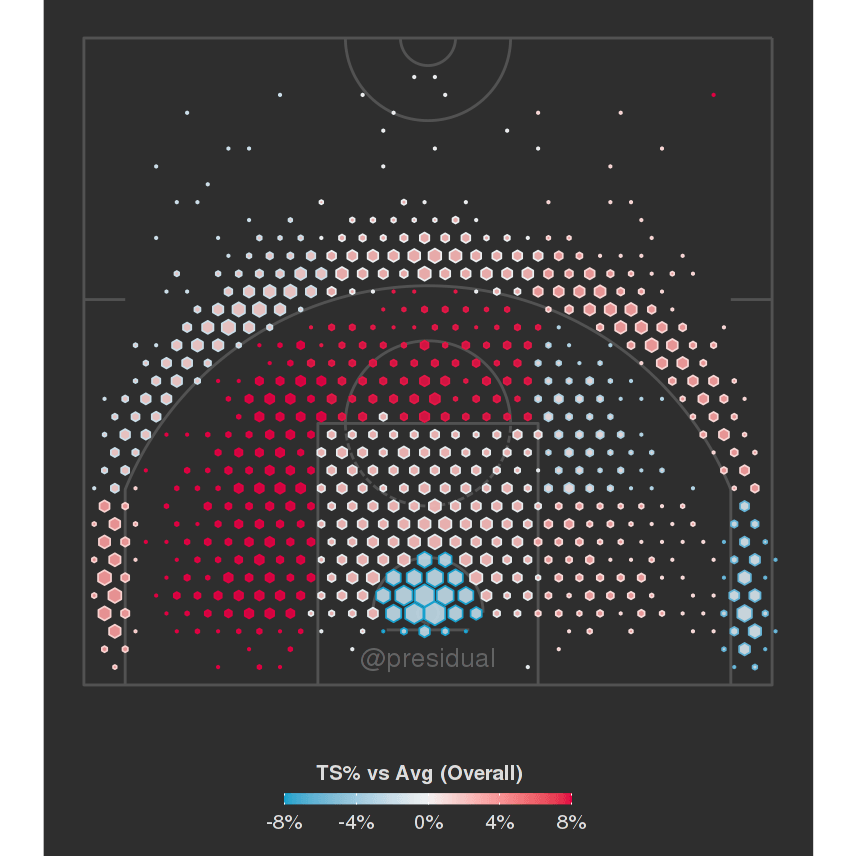 Boston holds opponents to the second-lowest percentage in the league. If you believe the Nets will hit because of their talent, Brooklyn has the edge. If you think the Celtics can disrupt them, you should like Boston.
---
How Will Boston Look Without Timelord?
With Williams likely out for the entire first round, Boston will have to play Al Horford and Daniel Theis in this matchup. Brown wasn't wrong when he said the Nets were excited to attack those matchups.
Bruce Brown: "Them not having Robert Williams is huge. Now we can attack Horford and Theis."

— Matt Brooks (@MattBrooksNBA) April 13, 2022
Horford has really struggled switching against Brooklyn this season. The Nets shot 70% eFG%, scoring 31 points on 25 possessions when Horford switched.
Horford is much better in drop coverage, but you can't give up that much space to Irving and Durant. So they'll either try and blitz the superstars at the level, which will make backside and at-rim containment more difficult, or switch it and live with it.
If you want to bet Celtics, you need to believe in the Celtics' offense. As I mentioned, Tatum has struggled against Durant this season and for his career even with that 54-point game back on March 6.
Something else notable from that big March 6 win for Boston: They were outscored per possession in pick-and-rolls, isolations, cuts, and post-ups. Boston was +5 in points off turnovers and +14 in transition. That was the game right there.
If Brooklyn gets back to cut off transition points, it could be a tough game. Boston's offense has been tremendous lately, but keeping up with Brooklyn is a challenge.
Nets-Celtics Pick
At the time of writing, the money and tickets are coming in on Brooklyn in the Action Network app, but we've tracked five sharp moves on Boston (you can see the sharp action, big money bets and pro systems for all of Sunday's games here).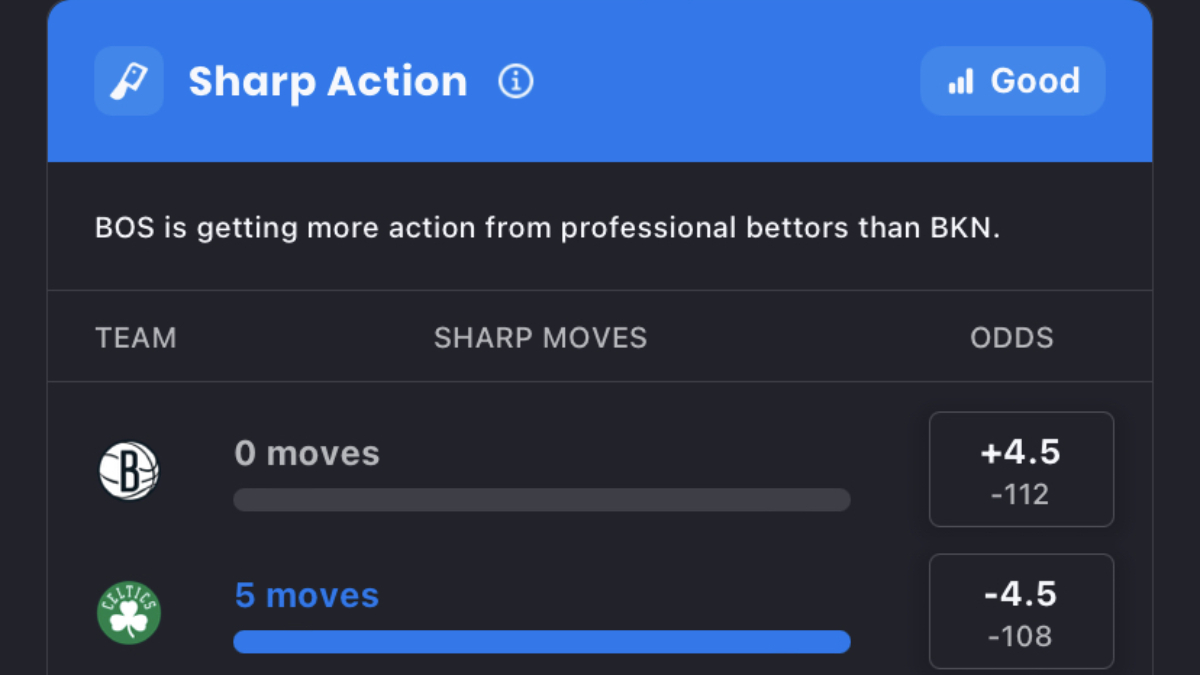 That makes me nervous, but I still like Brooklyn +4.5 here. The Celtics were 6-point favorites in the March 6 matchup, the Nets have figured out a lot about their rotation, and they only pushed that game thanks to the transition edge, when in the playoffs things slow down.
Williams is the big differentiator here. I think he's worth more to the spread, specifically against Brooklyn, than the line accounts for.
The Nets are 5-5 straight up and 6-4 this season with Durant as a dog. I like the Nets to 4. I don't have a lean on the total, but this trend stands out.
FRIENDS DON'T LET FRIENDS BET….
Series Game #1 of #NBAPlayoffs OVER THE TOTAL!!

Since 2015….
Series Game #1 of NBA playoffs now 60% to the UNDER

When the total is 217 or higher….
The O/U is 14-44-2 (76%) to the UNDER!! pic.twitter.com/RbQ36xxDSF

— Ralph Michaels (@CalSportsLV) April 15, 2022
I'll tail that trend here, especially in a switch-heavy, grind-it-out type game.
Pick: Nets +4.5 | Under 224