The NBA MVP race was thrown a huge wrench Saturday when the favorite (at some books) Kevin Durant suffered an injury that could shift the entire course of the race.
Durant suffered a sprained MCL Saturday night vs. the New Orleans Pelicans and will be re-evaluated in 4-6 weeks, per Adrian Wojnarowski.
Durant has missed five of the Nets' 41 games this season. To get a sense of how many games he's on track to play total, depending on his return date, Durant will finish with the following if he does not miss any more games after his return in March:
63 games if back in 4 weeks
60 games if back in 5 weeks
58 games if back in 6 weeks
55 games if back in 7 weeks
Now, that assumes he does not miss any more games after his return. The Nets have nine back-to-backs after the All-Star Game. Durant is likely to miss a significant chunk of those games, plus games at the end of the season based on the Nets resting before the playoffs.
The fewest games played by an MVP winner without a truncated season was 58 by Bill Walton in 1978, over 40 years ago.
Not only is there the question of how many Durant will play, but how many more the other candidates will play including Steph Curry, Giannis Antetokounmpo, and Nikola Jokic.
Plus, with James Harden surging and Kyrie Irving now back for road games, Durant faces the problem he faced last year with the idea of a super team taking the flourish off his profile.
As such, his MVP odds have dropped at PointsBet: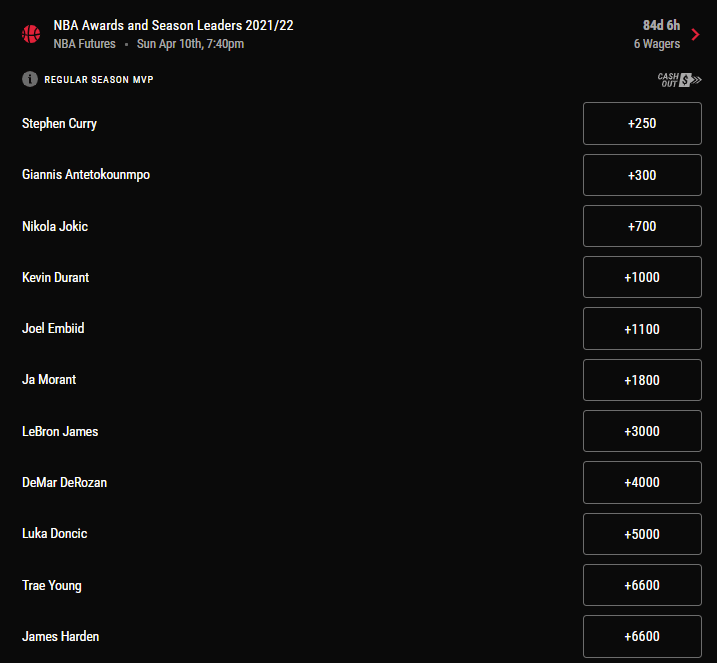 Curry's odds have dropped given that he's in a career-worst shooting slump and the Warriors have missed Draymond Green, losing five of their last 10. In an odd circumstance, this is honestly a buy-low spot for Curry.
Antetokounmpo is certainly the most interesting, now at 3-1. The Bucks are three games behind the Nets in the loss column for the 2-seed, and just four back of the Bulls who have been struggling and have lost Zach LaVine for a short period of time.
However, the Bucks have five losses to teams under. 500 this season, and are on pace for 10, the most they've had under Mike Budenholzer. More concerning, they are 12-13 vs. teams .500 or better, despite being 3-0 vs. the Warriors and Nets. If that trend holds, it will be the first time they're below .500 vs. teams .500 or better under Budenholzer.
All of the Big 4 (Antetokounmpo, Jrue Holiday, Brook Lopez, and Khris Middleton) have missed time, with no firm timetable on Lopez' return.
Will the Bucks win enough to get Giannis in position?
Then there's Jokic.
The reigning MVP is 7-1 despite leading the league in most advanced categories and the Nuggets being destroyers of worlds when he's on the court. So why is he this low?
The bench is an abject abomination and as a result with all the injuries they've suffered, Denver is floating around .500.
However … Jamal Murray is on track to return this season. Sources conflict on when that will be, with some indicating it's closer to March, and some maintaining that late February (post-All-Star) remains the most likely timeline.
When Murray gets back, Monte Morris returns to the bench, which will stabilize that unit. There's a slight (and I mean less than 10%) chance that Michael Porter Jr. returns this season late, which would help as well.
The Nuggets had the most brutal first half of the season schedule-wise, but guess what? Post All-Star they play 24 games (15 at home) with the easiest preseason SOS in the league per Positive Residual.
Jokic dominating in stats, dominating in advanced metrics, and then going on a win streak? Jokic has already gotten a lot of consideration this season despite the middling record. Jokic is live at 7-1.
Ja Morant is a sexy name, but bear in mind that there are a lot of reasons to believe the Grizzlies are due for some regression over the back half of the season. Morant's shooting has also regressed; after starting the season shooting 40% from 3, he's shooting 16% (!!!) from 3 since the new year.
If you want the longshot? It's Joel Embiid. Embiid is averaging 27-11-4, 48% from the field and 37% from 3. The Sixers are just two behind the Nets for the division and the 2-seed. They've won nine of their last 10 and are 13-4 vs. teams under .500. They're not great vs. the great teams, but that does not matter.
I would put LeBron James here, but until the Lakers show some sign of life you're not really buying low, you're throwing money in a pit.
If Durant returns early, he's still in a good spot to win. If you have a Durant position, you can hedge. If you're looking to bet Durant, wait to find out what his prognosis looks like. If it looks like he might return early, he's bettable.