When LeBron James signed with the Lakers, all 82 games of the regular season became instantly more interesting.
L.A. was already building something fun, coming off a nine-win improvement with a talented young core growing steadily, and cap space to add a max level talent.
LeBron, of course, is the max level talent.
The first time he'll wear the Purple and Gold in a game that matters is on Oct. 18 (at POR). The initial Lawrence Tanter announcement of his name at Staples Center in the regular season comes against Houston on Oct. 20. The four-time MVP returns to Cleveland on Nov. 21. The 14-time All-Star faces his NBA Finals nemeses of the last four years on Christmas Day. And so on, and so forth.
But how will LeBron's first Western Conference travel schedule impact him? How do this season's back to back games impact talented 20-year-olds Brandon Ingram and Lonzo Ball coming off their respective injury-plagued seasons? How much better will Kyle Kuzma and Josh Hart look through a full schedule with their rookie years behind them? What can Lance Stephenson and Michael Beasley offer on a given tail end of a B2B in January or February? How much will Rajon Rondo's intellect inform the young players about maximizing output for a full 82?
Below, we tried to answer those questions and more while turning the schedule upside down, pulling out the highlights and quirks to gain the best understanding we can:
THROWN RIGHT INTO THE FIRE
In the NBA, continuity is an underrated but essential part of success in most cases. That starts with the roster, but also goes to the coaching staff and front office. In the case of the Lakers, they've established the latter two quite well in the last two seasons, but the roster has turned over considerably, including the addition of four veteran free agents and three rookies for the coming season.
It can take some time for all those new players to figure out how to play with the holdovers, and having a softer schedule early in the season can mitigate that, as it did last year when the Lakers didn't face six of the top seven teams in the league until after Nov. 27.
This year, however, affords no such luxury. Of L.A.'s first 11 games, eight are against playoff teams, including seven from the West (plus East No. 1 seed Toronto). One of the other three is 46-win Denver. The schedule does soften up from Nov. 10-30, however, with six of 11 games against non-playoff teams.
PAW PATROL BATTLES
The Lakers have some young pups* on the squad that essentially have to be good for the team to accomplish its goals. Two of them have yet to turn 21, but will shortly, with Brandon Ingram's birthday on Sept. 2 and Lonzo Ball's coming Oct. 27. They're joined by second-year standout 23-year-olds Kyle Kuzma (All Rookie First Team) and Josh Hart (Summer League MVP), plus could-earn-more-minutes-than-you-think 21-year-old Ivica Zubac and fellow 21-year-old rookies Moe Wagner and Svi Mykhailiuk (2nd Team all Summer League) to make up one of the NBA's most robust young cores.
*If you don't know what Paw Patrol is, you probably don't have kids. Lonzo and his girlfriend just had a baby girl a few weeks ago, so he'll know about Paw Patrol soon.
Ultimately, whether or not they're good against young players or vets doesn't matter … they just need to be good, period. But it's always fun to compare the young guys.
First comes an Oct. 24 date at Phoenix, where uber-talented scorer Devin Booker is joined by last year's No. 4 overall pick Josh Jackson, and this year's No. 1, DeAndre Ayton.
The next night, L.A. draws 23-year-old offensive star Nikola Jokic, 23-year-old two-way player Gary Harris and 21-year-old Jamal Murray in Denver*. Three days later, they're at Minnesota to go against the No. 1 overall picks from 2014 (Andrew Wiggins) and 2015 (Karl Anthony Towns), still just 23 and 22, respectively.
*No. 14 pick Michael Porter, Jr. is injured.
The Lakers won't see the two best youth-infused Eastern teams, Philly and Boston, until Jan. 29 (vs. PHI) and Feb. 8 (at BOS).
When discussing all of the elite young guys around the NBA, don't forget about Ball and Ingram just because they got hurt at the end of 2017-18. Ingram's February (18.6 points, 5.6 assists, 5.5 rebounds on 54.5 percent FG's and 52.2 percent threes) and the fact that Ball basically duplicated Jason Kidd's rookie-year number while leading the Lakers in net rating shouldn't be forgotten.
By the way … when Ingram and Ball both played for the Lakers – something that didn't happen nearly enough due to all the games missed to injury – they went 3-4 in October, 5-9 in November and 3-6 in December. After Jan. 1, however, L.A. was 8-1 in the nine games both No. 2 picks played. That's a total of 19-20 overall. And, in case you missed it, 8-1 in 2018. That's a small sample size, sure, but pretty interesting nonetheless.
LEAVING ON A (DELTA) JET PLANE
The Lakers are again set to be amongst the biggest consumers of airplane fuel in the NBA, to the tune of 53,455 miles to be flown.
That's a tad over last year's total of 53,090, and way up from the 2015-16 season that saw just 44,992 miles covered. Why? The cut down on B2B's, which for a team on the coast means a few extra trips to the Midwest and longer stays on the opposite side of the country. In the past, L.A. may have seen the game against Utah on Jan. 11 as part of a B2B with OKC (Jan. 17), but these days, the Lakers will fly to Utah just for one game, them come back to play Cleveland (Jan. 13) and Chicago (Jan. 15) at home before the OKC trip.
While the Lakers are used to this type of travel, LeBron is not. He's been in the Eastern Conference* for 15 years. Because of basic geography, when he was in Cleveland (11 years), the travel was among the lightest in the NBA, since so many Eastern opponents were very close, and yet Western opponents were fewer miles away than for the bulk of East teams.
*Phil Jackson often talked about the advantage his Chicago teams had with the schedule, since there was no flight much more than three hours away. Just over an hour in the air from the Windy City, Cleveland is in that conversation.
It would have been rare for LeBron to have flown the type of distance the Lakers will when they head from LAX to Minnesota on Jan. 6, then fly all the way south to Dallas for a Jan. 7 B2B, only to return to Los Angeles early on the morning of the 8th (likely arrival time: 2:00 a.m.). Then they play Detroit on the 9th, and leave for Utah on the 10th.
On the other hand, Miami (four years for LeBron) travels the farthest of any Eastern squad, and is on par with the more Midwestern Western franchises, so it's not that different. Especially on the fully catered, spacious Delta charter planes. And … well … he's LeBron James. I wouldn't bet on a few extra miles in the air impacting the NBA's best player.
ROTATION AND THE BEASLEY/LANCE GAME
When L.A. signed Michael Beasley and Lance Stephenson in July, I was playing out some scenarios about the rotation, and what it would take for either to earn a solidified spot. Because at first glance, you could make this depth chart:
PG: Lonzo Ball, Rajon Rondo, Alex Caruso (two-way), Issac Bonga
SG: Kentavious Caldwell-Pope, Josh Hart
SF: Brandon Ingram, Lance Stephenson, Svi Mykhailiuk
PF: LeBron James, Kyle Kuzma, Michael Beasley, Luol Deng, Travis Wear (two-way)
C: JaVale McGee, Ivica Zubac, Moe Wagner
Obvious disclaimer: My version here is irrelevant to what Luke Walton – who will know best especially after training camp – decides to start with, and that first version will of course change several times. Plus, many of L.A.'s players, in part by design of Magic Johnson, Rob Pelinka and Walton, are interchangeable at several positions in a league that's going more and more positionless.
Alas … Hart was so good at the end of his rookie year and especially in Vegas that he could be fighting for a starting (and finishing) spot, and if not, take the bulk of the minutes at either the backup two or the three. Meanwhile, Kuzma – who it's hard to see spending too much time off the court – will be playing both the three and the four off the bench assuming Ingram starts next to LeBron. In other words, it may be an uphill climb for Stephenson and Beasley to get the type of significant minutes it appears Rondo would get as the backup (or starting, depending on how Lonzo returns from his knee scope and how the positional battle plays out) point guard.
But here's where we get to the title of this section. Say L.A. is at Memphis (Dec. 8) after two straight games against San Antonio (Dec. 5 and 7), on the second night of a B2B, and the squad is weary. Perhaps that's a good time for Walton to look down his bench, call Beasley's name, and get 15 quick points from the efficient scorer (13 points on 51 percent FG's last year in 22 minutes per game) that his assistant Jesse Mermuys called "one of the hardest guys to guard in the NBA" to flip the game? Or how about March 15 in Detroit, the third game in four nights, all away to Eastern teams (starting at CHI and at TOR), with two more road games to follow (NYK, MIL). Maybe that's a good time for extended run for energizer bunny Lance, who in Mermuys's words makes opposing coaches "fearful" because "you know he's going to bring it."
SCHEDULE QUIRKS
Here's a look into the nitty gritty of the 2018-19 schedule:
For the second straight season, the Lakers play 13 back to backs. A few teams play only 12, while some play 16. The average is 13.9, down from 14.4 last season.
Of those 13 B2B's, two include no travel, as one features IND/DAL (Nov. 29 and 30) and the other GSW at home and LAC on the "road." League average is at 2.3. L.A. also have four B2B's of over 750 miles of travel.
L.A. are going to be less "Fresh" than last season by five full days. The NBA defines "Fresh" as an opponent playing the night before and your being off, and it's eight fresh games this year compared to 13 last year.
The longest road trip has L.A. gone from Jan. 31 to Feb. 12, a total of 13 days and six games without a single B2B. Though in reality, the first game is "at" the Clippers, so it's more like a five-game, 12-day trip. Still, that's longer than last season's biggest trek (five games, 10 days).
The most lengthy Staples stretch is nine days and four games from Jan. 21-29.
L.A. have 10 home games on Sunday, eight apiece on Wednesday and Friday, five on Thursday, four each on Monday and Tuesday, and two on Saturday.
Meanwhile, the Purple and Gold play on 10 road Saturdays, several of which are in accommodation of the ABC national TV schedule.
L.A. only go to Dallas and Denver one time, and host Oklahoma City and Memphis once apiece. Each Western team plays four teams within conference three times, 10 teams four times, and squads in the opposing conference twice.
MYCHAL'S SEAT MAP
He's a champion. His son is a champion. Mychal Thompson has accomplished a lot in his life, but the No. 1 concern for our favorite Lakers radio analyst and former Showtime Laker heading into the 2018-19 campaign is simple:
That's right. Now, plane seats are generally similar from year to year, with the players in the very front, the coaches in one middle section, the training staff/strength staff/equipment staff/PR in the other middle section, and the rest of us (broadcast crews/Lakers Digital/travel operations in the back. But things evolve, and spots can get added to the travel party, which had Mychal pondering.
In fact, he'd been thinking so much about this of late, he sent me a very specific text on the topic:
"Hereby noted: At 6'9", I am the BIGGEST member of the traveling staff...Ergo I am in need of MUCH more room than the rest of the traveling staff who AVERAGE a height of 5'9"...Therefore and Foreseen, I am in need of a complete row of seats for my legs...Chips...and other "supplies" I bring on board that shall remain nameless!"
In other words, MT would very much prefer not to have a seat mate.
Mychal was famously (if facetiously) annoyed when none other than Kobe Bryant happened to hop on the media bus during No. 8/24's final season. Since Thompson sits in the front row, Kobe nodded in MT's direction to scoot over upon boarding. Most would have been elated and said, "Right away!" … Mychal went for the "Who, me?" routine before reluctantly schooching. Kobe laughed. We all laughed. Good times!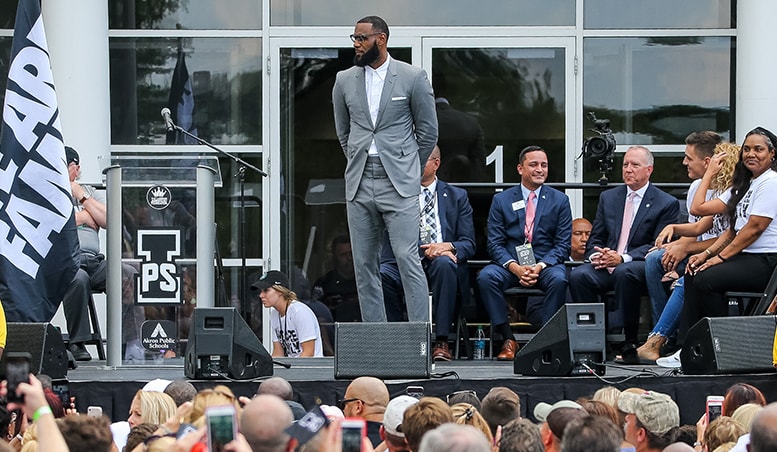 I PROMISE
During LeBron's speech to the students of his amazing new I Promise School in his hometown of Akron, Ohio, he mentioned how bittersweet it was to open the school, on one hand, and on the other, be leaving to go play in Los Angeles. James shared that he'd love to be at the school every day to watch over the kids.
So, it's not every day, but L.A. does have two full days off ahead of its lone trip to Cleveland (Nov. 21), after a Nov. 18 date in Miami. That's as long a time in between road games as you'll ever get in the NBA, and in this case, the assist from the schedule makers affords LeBron some much deserved time to spend with the kids for whom he has so amazingly provided.
INSIDE THE SPECTRUM STUDIO
While the traveling party is on the road covering a game, the Spectrum TV crew is back in El Segundo making magic happen in the studio. We enlisted the Captain of that team, beloved studio host (since the network launched in 2012) Chris "Geeter" McGee:
On what's it like for him and the studio crew when the Lakers are gone for 12 days, compared to having the team in town for four straight games:
Geeter: To be honest with you it's not that much different in terms of prep or show style, but the adjustment comes with getting there earlier especially when the team is on the East Coast. We have to fire up a little more because a pregame show at 3 p.m. does not always have the same natural energy as a night game at Staples. In terms of prep for me this is a little difference: when the team is at home we get to go to practice, see the players and coaches and beat writers and you are a little more dialed in. When team is on the road for a while I definitely have to read more and follow what's going on. It's just easier when Lakers are home, it feels more normal and connected.
On how he keeps Big Game James Worthy happy after losses, especially if one comes against Boston:
Geeter: James loves Big Games, hence the nickname, but Boston is the biggest. Obviously when you are playing the Warriors or the league's elite then the juices flow. But all we have to do is show a clip of the Showtime Lakers and Celtics and he seems to perk right up and it all comes back to him. It's funny, we both hate losing, he thinks I am way more emotional than him, and he is right ... but when the losses mount up like a few years ago, and the team was getting rolled, he took it hard. Last year was our most enjoyable, we genuinely both loved the team and the guys and believed in them. We saw the actual growth, we saw them never lay down and always compete. But we know each other well, so we know when the other is feeling it and not happy and we feed off that and help each other out.
On working with various analysts:
Geeter: I can honestly say I like everyone we bring in. Fish, Rob, Caron, Twan, AC, Coop* … Every guy has been amazing and cool and engaging. I have a friendship with all of them, and as a lifelong Laker fan that is a pretty cool thing. Some fans, only a few, don't know how good they have it that they get such a great collection of past Laker players that are a part of the shows. No other team in any sport can say that. Trust me, go watch a pregame show for any team and find me a franchise that can run those kinds of guys out for two-and-a-half live hours of game night coverage.
*Derek Fisher, Robert Horry, Caron Butler, Antawn Jamison, A.C. Green and Michael Cooper.
TOP FIVE UNDER THE RADAR GAMES
We know about the headliners, like the home opener against Houston, LeBron's return to Cleveland or the Christmas Day game at Golden State. Here are a few you may not have been thinking about:
1) Dec. 21 vs. NOP: The first time Rajon Rondo sees former teammate Anthony Davis since they helped the Pelicans sweep Portland in Round 1, and of course, Julius Randle's return to Los Angeles.
2) Dec. 28 vs. LAC: Lou Williams recently told TMZ that "Record wise the Clippers are still the team to beat (in L.A.). The Lakers ain't beat us since I've been on the Clippers, so yeah, we are the better team in L.A. until they prove different." Technically, the Lakers did beat the Clippers in the season finale last year, though Williams didn't play.
3) Jan. 2 vs. OKC: This is the only time Russell Westbrook and Paul George come to Staples Center.
4) March 17 at New York: Sure, the Knicks aren't supposed to be good this year coming off a 29-53 season. But have you seen LeBron play at Madison Square Garden? Get your iPhone cameras ready.
5) March 19 at Milwaukee: the best player in the East for the last 15 years* faces one of the primary candidates to replace him, Giannis Antetokounmpo.
*LeBron made All-NBA Second Team in his second year, when the only Eastern player on the First Team was Allen Iverson. He moved up to First Team in 2005-06.