Shortly after the Lakers season ended last April, rookie wing Brandon Ingram took his mom, dad, grandmother and sister on a vacation to the Bahamas.
It was a special trip, a way for Ingram to say thanks to his family. You see, Ingram grew up in the projects of Kinston, N.C., and watched his parents work their butts off to support him and his siblings. His dad worked crazy hours at two jobs, a forklift plant and a gym, and his mom in pharmaceutical medicine fulfilling prescriptions for older sick people, also working constantly.
Though he just turned 20, Ingram has already been able to buy his parents a new house, and take them on trips that would have been hard to envision years ago.
But if you know Ingram, you won't be surprised to hear that he wasn't just enjoying the sun or the ocean on the trip. Basketball is always top of mind, and he took his trainer with him. After all, Ingram wasn't trying to miss a day in which he could get stronger and better.
Ingram takes no shortcuts with his profession. He has a clear, single-minded focus on improving.
"After the season was over, I was locked in, especially mentally, focused on what I needed to get better at," he told us at the UCLA Health Training Center on Monday. "Focused on what I knew I could do and how I could insert it into a game. After a while, I just gained comfortability and confidence and everything got better."
Upon his return to L.A., the No. 2 overall pick in 2016 was and continues to be a daily fixture at the team's practice facility. His coaches have been outwardly pleased with what appears to be significant progress made.
"The most important thing is, he has the right mentality and he's going to get there eventually because he's going to put the time in," said Lakers assistant coach Brian Keefe, who's been working with Ingram since he since he was drafted. "All of us have great confidence in Brandon, because he puts in a lot of time and he's really invested into himself and what we're doing here. He cares about the game. He does the right things to turn himself into a really good player."
Ingram backed up similar praise from others around the team by showing progress in Las Vegas, scoring 26 points on 9 of 17 FG's plus three assists and three steals in his lone appearance. That continued a progression from the tail end of his rookie year:
Pre All-Star Break: 27.7 mpg; 8.0 ppg; 36.3% FG's' 30.4% 3's; 4.1 rpg; 1.9 apg; 0.4 spgPost All-Star Break: 32.1 mpg; 13.2 ppg; 47.5% FG's; 26.9% 3's; 3.9 rpg; 2.5 apg; 1.1 spg
While that 11.2% jump in shooting percentage stands out the most, Ingram knew he had a lot of work to do on his shot, and that's been a centerpiece of his offseason program.
We sat down with both Ingram and Keefe to delve into the specifics of his offseason program, and to try gauge just how much he may have improved already.
THE SHOT
MT: Around the All-Star break last year, I asked Lakers coach Luke Walton how he felt about Ingram's progression. The answer: Ingram had a very high floor because his versatility and all-around skills plus his elite length; but the difference as to whether he'd be a good player, or a potentially a great player, would come down to his shot. Think of someone like Kawhi Leonard, and how much things opened up offensively once he started consistently hitting his J, particularly from 3-point range. Ingram is well aware.
INGRAM: For me it was the mechanics of the shot. Coach Keefe and I did a good job of just trying to come here every day and work. We started out with form shooting. Trying to keep myself from shooting over my head. Trying to find different ways that I feel comfortable shooting the basketball the right way. That was the first thing. The second thing was to get my body right. Of course, repetitions of everything I'd do in the game, but getting my body right in the weight room. Trying to eat a little bit better and eat a little bit more.
KEEFE: One of the goals going into the offseason with Brandon was to make his shot more efficient. Clean up a couple little things technically with his shot. He has good touch, but it was just making him more consistent and focusing on one or two things. One, his footwork, making sure he was on better balance. Brandon has bought into (the work on the shot). That was him wanting to get better at. We talked about it, but you have to have that buy in, and he wanted to get better and has put a ton of time into it this summer. Now he's going to get the opportunity to transfer it to games. But that's a hard thing to do, to change your shot a little bit. The fact that he wanted to do that, had the patience to do that and the mind set to grind through that in the summer? Unbelievable.
RELEASE POINT
INGRAM: I was shooting over my head. With my long arms, it was like a slingshot. Coming from college to the NBA, I was only about 180 pounds, so I was trying to push the ball to the rim from the 3-point line. I think I've gotten strong enough now where I feel comfortable shooting the ball from the 3-point line now. As I keep getting stronger, it's going to be natural.
KEEFE: (We focused on) his hand placement on the ball and where his guide hand was. He has very long arms, so making his shot a little bit tighter and more compact, because when you have long arms more mistakes can be made. Shooting more one-handed and getting his left hand off the ball, specifically.
TRANSITION TO GAMES
MT: Of course, it's great to develop one's shot in the offseason, but the true test will come during actual NBA games.
INGRAM: Actually, I think I've made a big jump. I feel way more comfortable shooting the basketball, especially shooting the right way. We've worked on it and worked on it, and we started playing a little bit. We tried to see how I felt playing in games. It felt good at first but I wasn't making a lot of shots. But I kept playing, and it's been falling. Kept getting more comfortable, more confident. I'm feeling better from the 3-point line. Especially today, with Kyle Kuzma guarding me, I felt great (laughs).
KEEFE: That's part of the learning curve. You have to get comfortable with the technique, and make the transfer to the game. You're probably going to regress a little bit to what you used to do. That's pretty normal. I think he's made those changes, but that takes time. There's some patience (required). We play a game, it's not 1-on-0, it's 5-on-5. But I think he's on the right path.
WHAT TO TAKE FROM KEVIN DURANT
MT: Just like Ingram, Kevin Durant was a tall, skinny 19-year-old who starred for a year in college before being drafted No. 2 overall (Seattle, 2007). There are also plenty of differences, perhaps most notably Durant's superiority as a pure scorer (25.8 ppg at Texas to Ingram's 17.3). But there's another natural link between the two: Brian Keefe. A former captain of UC Irvine's hoops team, Keefe was an assistant coach in Seattle and in Oklahoma City, spending the first seven years of KD's career working directly with the most recent NBA Finals MVP. With most NBA teams, assistant coaches are assigned to do work with a few selected players for various reasons, and Keefe's experience with Durant wasn't lost upon the Lakers when pairing him up with Ingram.
KEEFE: They have very similar bodies; both were very thin when they first started. But I think (their tie) is the work ethic and the amount of time you have to put into it. Obviously Kevin is a great player, but he worked really hard and was really consistent with that. His mentality about trying to improve on a daily basis was something you can learn and take to any guy. Brandon has a similar body type, so those experiences were helpful. Just saying, 'Hey this is someone who was similar to you that you can pattern to a degree,' is one thing, but you have to be your own person. The habits are probably the most important thing.
SPEAKING OF DURANT…
MT: Durant is one of the best shooters in the NBA, from all over the court. Period. As a 28-year-old last season, Durant shot 53.7 percent overall and 37.5 percent from three. But maybe we've forgotten that he struggled quite a bit as a rookie from the field. He was on a super young Sonics team and took a lot of tough shots in his 34.5 mpg, and was still developing physically. Keefe remembered.
KEEFE: Kevin shot 29 percent from three as a rookie. He didn't really shoot that well. He scored a lot, but he shot low 40's (43.0 percent overall). Now, he got to 40 because he started shooting well at the end of the year. And he made a huge jump his next year.
MT: In fact, Durant jumped all the way up to 47.6 percent from the field in his second year, including 42.2 percent from three. That big leap helped his scoring average go from 20.3 ppg to 25.3 ppg, as did nearly five additional minutes of PT (39.0 per game). It's uncommon for most players to make such a jump in one year, but Ingram's in-season improvement last year and progress this summer allows for some optimism.
KEEFE: Brandon really got better as the season went on. You saw after the All-Star break he made a huge jump. I think it was all the work that he put in, and once he got comfortable and started becoming more confident about what he could do, he made a huge jump.
OVERALL IMPROVEMENT
MT: Of course, Ingram's shot isn't the only thing he's been working on. He wants to develop his complete game, and for somebody that was asked to play four different positions during his rookie year, there is plenty of room to grow in various areas.
INGRAM: This past year I didn't feel like I ever got into a groove where I just felt comfortable every single game and was playing like myself. I got a chance to reflect on (the season), to see where I could get better, have a better mentality and gain confidence. I went into the game (at Summer League) and it all felt natural. I felt like myself again. I felt like I was just playing regular basketball. Now I feel even better. Better conditioned, stronger. We've been putting in so much work in the weight room. The skill work we've been doing every single day … working on offense and defense. Especially with my improved conditioning, I think with my point guard Lonzo Ball kicking the ball ahead and the way we want to play fast … the sky is the limit.
KEEFE: We want to develop his whole game. The mentality of being aggressive, when to pick his spots, when to attack, reading the game … he's just become more and more comfortable with all those things. The ability to finish at the rim, play with more strength – obviously he's spent a lot of time in the weight room. But I think he's grown a step or two since the Summer League, and now he's going to get the opportunity to really show it on the court.
PLAYING WITH LONZO
MT: Ingram couldn't have been much more complimentary about fellow No. 2 overall pick Lonzo Ball. They've been playing 5-on-5 together at the UCLA Health Training Center, growing more comfortable by the day. Ingram said they already know how they want to play in transition, flying up and down the court and putting pressure on the defense. The half court is a work in progress that's going to take more time. As for Lonzo personally?
INGRAM: You love everything on the court about him. The way he passes the basketball. His demeanor. The way he works. But I think the thing about him is his attitude and his character. The way he passes the basketball like no one else … but he's different. He's always joking. Just a great guy, someone you want to play with. You can go around with a guy of his caliber, the way he plays, he could be cocky … but I don't see anything cocky. He's humble. He comes in here early and works every day. He's just him, he doesn't want to be anybody else.
GETTING STRONGER
MT: Earlier, we touched on how much work Ingram's doing in the weight room. He had some more to offer:
INGRAM: I've also been doing a lot of workouts even when I'm away from (Lakers strength and conditioning coach) Gunnar Peterson, with my own guy. I want to keep building muscle in certain areas. When I'm here, I'm doing more strength things related to the court. Working on my first step, getting (more explosive) … things that translate to the court. For me, it's just getting the work in.
MT: His jab step looked powerful in Vegas, and he was much more explosive off the dribble than he was during the regular season, which resulted in the Clippers having to foul him repeatedly.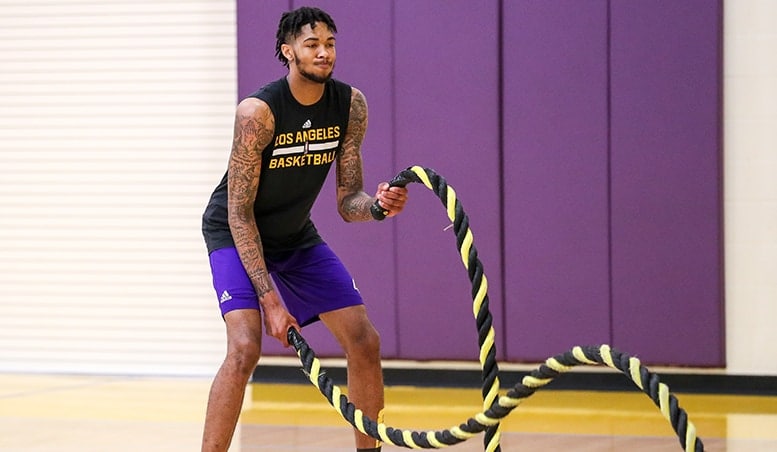 INGRAM: I think I've gotten more explosive. The thing for me is just trying to stay low. With me being at the guard or small forward position, trying to stay low helps me a lot in beating guys. I know I have the length over a lot of guys that guard me, so just trying to stay low. When I get that strength even more, it'll help me take the hits even better.
IS INGRAM STILL GROWING?
MT: On my 710 ESPN radio show with Mychal Thompson, we were discussing how Ingram looked taller than the 6'9'' that he's listed at. Thompson is himself 6'9'', and says he felt like he was looking up at the 20-year-old. I speculated that maybe Ingram gained an inch or two, but the Lakers maintain his current listing at 6'9''. Here's how Ingram answered my question about him gaining either weight or height:
INGRAM: I'm not sure. We actually haven't done any of that. When I came back from my little break, a lot of people were saying I gained a little bit of weight, but I'm not sure.
KEEFE: He looks bigger. He looks stronger. He feels stronger, he plays stronger. And height? I wouldn't be surprised. It's possible.
MAGIC'S GUY?
MT: Earlier this summer, before the Draft and free agency began, Magic Johnson went on ESPN Radio in Los Angeles and basically said that Ingram was untouchable. Teams had inquired about him, but the Lakers had no plans of including him in any trade talks. I wondered if that would make Ingram feel more secure in his standing with the team, but he had a different perspective.
INGRAM: When you really think about it, it shouldn't make you comfortable at all. It should make you work even harder. It's not a burden, but he put it on you, so you feel like you want to go even harder to show that this is the reason why he said this. For me, my own expectations are higher than what anybody else can say. But Magic sits on that sideline every single day and gives advice to each and every guy whether they're playing or not. It's special to see him giving pointers whether it's defense, offense, on the court, off the court. It's going to help us.