The top two picks of this year's draft have formed a close friendship since spending weeks working out together leading up to the night thad decided their NBA destinations.
Though they have gone head-to-head since high school, Friday night's Rising Stars Challenge will be the first time that the duo actually gets to suit up for the same team.
"We've never played with each other actually," Towns said at the U.S. Team's Rising Stars practice. "In pre-draft (workouts), he was on one team and I was on another team. So this is the first time. It's really cool."
Russell and Towns have met on the floor three times this season, with the latter averaging a head-turning 18.0 points, 12.0 rebounds and 60.5 field goal percentage against his friend.
While the Timberwolves rallied for an Opening Night victory and then pulled out an overtime win against Los Angeles on Dec. 9, Russell finally got some payback when the Lakers outlasted Minnesota on Feb. 2.
"I had my chance and he had his chance," Towns said. "This is fun. It's awesome. When you have the chance to go against a brother of yours on the court, you're always looking at each other like: If you score, we're looking at each other. If I score, I'm looking at him.'"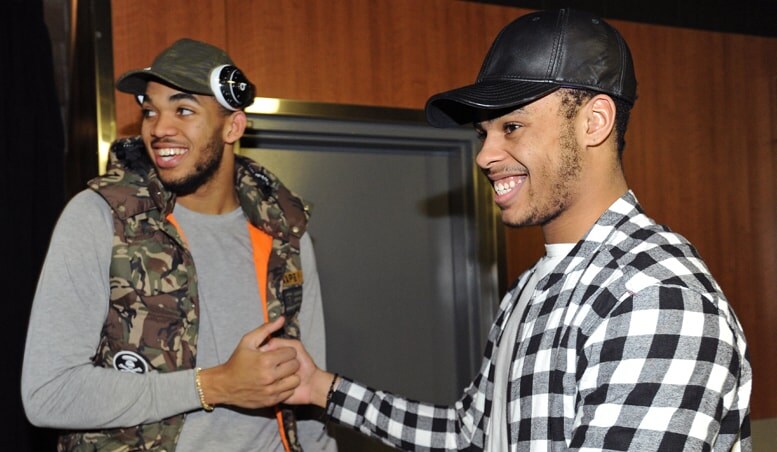 There was plenty of exchanging glances during that December matchup, as Russell scored 23 points — despite only having two at halftime — while Towns went off for 26 points and 14 boards.
Duels like that have continued to increase the mutual respect between the first-year pros.
Each considers the other like a brother and envisions longterm success for his counterpart. Russell even campaigned Towns for Rookie of the Year on Feb. 1, saying he "really deserves it."
Meanwhile, his Rising Stars teammate predicts even larger honors for the 19-year-old Laker.
"He's playing at a higher level right now," Towns said. "He's playing so smart. He's hitting a lot of shots. He's doing a great job. He's growing into a player that I can't wait to see when he's an All-Star."