After 20 years as a professional player abroad and in the CBA and two seasons on staff with the Los Angeles D-Fenders, Larry Lewis was named as a player development coach for the Lakers on coach Mike D'Antoni's staff.
"Larry has proven to be a natural at helping develop players for the D-Fenders since transitioning from nearly two decades of playing abroad and in the CBA," said D'Antoni. "We expect that he will make a great player development coach at the NBA level as well."
Lewis played a key role as the D-Fenders posted the best regular season record (38-12) in NBA D-League history in 2011-12, helping to develop eight NBA Call-Ups plus six players on assignment with the senior squad. He served as an assistant coach last season, and boasts a terrific overall understanding of basketball built up over years and years in the gym.
Lakers.com sat down with Lewis to break down his new role with the Lakers:
MT: How did you first become involved with the organization, and how did that grow into your current position?
Lewis: I played for (2011-12 D-Fenders coach) Eric Musselman in the USBL and the CBA. After my last of nearly 20 seasons as a player, I told Eric I was interested in working for him, and he made a player development spot open. We had a phenomenal season, and then I was made an assistant under (2012-13 D-Fenders coach) Reggie Theus last year, which led to this position on Mike D'Antoni's staff. It's an awesome opportunity, I think. I'm very grateful for it, and appreciative at the same time. The work just gets more involved, more intense, deeper and better. Every day, there's something that we can all learn.
MT: You've played basketball all over the world, observing a plethora of skill sets and systems. What's the first priority for you in trying to develop players?
Lewis: Of course I have my own ideas, but my ideas have to be secondary. I have to first learn the mission of upper management, what Mike D'Antoni wants to accomplish. That's the top priority and objective that I have to buy into. Once I learn that, now I'm a part of the team. But I can't come into a situation like this and have my own ideas and try to implement them. I have to implement their ideas into what I'm trying to do.
MT: How does that process go from you talking to D'Antoni and his staff, and implementing things for the players to work on?
Lewis: You have to study, previously, what's going on in that system and how certain players get theirs in that system. Mike's been running this system for a while now, and you can go back and look at how players got their shots, for example, in Phoenix or New York, or in certain actions last season in L.A.
MT: So you can pull up Joe Johnson or Raja Bell film from the Suns to see where they got their three-point looks, and use that to inform Nick Young or Wesley Johnson?
Lewis: Exactly. That type of preparation has to happen first so that when we get on the court with a player, we have a clear understanding of the system and the language of that system.
MT: Have you and your fellow player development coach, Mark Madsen, had a chance to get a jump on the system? What's it like working together?
Lewis: Mark and I communicate about whatever we're thinking constantly, and we've had a chance to really bounce ideas off each other and how to better understand the system for the last several weeks, especially in Las Vegas (for Summer League).
Working with Mark is like working with a very positive teammate that's not a "Yes" man. He's very interested in what you're thinking, but knows he doesn't have to go along with it or agree with it. That's probably one of the greater balances of any relationship. Also, he seems very even. A very balanced human being. I find it very comforting that he's as humble and engaging as he is despite being a world champion.
MT: How do you understand D'Antoni's system in the simplest of terms?
Lewis: Spots. There are spots on the court that guys have to get to, especially in the beginning of each possession. And then, players sometimes have a habit of creeping out of spots – there's a time to do that, and a time not to. There are rules in this system, and I'd like to commend Mike on it, because once people start to copy what you're doing and have success at it, I think it speaks volumes about your approach to the sport and where basketball has evolved to today. Here's another thing: it's a system where each player is sort of demanded to know everyone's spot. That's the interesting thing about it. It flows, evolves and lives.
MT: Once that baseline is established, what can you specifically help guys with?
Lewis: To trim down. You can talk about crossover dribbles and all of that, but you'd better have a pretty good reason if you're going to do that. In this system, there isn't a lot of room for four or five dribbles to get to a move. If you don't have the shot or a quick path to the lane, you'd better find someone that does. What I learned from playing overseas, where there is no illegal defense, is that you have to make your move and get your shot off immediately. Trim down. You're trimming down the time that the help defense can get to you, and the time it takes to get to your shot. We work a lot on how to get to a shot, and to give the close out defense less time to get to you or to adjust to what you're doing. Mike D'Antoni played in Italy for years, and understands this better than most. You just don't have the leeway to play with the ball, because you may have a seven-footer just staying in the paint all night long without the illegal defense.
You can train a guy to play 1-on-1 in player development, of course, but in this system, I don't know how conducive that would be. You really want the players to buy into the system at hand here.
MT: OK, looking at the personnel, if you plug Pau Gasol into the center slot, that leaves some minutes at the four for Chris Kaman and Jordan Hill. Do you then work more on face up jumpers to try and better spread the floor than perhaps in other systems, even if – for Hill especially – that's not yet a major strength?
Lewis: All of those players are skilled enough to score in spots the system allows for them to score in. I don't think anything needs to be tweaked, as much as (the system needs to be learned). See, last year, Mike didn't have a training camp, and (Steve) Nash and (Steve) Blake weren't there, so that affects all the players. Those big men you mentioned are smart players, so I think they will all figure it out.
MT: What does a healthy Nash, even at his age, do for the implementation of the system?
Lewis: Steve Nash by himself demands a lot of intellect. The way he plays, with so much intelligence, makes everyone around him better. That's another reason why I see the players on the team doing pretty well this season. He's played with players who are not Kobe Bryant, and made them look good by himself.
MT: Bryant is clearly an NBA exception, a guy who is already terrific at almost every basketball skill, and who knows every system. How different is a player development coach's approach to him?
Lewis: First of all, I wouldn't approach Kobe in any way like I would anyone else. I always hear how talented he is, how skillful he is, and he is all of those things to a level that none of us have seen before. But I rarely hear people talk about how smart Kobe is. He is a genius when it comes to this sport. He has the talent and skill, sure, but at his age, for him to do what he's done and maintain his body, he's had to be so smart off the court. The level of intelligence in your approach to do that is another hemisphere, and I hear that discussed less. But to answer your question, my approach to working with him would be to recognize that he already has the blueprint spiritually and mentally, and what we see on the court is the last part. So, I'd ask what would he want to accomplish on that day or night, and then aid him. He's already figured out how to span the globe and conquer it in basketball. There are always ways to improve, and to maintain, so I'd concentrate on having no drop off. And it's a different season with Kobe coming back from the Achilles injury that a lot of people have had a hard time with … but Kobe Bryant is not those people. Kobe's mental world allows him to overcome things that people wouldn't even think of.
I also think his work ethic is unmatched. He's being the best Kobe Bryant that he can be, even for him, and he'll keep pushing his level as high as it can go.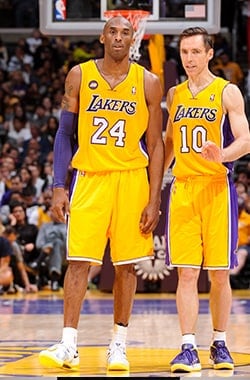 MT: You certainly have to look at him in a unique way physically and mentally in returning from an injury. Not a normal dude. Now, this may be a question for Mike D'Antoni, but how do you get a guy like Kobe to just go to a spot, if that's what's needed at times? How does his game align with the system?
Lewis: Kobe's different in that you don't have to tell him to go anywhere. He already has that understanding. He has a very high level of basketball instinct. He understands the mission and the goal, and picks up the system faster than a normal player would. I think he could play in any system. Now, what other guys are going to have to do is learn to fit into the system with what they do well. I don't think Kobe is a guy that your average player says, 'I'm going to play like him.' It's all right to look up to and respect someone, but every player has to maximize their own talents, and not try to do things they aren't capable of.
MT: I know this depends on the situation, but if Kobe breaks off the system because he sees a mismatch in the post, how often is that OK?
Lewis: That's where coaches manage their relationship between themselves, the player and the system and the other players on the team. It can be very challenging at times, but let me ask you this: if Kobe tells everyone to get out of the way, does he make the shot?
MT: Well, you could ask if he gets the best look possible – make or miss – or gets somebody else a wide open shot by drawing a double team? Versus taking a long, contested two, even if he makes them better than anybody.
Lewis: That's where coaches manage their relationship. But you can go deeper with the question, like if it's a last-second shot? A lot of factors play into the situation, but it's hard to tell a superstar like Kobe how to feel the game. He's feeling the game, on the floor, deep within his heart. He's so passionate about it.
MT: I spoke to (Lakers assistant coach) Kurt Rambis about this, but wonder what your thought is about developing these players as a cohesive defensive unit on a more unified page than existed on last year's 18th ranked defense (in terms of efficiency)?
Lewis: I'd have to say that training camp is critical towards that end. It's hard to come into a situation when certain tendencies have been developed and grown from day one, and then switch it up. Training camp is the time to implement that defensive mentality.
MT: Finally, what do you think you can bring to your new job that will help the most?
Lewis: Number one, we talk about habits, good and bad. The importance of habits is something that plays a part into maintaining a certain level of play or increasing a certain level of play, and more basically, winning. Preparation is a big part of that, and when you've done something for so long at a high level, there's a mentality you absolutely have to have. When dealing with other basketball players, I know what that is. So my job is to see where these players are and what keeps them vibrant. A lot of this is vibration; guys have to feel alive. There are certain ways to deal with guys that keep them engaged, keep their interest, and I think that's very important. Another thing is to do what you have to do before the competition in terms of preparation, and then let it go once the game starts. That alone leads to success in more than just basketball. The more we can get guys into good habits, the more we can influence mindful preparation and the more we can keep guys at a high vibration leads to the energy that wins.